Disclosure: I am a proud Ambassador for the 2016 Detroit Free Press/Talmer Bank Marathon (and Half Marathon, Relay, 5k, and Kids Fun Run). The race supplied the books I'm giving away in this post. All words and opinions are my own.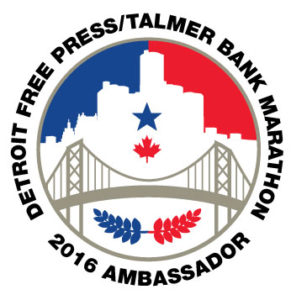 As I'm writing this, there are 20 days left until race day! (So, um, I guess I'd better buy some plane tickets and make a travel plan, eh?) If you're not registered, it's too late–but only for the international races. (Since the marathon, marathon relay, and international half marathon all cross the Ambassador Bridge into Canada, there's that pesky business of giving the races' registration lists to the U.S. Border Patrol and the Canada Border Services Agency to pre-clear everyone to enter. Can you imagine what your race times would look like if you had to wait in line at the border??) There IS still time to register for the U.S.-only half, the 5k, and the kids fun run. So hurry over to the race website and use code TRAINWITHBAIN to save 10% off of the current prices!
The 2012 Detroit International Half Marathon was the first race I did any serious training to run, and I still wasn't fast. (It wasn't even a PR.) I ran it for Mom, and for DetermiNation (which raises funds for the American Cancer Society). In the process, I also convinced my best friend, my Dad, and two cousins to run with us. In subsequent years I got one of my brothers to run (he likes to gloat about how much faster he is) and my best friend's husband joined us too.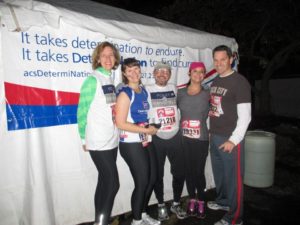 I remember how cold it was at the starting line and as I sit here sweating my buns off in California (hello, isn't it supposed to be fall?) a crisp fall breeze blowing in my face as I run to Canada sounds delicious! It was chilly enough that while I slipped off the arms of the sweatshirt, I still wore my gloves for the entire race. At the same time, it was quite sunny and otherwise beautiful weather. Given how much I dislike the heat, I've found this race to have the perfect running weather.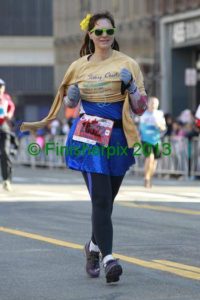 2016 is the 39th running of the Detroit Free Press/Talmer Bank Marathon. The race has a colorful history filled with "firsts" and "onlys." For example, this race was the very first event to ever close down the Detroit-Windsor tunnel, which runners have playfully nicknamed "the underwater mile."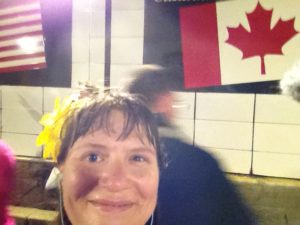 As a runner, I love this race. It shows off the best of Detroit, and while it doesn't necessarily show off "the worst" it doesn't hide that Detroit is a city undergoing big changes. Detroit has some magnificent architecture and a pretty great history; I like to try to imagine what it looked like when my great-grandmother went to Detroit to meet with the rum runners who supplied her bar during Prohibition. The crowd support is amazing, especially along the Windsor waterfront where the streets are lined with cheering Canadians, and there's always a giant crowd right before you hit the runnel to run back to Michigan. Speaking of the tunnel, there is a great selfie opportunity at the U.S./Canada border. As Emma Tranter (the women's winner of the 1978 marathon) said, "The people along the route were great to us and the course was great. There's just not enough I can say about it. It was a really great event." Thirty-nine years later, that's still true. But don't just take my word for it; check out my fellow ambassador Meghan Warzecha's reasons she loves this race.
As one of the inaugural Ambassadors for this race, I only love it more! (I still can't believe they picked me to be on the team.) The entire race team welcomed us aboard with a meeting in February, and it was scheduled during my visit to Michigan for Dad's wedding so that I would be able to attend. New Balance Detroit provided us with some sweet Ambassador swag, including tech shirts and pullovers. Ambassadors have been invited to subsequent planning meetings (though I haven't been able to attend). We have regularly been invited to give input, and our suggestions are taken seriously. This year we are even going to host a #WeRunSocial meetup at the expo!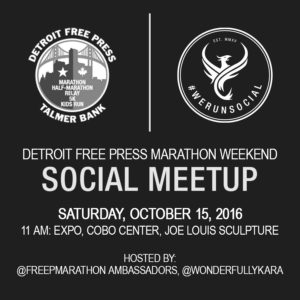 By the way, if you aren't prepared to run the race but are going to be in the area, you are still very welcome to join us at the meetup–#werunsocial is for all runners! If you can't make the meet-up, come say hi at the
This week, three of the race staff took time out from their Sunday evening to join us on the Runner of a Certain Age podcast too. (Did you know there are 4,000 runners who will run Detroit for charity?) You can check out the episode and the show notes for The Gotta Lose Your Mind In Detroit edition. The podcast is filled with race details and excellent trivia.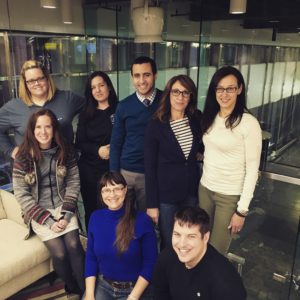 I'm really just thrilled to be able to share one of the best races in the country with my friends! Before I forget, the medals for this race are also pretty sweet. The bling itself pays homage to Detroit's heritage as The Motor City. Each year features a different car (see above and below). The ribbon weaves elements of the U.S. flag and Canadian flag together.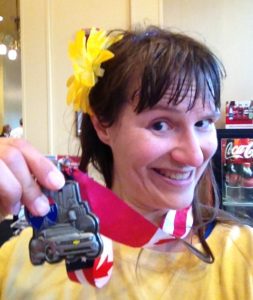 In combination with the Detroit Free Press/Talmer Bank Marathon weekend, I'm giving away three copies of The Long Run. This book is a history of the first 30 years of the race. It's filled with facts, but also with pictures, and covers not just the runners but also the wheelchair division and the handcycle division. It's interesting both as a history of this particular race and as a a chronicle of the development of a major marathon.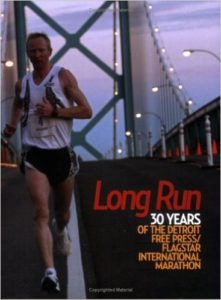 If you want to get a sneak preview, you can check out the "Look Inside!" feature on Amazon.com. (Or you can just trust me that it is a great read!)
Details: this contest is not sponsored, endorsed, or otherwise related to anyone or any entity with two exceptions. One, Bain is an ambassador and this is her blog; she is 100% responsible for this contest. Two, the Detroit Free Press/Talmer Bank Marathon has generously provided copies of the book. Shipping will be slow! This contest closes on the first day of the race expo, and Bain and the race team are going to be super busy!!