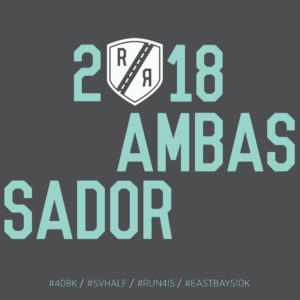 Disclosure: I am SO stinkin' proud to represent these races as part of the Represent Running Ambassadors. Yes, I do get to run the races for free in exchange for helping to promote them, but I signed up for the inaugural Silicon Valley Half Marathon before I was asked to return to the team. All opinions are my own–and you know I have plenty of them!
I'm behind some race reviews, but I could barely wait to start writing about the inaugural Food Truck 5k and Silicon Valley Half Marathon! (Yeah, yeah, it was over a week ago–I had some blog issues.) The Food Truck 5k was Saturday afternoon. My understanding is that it was originally going to be an early evening race, but there was some sportsball thing or event that kicked the start time up to 3pm. In any case, that was perfect for me, as it allowed me just enough time to sleep in a little bit, hop a flight from Portland to San Jose, Lyft to the Fairmont Hotel, check-in, unpack, change, and head over to the festival area to pick up my stuff.
Locals did have the option to pick up packets in advance at Sports Basement, which was always a fun choice for me when I lived in Alameda. Sports Basement offers a discount for runners on the day of bib pick-up, and since I always found something there I needed (and at a great price!), it was a win-win. Now that I'm in Portland, however, going to the Sports Basement pick up would have meant a day off from work and another night in the hotel. Yeah, I know, you feel so bad for me. Anyway, there were also some other pre-race-weekend events, including a run with Meb! (Do you feel bad for me now? Because I had to miss that?)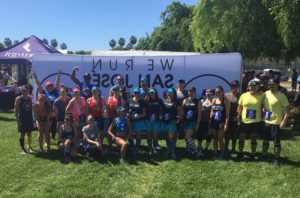 One of the great things about running in San Jose, there are a ton of hotels within walking distance of any reasonable starting line–more if you rent a car, or are willing to take a car. For Rock 'n' Roll San Jose 2017 I stayed at the AC Hotel, which would have been a great choice for these races too. The SV Half host hotel was the Fairmont, and they gave us a screaming deal: it actually cost less to stay there than to stay at the AC! The Fairmont is one of the aging grand dames of the hotel world, and I loved staying there. My room was gigantic, the bathroom had both a shower and a separate bath tub, and there was a separate vanity and mirror outside of the bath room. Sure, there are some signs that the hotel wasn't built yesterday–the USB outlet in my room did not work, and the bathtub spout had a hand-held shower permanently attached (because the actual shower was not enough showers for one room?) so I couldn't take a bath, but it's a great place. After the races and a much-needed shower, I met a friend for snacks and cocktails in the bar.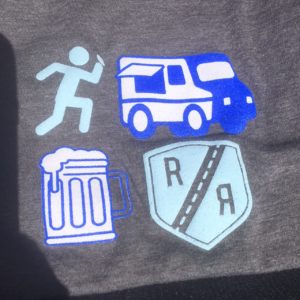 Day-of-event packet pickup was a breeze, and I got both my Food Truck 5k and my SV Half gear at the same time. (In hindsight, I should have waited until after the 5k to get my SV Half gear, as there was no bag check, but as an ambassador I had a little help.) There was plenty of parking nearby, though I had walked from the hotel. I had some time pre-race to walk around and see the vendors and race sponsors. Amazon had free sweat towels, and I wish I had grabbed one before the 5k so I could sweat on it (instead I thought, "oh, it's one more thing to carry." Silly me.) Amazon also sponsored free race photos all weekend and had a photo booth, so that was fun. After clowning around for some photos in the festival area–and checking out the food trucks to plan my post-race eats–the ambassador squad headed over to the 5k starting line to take more pictures.
Actually, we all walked OVER the starting line, heard a bunch of beeps, and wondered if the timing system thought we were running…then we looked up at the starting line structure and wondered why the letters were all backwards. (Yes, a bunch of social-media-fueled runners didn't understand the selfie-setup.) Suddenly it was about time to start, and I was WAY too close to the front, so I sidled over to the right as far as I could get, and decided to hang there until the right group started to move past. (We didn't have corrals for the 5k, but people did a pretty good job of self-selecting–it was impressive.)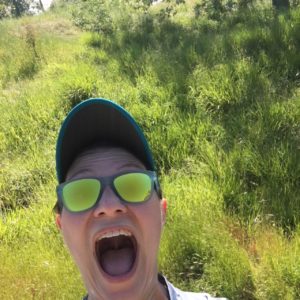 The course was basically an out-and-back with a bit of a loop (running on parallel paths for a portion). Most of it was on a paved path through Guadalupe River Park and Columbus Park, though a small portion was on sidewalks and a street to get to and from the start/finish area at Arena Green East. I ran most of the first mile at a very easy (read: slow!) pace, did a run-walk for the second mile, and walked all of the third mile (with the exception of the last .1, of course). The heat was brutal and unexpected! I'd flown in from Portland, where it was in the 50s. The average temperature in San Jose in mid-April is in like 50-65 degrees. This year? It was 80! I didn't run any of that third mile because my body–descended from two long lines of pasty-white people from northern climates–was like "NOPE!" I felt great after the run anyway.
Post-run, first I went to the Barefoot wine tent to sample their "refresh" spritzers. (No, not at all like a "wine cooler," yuck. More like "wine with bubbles.") Then I bought a glass of sparkling wine and I hit up Cielito Lindo Mexican Street Kitchen for some tacos. (The menu on the website does NOT do them justice–I ate two different vegetarian taco types, decorated liberally with verde, roja, and molcajete sauces.) It was only after I ate all three of them and the tasty, tasty hot sauces that I realized I should have put them on Instagram. Oops. Bad blogger! Other options for Saturday included Road Dogs, Akita-sushi, BBQ Kalbi, Curry Up Now, and Treatbot (ice cream–VERY popular that day!). Everyone was clustered under the trees and in the shade, but having a great time. In addition to many food options, sponsor booths, and vendors, there was live music! Starting at 1 and lasting until 7:30 p.m. we had Bird and Willow, Israel Sanchez Music, NOIYA, Casey Wickstrom, and Love District.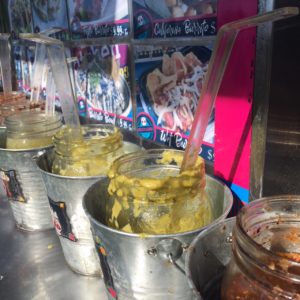 Soaked to the bone with sweat, and sated by the street tacos, I headed back to the hotel for a much-needed shower and a wee nap. Then it was dinner and a cocktail, and off to bed to be well-rested for the inaugural Silicon Valley Half Marathon!
Want to read more about the Food Truck 5k? Check out additional reviews by The Ruminator , The Running Lushes, and Stephanie.