Disclosure: I am a member of the 2016 Rock 'n' Blog team. As a member of the team, I receive entry to Rock 'n' Roll races and other perks. This post is not sponsored, edited, or written (in any way) by the Rock 'n' Roll series or Competitor Group. All opinions are my own.
Most of the Rock 'n' Roll races are on Sundays. When there is a race on Saturday, ordinarily it is a 5k or 10k as part of a "Remix Challenge" weekend. Seattle is a different story: the main races are on Saturday. There is NO RACE ON SUNDAY. Since this is my third year running RnR Seattle, you might think I would have that figured out in advance. Or have, you know, looked at the date on the website or something. Big bowl of NOPE. (I even wrote it into my calendar as taking place on Sunday. #fail)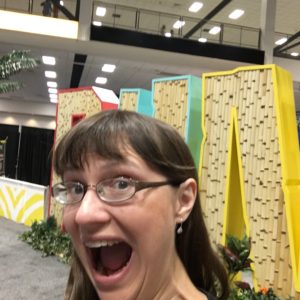 Most of the time when I travel for a Rock 'n' Roll race, I will stay all weekend, Friday to Sunday (or to Monday, as is my plan for Vancouver this year). Due to the amount of travel I've had lately both for work and for personal, the fact that my 19-year-old kittyboy now turns into Angry Kitty when I leave, and my general desire to have a day before the end of the month to do laundry and clean the house, this time I decided to just stay overnight, run, and go home. "When are you flying into Seattle?" Briana asked me. "Probably Saturday afternoon," I wrote back, "I'm super busy and I think one night is better for me." "Really?" Briana replied, "Um, you know you'll miss the race if you do that, right?" DOH. Briana then reminded me that I made the same mistake last year (thinking the race was on Sunday). (She got it right, per usual. Check out her event review on Mat Miles Medals.)
This year I also made a brand-new mistake: I bought two sets of plane tickets for the same trip. After Briana reminded me I'd better make my trip Friday-Saturday (and not Saturday-Sunday) I hopped over to Southwest to make a reservation. It wasn't until I went to the website to check in for my flight that I discovered I had apparently already purchased a Friday-Sunday ticket. Oops. Thankfully, Southwest has an awesome policy where they will hold funds for you from nonrefundable tickets, and I know I'll be flying again, so no harm, no foul.
Thursday night I stayed up later than planned for a variety of reasons, but also managed to not pack for the adventure because I was pacifying Angry Kitty (who does not like it when I move things in and out of The Ominous Things On Wheels). Hey, he's 19 years old and has put up with a lot throughout our 15 years together, so the least I can do is let him snuggle into my lap and snore, right?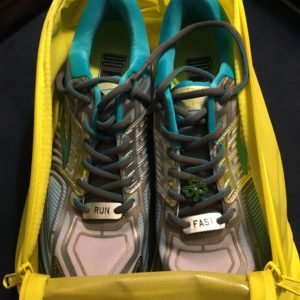 Up at 4 a.m. to put things into the weekender. One of my top travel tricks is that I have a TSA-friendly ziploc bag filled with the overnight essentials (e.g. shampoo, toothpaste, lotion) that I never unpack. I also have a toothbrush in a travel case, a detangling comb, a pair of old prescription bottles (the orange-ish see-through kind) with the labels removed that are now filled with cotton swabs and cotton balls, and a travel-designated bath pouf that live inside the suitcase. When it's time to pack, I just have to check that the essentials are all there (and not empty) instead of repacking. Eagle Creek was nice enough to give each of the Rock 'n' Blog team members a few bags that make my racing travel easier–a shoe locker for the shoes and small things, a gear locker for my clean clothes, and a fold-over for the dirty clothes–and I've got packing the things down to a science. (For the curious, this is the Pack-It Sport line.) Off to the 6: 30 a.m. flight at 5:30, and I was the last person to board the plane.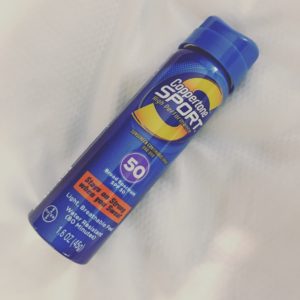 Two hours is barely enough time to catch a nap. I tried.
One thing I love about Seattle is there is pretty much no need to rent a car for the race. LINK light rail goes right to the airport, and downtown is criss-crossed by a variety of bus lines. I bought a reloadable Orca card (the better to not have to worry about keeping cash on hand for bus fares) and stuck $20 on it. It was a short LINK ride to Pioneer Square, which is exactly one block away from the Courtyard Marriott on Second Avenue (aka my Seattle home away from home). This is the second year I've stayed there, and I really love the x02 rooms (702, 802, etc.) because they are quiet and have a ton of space. Of course when you show up at 9:15 they don't have your room ready, but they will store your luggage.
I hopped a north-going bus to meet up with Lillie Goker, a running buddy of mine who lives in Seattle. (We conquered Rock 'n' Roll San Francisco together in 2014.) She and I had brunch at this great breakfast place called Roxy's Diner. I tried to find it on Google Maps, but it isn't there. (Instead, look for Norm's Eatery & Ale House, which is right next door.) After a night of really no sleep, it was great to relax over an eggy scramble with tater tots and a bottomless cup of coffee. We don't get to hang out nearly enough, either.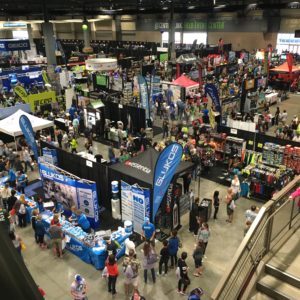 Lillie lives nearby, and after a quick tour of her new digs, and a brief stop to hack some Ingress portals, she drove me over to the race expo. If you park in the parking structure, you end up entering the expo from the back, as opposed to entering where bib pickup is like you do in other cities. So we wandered through a little of the expo before we got to registration. The patterned totes from the Edmonton marathon were super cute, so I accepted one even though I'm unlikely to run it this year. (The race calendar is full. Maybe in 2017?)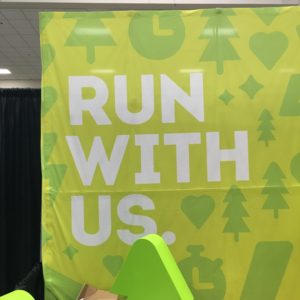 Then Lillie helped me take a selfie (which I guess makes it not-quite-a-selfie?) with Elba Benzler, race director for Blooms to Brews (and a guest on Runner of A Certain Age, the podcast I now co-host, for a pre-race interview).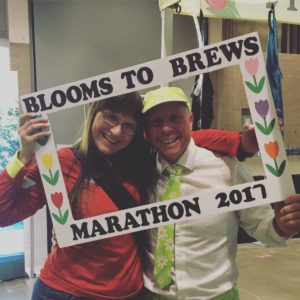 He's also got a new event cooking, the North County Wine Run (first running: September 24, 2016). The medal is gorgeous, epic, and functional–so naturally I asked for a demonstration!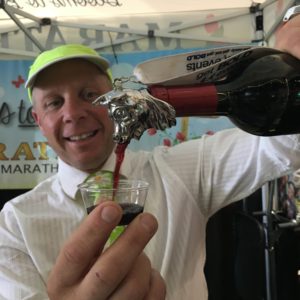 After picking up bibs and shirts, Lillie decided to call it a day and headed off to whatever it is that people do when they are not fixated on running. I stayed behind to wander the expo a bit before teh 3:00 #werunsocial meetup. (Actually, first I cased the joint to find an outlet to charge my phone.) Because I had decided that I was NOT going to buy anything at the expo, Nuun had to go and have a Seattle-specific water bottle. Guess who bought some more Nuun? I know, I know, way to stick to my resolve, but it's something I use regularly, and it isn't like it will spoil quickly. Besides, I was running low on cherry limeade. Then I came across the CEP booth, which tempted me with a good sale (I resisted) and a $10 copy of Meb for Mortals (I caved).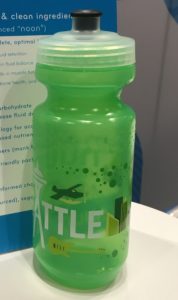 The #werunsocial meetup was a great time, as always. I am always glad to see Briana, Carleeh, Sarah, Carlee, Brian, Linzie…you get the idea. I remember I was so nervous at my first meetup that I forced myself to go talk to everyone about Run 10 Feed 10, and i was so nervous doing it that I accidentally gave the same spiel to one group of people twice! D'oh! Since then I've figured out that the cool kids are really nice, and I've made a bunch of friends. It makes travel to races even better, because I can always look forward to "running" into at least one of them. Pro Compression sponsored the meetup and donated some prizes, and after we took all the selfies there was barely enough time for me to hit my hotel for an all-too-brief nap.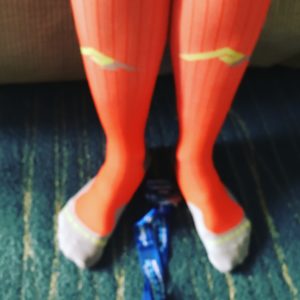 I capped off the evening with dinner at Buca di Beppo, a pretty standard pre-race carb-fest for sure. This time the dinner planning landed in my lap, and I kept changing the number of seats on the reservation. In the end we had more seats than people (though in San Francisco it was the other way around, so I never know how it will shake out). I was quite happy the bus landed just a few blocks from the restaurant, as it started to drizzle as I was leaving the restaurant. Once I hit the hotel, I'd love to say I slept like a log for the few hours I had left to sleep. I didn't. I'd love to say I love it when I'm sleepless for two nights in a row before a race…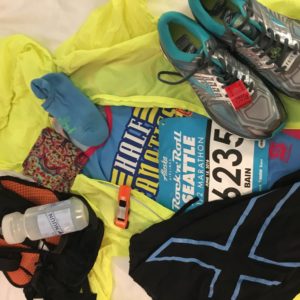 All good Seattle stories end with coffee…and in the second half of this race review, you can enter to win some of your very own!