A prior edition of my gift guide focused on safety. This one is all about the essentials: stuff all runners (and other distance athletes) need. While we don't all come up with the same solutions, we all face similar problems. Whether it's too much humidity or extra clothes in winter, chafe happens. For men, there's the dreaded nipple chafing (though chafe happens in some much less pleasant places, from what I'm told). For the vast majority of women, there's also bra chafing and that problem when your thighs get chatty with each other. Then there's the grumbly in your tumbly, which might demand food immediately, but then want to chuck it right back up if you're still running. Finally, there are the things you always need but don't always remember you need. Here's my roundup:
Nip Chafing in the Bud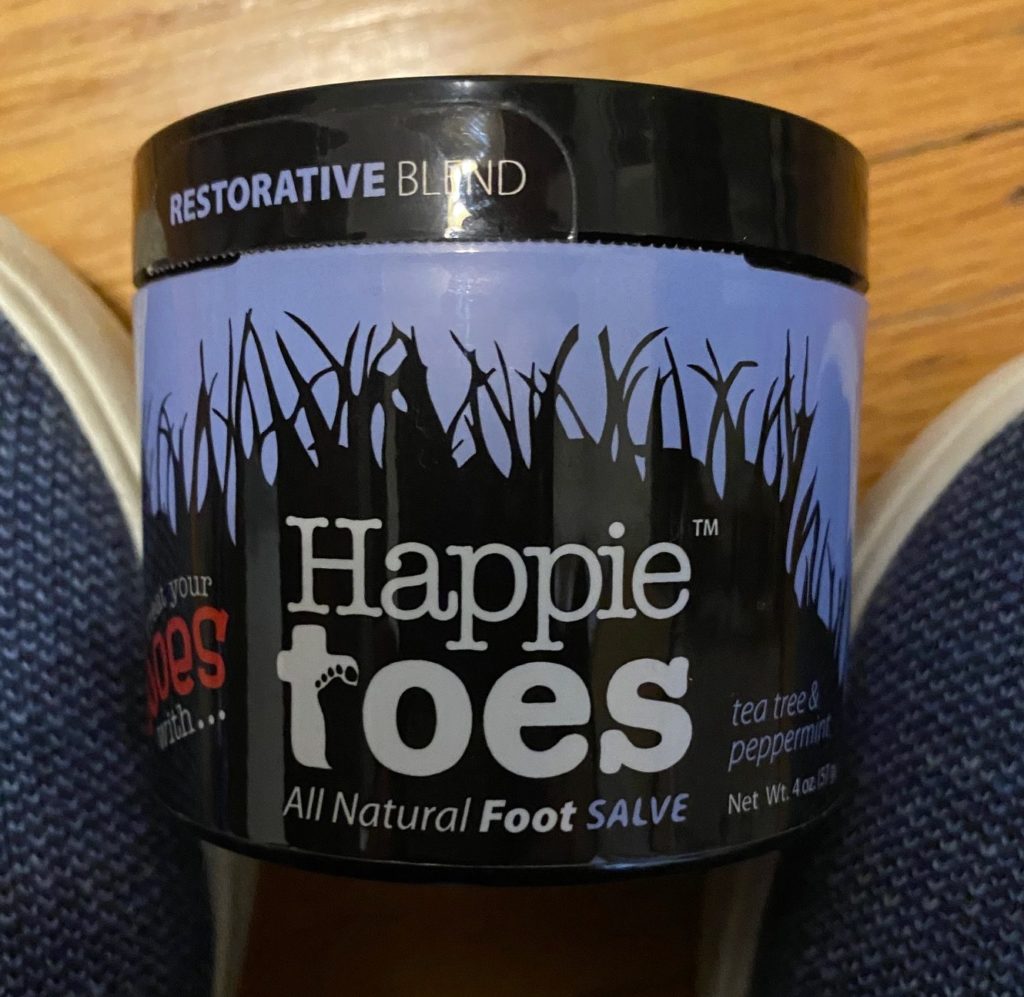 See what I did there? Or not. (Maybe it was funnier in my head.) Squirrels Nut Butter. It's a miracle. It's the Alice in Wonderland version of a body slide product: not too waxy, not too melty. You have a variety of options including a stick (less messy), tin (reusable?), and a compostable tube. There's also a vegan version. As long as you're shopping for what they call "adventure lube," you might as well get some Happie Toes, which is a lovely product to moisturize and protect your feet. I like to put a little bit on my feet before bed.
If your chafing is of the covered-by-your-undies variety, there's nothing better than Boudreaux's Butt Paste. Yes, friends, this is a diaper rash cream. It comes in a variety of formulas and package sizes, all of which are equally good as far as I'm concerned. I tend to buy the smaller package, which is less cost-effective but more likely to be carry-on friendly. BONUS: you can buy this at the drugstore or grocery store, making it a thoughtful buy if you're shopping at the last minute.
Especially pertinent during winter: chapped lips. (In case you're not a runner, running often requires you to use both your nose and your mouth to breathe, and in the winter that's a recipe for painful chopped lips.) Of course you can also get sunburned lips if you go out in nice weather with bare lips. Yucky. Most folks are not picky about their lip balms, and I've got one stashed in each of my running belts/bags, so this is potentially another good "oops forgot to shop but thought about it" stocking stuffer, as there are all sorts of options at the drugstore. Avoid the oversized cutesy containers, and "pot" or tin style packaging (harder to use while running). My absolute favorite–it's a splurge at more than $20–is Fresh Sugar Lip Balm. https://www.fresh.com/us/lip-care/sugar-lip-balm-H00006232.html It is also available at Ulta, Sephora, and a variety of other retailers.
Snacks For Days!
Okay so technically not a snack, but Run Gum is definitely something your run-love needs. Think all the caffeine of a cup of coffee to make you go, but NOT the part of the coffee that makes you, um, "go." Also way more portable than coffee in terms of carrying stuff with you when you go for a run. Like it's light enough to stuff in even the smallest pocket, or tape to the back of your bib. (You can even recycle the gum and the package if you buy a Terracycle box.) I'm still completely confused as to how it works, but you can click here to shop Run Gum on my groupshop. Otherwise, check out www.rungum.com or look for it at Target and Walmart.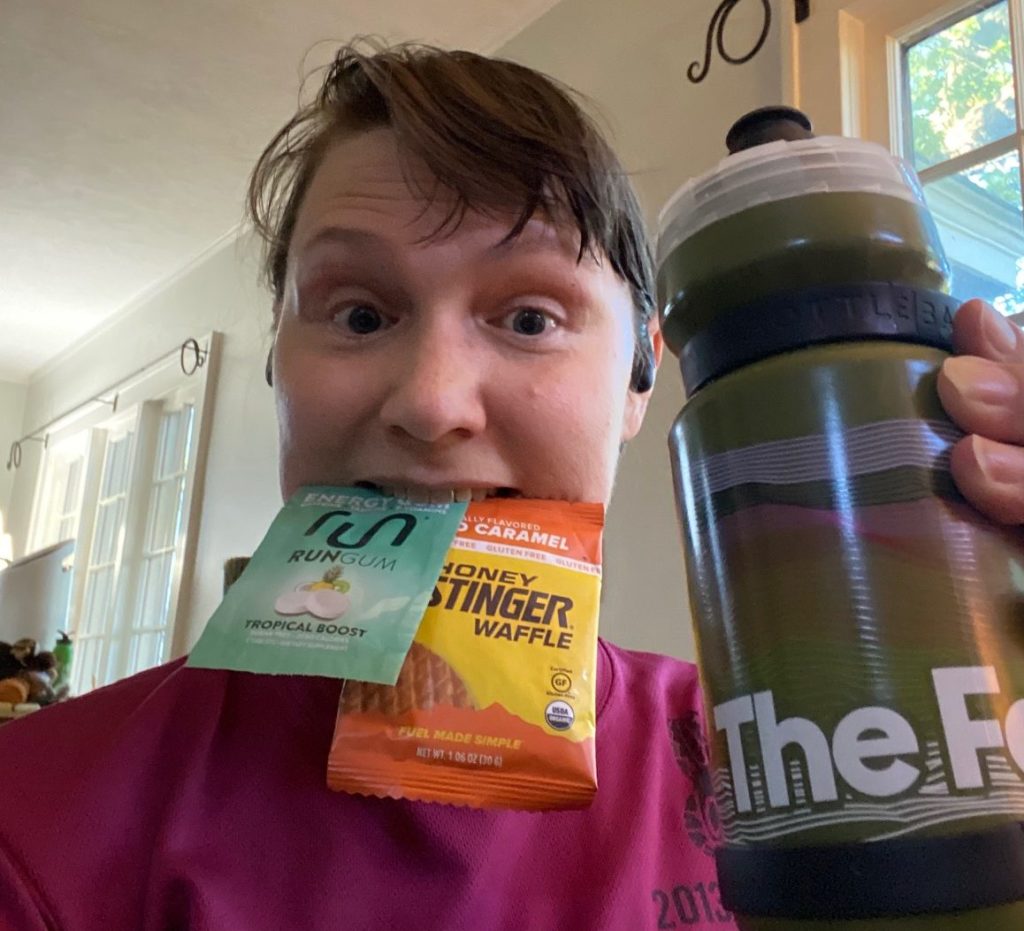 When I first started running, there were not many options for gel, which we called "goo" (based on a similar-sounding brand name). You're supposed to consume 8 oz. of water with most of them, which was hard to do, and so many of them just made icky lumps in my tummy. One brand made gels in flavors I found delicious, but which inevitably made me puke later. Then I found Honey Stinger (and I'm now a proud member of the Hive!). Honey Stinger makes honey-based gels that I found WAY easier to eat and digest. I'm also a huge fan of the Honey Stinger waffle as a pre-race snack (there are gluten-free ones too!), especially where it might be an hour or more between when I leave home/hotel and when my corral gets near the starting line. Pro tip: use medical tape to put the waffle on the back of your bib to avoid mashing it up. Honey Stinger makes a full line of hydration products, chews, and some super yummy nut bars. Check your local running store or head to https://honeystinger.com/
If you're not sure what your run-love likes, or they are new to sports and don't know what they like, head to The Feed and buy them a gift card. I've been Fueled By The Feed for about a year (see forthcoming post on their awesomeness). The Feed carries a wide range of brands (including Run Gum and Honey Stinger) and you can shop by brand or type of product. Several categories have a budget-friendly sampler pack where you can try the top sellers (say, the top nine hydration products). Once you've made a purchase, The Feed will send you discounts for the products you've purchased, and suggest others that you may like. In addition to fuel and supplements, The Feed also carries a selection of gear, and issues a series of customizable water bottles.
Things You Always Need (But Don't Always Remember You Need)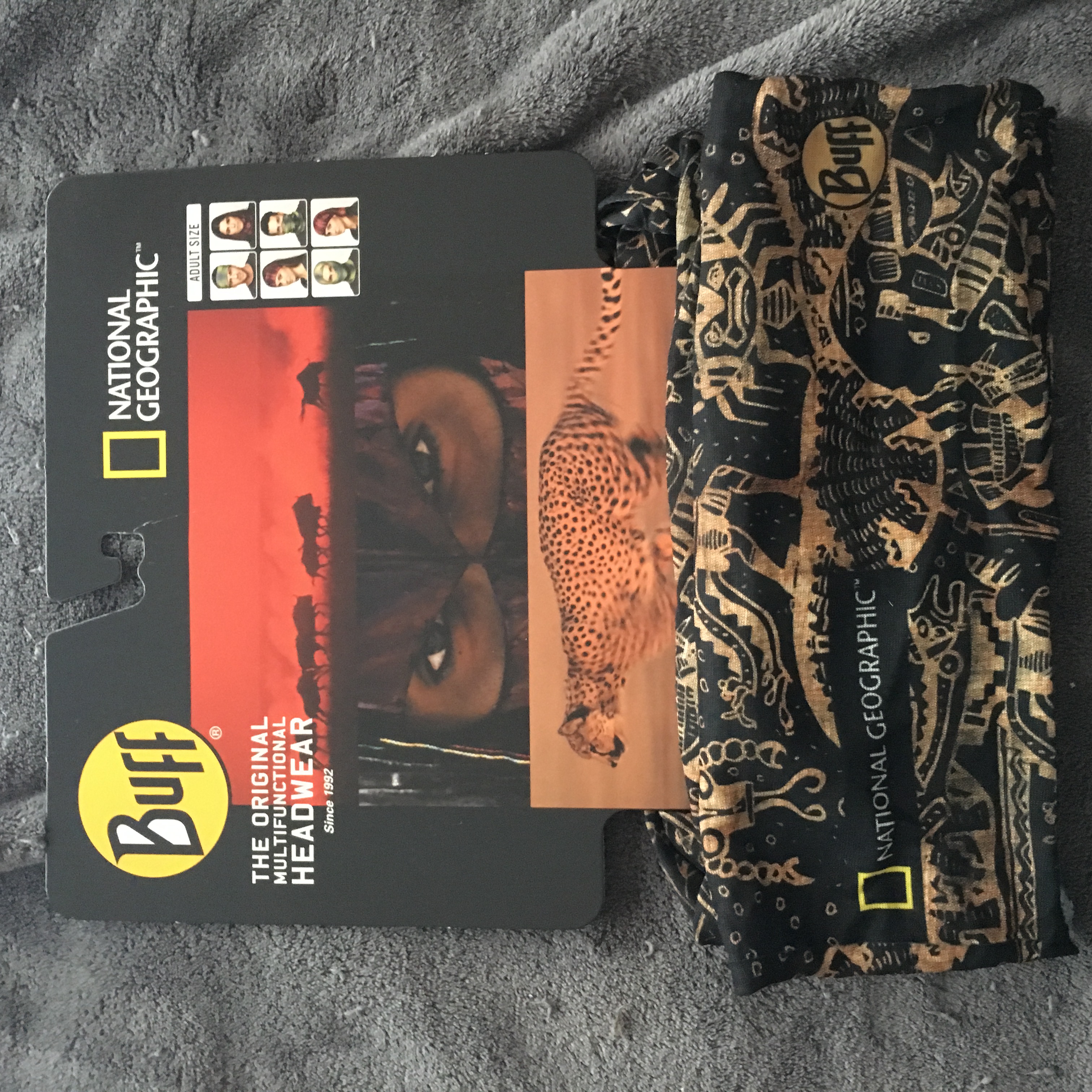 There are cheap fabric-tubes that brands give away, and then there is Buff. If you've seen the TV show Survivor, you've seen each tribe with a distinctive Buff design that they wear as a hat, headband, tube top, and more. I've written all about Buff before (check out my review here), including the fantastic UV-protection Buff (all about that here), and the half-sized Buff (I love that too). I prefer a full-sized Buff for any event where I need to tame my mane, as I make it into a cap under my hat or visor; a half-size when I run with a ponytail; and the headband for hot yoga. Buff also makes other functional protective products, including a balaclava.
Gloves. At bigger races, runners often line up quite some time before the race actually starts. This is practical–if 20,000 people all wait until 6:50 to try to get in line, the race cannot start at 7:00–but also annoying when it is cold outside. Many runners wear "tosser" clothes to the start line, with the intent to peel off their top layer of sweatpants, jackets, gloves, etc. either at the stating line or during the first mile. (Larger races have volunteers collect tosser items, which are then laundered and donated to charity partners. Since many runners buy tosser shirts and sweats at Goodwill, you can think of this as recycling?) While many runners wear very nice insulated gloves for long winter runs, few runners keep their gloves much past the starting line from spring through fall. Those 99 cent stretchy gloves you find at Target or the dollar stores? Fantastic tosser gloves. (If your run-love is a social media maven, they can snip the tip off of one index finger so their phone will work.) Also great are the oversized oatmeal-colored cotton gardening gloves from the hardware store.
NoSo Patches. I had no idea I needed these until I found them. You know how fancy outdoor fabrics, or even nylon camping gear, sometimes hits a bad snag? I have a lovely winter Columbia jacket, the kind with an outer shell and a zip-in fleece, and there's nothing wrong with it…but it has developed a small chafed spot that's turning into a hole. (To be fair, I got this jacket in 2002.) My inner environmentalist wasn't excited about tossing a jacket that still has a lot of use left in it, and my ever-present fussbudget couldn't find one I liked better anyway. NoSo was born of a similar incident (the founder tore a brand new jacket). I love that it is a woman-owned company and that the products exist to help you use your gear for longer. Just like the name says, you don't sew the patches–they stick on, and you set them with heat. My jacked only needs one patch (I picked an X-shaped patch inspired by "Starry Night" since my jacket is blue and grey) but I bought four. Just in case. https://nosopatches.com/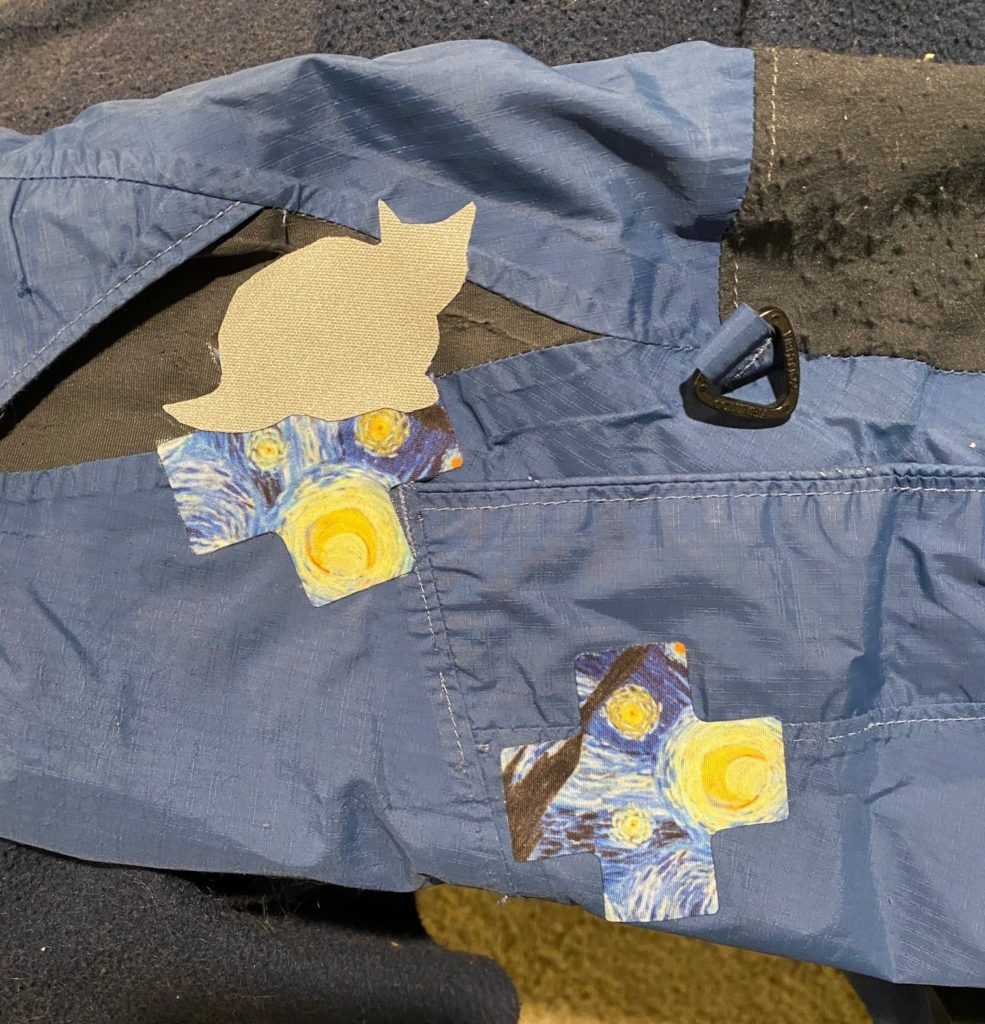 What Is YOUR "Must Have" Essential?
Are you a runner or other distance athlete, or buying gifts for someone who is? What's on your list?