Disclosure: I received a pair of Ampla Fly running shoes for testing purposes because I am a BibRave Pro. Learn more about becoming a BibRave Pro, and check out BibRave.com to review find and write race reviews. It's a great way to help race directors see what is working and what needs improvement, and to help other runners find out what a race is really like.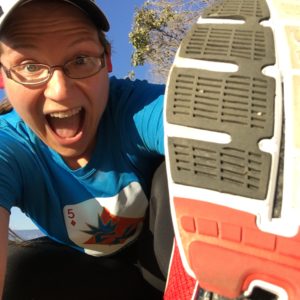 Introducing: magic shoes! A shoe with a carbon fiber plate in the bottom on purpose? What's with the funny flappy thing on the bottom? As a runner who usually runs in pretty plush shoes and has the uncanny ability to trip over flat surfaces without assistance, I was a little apprehensive…until I saw that they come in red. Sold! I would just click my heels three times and find myself flying over the finish line, right? Well…not exactly. Ampla Fly is a surprisingly lightweight training shoe designed to encourage efficient use of force while running. It's not specifically a stability shoe, though based on my experience I think it can help you to develop running habits that will lead you to correct your stride.
First, they FIT. I might seem like a shoe junkie, but that's just because I can't find shoes that fit quite right (when I find them, I hoard as many pairs as I can before the shoe maker messes with the model and ruins it). My feet are big (10.5 in running shoes), relatively flat (medium to low arch), and shaped like men's feet (not narrow at the heel, not narrow across the toes). When I found out I was going to get the chance to try out the Ampla Fly, I crossed  my fingers and hoped they would fit. They did!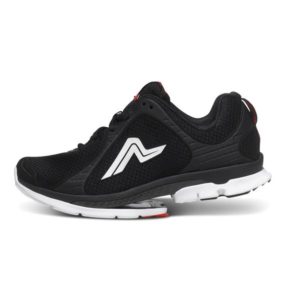 Interruptus: a little on the technology. Before I get into my experience with them, here's an abbreviated tutorial on the Ampla Fly (link to the exact shoes I tested is HERE). As the company explains it:
The AMPLA FLY is a running shoe that encourages the efficient use of force and provides the most powerful running experience possible. The full length carbon fibre Forcepower plate technology guides upon foot-strike and releases stored energy at toe-off.
If you compare the construction of the Ampla Fly to your current running shoe, you will immediately notice the difference in design.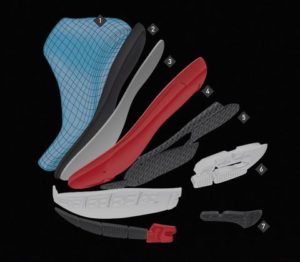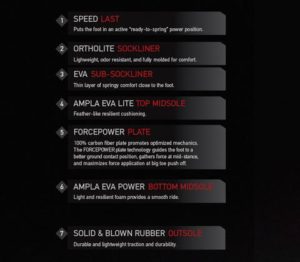 Yes, the carbon fiber plate feels stiff. (This is a GOOD thing.) When I first put on the magic red shoes, I immediately noticed the soles felt stiff. Very, very stiff. I did a little walking around before I tried to run in them, and it definitely took some time for my feet to get used to the idea of stiff soles. If you run in a stiffer shoe, like Mizuno, you might not notice this; if you run in a plush shoe like ASICS nimbus or cumulus, or Brooks glycerin, you will notice it. (If you suffer from plantar fasciitis, you will definitely need to ease your way into running in these, a little bit at a time, and slowly build your mileage, as well as follow your running with mobility and soft tissue work.) I mention this NOT because the stiff soles are bad–they serve a very specific purpose–but because if you are used to fully articulating through your foot when you run, you might initially find these shoes a big uncomfortable. Trust me, not only does it get better, it's totally worth it.
Oh, side note: "stiff sole" does NOT mean "hard landing." There is sufficient cushioning that you don't feel like you're running on steel shoes on pavement. The microfiber and mesh upper was super comfortable.
Running in Ampla Fly takes less effort. After I spent some talking walking around, I decided to try running in them. Ampla Fly is aptly named! The shoe is designed to use the force of your foot-strike to propel you forward, so instead of hitting the ground and thinking "push," as you hit the ground your foot almost feels like it just bounces right back up.
The shape of the shoe strongly influences your stride. The BibRave Pro team was lucky enough to get an exclusive call with the team behind Ampla Fly, and one thing they mentioned was that it is nearly impossible to heel-strike wearing Ampla Fly. Naturally, I had to see for myself, so I tried to run about a half mile while heel-striking. (I've spent the past few years training my strike to mid-foot striking, so heel striking is no longer my default; I can generally choose to heel-strike and stick with it though.) It was surprisingly difficult. Heel-striking felt unnatural and strange, as though I was somehow using my feet wrong and the shoes were fighting it. (Because, you know, they were.)
Overall, it seemed that the shoe promoted shorter strides and a quicker turnover (more steps in less time), which will naturally cut down on heel striking. The shoes are definitely neutral.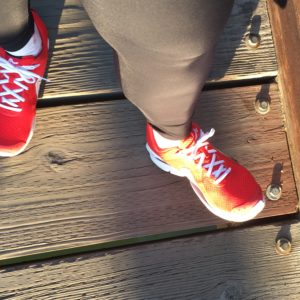 These are definitely road/track shoes. The Ampla FAQ clearly states these are not trail shoes and I already find trail running sufficiently treacherous, so I didn't even try. My only "off roading" was on the wooden portion of the Alameda bicycle bridge. It's old and uneven, and as a person who can trip over a totally flat surface I find it challenging even with regular running shoes, but I had to try the Ampla Fly. I wondered if the flap on the bottom would trip me as I crossed it. The running was precarious, but not because of the plate; the main challenge came from wearing a stiff-soled shoe on an uneven surface. The other BibRave Pro Team members swapped notes on our experiences, and the consensus was that these are most suited to road or track running, not for trails, gravel, or the boardwalk.
Wait, where have these been all my life? If you're a youngster, they've been in development. Ampla Fly's design elements are courtesy of David (he previously worked in innovation at Nike) and Dr. Marcus Elliot (a sport scientist who tests and trains top-notch athletes at the P3 Sports Science Institute in Santa Barbara). Originally Quicksilver funded these as a dark project during research and development, but when Quicksilver filed for bankruptcy in late 2014, Ampla was basically frozen–even though it was ready to launch.
How do I get my feet into Ampla Fly? You go to the website and buy them. Ampla is a direct-to-customer company, you can't get them in stores (though you might luck out and find them at a race expo). The entire company is run by six people (Rob, Charlie, David, Jessie, and Jayme). The direct-to-customer model means two important things for you as a runner. One, you save because Ampla isn't dealing with distributors and individual stores, and you don't pay the markup involved with a distribution system. Two, every customer has a one-on-one relationship with the company. If you email them, you get a reply from a stakeholder–yup, co-owner Rob Colby actually answers emails. There is a 30-day, no questions asked, return policy.
To find out more about Ampla Fly, head to their main website, or directly to the FAQ. You can also follow Ampla on Twitter and Instagram.
Want to read more about the Ampla Fly? Check out additional reviews from the BibRave Pro Team: