If you're anything like me, you probably see all sorts of articles about coffee.  This week it's good for preventing colon cancer, last week it was bad for your heart or your stomach or something. I'm going to start filing those studies and read the actual papers…later. In practice, I LOVE coffee. In moderation, of course.
Speaking of courses, if you've read my reviews for Rock 'n' Roll Dallas and Rock 'n' Roll San Francisco, you know I'm not above making a java stop during a race. It turns out there are others out there who firmly believe that coffee and running (hello, coffee and anything!) are a great mix. At one of my recent races, my goody bag had a flyer for Hammer Strength Nutrition coffee. No joke! Nice to know I'm not the only one crossing the streams.
Then something crossed my social media stream called the Rook Run 5k. The logo was so cute that I just HAD to look for more information. (A little rook bird wearing a headband and sneakers!)

A wee bit of research reveals that the run is not only a charity run for a worthy cause–The Valerie Fund, which helps provide comprehensive care for children with cancer and blood disorders–but the "Rook" part is a coffee company. If I lived in New Jersey, I'd be there like white on rice. (By the way, you can donate to The Rook Run's fundraising for The Valerie Fund by clicking here.)
I knew right away I had to order some coffee from Rook. (You should, too. Rook Coffee turned out to be delicious!) Rook offers light, medium, and dark roasts. Since I add a little hot chocolate (or cocoa and sugar) and about as much milk as coffee, I tend to stick to dark roasts. After reading the coffee descriptions, I settled on the Bali roast.
Two very cool things about ordering from Rook Coffee: One, shipping is FREE. Two, you can choose from whole beans or ground coffee, and if you want it ground you can specify fine, drip, auto drip, french press, espresso, electric percolator, or stovetop percolater. Did I mention you can also order a five pound bag? Since I'm just testing–and I plan to be trying a lot of coffee over the next few months–I decided to stick with the 12 oz. bag.
When the coffee arrived, I was impressed to discover it had a birthdate on it! (Okay, technically it isn't labelled birthdate. If you're a coffee lover, you know that coffee can actually go bad, and freshly roasted coffee is way better than stale coffee.) It was roasted pretty much right before they put it into the package to send to me.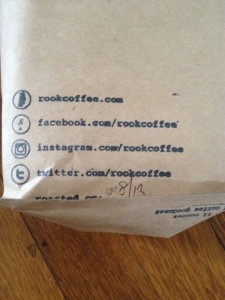 It also came with a hand-written note. Seriously, when is the last time you ordered something online and it came with a note from a real person?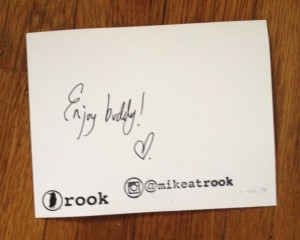 The beans are a gorgeous, dark color. The Bali coffee has such a delicious scent that I kind of wanted to just sit around and sniff the bag. Actually, I could smell the coffee perfume before I even opened the package. I could have just hugged it. But I had to make some coffee with the beans! Fortunately, grinding the beans also releases that delectable scent, so I got to savor the scent as I made my first cup.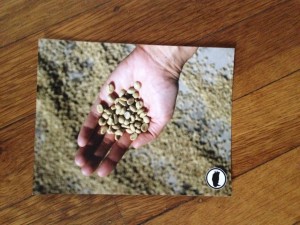 While I'm not sure I get the strawberries (go read the description), I do get the chocolate. Rook's Bali coffee is quite delicious with just a smidge of chocolate and some milk. I can't quite go as far as to say this is my favorite coffee, but it is definitely right in my coffee-love-wheelhouse.
In celebration of all things #CoffeeYesCoffee, why not take a trip around a few other cofffee-related blog posts? Think of it as a Coffee Shop Blog Hop. Next in line is MCM Mama Runs. Rumor has it she's writing about coffee beans, too. (Bonus: head there next, then follow the link at the bottom of her post…you'll eventually end up back here.)
So really, which coffee do I try next? Do you have a running-related coffee to recommend?
But if you absolutely insist on going out of order, here are a few other coffee-ish delights to caffeinate your Monday…