Disclosure: if you've read the other two #Buffalove posts, you know I got the opportunity to run and help promote the Buffalo Marathon because I am on the BibRave Pro Team. (If you haven't read them, why not?!?) This post is a continuation of my adventures in Buffalo. This post has no sponsors or sponsored content. BibRave, Buffalo Marathon, and Spot don't even know I'm going to write it.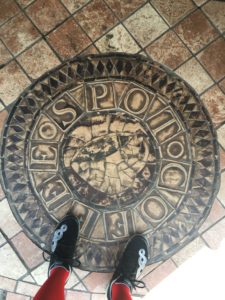 As you may have figured out, I love a good cup of coffee. (Yes, I have a Starbucks Gold Card; when you travel for work as much as I do, it is often the only place to get coffee and/or the only place with reliable wifi…and sometimes I am not feeling adventurous.) When I travel for fun, I like to check out the local variations on the bean of life. It gives me an excuse to explore a little, and usually a place to check my email, start my race review, and otherwise kick back a little. In Buffalo, I checked out Spot Coffee. Spot has coffee and the usual coffee place menu (e.g. baked goods) but also serves real food (like breakfast, burritos/wraps, sandwiches, pizza, salads, and other things that are not just sweet little noshes to go with coffee).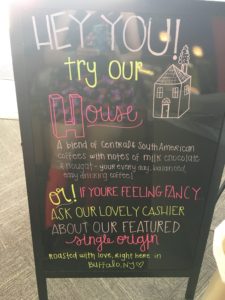 The Spot I visited was smack in the middle of downtown; I ran past it during the marathon, and made a mental note of the name so I could look it up later. (Okay so I lost that note and had to google, but hey.) There is a Starbucks literally across the street, and yet both times I was there (you know I like coffee, right?) it had plenty of customers. The chalkboard marquis distracted me from my immediate goal (get coffee inside me, pronto) and enticed me to walk past the bags of freshly roasted coffee. That turns out well for you, as there is a chance to win a bag at the end of this post!
Before I left, I saw the roasting room. I didn't have time to beg for a tour (I had a plane to catch) but I did stop to ogle the equipment and try not to drool.
But back to the Spot experience. There is a lot of real estate that could support a line to wait to order, but on the Tuesday after a holiday weekend (and not during a rush hour) there was no wait to belly up to the coffee bar. There were more choices than I expected, and the staff were kind and friendly as I dithered about what to get.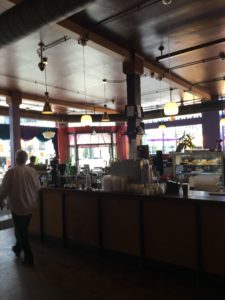 The decor was a funky mix, with unique lighting fixtures (I don't think any two of the chandeliers over the tables matched each other), a mural covering one wall, and all sorts of seating. The main room (the part surrounding the bar, above) included tables and bar-style window seats. There were two outdoor areas, one reserved for smoking and the other non-smoking. Also, bonus, lots of places to plug in gadgets (since I started playing Ingress, my iPhone is always in need of a charge). The back room had a few bigger tables, some chairs and lamps, and a few booths. I like how there were many different types of seating; there was something suitable for every possible purpose at a cafe from study alone or read the paper to hosting a group meeting.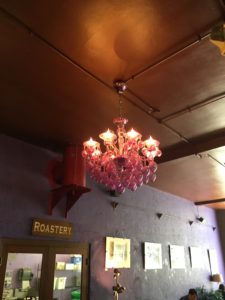 Aside from the mural, there were also various pieces of art hung around the cafe. I really enjoy visual art, and appreciate it when cafes support artists by hosting shows, or serving as a temporary art gallery. Another thing I like about checking out the local cafes is that there is usually a literature and brochure area. Sure, I did read The Buffalo News while in town, but I also like to read the alternative papers. It was fun to see postcards and papers out for other local races, Pride events, art shows, churches, and community groups. (Sometimes there is more than one place for these items, and sometimes there is a bulletin board as well. I find it is a way to get a different, less touristy, feel for a place I'm visiting.) Several of the fun runs sounded like I'd enjoy them, but since I live in California I knew they'd be a no-go.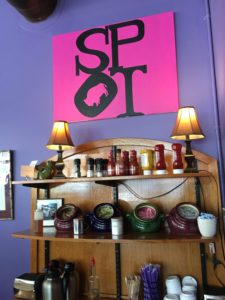 My first go at Spot, I had a (hot) mocha. I'm pretty sure the barista thought I was insane for ordering a hot drink on a hot day; if he saw the marathon medal that should have confirmed my insanity right there. It was made with a strong, dark espresso and wasn't overly sweet. Tuesday I tried a variation, adding a shot of hazelnut (because as soon as I saw they had it, I had a major jones for hazelnut syrup). Yes, that made my drink taste more like a candy bar, but I loved every sip of it!
For a list of locations in Buffalo and elsewhere, try the Spot Coffee website. It also lists contact information and hours for each cafe.
Now the part you've been waiting for: win some coffee! This giveaway has two prizes. Prize #1 is Spot Coffee Company's "House" coffee. The label identifies notes of milk chocolate, nougat, and cream. Prize #2 is Spot Coffee Company's "Espresso" coffee. The label says it has notes of dark chocolate, stonefruit, and "syrupy" (which I believe refers to the consistency or mouth-feel after brewing). These are both 12 oz., sealed packages of whole-bean coffee roasted by Spot in Buffalo, NY.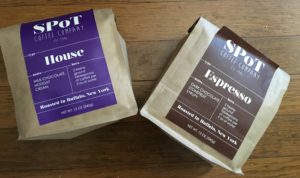 Enter using the Rafflecopter below. Please note this contest is void where prohibited by law. I will happily ship prizes to addresses in the U.S. and Canada. Winners will be notified and must respond within 7 days or forfeit. There is only one of each prize, and the first winner drawn will get to choose which prize they would prefer.