Disclosure: I received an original Buff® for testing purposes because I am a BibRave Pro. Learn more about becoming a BibRave Pro, and check out BibRave.com to review find and write race reviews. It's a great way to help race directors see what is working and what needs improvement, and to help other runners find out what a race is really like.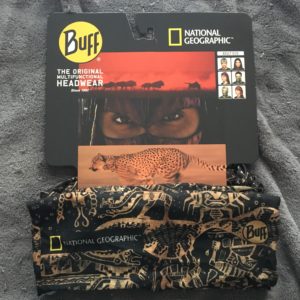 I LOVE LOVE LOVE Buff®
Okay, maybe you already knew this. If you've been paying attention to my blog, or have seen me at any races, then you probably know about my love affair with Buff® products. I use the UV half Buff® as a hat liner when running, which keeps my bangs out of my face and covers my ears (which never seen to get sunblock on them for some reason). I've used UV Buff® in the full size as a hat replacement/"do-rag," to keep my neck warm during the pre-race chill in Arizona and Nevada, as a sweat mopper during races, and as a combination hat liner and ice holder during the 2016 Buffalo Marathon. As I started to figure out just how useful Buff® is–and how each variety (e.g. UV, infinity scarf, merino wool) is multifunctional–I could kick myself for not grabbing a drawerfull earlier. Given the chance to score a Buff® I will always be interested, and I've purchased quite a few for myself, friends, and family. Since I love Buff® products so much, I'm thrilled that BibRave and Buff® have an ongoing partnership!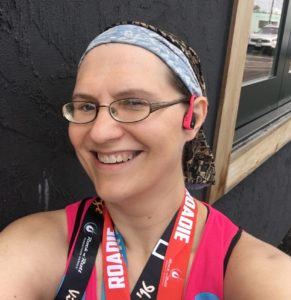 It's local.
Betcha didn't know that! (Okay, local to me…) While the parent company (Original Buff®, S.A.) is in Spain, Buff® Inc. (the U.S. subsidiary company) is located in Sonoma County, northern California! No wonder they are a sponsor of the Levi's Granfondo in Santa Rosa.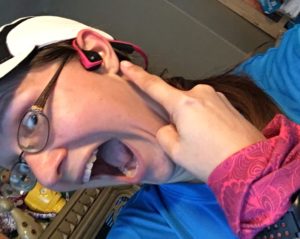 Don't be a Pirate.
Buff® is a Brand Name that Indicates The Real Deal. Just like Coca-Cola, Levi's, Clinique, and Nike, the term Buff® is a registered trademark. (Through the magic of WordPress I have found the ® symbol!) Unfortunately, just like you can buy knock-off Fendi and Gucci out of some dude's trunk in many cities, there are imitation/fake/imposter Buff® products out there. (Note that it is absolutely 100% fine to sell a multi-functional headgear, headwrap, tube, etc. but calling it a "buff" when it is not a Buff® is misleading and a violation of trademark law.) For example, at least two race series I know of advertise that runners get a race-themed "buff" with registration, and the Marathon Maniacs and the Half Fanatics sell a club logo "buff" in their member stores. This isn't just bad news for Buff®, it's bad news for you.
First, you're not getting a real Buff® when you buy these products, but you're probably paying the same price–or more! When I order a Buff® or am promised a Buff®, I expect the real deal. The real original Buff® is made from a soft technical fabric that dries quickly, wicks sweat away from you, and is treated with Polygiene to prevent the build up of bacteria in the product. (The UV version blocks at least 93% of harmful UV rays, there is a reflective Buff® for low-light safety, and Insectshield® has a built-in repellent that lasts through 70 washes.)  The fabric has been tested and is warranted to meet several international standards including Oeko-Tex Standard 100 (which prohibits the use of certain types of chemicals that are known to be harmful to humans or the planet). Fake "buff" products–at least every single one I have seen–are generally made of cheaper fabric that holds the heat in, doesn't dry quickly, and has no UV protection.
Second, you're hurting Buff® when you buy fakes. Genuine Buff® products are reasonably priced, and there are great sales (be sure to get on the mailing list!). There is no reason for any race or club to offer a fake "buff" because Buff® offers custom products (here's the U.S. site!) and has a low minimum order requirement (25 pieces!). Buff also supports numerous international charities with custom designs, including UNICEF, Walking With The Wounded, and World Horse Welfare. (In the U.S., charity designs include The Breast Cancer Fund, and Buff® USA sponsors the Marine Corps Marathon.)
Finding this interesting? Why not Tweet it to your peeps so they can learn about Buff(R) too?
Click To Tweet
Buff® isn't just for running!
Last year I bought a super cute Buff® headband after trying it out at a race expo. (Most headbands go shooting off of my head like a slingshot. Insert joke about having a big head here.) My intent was to use it during yoga and group ex classes to help keep sweat from my head/hair off of my face. My body is very efficient at cooling itself, which is to say I sweat A LOT during workouts. It did a great job of keeping my bangs from dripping sweat into my eyes, and further did a great job of keeping adjacent hair from sticking to my face, but there was still the issue of my ponytail whacking me in the face during sun salutations.
In addition to my large melon, I have baby-fine, stick-straight hair with zero texture. If you put a clip barrette into my hair, it will slowly slide right out–same with most hair elastics (unless applied super duper tightly)–and the giant claw-clips tend to wobble unless held in place with something else (like a shower cap) and are impractical for yoga classes. During this round of BibRave testing, I opted for a full Buff® from the National Geographic collection. (The design I picked was so awesome that it is now sold out.) At first I tried wearing it foulard/do-rag style (see the "How to Wear" video on the Buff® website). While that kept more sweat off of my face and kept all of my hair from sticking to my face, it had the unfortunate effect of letting my ponytail turn into a giant dreadlock.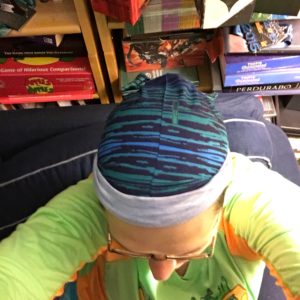 So I messed around with it more, and came up with a solution. It's not in the video on the website, so here's how to do it:
Pull Buff® over head and all the way down onto neck, pattern side out. (Like the neckerchief in the video)
Pull top edge of Buff® up over head (temporarily covering face) until bottom edge of Buff hits chin. Ponytail should be inside (not below the bottom edge). (This is like foulard/do-rag in the video.)
Scrunch and/or roll bottom edge of Buff® up to hairline; multiple layers of fabric should be at the hairline. (I put it behind my ears, which I know looks dorky, but my goal was "effective sweat and hair control" and not "fashion statement.")
Grab ponytail and twist a few times, making a faux bun right next to head; using one hand to hold ponytail, grab free edges of Buff® with the other hand. (It helps to bend over a little bit while you do this.)
Grip opposite sides of Buff® (it's a tube, so anything approximate will do) and tie a single, firm overhand knot.
BOOM! Hair and sweat control in one! I used this method in multiple deep-flow style yoga classes that included inversions and plenty of movement, as well as a Lagree Method class. Gravity was no match for this baby.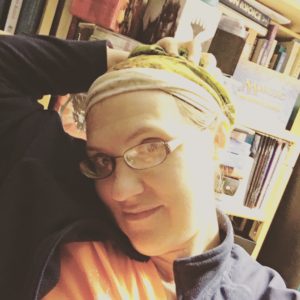 Do you have a favorite Buff® product?