Welcome to the Run Where I Live tour!
The San Francisco Bay Area is a runner's paradise. The City itself is filled with so many places to run. Like big hills? I don't. But if you pick any street with a cable car, such as Powell, you are guaranteed to run up a major hill. (If you've got some free time and want even bigger hills, drive over to Tiburon and run through the neighborhoods.) Prefer a flat course? Run The Embarcadero. You can start at the Ferry Building (a major landmark) and head East, running past and around AT&T Park, home of the Giants. I particularly like this stretch at night when there is a ballgame, or just to see the East Bay Bridge lit up at night. The Embarcadero is a popular spot, so you're sure to run past other runners. Another popular spot to run is the trail through Chrissy Field and Fort Mason; it is connected to the path up and through The Presidio and up to the Golden Gate Bridge. You can opt for a flatter run through Chrissy Field, or take the hills through The Presidio and Fort Mason. You can park at or near Sports Basement, which hosts a number of running groups (check the calendar) and is an excellent source for running supplies from socks to fuel to shoes and everything in between.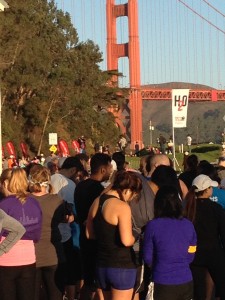 The San Francisco Bay Trail is a project that aims to connect a loop all the way around the Bay. It's not there yet, but it does provide 500 miles of gorgeous views from relatively flat trails. You can download maps, narratives, and more information than you ever wanted to know by visiting the official website. While you can buy maps at various locations, your smart phone should be more than sufficient to get you where you need to go—and if you plan to do an out-and-back, you don't need more than directions to the starting point–or you can just check out the map of the whole trail. The parts that are NOT in San Francisco are pretty amazing.
Alameda: Bay Farm Island
Since I live in Alameda, I'm partial to the Alameda portion of the trail. The easiest place to find parking is probably near the Alameda ferry terminal; if you're taking public transit to Alameda, the ferry is the only direct connection to San Francisco. (I don't park there, so use your favorite mapping app to find it.) Since I work at the Harbor Bay Club, I tend to park near the dead end of Packet Landing Road and walk the few feet from the dead end to the trail; if I go for a run after I teach 6 a.m. Monday yoga, I share the trail with some cyclists, a few other runners, some walkers, and locals walking their dogs. (To get to Packing Landing Road from 880, exit High Street towards Alameda—that's right if you are going South, and left if you are head North. After you cross the bridge into Alameda, BEWARE! The speed limit is 25!! Continue on High Street until Otis Drive, then turn left onto Otis Drive. Follow Otis as it curves around to the right, and cross the bridge to Bay Farm Island. Take the very first right available after you cross the bridge, to Island Drive. Turn right at the first light, onto Robert Davey Jr. and then turn right again (there's a light) onto Packet Landing Road.)
Packet Landing is a dead end street. I park in the road, walk to the end of Packet Landing until I hit the trail, then I head to the left, which gives me a view of both San Francisco and Oakland as the sun rises behind me. You'll run past little parklets and inlets, through to the ferry landing and parking lot. If you run this in the morning you should pack sunglasses—the sun will be in your face as you run back to Packet Landing Road.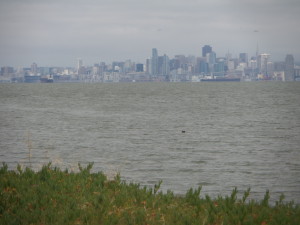 You can also opt to run right from the end of Packet Landing, as the Bay Trail stretches in both directions. As you come to the bridge from Bay Farm Island (where Packet Landing Road is) to Alameda's original island, you can choose to either run over the bridge (there's a separate pedestrian/bike bridge) or continue around Bay Farm Island. I like to run around Bay Farm, as the trail starts to get a little tiny bit hillier, through protected parkland filled with chirpy birds, and eventually to the model airplane field. If you choose to take the bridge, bear left after you cross (crossing the street with care and WITH the light) to stay on the Bay Trail.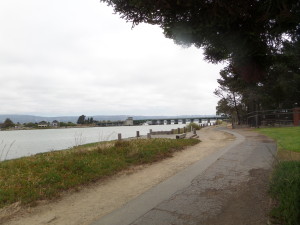 Alameda
Another option is to start on Shoreline Drive, on the main island of Alameda. This is where I live, so I tend to start here and then choose to either run to Bay Farm and back, or to run into the sunset until the sun is gone and then turn around and go home. You can run through Crown Memorial Regional Shoreline, and along the edge of the commercial South Shore Center. There is a ton of (free) on-street parking in this area as well. I live about a mile away, and I love to do evening runs on this path so I can watch the sun set over San Francisco.
Alameda has a long history as a Victorian-era vacation spot. While the spas and amusement parks are gone, and trolleys no longer bring in city vacationers, much of the architecture remains. You can take a run to follow this walking tour from the SF Chronicle, or you can pick up the local American Volkssport Association club's map and directions for a 10k featuring Victorian Alameda at Cafe au Lait (3215 Encinal Avenue).
Oakland
Oakland lives in San Francisco's shadow. If you're from outside of California, you probably only hear about Oakland in a negative context. Oakland is, however, a really cool town. It boasts two huge half marathon events–Run The Town and The Oakland Running Festival–and has one of the best simple and flat runs: Lake Merritt.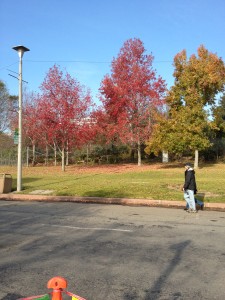 Get to Lake Merritt from San Francisco via BART, exiting Lake Merritt station or 19th Street Oakland station (both are a similar walk from the path around the lake). One loop around Lake Merritt is 5k. This is now a popular spot for runners in the evenings, now that there are strings of lights all the way around the lake. If you're looking for a timed loop or two, come out to the Lake Merritt Joggers and Striders' Fourth Sunday Run. Bibs and timed results for just five bucks.
Emeryville
Recently I found a gorgeous section of the Bay Trail in Emeryville (where I used to live). Emeryville makes a nice start for a run because there are so many options for post-run refreshment, including my favorite, Rotten City Pizza. (Did you know that Earl Warren, future Chief Justice of the United States Supreme Court, once called little ol' Emeryville "the rottenest city"? True story!) But run first, pizza later. To get to a gorgeous section of the Bay Trail, you can drive to Powell Street and towards the marina area (use Trader Vic's for an address, but park along Powell Street after you cross under the freeway). You can choose to run towards San Francisco or Berkeley marina–both provide flat, paved trails and gorgeous views of the Bay.
If you are looking for a group run (or workout) in Emeryville, check the calendar for Athleta in the Bay Street shopping complex. They often host a Saturday morning group run. If you start from Athleta, you can park in the Bay Street parking garages, and run from there, towards IKEA, and on to the new span of the East Bay bridge. This route is largely unshaded and has no water sources, so please take water if you run in the summer.
Group Runs
Prefer to run as part of a group? Check out the following options:
The Run Where I Live Tour
Next tour stop, Australia! Your run-tour guide will be Erin Runs Around. You can find a list of all of the tour stops at Live Run Grow.