Disclosure: Merrithew Health & Fitness sponsored Sweat Pink's BlogFest at IDEA World Convention for several years, and I am thankful for their sponsorship and for the programming they provided. The prizes for this giveaway were provided to me by Merrithew Health & Fitness as part of Sweat Pink's BlogFest with no strings, no compensation, and no requirements (e.g I was not asked to write a blog post, host a giveaway, or do anything else). The entire contents of this post, including all words and opinions, are my own honest opinions.
Hey, it's time to celebrate the Twelve Days of Christmas! "Wait," you may be asking, "wasn't Christmas yesterday?" Indeed, it was! The Twelve Days of Christmas are actually the twelve days in between Christmas (the First Day of Christmas) and the day Christians celebrate as the day the magi (the three wise men/three kings) arrived, also called Epiphany. Traditionally, the last of the twelve days was the day you took down the Christmas decorations (I swear, I am not making this up). You know Shakespeare's play, Twelfth Night? That's about the twelfth night of Christmas. But enough of the history lesson…On the SECOND day of Christmas, I offer you this review and giveaway!
The Pilates Fitness Circle. If you've ever looked at a Pilates Fitness Circle and thought, "that's a weird gadget that I can't imagine doing much for me," I'm with you—I used to think the same thing. (Pilates Fitness Circle Resistance Ring is a trademark of Merrithew Health and Fitness. You may also have seen a similar gadget called by another name: Pilates ring, magic circle, exercise circle, exercise ring.) Even in my Pilates classes, the Fitness Circle was largely used to help with body placement and awareness. It never occurred to me that the Fitness Circle had a role to play in athletic conditioning.
Workout. I took the DVD "Athletic Conditioning with the Fitness Circle" for a test drive, using the Fitness Circle lite. (The Merrithew Fitness Circle also comes in two other models, flex and Pro. Flex provides less resistance and has a unique handle design that differs from the lite and the Pro. Pro is similar in design to lite, but is made of steel instead of plastic; as a result, the price for the Pro is $65.00 while the price for the lite is $34.99. It's also a bit heavier than the lite.)  This workout is part of Merrithew's CORE line, focused on athletic conditioning and performance training, so it is not strictly Pilates. According to Moira Merrithew, who introduces the workout, the 27 exercises in the workout are focused on strength, alignment, and efficient biomechanics. I now have an entirely new outlook on the Fitness Circle (and I'm glad I have one of my own!).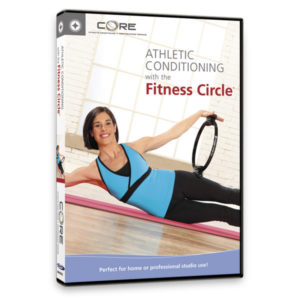 The workout is led by John Garey, a Master Instructor Trainer for Merrithew Health and Fitness. Two additional Merrithew Instructor Trainers (meaning they train teachers to teach the classes) demonstrate all of the exercises. John's instruction is clear and detailed, carefully explaining body positioning and movement step-by-step. If you have never done any Pilates or mat-work style exercise before, you're in good hands with John—just follow his instructions. Of course it is a video, so if you miss an instruction, you can take a look at the movement on the screen and follow along. That said, if these exercises are new to you, there are some exercises you may have a difficult time performing at the same tempo/speed as the DVD. I found this true of the hinge-back with rotation exercise.
The warm-up uses the Fitness Circle to assist with some stretches that may already be familiar to you. Throughout the workout, the Fitness Circle acts as a replacement for a yoga strap in some stretches, which limits both the range of motion (in a good way—making the stretch more stable) and the amount of tension on the wrists and forearms.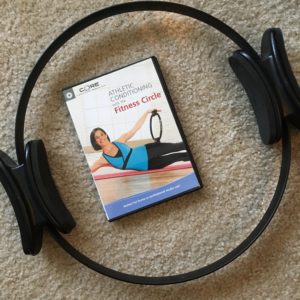 I was skeptical of the "Level of Difficulty" rating, which is four out of five. That is, until about five minutes into the workout, when there is a series of kneeling hinge-backs that incorporate the Fitness Circle. (A "hinge-back" from the kneeling position involves keeping everything from your knees to the top of your head in a line, and taking that line straight back to a 45 degree angle.) Holy quads and abs! Several of the exercises involve using the Fitness Circle either between your ankles (pressing in on the Fitness Circle) or with both feet inside the Fitness Circle (pressing out). I found these more difficult than they looked, as one of my legs is clearly bossier than the other! I enjoyed the variations on classic Pilates exercises, including a modified version of The Hundred and a version of Shoulder Bridge where you press one arm behind you on the Fitness Circle.
What really kicked my butt, however, were the single leg bridge variations. The gist of the exercise is to press up into a bridge pose, then lift one leg while pressing the Fitness Circle into that leg. My other hamstring was ON FIRE. So much so that I couldn't do even half of the set on either leg. WHOA.
While I am currently not at my optimal level of fitness, I found this DVD very accessible with an appropriate level of challenge. Given my experience teaching yoga to very muscular men, I strongly suspect that serious athletes (like CrossFit junkies) would find at least parts of this program very useful in conditioning smaller muscles that don't get much love during a typical workout, such as the multifidus, and for the range of motion and movement principles.
Brand new to Pilates type movements? The DVD includes a tutorial on the Five Basic Principles (Breathing, Pelvic Placement, Rib Cage Placement, Scapular Movement & Stabilization, and Head & Cervical [spine] Placement).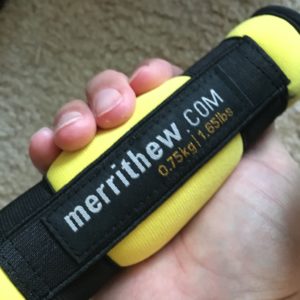 Merrithew also offers additional DVDs that use the Fitness Circle as the only prop, including Fitness Circle Flow, the Fitness Circle Challenge, Power Paced Fitness Circle, and Precision & Control: Pilates with the Fitness Circle. If you prefer a workout that incorporates a reformer or more props, you can find more titles on the Merrithew website. Finally, there are a variety of other brands/companies/individuals that produce video content that incorporates the Fitness Circle and you can find many other options online.
This prize pack includes:
Merrithew Fitness Circle Lite in black (MSRP $34.99)
Athletic Conditioning with the Fitness Circle DVD (MSRP $16.95)
Merrithew Soft Dumbbells 1.65 pound each (MSRP $23.99)
Miscellaneous treats and surprises