Disclosure: I'm a member of the 2016 Rock'n' Blog team. This year one of our perks was to select two books from VeloPress, a publisher focused on books for cyclists, runners, and triathletes. I was not required to write a review or offer this book for giveaway (though I have chosen to do both). All words and opinions are my own.
If you've poked around on the blog, you might have noticed one of my very first reviews for trail running shoes. That was also my very first experience with trail running, and my questionable decision to sign up for three half marathon trail runs taking place within a single week. (Note: don't do that.) Despite my lack of judgment, or perhaps because ignorance is bliss, I had a great time and have continued to take on a trail run here and there. If you're in Northern California, I highly recommend you take a look at Brazen Racing; if you have nothing to do on my birthday (October 9) the Sasquatch Racing Honey Badger has options for a 5k, 10k, and half marathon. (If you are one of the first ten people to use the code BAIN, you can save $10!)
Psst! Click here to tip off your friends: October is Giveaway-A-Palooza here on the blog.
Click To Tweet
In hindsight, there are plenty of things I wish I'd known about trail running before I went out and picked a trail race. (It might have been nice to have a training run or two on a trail, for example!) For a fun romp through some trail advice, check out the Runner of a Certain Age Podcast Embrace the Chaos Edition.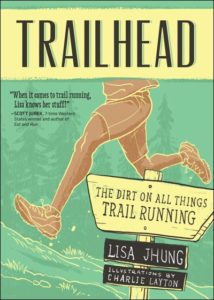 That's where Trailhead comes in. Lisa Jhung's book, subtitled "The Dirt on All Things Trail Running," is playfully illustrated by Charlie Layton. It's a great guide to running on trails for the beginner or someone who is otherwise newer to trail running. (If you're already a die-hard trail runner, maybe you'd like to win a copy to give to a friend who is hesitant about off-roading?)
It comically begins by assuming you're not sure what is and is not a trail. (Okay, maybe you're actually not sure–there are plenty of "rails to trails" program "trails" that are really paved bike pants.)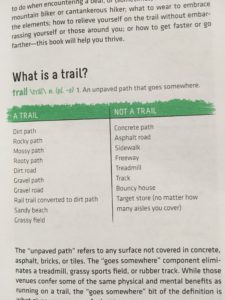 The first two chapters cover the potential benefits of trail running for your body and your mind. Some of them are the same as any exercise, but there are specific benefits to trail running, including a balance challenge that you don't get from running on the road. Jhung covers the specific physical benefits of trail running for a variety of athletes, including yogis and swimmers and cross-fitters (oh my!).
The next few chapters are dedicated to the "hows" of trail running: how do you find a trail? How should you dress? How much gear do you need? While some of the basics are the same as running on the road (e.g. good socks are key, cotton clothing is like bad), some considerations are trail-specific. For example, you're not going to find a drinking fountain or a Circle K on the trail, so you have to carry fluid–but what is the best way to do that? There's a chapter devoted to weather and conditions on the trail (you probably don't think about avoiding poison ivy when you run in the city), and another chapter about nutrition for trail running including special hydration issues (since again, you're not going to find a water fountain to refill your bottle…and it might not be a great idea to drink directly from that stream).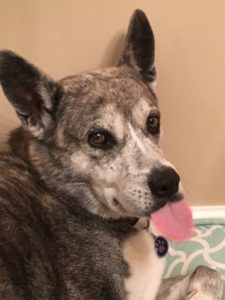 Running on the pavement, wildlife encounters are generally limited. Sure, I stop to pet every cute dog I see (and sometimes the cats), but those are domestic-life not wildlife. Maybe you see squirrels, or a skunk, or a hedgehog (depending on where you are running). But on trails, you might run into wildlife that is actually wild, undomesticated, not likely to be seen regularly wandering suburbia: coyotes, wolves, bobcats, mountain lions…bears! Deer! Elk! Bison! Alligators! Snakes! What do you do if you find one in your path? Don't worry, Jhung's got you covered. (Because while the book is pretty funny, getting trampled by a moose while out on a run is not.)
Trail running also has some etiquette points that differ from pavement running. There are no garbage cans, so plan to pack out your trash. That's obvious, but the rules for who has the right-of-way on a single-track trail are not always obvious. And what do you do if you need to take a leak in the woods? (Hint: nature does not come equipped with porta-potties. Also, you don't want to pop a squat in poison oak.) Paved running surfaces are pretty easy to destroy and generally either take care of themselves or have assigned minders. Trails, on the other hand, are subject to erosion, and can be easily damaged or destroyed by bad behavior. Jhung also covers the basics for trail running with animals (dogs, horses, burros), so you can keep your non-human companions on their best behavior too.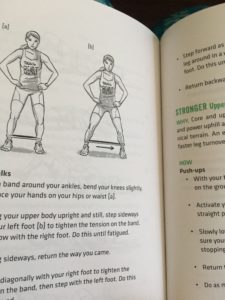 The end of Trailhead briefly covers some specific training for trail runs (including strength exercises that will benefit your running overall, but are especially suited to trail running), and trail races. I wish I'd had this advice before I signed up for my first trail runs!
Contest details: enter via Rafflecopter. I'll pay postage to the U.S. and Canada (if you win and live elsewhere, you pay the postage). Prize consists of one copy of the book Trailhead, which is pre-read but looks like new (no creases, bent pages, cracked spine, etc.) This contest is not sponsored by, endorsed by, or affiliated with anyone other than Train With Bain. Please expect slow shipping, as Bain is running every weekend in October in a different state!