The Roses on the River event was originally slated to start on the west side of the river. For those unfamiliar with Portland, the Willamette River runs through town, separating the west side from the east side. (Not to be confused with the Columbia River, which runs east-west and separates the north-most part of Portland, Oregon form the south-most part of Vancouver, Washington.) Downtown Portland is immediately adjacent to the river, and there is a paved promenade/walkway next to the water in addition to Tom McCall Waterfront Park. Part of the draw of the Roses on the River run is that the race is sponsored in part by the Portland Thorns, our winning women's soccer team (which played short several team members at the beginning of the season as they were busy kicking butt as part of the U.S.A. women's national soccer team…you know, the national soccer team that actually wins World Cups). This is a BIG draw to the event; instead of yet another race shirt, participants receive Thorns scarves (that's what soccer fans wear) and a ticket to the Thorns game.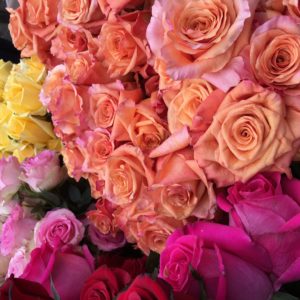 This year, the racist groups Proud Boys and Patriot Prayer decided to come to Portland from out-of-state and hold a "rally" on the same day as Roses on the River, a decision they announced what seems like just a few days before the race. For those of you not playing along at home, Portland fancies itself to be a liberal and inclusive town. In a state with a significantly racist history, modern Portland is at least trying. This makes white supremacists angry enough to don matching polo shirts and/or riot gear, board rented school buses, and head to Portland to…find people to beat up? I'm not sure what they actually plan to do, because they just seem to end up brawling in front of local businesses and breaking windows downtown. Maybe they want their closeted-white-supremacist-brethren to "come out" as modern Klansmen? Maybe they just wanted to mess with Roses on the River? At any rate, they aren't local, and they seem to show up to antagonize protesters who identify as anti-fascist (some of whom are also not-from-Portland violent thugs, so at least they have that in common).
Race organizers for Roses on the River reacted by moving the entire event out of downtown, and over to the east side of the river (which does not have a gigantic stretch of park like the west side, but which does have a paved multi-use trail for running, biking, etc.) to what is apparently called the "Eastbank Festival Plaza." This was entirely sensible, leaving the Portland police less to worry about downtown and providing runners with a ton of free parking. It also put the starting line within walking distance from my apartment.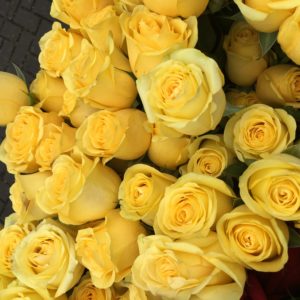 The Thorns? They pulled their sponsorship of the race. That's right, no Thorns at Roses on the River. While runners still got a ticket to the Thorns game, they did NOT get the limited-edition Thorns scarf—one of my big reasons for signing up for the race. The Thorns officially cited "liability," which is a bogus excuse given that (1) all participants sign a liability waiver, and (2) the race moved across an entire river, away from the "rally" area, and police shut down the bridges. I suspect the REAL reason the Thorns pulled out is that they were afraid people would lose or abandon their scarves, which the white supremacists might grab on their way to the brawl, and therefore might end up in pictures of rioters and thus become "bad optics" for the Thorns. Nevermind that they could have avoided this by only handing scarves out at pre-event packet pickup (and changed the rules to DQ anyone wearing one), or mailed or otherwise made them available only a day or more after the event. Nope. They just pulled out. Race organizers didn't even have time to change the website to show that runners wouldn't get a Thorns scarf—I found out AT the race!! (I later found out the Thorns also forbid the race organizers from handing out any leftover scarves from 2018. Seriously.)
Due to the change in location and change in space, I suspect several companies that had planned to be at the start/finish area also pulled out of this year's Roses on the River. Like I didn't see Jersey Mike's, which was supposed to give finishers a half sandwich (not that I cried over this too much, since races often don't provide vegetarian sandwiches). It almost makes no sense, since there was MORE parking, and plenty of space under the bridge. I was very pleased to see my favorite race supporter, the Franz bakery grilled cheese truck! After the race I grabbed a grilled cheese bite and a loaf of delicious glutenous goodness to take home.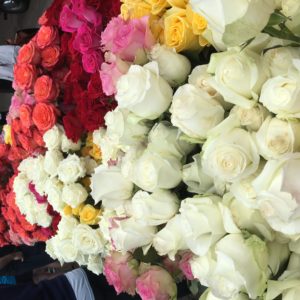 I arrived about ten minutes before the starting time. (I want to say the race had self-sorting heats, with the walkers starting first, but I wouldn't stake my life on that.) There was no line to pick up my bib and attached timing chip, and no worries about where to put my scarf because I didn't get one.
The race was a 5k only this year (some past years did have a 10k option) starting from the Eastbank Festival Plaza, just north of the Hawthorne Bridge. The course was an out-and-back, south past OMSI, past the Ross Island Bridge, and a bit further south before the turnaround and return north to the start. The path was not closed to other uses, but the few other runners and cyclists out there were pretty reasonable.
In the spirit of "I am supposed to be training for the Chicago Marathon–and you should definitely donate to my fundraiser for Team Imerman Angels–I had intended to run/walk intervals. Unfortunately, I was still learning how to make the intervals on my watch work, and so the entire event was timed as a warm-up. Oops. After I realized my mistake I did some self-timed intervals. The plan was to run 3, walk 2, but my lungs were not game to play, so I did more run 2 or 1, walk 1 or 2. Near the end I got inspired to kick my own butt and turn on the speed, and ran right past some folks mustering for the riots under the Hawthorne Bridge before I crossed the finish line. (I later went back to look at them, and took a photo—super obviously, not even trying to hide it a little—to post to facebook so my friends would avoid the area. It was hard to tell who they were as a few had on MAGA hats, but there was also a riot medic—something I associate with the left—and some punch-out Donald Trump masks that were a very unflattering parody, along with lots of black commando-style gear and bandanas over faces and a big show of going to shake hands with the police officers babysitting them.)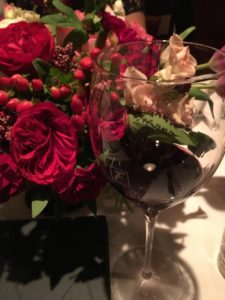 I did appreciate that the walkers got to go in the first heat, and not just because I got to sleep in a little. Many had finished by the time I started, and the ones left on the course had spread out. There were also plenty of walkers, as Terrapin Events (the race company) is serious about making walkers welcome. While out on the run I saw plenty of families, and also parent-kid combos, and high school track runners.
Then I collected my cider—2 Towns Ciderhouse and Widmer Brothers Brewing provided post-race adult beverages—and my grilled cheese bite. There was music and some people were dancing as I picked up samples of vitamins disguised as a fun-sized candy bar, after which I sauntered down to a nearby restaurant to eat brunch with some of my peeps.
Would I run it again? Maybe, if (1) I'm actually going to get the Thorns scarf I was promised, and (2) there is no sissy-boy "I'm exerting my First Amendment rights" nonsense going on. (Yes, I'm still a bit sore that the Thorns didn't make any effort to get the promised scarves to runners, especially since I bet they were ordered well-enough in advance that they exist somewhere.) It would also have to be on a weekend when there are no competing events, as I run up and down the sides of the river on a fairly regular basis. The race organizers and the runners and vendors were great, and created a festive atmosphere. If you are looking for a low-key 5k that is also timed, Roses on the River might be your Portland race.