Disclosure: I received a free UV Half Buff because I am a BibRave Pro. (Per usual, all opinions are my own–you should know by now I don't need any help with that, I've got plenty of 'em!) Learn more about becoming a BibRave Pro here. Read and write race reviews at BibRave.com!
What's a Buff?? If you've ever watched the TV show Survivor, you see tribe members with these matching cloth thingies. Some of the skinny-minny women wear them as bandeau tops, while the men tend to use them as headgear. I only ever heard the show's host mumble the name a few times, and I had no idea what he was talking about when he asked for their buffs. Um, they have to turn in their butts? The teams are getting a new bus? What-the-what?
Maybe you have a few more clues and knew that he was saying BUFF. (That wouldn't have helped me, as I would have been all like, "um, what's a 'Buff'?"). If you were in my boat, THIS is a Buff: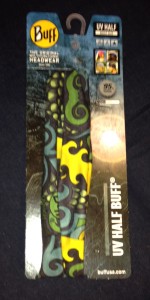 Basically it is a piece of fabric shaped like a tube that doesn't have any seams. You may have seen something like this, or even used something similar, but if you haven't used a Buff, you don't know what you are missing. Case in point: I belong to two distance running clubs that sell knock-off buff-like items emblazoned with the club logos. I found them hot and sticky to wear in even the slightest humidity. They reminded me of some of the polyester duds I sported in the '70s. I couldn't figure out how Buff was popular if it just trapped the sweat inside and made your skin itchy. But that was NOT a real Buff!
I picked a half-Buff, in part based on my past experience with the wanna-be-buff. (The other part is that this Buff provides UV protection, and I am uncertain I could get a full-sized Buff to sit still instead of gliding right off of my slippery baby-fine hair.) Turns out the REAL Buff is NOTHING like the pretender I'd previously tried.
Test Runs. To test the Buff, I took it on several runs. Primarily I used it as a hat-liner and head-band, sweeping all of my hair off of my neck and face, and once covering my ears (which I'd forgot to put sunscreen on). I also tried it out as a wristband for sweat-blotting. Not only did the Buff absorb sweat and quickly get it off of me, it also air-dried fairly quickly. Once I washed it out with shampoo, rinsed it, and hung it on the shower rod to dry overnight. It was soaked through when I hung it up, even though I'd wrung it out. It was 100% dry when I got back to it in the morning.
Construction. The Buff is seamless and has no edges. The material is a stretchy, soft knit. There is nothing to catch, snag, run, pull, or otherwise fall apart. Granted I've only washed mine about four times, but the print colors have not run or faded. Further, the good folks at Buff confirmed that washing does not affect the UV protection.
Fit and wear. I am not brave enough to attempt to wear mine as a Survivor-style bandeau. (It's also not in the "ways to wear" suggestions!). I've got a big ol' melon, and the Buff went all the way around, no trouble. When it was on my wrist I just double (triple?) looped it, and it stayed. I could also see myself wearing it as a headband (folded over a few times), or as a wind-protection layer around my neck when it is colder. Each time I've taken it off and washed it, the Buff has returned to its original size/shape.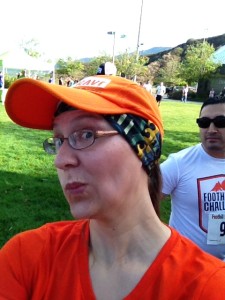 Perhaps the best part? Even after multiple wears with just a rinse (as opposed to a washing machine wash), it does not stink. I sweat when I run, so this is a major bonus.
In addition to the UV Half Buff, there is also a UV Full Buff. Other Buff products include the regular ol' Buff, wooly winter Buff, balaclava, Buff for Fido, and all manner of other cool stuff. For a limited time, you can score a discount with code BIBRAVE10–you'll save 10%.
Buff was really generous and gave many of the BibRave Pros a chance to try out their products. (They also sponsored a #bibchat!)  To read more opinions, check out these blogs: