If you haven't checked out the Run Where I Live Tour, hop over to Live Run Grow and start your tour in Cape Cod, then follow the links to see where your fellow runners run. (Maybe bookmark a few for your next vacation?) Since runners love to eat, the topic of running local easily leads to eating local. So I'm dedicating my first "what I ate Wednesday" post to edibles for runners (and other athletic types). Read on to learn about my newest discoveries, and to win some of your own!
Disclaimer: I received the products reviewed in this post from Clif Bar & Company. Clif Bar did not ask me to publish a review (though they are probably hoping for at least a shout-out). Clif Bar did not ask me to use these products in a giveaway (so count yourself lucky that I'm not greedy and that I promise not to eat all the coconut-flavored samples!). All opinions are my own. Trust me, I have so many opinions I don't need to borrow anyone else's. 
Clif Bar & Company is headquartered in Emeryville, the "rottenest city on Earth" according to Earl Warren, about two blocks from my first California apartment. If that's not local food, I don't want to hear about it. Ha! The original Clif Bar in coconut chocolate chip kept the rumbly-in-my-tumbly from disturbing my classmates when I had 12-hour days in grad school. I love the relatively new Clif Mojo Bars, so I was excited to get the opportunity to try the new Clif Organic Trail Mix Bars, which debuted in April 2015.
According to the Clif website, "Clif Organic Trail Mix Bar is made for mixing it up and discovering all the good stuff the day has to offer. Combining simple and organic ingredients that are good for both our bodies and the planet, our trail mix bar comes in flavors for just about every occasion no matter where the trail takes you." If you like Clif Mojo Bars, chances are very good you will also like the Clif Organic Trail Mix Bars. Mojo Bars inspired the Organic Trail Mix Bars, which have 95% organic ingredients (Mojo is 70% organic).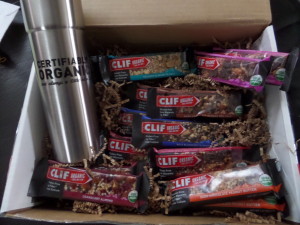 Clif Organic Trail Mix Bars are gluten free, certified kosher, and delicious! These wouldn't be a go-to running food for me, exactly, because you have to chew them and I've got a talent for choking on things, but they make a great post-run snack. Or a hiking fuel snack (nuts + chocolate = protein, fat, and carbs). I have a stash in my desk so I can successfully treat myself to something healthy instead of grabbing a donut at the cafe. Each is at or under 200 calories, so it is a good size for a snack. The protein and fats from the nuts up the satiety factor (you actually feel like you ate something).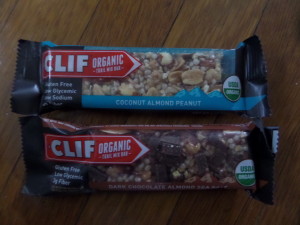 My favorite flavor is the coconut almond peanut. (I'm still a sucker for coconut.) Just look at it, and you can tell most of what is in it. The dark chocolate almond sea salt is a close second, because it's a little bit like a candy bar–chocolate and almonds, right?–but without the candy bar fake ingredients. Dark chocolate peanut butter rounds out the top three for my favorites, but I think dark chocolate cherry almond deserves an honorable mention; it has cherries in it, so I need it for muscle recovery, right?
Clif seems to have a flavor for everyone in the Organic Trail Mix Bar, with or without chocolate. The other flavors are cranberry almond, wild blueberry almond, and dark chocolate pomegranate raspberry. (If you enter my giveaway below, you could win a box with one of each flavor!)  Certified USDA organic, the ingredients list for my favorite illustrates what is inside:
INGREDIENTS: Organic Peanuts, Organic Tapioca Syrup, Organic Almonds, Organic Coconut, Organic Rice Crisps (Rice Flour*, Dried Cane Syrup*, Salt, Calcium Carbonate), Organic Inulin, Organic Honey, Organic Roasted Soybeans, Organic Coconut Oil, Sea Salt, Natural Flavors, Mixed Tocopherols (Antioxidant). ALLERGEN STATEMENT: Contains soy, peanuts, almonds, and coconut. May contain traces of other tree nuts.
Good stuff! Clif Organic Trail Bars are available in a variety of grocery stores, sporting goods stores, Target, and online through companies like The Feed. MSRP for a single bar is $1.69-$1.79 but you might as well buy a box (it's more cost-effective, and you know you're going to want more than one…and if you don't want more than one, just send me your leftovers and I will take care of them for you).
If you've been to any race expos in the past year, you've probably noticed an interesting trend in athletic fuel. While athletes have used itty-bitty pouches for years (think Gu, Clif Shots, Honey Stinger, Hammer Gel), the larger pouches have been reserved for toddlers (think Mott's Snack & Go, GoGO Squeeze, Chobani Tots). Until now.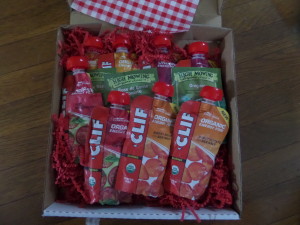 When I opened the box with samples of Clif Organic Energy Food I was excited, but also a little bit terrified. The pack was super cute and pizza, themed, complete with a red and white checked napkin and seeds to grow basil, oregano, and tomato.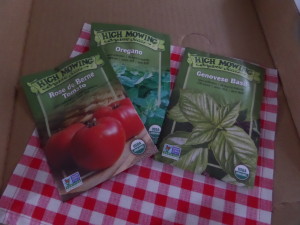 Then I looked at the contents. Pizza Margherita? Really? My runner friends who found the pizza and the Sweet Potato with Sea Salt flavors were quick to snap a selfie and post an expression of similar skepticism. Is this for real? I love pizza as much as the next runner, but pizza squeeze? Yum or Ew? (The answer is yum, by the way, but I'm getting to that part.)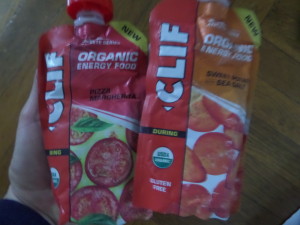 Clif Organic Energy Food comes in four flavors. According to the Clif website, these were inspired by recipes used by Clif athletes. The two you would thing of as "more normal" (banana mango with coconut, and banana beet with ginger) are sweet, like you expect runner food to be, and come in at 90g and 100 calories per pouch. They taste just like you'd expect them to taste (only if you expect to get a vegetable flavor from the beet, that's not quite right.) The two savory flavors (sweet potato with sea salt, and pizza margherita) have a higher protein and fat content and are 120g per pouch, with the sweet potato at 200 calories and the pizza at 160, making them more suitable for longer activity. But let's take a look at that freaky-sounding pizza flavor, shall we? What the heck is inside?
Organic Tomato Puree (Water, Organic Tomato Paste), Organic Carrot Puree, Water, Organic Quinoa, Organic Sunflower Seed Butter, Organic Dried Cane Syrup, Organic Olive Oil, Yeast Flakes, Sea Salt, Organic Garlic Powder, Organic Oregano, Organic Basil, Citric Acid.
What is NOT inside? GMOs, trans-fat, partially hydrogenated oils, high fructose corn syrup, weird fake sugars, preservatives, artificial colors, and artificial flavors. Okay, so far, so good.
Since I didn't want to try a new food on a race day, but I also didn't want to open a pouch and risk throwing most of it away just to get a taste–with no preservatives, these foods are designed to open and eat immediately, not be served up as leftovers–I decided to make my own version of the recipe for Scott Jurek's Long Run Pizza Bread included in the box. But first, a taste of the Clif Organic Energy Food: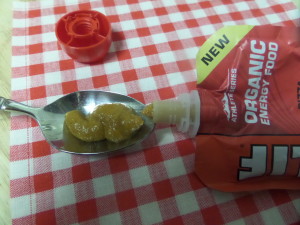 It tastes like pizza. Not like "pizza flavor" but like you took a bite of pizza toppings and chewed it up. Most of my Instagramming and Facebooking friends doubted that they would want to consume anything tomato-based while running. This doesn't have the acidic, sharp flavor of pureed tomatoes. Notice the second ingredient is actually carrot, which gives the Pizza Margherita a smooth, creamy texture. The starch from the carrot balances out the tart tomato. So I was happy to make myself some dinner!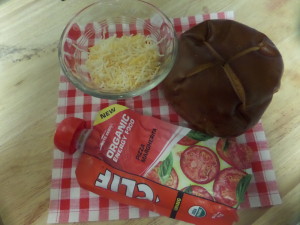 I sliced the Pretzilla in half and toasted it, cut side up, in the toaster oven. After it started to tan, I pulled it out and spread a generous heap of the Clif Organic Energy Food on top. (It looked really orange–not like tomato sauce.) Then I topped each half off with a sprinkle of shredded pizza cheese, and popped it back into the toaster oven until the cheese started to melt.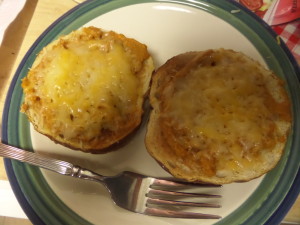 Moral of the story? Your parents were right: try it, you might like it. (This recipe used about half of a pouch. While you're supposed to consume it and toss the leftovers, I'm going to take a calculated risk. I put the remaining half pouch in the refrigerator, and plan to put it on eggs and potatoes for breakfast.)
By the way, another aspect of the Clif Organic Energy Food I really approve of: the lid can be recycled, and Clif partners with Terracycle so you can upcycle the pouch itself.
Clif Organic Energy Food is available in a variety of locations. Check your local running store first, then your grocery store. MSRP for the sweet flavors (90g) is $2.29 and MSRP for the savory flavors (120g) is $2.99.
Do you want to win some Clif Organic Trail Mix Bars AND Clif Organic Energy Food? One lucky winner will get a prize pack that includes one of each flavor of bar, and one of each flavor of Organic Energy Food.