There were not enough porta-potties at the starting line.
You read that right: not enough porta-potties at the starting line. (I only know this because I was talking to one of the nearby merchants after the race, and he said runners were asking if they could pretty-please use the bathroom in his store.  Like the welcoming town Livermore is, said merchant allowed them to do so.) For an inaugural race, that's pretty high praise–the lack of porta-potties was the absolute worst visible gaffe throughout the entire race experience.  Bravo, Inagural Livermore Half Marathon!
While I would have preferred some race day packet pickup, I understand the logistical mess that could have been.  There were two pickup options, one on Thursday at the Livermore 24 Hour Fitness, and one on Friday at the pre-race Expo in downtown Livermore. Fortunately work had me driving home through Livermore on Friday, so I stopped by the Expo.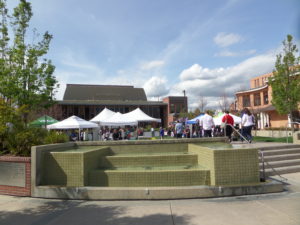 A printout of all of the race numbers was taped down to the tables in front, and after looking up my number I walked right to the pick-up tables–no lines–for my bib and shirt. True to the promise in the pre-race advertising, this is a cute shirt I will actually wear.
The Expo itself was somewhat small, with tables for maybe 8 vendor-exhibitors.  These included Vega and Culligan, the on-course hydration support team, a few services (chiropractic, massage), a Stella & Dot vendor, and the San Francisco creation "Go Cuff."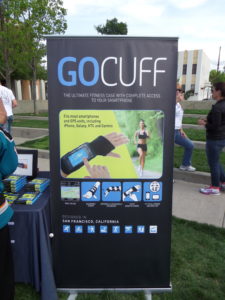 Then I discovered the Artistic Table–turns out they were one of the post-run RunLiv festival sponsors–where I had a delightfully crispy light red while finshing up some work for the week and awaiting my friend Sandy.
Sandy and I had a pre-race pasta fest (yes, I know the science behind carb loading says us weekenders don't need it, but I like pasta!) at Strizzi's (http://www.strizzis.com). I would have eaten (and sipped!) more, but I still had to drive home (making Sandy the smarter of the two of us, as she booked a hotel).
Race day morning, I experienced the usual difficult prying myself out of bed.  Arriving in Livermore just about ten minutes before the start of the race, I was thrilled to find ample, FREE, convenient parking.  Score another one for Livermore. During my warm-up jog to the starting line I fastened my SpiBelt and stuck the timing tag to my shoe. As I hit the back of the pack, the race started and I turned around for the run.
The run was beautiful! I'd previously run the Grape Stomp, also in Livermore, but this course was entirely different.  We started right in the middle of downtown, at First Street and Livermore Avenue. From there we ran through some neighborhoods, then through several parks (Independence Park, Sycamore Park, Holdener Park, Robertson Park), and past multiple wineries and vineyards (notably Wente, which I love for its support of numerous charitable endeavors). The weather was perfect, and the surrounding beautiful: verdant green hills surrounded us on all sides! The on-course support was well-staffed and well-executed.  I honestly felt like the entire city of Livermore was quite happy to welcome us.
At the finish line I received my inaugural finisher medal, pretty and with a nifty wine glass spinner in the center.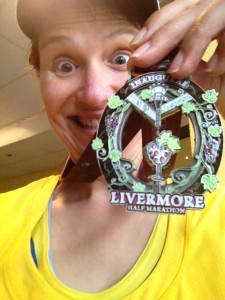 More important, I received my RunLiv festival wine glass! It's a good thing I have a photo of my ID on my phone, since I'd left the car in a hurry to get to the starting line.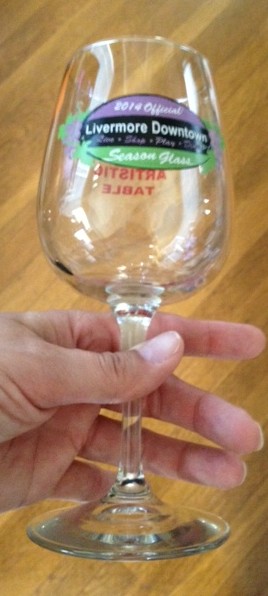 The remainder of the chute area sent us runners through all the typical post-race refreshments, such as Muscle Milk, bananas, and donuts.  (Yes, donuts! I'm not ashamed to say I snarfed my coconut covered old-fashioned…but perhaps I shouldn't have eaten the second one.) From there it was a party! Live music, a dance area, and about a dozen wineries (plus a brewery) pouring tastes for runners.  Non-runners who purchased a ticket were also welcome to join in the fun.
Shops lining the streets also got in on the action. Caratti Jewelers handed out adorable little gift bags with jewelry cleaner and the new Pandora catalogue inside.  (Learn more at http://www.carattijewelers.com/.)  Pretty awesome, since I have a lot of tarnished silver earrings–thanks, Caratti!
Since the field was reasonable but not huge, I easily found my run club friends at the festival. After we sampled as much wine as seemed reasonable at the time–and stopped by to sample the official event wine for RunLiv–we grabbed some hot slices and watched as the rain started to come down.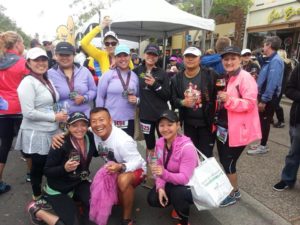 (Hey Dianne, how much stuff did you have in that bag, anyway??? Kidding!) On the way back to my car I grabbed a cup of coffee to keep me warm on the way home.
Not only did I have a fantastic time at a race that seemed nearly seamless and flawless, I was stoked to find discount codes for the upcoming RunOak and RunSF events on the back of my bib.  With an inaugural race this good, of course I'm siging up for both!  Now, let's see if the organizers decide to throw in some bonus bling for those of us who run all three.
Livermore Half Marathon http://www.runlivermore.com
The Town's Half Marathon http://www.runoak.com
The US Half Marathon http://www.runsf.com
And seriously, about that bonus bling…