Confession: I'm a sock junkie. I have two full dresser drawers of socks. One drawer has thin socks, holiday-themed socks, novelty socks, over-the-knee socks, solid colors. The other has six pairs of cheap and thinning white men's sweatsocks, wooly socks for winters and wet days, fuzzy wuzzy socks, socks with sticky dots for barre and Pilates, running socks, workout socks, and a few randoms that don't have a category. The right socks make life that much better.
This is not a sponsored post–though if any of my favorites wanted to throw me some socks or make me a sock-bassador I wouldn't turn them down!–just a piece in praise of socks. Also, I foresee a part two coming…
Wright's Double Layer Socks
Find them: @wrightsock on Twitter; www.wrightsocks.com; /wrightsock on Facebook
These are the most amazing running socks ever made. There is no comparably excellent product out there. I love these socks so freakishly much that I contacted them to suggest they should start an ambassador program just so I could apply to be in it. I wear my Wrights until they wear out (which takes years, but I've successfully killed a few pair). Since I've discovered them, they are the only socks I wear to run. Why mess with perfection?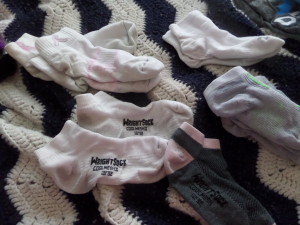 As the name says, each sock has two layers made from a mix of polyester, nylon, and lycra. The inner layer hugs your foot, the outer layer hugs the inner layer. Together the two wick away sweat, which keeps your feet cool and dry. The layers also protect your feet from friction, to give you a blissfully blister-free run.  Seams over the toes are completely flat and frictionless, so you do not feel them when you run and they don't mess with the fit of your shoe. They come in thin, midweight, and thicker varieties so you can find the perfect fit and feel for your feet.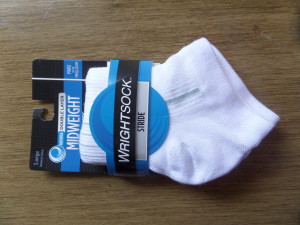 Wright's Double Layer socks are made in the United States by Wrightenberry Mills, Inc. which is a family-owned company. They are proud to keep their production jobs in the USA. They stand behind their product with a 100% blister-free guarantee: if you're unsatisfied, send the socks and the receipt back to them for a refund. (Or just send them to me, in size large–especially if they are the cute, new striped ones!)
Bombas
Find them: @bombas on Twitter; http://refer.bombas.com/x/vwottw (this is an affiliate link) /bombassocks on Facebook
ClassPass introduced me to Bombas by gifting me a pair in their birthday party swag bag. You know those old men's sweat socks I mentioned? They are destined to become polishing cloths and cleaning rags, as I am SO replacing them with Bombas. I'm almost sad that sandal season is here because I love mine so much.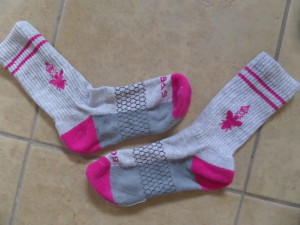 Bombas are cotton socks with a cute design that initially look a lot like your average sweat sock, but they have a little shape so they fit in a happy hug on your arch and do not fall down (if you choose the crew-length "calf" version). The heels are heel-shaped, not formless like tube socks, and the toes lack those annoying lumpy seams. They are also available as ankle socks, which other sock styles call no-show, and those have a little cushion over the back so your shoe won't rub on your Achilles and blister it. The cotton is long staple Peruvian cotton and super soft. The footbed–the sock part that covers the sole–is reinforced and feels like walking on an itty-bitty pillow. The company motto, "Bee Better" is stitched inside each pair (the name bombas is taken from the Latin word for bees).
Bombas is also a company with a mission. For each pair of socks sold, they donate a pair. (Bet you didn't know that clean, new socks are among the most-needed item at emergency shelters, homeless services agencies, and other charities.)  You can read about how and why the donated socks have a slightly different design on their website. Bombas also has a 100% satisfaction guarantee.  Also, if you want to buy some Bombas and you use this URL http://refer.bombas.com/x/TOQ3II  you will score 25% off and I will get a free pair of socks. (C'mon, you KNOW you want to!)
My Soxy Feet
Find them: @MySoxyFeet on Twitter; www.mysoxyfeet.com; /mysoxyfeet on Facebook
The newest addition to my sock drawers is a bright and shiny pair of My Soxy Feet. I love how the socks are a pair–they clearly go together–but are not identical. They have a nice, thick footbed which given them a luxurious feel. (Makes me want to keep my floors cleaner so I can pad around the house in these instead of wearing slippers.)  The band around the ankles has a different level of stretch than the socks, so it will remain securely in place.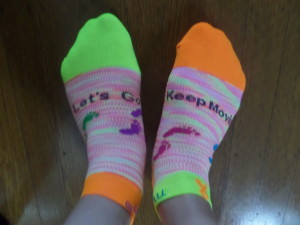 My Soxy Feet are made in the USA of CoolMax Ecomade, nylon, and lycra. You can read the blog and find out just what inspired Melissa to start a sock company (because that's what every mother does when her kids no longer need mom at home, right?).
Each of the designs currently available–it looks like they change from time to time–supports a different cause. The "Heart & Sole" are inspired by Rhoda, who lost her life to breast cancer; "Keep Moving" is dedicated to Tim (and a portion of the sales are donated to MS Run the US); "Dream Big" supports the Epilepsy Service Foundation; "United" helps Team RWB. You get the idea. Those are the women's sized designs–if only I had tiny kid feet, I could get monkeys! They have a 30 day refund or exchange policy, just in case you bought the wrong size–I cannot imagine why you'd want to return them!
What are your favorite socks? Tell me what's missing from my drawers!