Disclosure: Bain here. I didn't run Rock 'n' Roll New Orleans this year, so I didn't write this post–it's a guest post by fellow Rock 'n' Blog team member Gretchen Schoenstein! (I did write the headline, so don't blame her for that, okay?) Gretchen ran this race as a Rock 'n' Blog team member (which means she didn't have to pay the entry fee) but all of the content (including the pictures) and opinions are hers alone. Enjoy!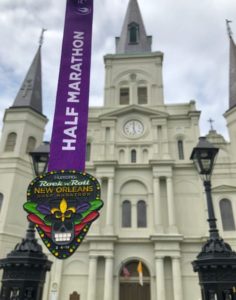 What better way to celebrate New Orleans 300th Anniversary than to run a Rock 'n' Roll half marathon! RnR NOLA has got to be one of the most, if not the most, colorful race weekends out there. And the most energetic. And most beaded for sure. Those colors, that energy and of course those beads were on full, enchanting display this past weekend.
It might seem a bit odd to celebrate a city known for amazing food and drink to bring a bunch of runners to town to join the hometown runners–had more than one cab and ride-share driver remark on "y'all aren't the usual crowd"–but where else are you going to celebrate your finish line with a sazerac than in the city that invented the drink?
For me, it's a city I've been aiming to get back to to run since I first ran #RnRNOLA back in February 2011. Back then, it was only my 7th half marathon, and my 3rd Rock 'n' Roll event. This past NOLA race was my 64th half marathon (54th RnR half!) and oh so worth the effort to finally get to run it in New Orleans again! It's such a unique place to run–the history, the food, the people. Folks who are from New Orleans have a pride that is nearly unmatched for their city, and they're so grateful to have all us runners come to town and not only enjoy a beautiful course that shows off some of the best parts of the city, but also make a point to really celebrate in a city that knows how.
You could sum up RnR NOLA for a lot of runners as: Run Hard, Play Hard!
And when I say run hard, here's the great news, it's not necessarily a hard run. Meaning, it flat, fast, and below sea level. Which is beautiful. You can't help be hopeful and expectant for a happy finish time. Not only that, but the music along the course is unique to the city and some of the most dynamic you will hear on any course. 'Kingfolk' standing on the bed of a pick up truck playing vibrant New Orleans jazz while shouting and whooping it up with runners as the pass by? Yes please! Or how about looking up and around and seeing the history surrounding you in the churches, buildings, and homes architecture. And if you keep looking up, you'll see beads just about everywhere.
Speaking of music–the speakers in the new mile markers signs? You have to hear them! Especially when you hear a song again along the way, like it's your own soundtrack following you.
Run hard and you may just get a PR. Like I did seven years ago. Here's the thing: it's still my PR. And so I'd had aspirations of aiming for that PR again–ended 2017 races on an upswing, so why not? Well, the flu and pneumonia got in the way in January and February, so I had to shift my goal a bit. This you can do in NOLA. It's a low risk, high reward kind of race. You can go for it, and this being the first of 12 halfs for 2018, I decided to get curious and use it as a way to kick the tires or test the water of what my body is capable of at the moment. Within the first few miles, I thought, hmmm, if I fight for every second I can on this course, I might just beat ALL of last year's race finish times.
And so you take in the whole course, the amazing runners (eager in sequined skirts, green purple and gold shirts, sunglasses with the sun beaming) along the way like the woman running backwards, or the two guided blind runners inspiring everyone around them, Kathrine Switzer, or the Darth Vader wearing a Saints hat cheering people along. And the spectators? New Orleans might just have some of the best out there. So loud, so fun, so delighted to see us running towards them.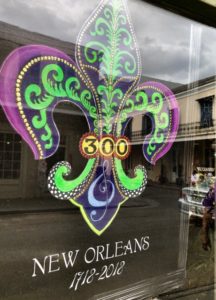 Speaking of seeing things coming – you cannot miss the NEW SIGNS along the course! New signs for water, gel and SiS support. I'd heard about these coming up but until you experience them you cannot begin to know how helpful they are. First, they're super obvious from down the way, so you can much better navigate moving to the right or left or staying in the middle without tripping over runners making last minute decisions. The flow of runner traffic is much smoother through there.
Plus, seeing the signs way up ahead allowed me to finish a gel or make a thoughtful decision about water, yes or no? And if yes, which side? And also if yes, how much? My fueling was far better managed which made for consistency that I know helped keep my pace and health along the course.  These signs are a game changer. As always, there was stellar volunteer support at those water and gel stations–people working so hard to make sure runners have access to things they need–the determined commitment they have makes you shout out THANK YOU as you run by.
When you finish in City Park, it's nearly an instant party. How could it not be? It's New Orleans, c'mon! There were even food trucks nearby and I've never seen so many runners lined up for delicious offerings with Soul Offerings and Cowboy Mouth raging on stage–if you're a food truck, you did extremely well serving a lot of hungry runners. That afternoon and evening, after everyone had crossed their finish lines, the bars and restaurants were buzzing with runners eating and drinking their way through the city; you could spot them, they had a hobble in their giddyup and a big smile on their face.
Oh, as for me? Just being in New Orleans and recalling some of the familiar course, including running down and back along St Charles Avenue, a bit along Magazine Street, down by the Mississippi river with it on your right and St Louis Cathedral on your left, past Cafe du Monde, and up onto Esplanade Avenue and entering into City Park past the huge fountains was worth the travel and the effort. And yes, I pushed myself because I could and because the course allowed it. And so, happily, I crushed ALL 10 of last year's finish times by nearly three minutes. Couldn't have done without the New Orleans course and the Rock 'n' Roll support.
Happy 300th Birthday New Orleans. Laissez les bon temps rouler indeed!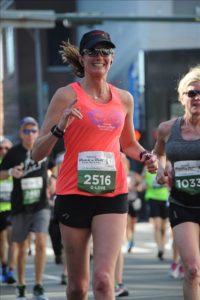 About the Author. With half marathons being her preferred distance, Gretchen Schoenstein has run 64 of them since April 2010. In late 2006 she was unable to walk, diagnosed with a debilitating auto immune disease that resulted in doctors telling her she'd never run again. For 3.5 years she listened to them and then decided to run despite their protestations and laced up a pair of running shoes and hasn't looked back, running 64 half marathons in eight years, with a goal of 75 total by the end of 2018. It doesn't mean there haven't been challenges and flare ups, including being diagnosed with asthma, but as every step is a gift, Gretchen is grateful for every day she gets to run and every step she gets to take. 
Psst!
Bain here. Why not follow Gretchen on
Instagram
and
Twitter
? Her handle is @rungrateful, in case those links are giving you trouble. You can also find her blog at
iwonderwoman.com