Disclosure: I'm running the Buffalo Marathon with a comped bib thanks to the BibRave Pro Team.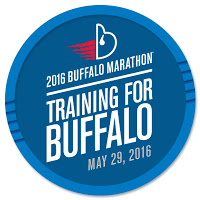 When I signed up for the Buffalo Marathon last year, I was confident I'd push my marathon time below six hours. (Officially, the course has a six hour time limit. After that, you are detoured to sidewalks so they can re-open the roads.) I had plenty of time. While I'd never done a six hour marathon, I'd also never done a course that is fast and flat, so it's just a matter of convincing my body to trot along a little faster. Naturally I had all sorts of issues including an overuse injury due to an imbalance in my hips/pelvis. Ugh!
My planning for this race is off in other ways too. I had also planned to write a long blot post with interviews from people who ran Buffalo in the past and while I started it, you haven't seen it yet. I had planned to reserve at the host hotel, which is sold out. Ugh!
But…
…I'm going to have a fantastic race anyway! Why? Because I run for fun. I do this because I enjoy it. After interviewing Greg Weber, the race director, on Runner of a Certain Age (that's the podcast I co-host, check it out!) I know the whole race weekend is going to be a total treat!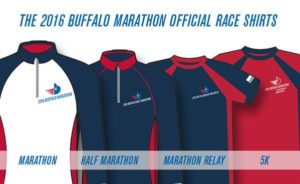 The BibRave Pro Team got a surprise pre-race treat too: the opportunity to interview Meb! Meb Keflezighi is definitely one of my running idols. I know I'll never be fast like Meb–I'm not devoted to training and I'm not built like Meb–but I have a deep admiration for the man. Sure, he's a legend, but he's also a sweet, humble, kind man. At every race event where I have seen Meb, he has graciously interacted with the crowd (and everyone wants a piece of Meb). He's an Olympian in his own class, yet encourages fun runners to keep moving forward.
Since I tried not to hog this experience for myself–I put out a call on social media for interview questions and got just one in response–I'm sharing my mini-interview with all of you.
What memories do you have from running the NCCA Championships in Buffalo?
That was my senior year in T&F. It was my last time representing UCLA. I really enjoyed being in Buffalo and seeing Niagara Falls. I remember Western New York being a beautiful area.
Did you know Meb has already run in Buffalo? (Be like Meb. Come run Buffalo with us!)  I'm excited to see Buffalo, as I haven't been there since I was a very little girl–too young to remember. Speaking of memories, running is a great way to create them. When you ask a runner about notable moments in their running history, the competitive ones (i.e. not me!) often cite a PR, crossing the finish line, or a big win as their favorite running memory. My favorite running memories are not about these things. That's what inspired my next question:
What is your favorite running memory that does NOT involve crossing a finish line, breaking a record, or winning an event?
Finishing Fourth Place at Olympics was not a record or a win. But my daughters and about 50 of my family members were there. We thought this would be my last Olympics. At one point I was in 21st place and was having a tough race. But I remembered I was there representing USA, not myself. I pushed to get to the finish and surprisingly finished 4th. Though I didn't medal, it was one of my greatest memories.
Check it out! I have something in common with Meb! We both value family. My own favorite running memories are races I've done with my Dad. (For the record, he runs faster than I do. A lot faster.) Mom was never into running, and she barely got to see the very beginning of my running hobby. I remember Dad and I called her every mile or so from the Portland Marathon Course years ago. My first "big" race, in my mind, was the race I ran for the American Cancer Society's Team DetermiNation in memory of Mom. That's actually one of the things I love best about the runners I've met: so many of them run for charity, volunteer to help newer runners, or otherwise give back to their communities.
How do you give back to your community? How can other runners support that? 
I've created the MEB Foundation. MEB stands for Maintaining Excellent Balance. It is about supporting and promoting youth health, education and fitness. We've had a lot of people run for the MEB Foundation at the NYC and Boston Marathons. If you are interested in running those races as part of TeamMeb.org. In addition to the MEB Foundation, I've been able to support many charity organizations, which is an important part of our sport.
I'm so thankful to Meb for taking the time to answer questions for the BibRave Pro Team. (If you'd like to read BibRave Pro Jen Skiba's interview, you can check it out on her blog, Jen Runs Fast.) I'm also thankful to Meb for setting a great example of remaining humble even in the face of great success, and for giving back to his community and the world.
By the way, if you have not yet signed up to run the Buffalo Marathon or the John Beishline Memorial 5k (Saturday), GO SIGN UP NOW. The race is on course to sell out. As an added bonus, the very last person to register–that final registration that makes the race 100% full–will be FREE. Use code BRELIZ05 to save $5 on your registration.