Disclosure: I received a complimentary XX2i France 1 Dual Pack to review because I am a BibRave Pro. (Per usual, all opinions are my own–you should know by now I don't need any help with that, I've got plenty of 'em!) Learn more about becoming a BibRave Pro here. Read and write race reviews at BibRave.com! It's a great way to choose between conflicting races, to help runners find the best races, and the help race directors improve each year.
Details, upfront: XX2i USA1 sunglasses retail for $59.99, though you can choose a kit that comes with additional lenses for $99.99. (Hint: if you read through this review, you'll find a way to score a sweet discount.) The XX2i Optics website is www.xx2i.com.
When I was a kid, I knew you were supposed to wear sunglasses when it was sunny outside. (My pale blue eyes are also uber sensitive to sunlight, so the idea that anyone could go without just boggled me.) Unfortunately, I grew up into one of those teenagers and then adults who is always sitting on sunglasses, losing them, scratching them, etc. I mistakenly assumed the way to deal with this was to buy cheap dollar store type sunglasses. I suspect this is pretty common, as John had a similar history and so did Emily. (We are all now reformed!)
Then one day I was given a pair of super nice sunglasses with polarized lenses. If you've never tried polarized lenses, WOW are you missing out. (Eric agrees.) Polarized lenses contain a special filter in them to block intense reflected light. As a result, you get much less haze or glare. I had no idea that I could run in bright sunlight without squinting until I tried polarized lenses. So when I had the opportunity to try the XX2i USA1 sunglasses with polarized lenses, I was pretty excited to see how they compared to the XX2i France1 I previously tried. While I liked them both equally–well, I do prefer the polarized lenses of the USA1–Danielle preferred the look of the France1 but loved the fit on the USA1.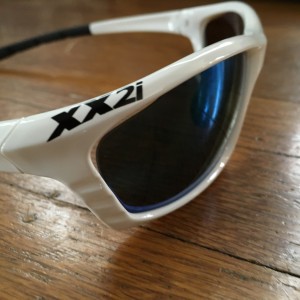 As I previously reported, XX2i has a fantastic lifetime guarantee on their products, and a mission statement I can get behind ("We support people that make a difference every day. People who are committed to a healthy, athletic lifestyle and being good citizens. People who appreciate quality, innovation and no BS marketing. We are committed to producing the best possible eyewear for outdoor enthusiasts and stand behind each product we produce with integrity and pride to insure your completely satisfied no matter what. All of our products are perfect for running, cycling, golfing, fishing, tennis, sport shooting and just about any outdoor activity.") Also cool, XX2i gave a huge number of BibRave Pro team members the opportunity to try out these glasses. That's not only generous, but to me it shows complete confidence in their products.
Like the France1, the USA1 come in a kit. (Abbie's picture is way better than the ones I took, so please don't judge these glasses by my lame photography!) This includes a zippered hard storage case, a soft pouch (that fits inside the hard case, protects the lenses from scratching, and doubles as a cleaning cloth), a screwdriver plus red and blue arm covers and nose piece (so you can change them out to match your gear), and a sports strap (similar to the Croakies brand strap). The frames allow for interchangeable lenses, which are an optional additional purpose. (Good thing, as Jessica would prefer photochromatic lenses.) The hard case has a foam interior with slots in the foam, in case you opt to purchase additional lenses.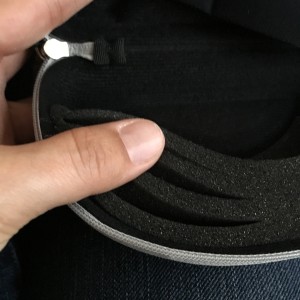 Since I made many of the same observations about the France1 as I did with the USA1, I asked my friend Kirsten to test drive these sunglasses for a few days during Walt Disney World Marathon Weekend. (BibRave Pro Gina actually tried them running.) After a few seconds of adjusting the nose piece to fit perfectly, the first thing she noticed was that they have a wrap-around feel, with a wide protected field of view. This surprised her a bit, as they don't have the boxy look of other sunglasses she'd tried that have that same effect.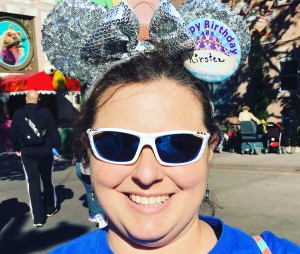 The second thing she noticed is that they are polarized. Actually, she thought her phone was malfunctioning because she couldn't see the app she had open–one of the effects of polarized lenses, ha ha! While not obsessively messing with her phone (hey, you know we all plan our days and meetups using phones these days), she wore them during all of the sunny parts of the day (it did rain during that weekend) and found them lightweight and comfortable, with a clear view. They stayed put on rides and in the "jump test," as well as the "shake your head" test. Kirsten enjoyed wearing these XX2i, though in choosing a pair for herself she probably wouldn't choose white–it's just her personal preference. Fortunately for her, they also come in black, and you can check out some BibRave Pro photos of them.
My first observation is that there is a very slight gap between the upper outer corner of the frame and the lenses. (Christine and Erin took better picture of that than I did.) Initially I thought this was a problem, but it turns out it is a feature to help prevent them from fogging up. When I tried them on, I didn't even notice that gap–it made zero difference in my field of vision or the quality of the view. Man, do I love polarized lenses. Since I live in California, my wear-testing options were sun and our mostly dreary "winter." Hey, I'm not complaining, we NEED the rain! BibRave Pro Angie tried them out in real winter–snow and everything–and also found them great for playing cards.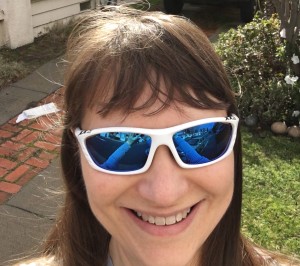 I was at a bit of a loss to describe what makes sunglasses "a good fit" since I now tend to stick with what I know. They have to be comfortable. For me, that's glasses that sit on my nose and stay there without my eyebrows hitting the lenses and messing them up. I also need the earpieces to be gentle, basically sit there, stay put, and gently hug my head; I can't stand stiff sunglasses, in part because they really irritate the scar tissue behind my right ear. Kim pointed out one thing I forgot, which is I hate it when the bottom of the frame hits my face. (The last thing I need is little sunglasses dents on my face when I take them off.)
The overall consensus from the BibRave Pro team? A few Pros had issues with fogging (which could be about snow?), but overall we loved them. Jen is ordering another pair of frames (because they come in many colors). Laurel has to keep stealing hers back from her son! Amy noted that the durability of XX2i products is pretty amazing, as she's been constantly wearing her France model glasses since she got them.
If you'd like to get a pair of your own use codeXX2iRocks for a 50% discount!