I've been a huge fan of keeping a food and exercise log/journal since I first started to dip my toes into the health and fitness arena. I call it "tracking," largely because that's how my Weight Watchers peeps refer to it. Yes, it's kind of a pain in the butt sometimes, and I'm not 100% compliant with my own goal of tracking every day, but in my experience it's been a huge help. When I write it down, I stick to my plans. I tend to eat healthier (because who wants to write down, "Ben & Jerry's Chubby Hubby, 1 pint"??). I tend to workout more because I can see lots of blank space when I haven't been exercising.
There are many electronic options to track, including free and paid apps and websites where you can track both exercise and food (e.g. My Fitness Pal, Livestrong, FitBit) but I do best when I write things down. For one, I spend so much time on my phone and computer that I don't really need to find another reason to do that. For two, when I'm using pen and paper it's easy to track what I had planned versus what I actually did. Or doodle in the margins. Or reward myself with a cool gel pen with funky ink. Finally, I'm more like to review my data if I can thumb through the pages and compare multiple pages at once.
So you might wonder, why bother with tracking? Trust me, it's not just my personal obsession.
Three reasons you might track
1. Lose Weight
My first experience with tracking was actually when my office started a Weight Watchers group. As part of the program, we kept track of what we ate each day, working to stay within our "points" allowance. Tracking to lose weight is a proven method for adherence to a weight loss program.A study called Long Term Weight Loss Maintenance indicates tracking is also useful for maintenance, noting that some of the factors for long-term success (taken from the National Weight Loss Registry data) include "self-monitoring weight, and maintaining a consistent eating pattern across weekdays and weekends." (You can read the rest of the abstract for more.)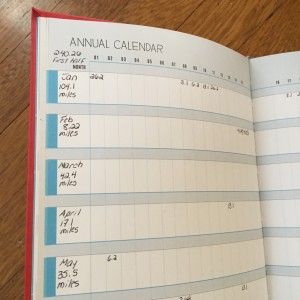 2. Collect Data
If you're tracking food intake, you probably know to write down what you ate. Don't forget to write down how much! You might also write down how you felt afterwards. (I know people who have discovered food sensitivities this way.) Food is really tied up in emotions, and you might discover you're eating because you are upset or bored!
If you're tracking workout data, what you track probably depends on what you're doing. In the P90X programs, Tony Horton recommends writing down how many reps you got through of each exercise (in addition to how much weight you used). If you're running, you probably want to track time and distance, but you might also want to track weather, road conditions, and other factors that could affect your run.
Tracking both food and exercise allows you to see whether there are correlations (I always run better after a half cup of coffee, I'm miserable if I had champagne the night before), or if you've fallen into a habit you'd like to keep up or break up with. Right now I'm also tracking my water intake and hours of sleep.
If you're really into the idea of collecting up data, you might want to check out the Quantified Self movement and see if there is a meet-up or conference near you.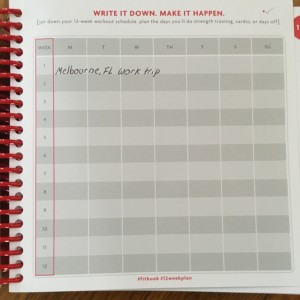 3. Plan Ahead
If you are training for an event, you probably have some kind of training plan. Runners often plan a certain number of miles or minutes per training day. But planning isn't just for "those people" (if you're not one of them!). Maybe you need to plan out your workouts because you've got a busy schedule and a full plate, and planning it out ensures it will happen. You could put the workout in your regular calendar like an appointment, then write out the details in your tracker. If you're following a training plan from a book or magazine, you can pre-write your workout in your tracker. I find carrying my small FitBook much more convenient than bringing the magazine, and I can always note where I made changes or did more reps. Another example, you can use a tracker to plan meals for you or your family (and from that, create your grocery list!). It can save you a bunch of time and money if you plan your meals that way.
Trackers I have known and loved
First, true confession, I'm actually tracking different things in different places. I have a FitBook for food and workouts. I have the Believe Journal for running, where I also write about how the run felt, what I got right and wrong, and my general thoughts about events, etc. I track my weight in the FitBit app. It might seem horribly inefficient to have all this data in different places, but it works for me–I want the graph the FitBit app makes, but I want space to write about my runs. I use the food section of FitBook to track container equivalents from the 21-Day Fix eating plan, but formerly used it to track points.
While you can just grab any notebook and start your own tracker, I've not have great success with this. The main issue for me is that since the pages are not organized into days and weeks, it is just too easy to skip a day, and "just for today" turns into "I don't track anymore." When I first started tracking I wasn't sure what I wanted to track, and I tried to do too much, which also made the blank notebooks less than effective. I enjoy the graphic elements of the published trackers as well.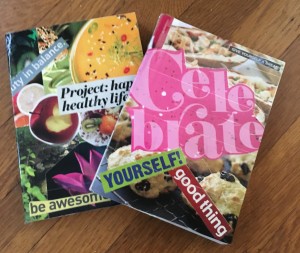 There is a WeWa app now, and some of my friends love it. I've never tried it, in part because I found the website quite buggy when I tried to use it to track. Instead, I used the spiral-bound purse-sized trackers. Note that there is a free downloadable tracker, and those attending meetings can pick up single-week trackers (or used to be able to do so–I've not checking up on it lately). The link leads to the current journal, which is a 12-week hardcover, because I couldn't find the spiral-bound one online. Pros: highly portable, used the covers for inspiration collages. Cons: not much room to track exercise, frequently ran out of room to write.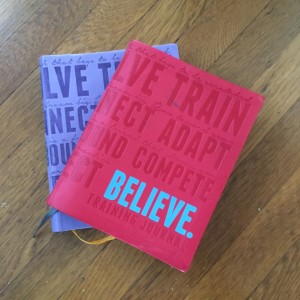 This is a running-specific journal, with information, inspiration, and worksheet-like activities between the regular weekly tracking pages. It was created by professional runners Lauren Fleshman and Roisin McGettigan-Dumas. You don't have to be a runner to use it though–you could use the weekly pages for any activity, the yearly overview for planning, and the worksheets apply to almost every sport. There are some runner-specific information sections that don't cross-apply though, including a variety of speed workouts, pace charts, and training plans.  Pros: plenty of room to write, spaces are customizable, textured cover, knowledge bombs/content. Cons: too large to carry around in a purse, not designed to track both exercise and food.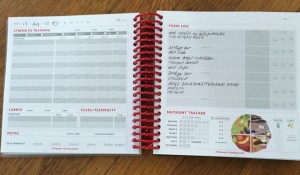 I first met FitBook at IDEA World in…wow, 2010. FitBook had a table at the expo, and I was so excited at how much better the format would be for my purposes. FitBook has a place to record stats other than weight, a weekly planning page, and a weekly summary page with space to journal, reflect on the week and how to move forward. There are two daily pages; the left side is for exercise and the right side is for food. The FitBook website and email newsletter deliver some great content for free, including inspiration, receipts, and printable calendars and goals worksheets. Pros: lots of space to track both food and exercise, largely blank areas are highly customizable, spiral binding lays flat for easy use. Cons: some might find it too big to carry daily.
A giveaway!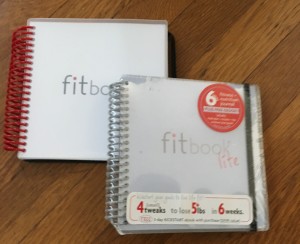 I've got ONE brand new FitBook Lite! The "lite" version of FitBook is a six week version of it's big sister, FitBook. Once you've got FitBook Lite in your hands, you can downdload a free kickstart ebook with a meal plan, recipes, tips, and a workout plan guide. Please note: this giveaway is not sponsored by FitBook (or anyone else) in any way.