Uforia Studios is opening a shiny new studio in San Francisco, California TODAY!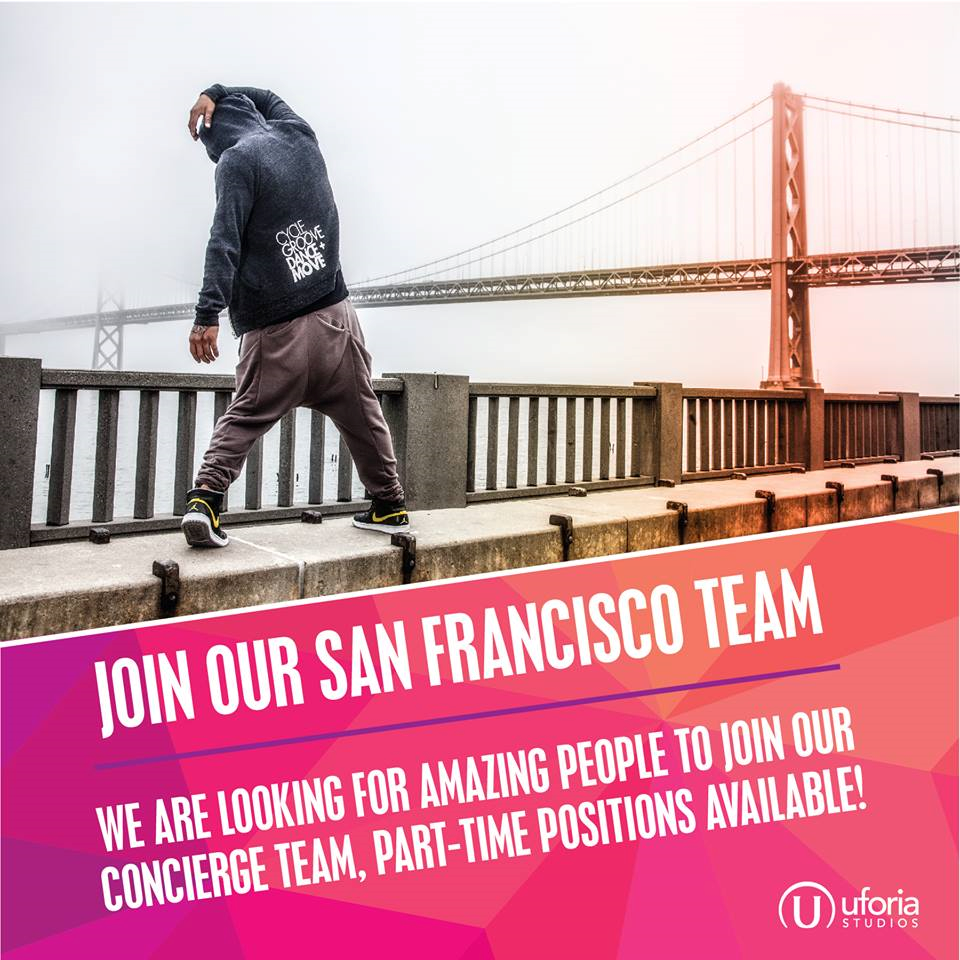 Not only are they hiring for the concierge team (see picture, above!), uforia is holding an all-weekend rock your sweaty socks off opening weekend party AND I've got a giveaway! Now that I've attended a class, I can tell you the word "concierge" is not just being tossed around here. Each guest tonight was met at the door, checked in via ipad, and personally escorted on a tour. I arrived late (remind me to pretend there isn't ever parking in the City, okay?) and not only did I get help getting into class, the staff filled my water bottle so that I wouldn't have to miss one more minute of class.  Cool right?  Oh and the best part was after class: we finished our cool-down, and in comes a Uforia Studios concierge with a tray of chilled, damp towels! It felt delicious to wipe the salty sweat off my face right away.
But back to the studio opening.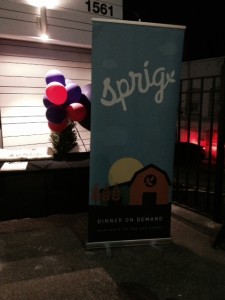 For starters, there is a special schedule for opening day, March 5, 2015. I'm going to I went to the 6:30 Hip Hop Club class. If you missed tonight's classes, you can check out the rest of this weekend's opening classes HERE. You might have missed the boat though–classes tonight were very popular!  Good thing the party continues during opening weekend, March 6-8. Did you know Friday has a class with a live DJ? True story.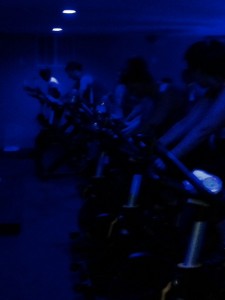 Test-drive the new Uforia Studios with not one but TWO FREE classes but you have to claim them during opening weekend, March 6-8! Use code TRAINWITHBAIN-FREE when you sign up. The schedule has a variety of Uforia offerings, including Revolutions, Hip Hop Club, and one of their signature sweat-fests, GRIT. Rumor has it they'll have lots of treats, including shirt screening during the weekend, and I bet some of the Sweat Pink Ambassadors will be there checking it out.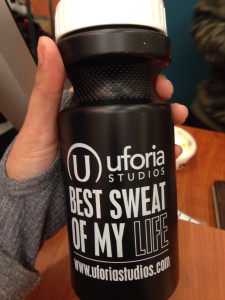 The studio has cycle shoes you can borrow, and promises to be fully stocked up on towels (which I can no confirm YOU WILL NEED). Pack a water bottle, or hope that they have enough on hand to sell you one. You're going to need it. During my Hip Hop Club experience I guzzled my way through the bottle I'd brought and will definitely pack a larger one for next time.
#EmbraceTheSweat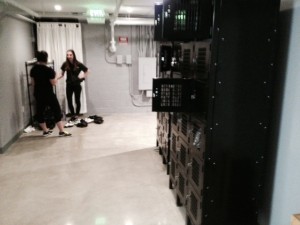 The studio has lockers for your stuff (tonight, guarded by those concierges, since not all of the locks were installed). In addition to the FOUR separate bathrooms (nope, no lines!) Both levels (Hip Hop Club was in the main floor studio, Revolutions was downstairs past the lockers) had plenty of space for chatting before and after class, so you don't have to worry about being packed in sweat like an oversalted sardine. Since Uforia's Nob Hill location is still in build-out phase, the lobby and locker areas don't have seating….yet. It's coming.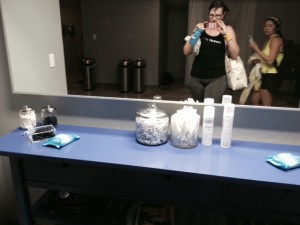 Another nice touch: a vanity stocked with the things you desperately need for class, but will probably forget at least once. I try to keep a package of the towelettes you use to clean your face and remove makeup in my gym bags, since I tend to hit my workout after work. If I ever forget, Uforia has me covered. There are also cotton balls, deodorant (the spray kind, so sharing isn't gross), q-tips, and hair ties. Don't stress, just go get your sweat on!
After you try out Uforia (with one of those free classes I mentioned!) why not treat yourself to a class pack? For a limited time you can get a single class, 10-pack, or 20-pack for 50% off. Yes, you read it right, HALF OFF. This is the very best discount out there–even better than the pre-opening promotions, so feel free to spread it around. I've been warned that code expires on Monday (March 9) so don't wait!  Just use code TRAINWITHBAIN when you purchase. (It's easy to remember 'cause it rhymes. Need to get moving? Join the motivation TRAIN WITH BAIN. See?)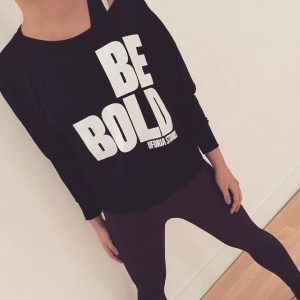 The welcome email I got reminded me to wear clothes I can bust a move in. (Let's hope that moves are all I bust, since I'm pretty sure I will be your comic relief in that Hip Hop Club class!) I picked a tank top and capri leggings, but there were all manner of fashions in the room, from gorgeous leggings with shiny print to the kind of clothes I leave in the trunk of the car just in case I forgot my gym bag. Don't worry, it wasn't a fashion show (though I do wonder how our rockstar instructor was not drowning in sweat–he danced wearing a hat, long pants, and a jacket!!) If you're in the market for some new workout duds, you can be among the first to peruse Uforia's signature gear. Since you live in the Bay Area, you know you need some layers–summer's coming up.
A few other tips about attending your first Hip Hop class:
Don't wear the loosest clothes you own, you might shake them off! (That's what they told me, I swear!)
Don't be afraid to push the envelope, wear a hat, bandana or something that makes you feel a little more bad ass. (Now that I've tried it out, I can say you WILL feel bad ass at some time during class. There are floor to ceiling mirrors in the studio, and everyone spent class checking out how they were doing.)
Don't hide near the back of the class, the best way to learn is when you can see the rockstar instructors in full view. (Yup, Uforia hires rockstars! I'm willing to hang out in the front where I can see my designated rockstar, I just worry about crashing into my classmates. Did I mention I have a hard time keeping right and left separate??)
Do smile while you sweat, and you will sweat–so don't forget your water bottle!
Do harness your inner Beyonce – feel free to wear things that shimmer. (There was impressive shimmer on one guest this evening!)
Do wear your most comfortable shoes, high tops help to complete your look if you have them!  (I don't…but I will be rocking some studio trainers again when I go back. Avoid running shoes if you can, especially if they have a thick heel on them; running shoes are meant to prevent side-to-side movements, and I'm anticipating we'll be doing some in class.)
Finally, a very important tip: DON'T FOLLOW ME!!
If you are intimidated by a class called "Hip Hop" anything, here's my advice: just go! Class starts with a warmup, and then you will gradually learn a set of steps. Gradually means you get ONE new move at a time, and repeat the sequence over and over again before you get another move. There was one step I left out about 80% of the time, but no one really noticed, and I was having so much fun I didn't care. The play list for class was varied and high-energy. I asked my friend S what she thought of class, and she said she was surprised how much she enjoyed it, "it wasn't like classes where you keep checking to see if it is over yet." I agree. Even though I was terrified to be the stiffest, whitest-moving woman in class, I had a great time!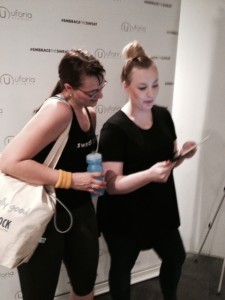 Speaking of signature gear–right? I was talking about clothes before I got distracted by Hip Hop tip tops and recaps?–to celebrate the opening of Uforia Studios' Nob Hill location in San Francisco they are treating ONE lucky Train With Bain reader to a swag pack! The Uforia Swag pack includes: Uforia Studios signature gear, a Uforia Studios water bottle, and a FREE class for you and a friend. Giveaway only eligible to Bay Area residents.