It's January, a new year, and time for All of the 2019 Things, which includes participating in #RIOTS. #RIOTS is an acronym for "Running Is Our Therapy Sisters" (or "Running is Our Therapy Squad") and I, along with five strong, amazing bloggers, are throwing #RIOTS every week. You're totally invited to play. While there isn't an A in #RIOTS (I leave you to decide what kind of "A" we might want to exclude, ha ha!), the true meaning of #RIOTS is Accountability. #RIOTS was born when Anna Louise of Gracious Warrior Princess reached out to us and proposed some ACCOUNTABILITY for all of the great goals and works we have planned for the 2019 calendar year. We've all got goals, and together we have a #SquadGoal which is to band together as a support network so that we each reach our 2019 goals.
Here's how it works: every Sunday (or whenever afterwards we manage to get the blog posts ready), we share both victories and setbacks. We are counting on each other to keep on track this year and the results are going to be epic!
If you want to play, head over to Jenn's blog, Runs with Pugs. Grab our graphic, drop your link in the linkup, comment on the host blogs and as many others as you can, and play along!
Next, Meet the Accountability Squad:
Brandi at Funner Runner
Anna Louise at Gracious Warrior Princess
Briana at Mat.Miles.Medals
Meghan at Meghan on the Move
Jenn at Runs With Pugs
Elizabeth (that would be me!) at Train With Bain
One Week Into 2019…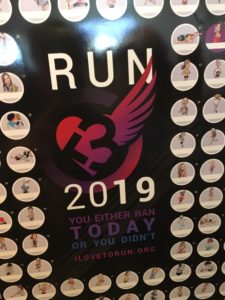 This week I'm recapping my running and fitness goals. I have plenty of other goals–dutifully outlined in my 2019 planner–but let's start with these! I'll start by saying I am having total FOMO as all of my friends head off to Florida for the Walt Disney World Marathon Weekend. This is my first year NOT running Dopey, and it sort of breaks my heart to lose that "perfect" status. I'm trying not to dwell on it by setting other goals and planning for other cool events.
Running Goals.
Blue Ridge Marathon. I'm returning to the FootLevelers Blue Ridge Mountain as an Ambassador! This is the only race I have taken a HARD "get on the bus" DNF. To be fair, the course was black-flagged (due to lightning), but in all honesty the race was kicking my butt. I'm going to write more about that later. In the meanwhile, plan to join me in Roanoke, Virginia on April 13, 2019. (Psst! There's a discount code on my deals page. Use AMBASSADORBAIN20 for 20% off!) How it's going:  It's day 8 of the year as I write this. I have run three of those days (2.1, 6.2, 3.1–not necessarily the distances I had planned!) and not the five days called for in the training plan. On the one hand, I could beat myself up. On the other hand, that's three more days than I would have run without a training plan.
Chicago Marathon. This year I joined Team Imerman Angels to run my first World Marathon Major: Chicago! I made a pledge to raise at least $100,000 in my lifetime to fight cancer and to help those who are fighting it, in honor of Mom. In 2012 I ran the Detroit Free Press-Talmer Bank International Half for the American Cancer Society and raised almost $25,000. I've raised $10,000 for The Susan G. Komen Foundation by participating in the San Francisco Bay Area 3-Day Walk for Breast Cancer. I raised $2,500 for Noah's Light Foundation to fund a cure for pediatric brain cancer at the Walt Disney World Princess Glass Slipper Challenge. This year, I'm helping Imerman Angels connect those fighting cancer to an "angel" who knows what they are going through. How it's going: I set up my fundraising page (though I accidentally deleted the big, long post I wrote so I need to re-do that) and successfully guilted both of my brothers into donating to my fundraiser! Now it's your turn: Give Money Here. I have raised $170 of my $2,000 goal, which is about 10%. (i will donate $205, the cost of a bib for the race, this fall.) If I can hit 10% every month, I'll reach my goal.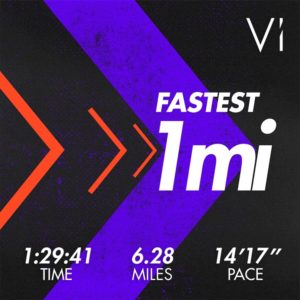 Run The Year 2019. Every year (well, this is the fifth year), Run the Edge has a "Run the Year" challenge. You can choose to run 2019 miles (or kilometers) yourself, or with a team. You also don't HAVE to hit 2019. There are no prizes for reaching the end–the medals for this year have a spinner where you can insert a special coin when you reach various mileages, and they came out already so they can motivate us!–and no penalties. The entire point is to join a limitless running club where people are helpful and positive. (And "positive" includes things like, "Dude, do NOT trust 'pixie dust' to get you through a race you are not trained to run.") How it's going: So far, I have just under 12 miles. I am tracking on a poster on my fridge, and the RTY challenge poster is on my wall. I'm also the "Lead FITster" for Portland, so I'm moderating the Facebook group and keeping it positive. It's not too late to join us, and if you use my affiliate link you get $3 off (how much you spend depends on which swag you choose). My actual goal is 1200+ miles, because the Oregon Road Runners Club has a 1200 mile challenge and if you finish, you get a sweet 1200 miles club jacket. (Every year after that, you get a patch to add to it if you finish another 1200.)
Yoga Goal.
Do More Yoga. This is exactly the type of "not-SMART," vague goal everyone tells you NOT to set. So don't follow my lead here. Essentially, I want to do yoga more often. That definitely means taking more classes, and I joined the brand-new PDX Power Yoga studio that just opened near me. It's a Baptiste-affiliated studio, so the sequencing and the adjustments are solid, and I love the vibe, plus I love supporting a local studio. It doesn't hurt that I got in on the opening special, either. Yet it also means taking a moment here and there during the day to engage in some of the yoga stretches that my body needs to stay in alignment and balanced. How it's going: I've slept through every 6 a.m. class, which means I need to go to bed earlier! On the bright side, I went to see a new chiropractor (Meghan Bodnar at Luna Wellness–I highly recommend!) and have been incorporating the stretches and yoga poses she prescribed after putting my angry SI joint back into a happy place. I renewed my Yoga Download membership as well as my Yoga International membership, so I have NO excuses–I can stream on demand anywhere I have wifi. Also, I moved a yoga mat into my office!
Challenge Goals.
Blogilates #100AbsChallenge. Cassey Ho, the amazing Blogilates, posts free workouts on her YouTube channel. If you subscribe to her newsletter, every month she posts a new calendar with suggested workouts in rotation. Starting January 1, she has an abs challenge to do 100 reps of an abs move each day. Each day is a new move, and there are no rules about doing them all at once. (In fact, she encouraged people to break them up into sets if necessary.) How it's going: Basically, it's not. I haven't done a single day's video. I can't say "I'm too busy," because we all know what that REALLY means. ("I did not make it a priority.") I think I mentally opted-in because I have a bunch of friends who were doing it. I may pop in from time to time, but I think I am going to let this one go–my heart is not in it.
Grokker 30-day Be a Better You Challenge. Grokker is an online streaming platform with a ton of fitness content on it. I intend to poke around and write a review one of these days. In the meanwhile, Grokker offered a free month through January 31, after which you can either cancel or pay for a membership ($14.99/month if you pay month-to-month, or 30% cheaper at $9.99/month if you pre-pay for a year). To kick off 2019 they offered four challenge options, and I picked one. How it's going: I'll tell you next week. No really, after seeing how last week was going, I decided to start THIS week. Yes, it's Tuesday. Whatever. I can start today.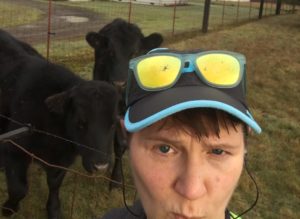 OrangeTheory Fitness Transformation Challenge. This hasn't started yet–my studio starts January 21–but I'm signing up. The challenge is essentially a weight-loss challenge (which I hate), where the winner is chosen by total % of body weight lost. Sure, I have a few pounds to kick, but six weeks isn't realistic for long-term success here. Anyway, the real challenge is committing to 3 classes per week during the challenge period. Last year I missed ONE class during the last week due to a work issue. Otherwise, I kept with it, even going out of my way to take classes on a family trip to Florida and a work trip to Rhode Island. Time to return to this and UP MY GAME.
Miscellaneous News and Updates
I joined the ORRC and signed up for the 10k series, so I have plenty more runs on calendar! The first was called the Y2K 10K (there was a half marathon option as well) and I loved it.
After the "Run and Retox" with the W'yeast Pack on New Year's Day, I introduced myself to some runners and made new friends. They invited me to join their weekly runs, so now I have some extra motivation to get out there.
It's just over two months until I leave for the Vikara 3-Day Fitness and Yoga Party! I'm excited to spend three days in Arizona with poolside yoga, healthy food, and studio/boutique fitness all over the city. The event takes placeFebruary 28-March 3, 2019 and you can use code Elizabeth10 to save 10% on your registrationl Learn more and register at https://www.vikaraevents.com/
Until next week…