Live Your Best Life, Right Now
Let's have a Thanks Giving.
My purpose is to share knowledge, promote health and fitness as a lifestyle (not a "diet"), and connect you with resources to live your best life–whatever that means to you–right now.
Life is precious and short, and the time to do that crazy, wonderful, impossible thing is
RIGHT NOW.
It is almost Turkey Day, American Thanksgiving. While I am a big, huge fan of getting a leg up on 2017 by doing some pre-planning (race schedule, anyone?), and at this point I'm behind on my race review postings…I'm taking a pause to give thanks. That's what Thanksgiving is all about in my family. We even do that thing where we all say what we are thankful for before we eat dinner (and sometimes celebrate Dad's birthday with candles on the pumpkin pie).
This year, I am especially thankful for YOU. As an attorney, I feel compelled to define YOU as anyone reading this message or any of my blog, or following me on twitter or instagram or pinterest; anyone who I've gotten to hang out with at race weekends and conferences (and especially those of you who showed up to my Skyped-in presentation at FitBloggin'!); anyone who has said hi at a race, or let me pet their dog at a race; anyone who has been welcoming and supportive to other runners or to people showing up at their yoga and fitness classes. (YOU, yes YOU!)
To celebrate YOU and how thankful I am, I'm committing to a series of (easy-peasy-to-enter) giveaways! Here's a teaser:
Cultivate Ease
Go Naked
Put Your Heart In It
But First Coffee
Coffee, Yes, Coffee
Treat Yourself
Resolve to Stay Hydrated
Get Colorful
Start the Day with a Bar
….more to come!
As each giveaway goes live, I'll add the links to the teasers above. Be sure to follow me on Twitter and Instagram, so you can be the very first to know.
I remain exceedingly thankful for my family, my comfort, and my health.
And my fundraiser is still a work-in-progress….
Multiple Sclerosis. To be blunt, it sucks. The disease attacks nerve coatings. Imagine your body has a bunch of electrical wires inside that ferry information from your body to your brain. Now imagine some sneaky disease starts to take all of the insulation off of those wires, scrambling the circuits. Maybe your fingers and toes and hands and feet start to always feel like "pins and needles." Or maybe it is annoyingly difficult to walk sometimes. Perhaps you get dizzy or have unexplained headaches. Or have sudden bladder problems. Maybe muscles start to twitch on their own. Or one day you're fatigued and depressed and exhausted and do not know why. ANY of these could be symptoms of Multiple Sclerosis.  There is no single test to definitively diagnose MS; it is possible to live with MS for years without a diagnosis. No two cases present the same way. It is a frustrating disease that can progress gradually over time, or in fits and starts, racing ahead and stopping, staying at a plateau, then getting worse. There is no cure.
Guess what? I FAILED.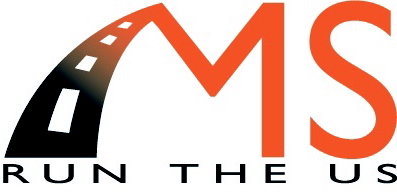 This is my focus for 2015: fund a cure for Multiple Sclerosis with MS Run the US!
Originally I was scheduled to run Nebraska as part of the 2015 Relay team. Unfortunately, I FAILED in my goal to raise $4,000 before the run started. Boo. That said, I committed to raise $11,000 and I am going to do it–with your help.
To raise $11,000–my personal goal–I need to reach 1,000 people and convince each of them to donate just $11. For most of my friends, that is two visits to Starbucks, two bridge tolls, or two rides on BART; or half a day of parking, one lunch out, or a movie ticket. If I'm hitting you up personally for a donation I know you can afford it.
Other Ways to Donate
Buy a Bracelet. Click over to the wristband page to order. Be sure to check the box that says BAIN so I get credit for your donation. Each bracelet is $5, $3.50 of which goes directly to MS Run the US.
Check out my hand-made elastic-ribbon hair ties. These are brand new, made with my own hands, and perfect for adults and children. I've got fun prints for fall and Halloween, and plenty of princess-themed prints for you Disney runners. I'm asking for a $5 donation, but for each $1 over the initial $5, I'll include another hair tie. ($5 = 1 hair tie, $10 = 6 hair ties)
I'm currently just over 10% of the way to my goal. Can I count on you to help reach $11,000?
Post Footer automatically generated by Add Post Footer Plugin for wordpress.