Live Your Best Life, Right Now
Initially I started this blog after some friends urged me to turn my message board posts into something more permanent.  My purpose is to share knowledge, promote health and wellness as a lifestyle (not a "diet"), and connect you with resources to live your best life–whatever that means to you–right now.  Life is precious and short, and the time to do that crazy, wonderful, impossible thing is RIGHT NOW.
2013 is over!  I started the year with a plan to run 12 half marathons.  As soon as I found the Half Fanatics and joined a friend's facebook group, the peer pressure got to me, and this is what happened instead: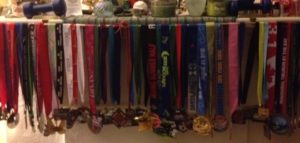 (Everything from that Tinkerbell medal–roughly where the fireplace edge is–is this year's bling.  Better photograph to follow–just got the new camera!)
Since then I've run the runDisney Dopey Challenge (Thursday: 5k, Friday: 10k, Saturday: half marathon, Sunday: full marathon), and Tinkerbell 2014 was my 31st half marathon in 365 days.  (Half Fanatics: I've landed on EARTH!)
I don't suppose you'd believe me if I said I was going to run less next year?
2013 was also the year in which I learned that blogging is both as easy as it seems (write thoughts, add photo, hit "publish") and more difficult than I imagined (why won't that photo rotate and do I really need special code for that??).  I learned some WordPress while blogging as a Women's Health Magazine Action Hero, picked up insider tips at FitBloggin' 13, made new friends at the tweet ups, and kicked off fall with the Fitness Magazine SoCal blogger event. Not that you can tell from reading my blog, but I think about blogging far more than I type into the blog (if only I could download directly from my brain to the blog!).
In 2014 I'm planning to build on the foundations I started this year. I kicked off the year with a P90X3 challenge (in progress!), the Dopey Challenge, and the Tinkerbell half marathon.  February is dedicated to the Noah's Light Foundation, fundraising and running the Walt Disney World runDisney "Glass Slipper Challenge," a 10k and the Princess half marathon. I'm blessed to have so much to look forward to in 2014.
What does your 2014 have in store?
Post Footer automatically generated by Add Post Footer Plugin for wordpress.