Disclosure: BibRave and BUFF have partnered up for a BUFF prize pack giveaway, and because I am a BibRave Pro, I am giving you a chance to win! Learn more about becoming a BibRave Pro (ambassador), and check out BibRave.com to review find and write race reviews!
Join Me In the Buff®! What?
As a BibRave Pro, I've been introduced to some really great gear for running and a healthy lifestyle. One product I had seen, but never tried, is the Buff®. The Original Buff® is basically a seamless soft fabric tube that you can wear a variety of ways. My favorite way to wear the Buff® is as weather protection: in colder weather, I wear it around my neck and pulled up over my mouth and nose; in warmer weather, I wear it as a hat liner and to cover the tops of my ears (which have a habit of getting very sunburned in the summer).
Speaking of sunburned, I've also been able to test-drive the UV Buff® and UV Half Buff®.  The UV collection Half Buff is the perfect hat-liner size for me. The entire UV collection blocks 95% of UV rays, so it is a must-have for all the best summer activities, regardless of whether you like to get out and run, watch parades, go fishing, or work in the yard.
How much did I love these Buff® products? So much that in addition to buying a few more of each, I also bought a wool Buff® (because, winter) and a Buff® Headband (a quick-drying way to keep sweat out of my eyes during hot yoga), and I bought all the women in my immediate family a Buff® scarf for Christmas.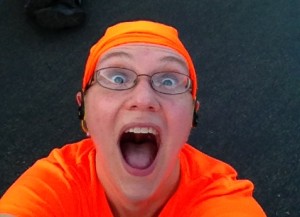 To enter to win the giveaway, you need to find me (or another BibRave Pro) at a race during the month of May. My race schedule is:
Come find me at a race and snap a Buffie with me! It's BYOB (bring your own Buff®) or you can try on mine.
If you won't be at any of these races, perhaps you'll be at a race with the other BibRave Pros who will be out there wearing Buff® in the wild? Check out more places to play to win by finding out where Karen, Mark, Angie, Brenda, Heather, and Katherine are running–we're running wild, all over the country!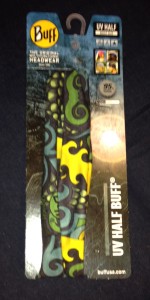 ®
Giveaway Details!
What's the prize? The winner will receive:
1 Original Buff®
2 UV Buff®
1 Merino Wool Buff®
1 UV Half Buff®
1 Headband Buff®
1 Shirt
1 Sweatshirt
Stickers
What are the rules? Official Rules:
Take a #buffie with a Bibrave pro AT A RACE
Post your #buffie to Twitter or Instagram. (Note: this contest is in no way sponsored, endorsed, administered by, or otherwise affiliated with Twitter or Instagram.)
Tag @Bibrave & @buff_usa
Use hastags #buffie & #bibchat
Contest runs May 1–31, 2016
Open to US residents only (sorry Canadians, I still love you!)
Participants can enter #buffies from multiple events
One #buffie entry per race
Come Buff(ie) With Me!