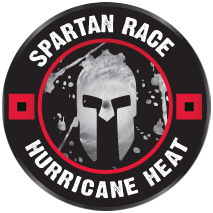 Have you heard of the Spartan Races?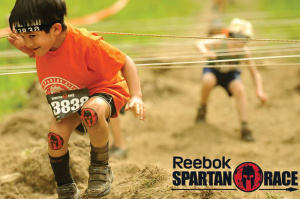 If you have, and you thought something along the lines of, "Oh, that's just another mud run," you'd be wrong. I used to think that too. I've volunteered for the Warrior Dash series (while watching my co-workers run the course) and tried out the Gladiator Run (which left me quite tired of climbing into and back out of shipping containers). There are numerous other mud/obstacle runs too–Muddy Buddy, Dirty Girl, Tough Mudder, Battle Frog, Rugged Maniac–but the Spartan Races stand out.
When the Spartan Race came to AT&T Park in San Francisco this past summer, I decided to volunteer.  (Volunteering at a race is a great way to check out a race–think of it as dating before you make the big commitment–and sometimes you get a free or discounted entry.)  All of the volunteers received a t-shirt and snacks, plus a free entry to either that day's race or a future race. Volunteers who stayed all day also scored a sweet hoodie, and they fed us lunch. When I pre-registered to volunteer I managed to luck into the BEST volunteer gig ever, handing out bottles of CorePower to athletes after the race.
Spartan Races come in three lengths/difficulties. Spartan Sprint is the shortest distance, approximately 3+ miles (think 5k) with 15 or more obstacles. Spartan Super is the middle distance, approximately 8+ miles (think a 10k with extra laps) with 20+ obstacles. Spartan Beast is much more challenging at approximately 12+ miles (think half marathon) with 25+ obstacles. The Beast is aptly named, if what I've read on other blogs is true.  (I'm going to have to rely on that, as I'm not doing one!)
Oh, and there are some "bonus" lengths… If that's not enough, there is also a Spartan Ultra Beast of marathon-length (26.2 miles!) and more than 50 obstacles. It's so popular that the Vermont race, which isn't until September 2015–is already 50% full as of mid-December 2014. There's a Hurricane Heat 12-hour race, with teams. Sooo many choices!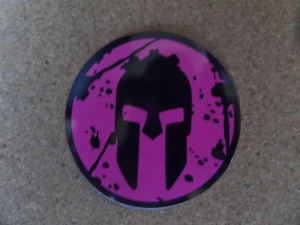 Spartan Races don't necessarily involve mud. Sort of. The main reason I'm over "mud runs" is that the one I did had me carrying an extra 15 pounds of mud. After the race I hosed off–with an actual hose–and when I set the nozzle inside my sports bra at full blast, at least 10 pounds of mud came out. There was another 5 pounds in my shorts. I hosed my clothes down again at home, and filled another bucket with mud. Even after running them through the wash, my clothes were still trashed. Much to my absolute delight, the stadium sprints do not have any mud! (I'm told all of the other races do.) So I'm working on upper body strength to get ready for the 2015 race at AT&T Park. (By the way, I typo-d that last sentence as "for the 2105 race" and I'm not sure if that's a subliminal message!)
Spartan Races have obstacles that make sense. At this summer's San Francisco race I had the opportunity to watch the race. While there were some limits due to the venue–as an attorney I'm pretty sure there is a gazillion-page lease involved–this Sprint made clever use of the stadium itself, in addition to building out some obstacles. When I say the obstacles "make sense," I mean they are physical challenges that you can train for, they relate to athletic strength. If you choose to skip an obstacle or can't finish it, you don't get mocked, but you do have to do some burpees. At the stadium, some of the obstacles took advantage of the stadium architecture, for example stair sprints, sections of jumping up via the benches, and wall jump-up and jump-downs. Others were hauled in and built, such as a a rope net a-frame, and a set of climbing ropes. While the exact obstacles for each race are technically a secret until race day, you can see some of them on the Spartan Race pages.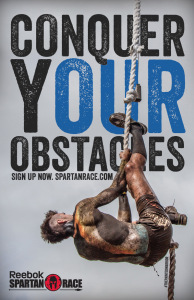 Spartan Races celebrate everyone who races. My favorite experience volunteering was learning that there is a Spartan tradition to cheer-in the last finisher of every Spartan race. The race director gathers up the staff, volunteers, and anyone else who happens to be hanging out, and corrals them all over to the finish line to cheer for the last runner. That's kinda awesome, as I've been to MANY races where the finish line is already torn down and packed up long before the last runner finishes. Another thing I love is that while the Spartan Races do have their fair share of ultra-fit athletes, there are also numerous repeat Spartans who don't fit that mold. Some have lost a significant amount of weight, improved their health, and changed their lives through Spartan Races. ALL are equally celebrated!
Spartan Races bling you. Each race has a finisher medal. Each type of race–Sprint, Super, Beast–also comes with a wedge-shaped medal that you can combine with the other two medals to form a tri-colored Spartan medal. It's called "The Trifecta," and you can buy a special display to hold it together.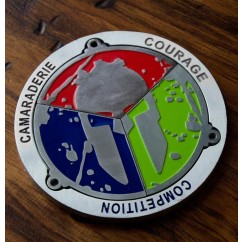 If you're a mega-competitive athlete, there are rankings and a championship. In 2015, the championship course is in Tahoe!! Mark your calendar for Saturday, October 3, and book a rental near Squaw Valley. For those of us who are not crazy competitive, there will also be a Sprint. Maybe I'll see you there?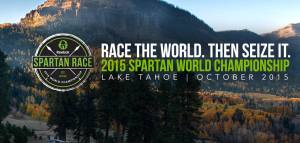 Spartan Races have a kids' division. Part of the Spartan Race philosophy is that "fitness and adventure should involve the whole family." Coolest thing ever, watching the kids run through their very own course! It wouldn't make sense (or be safe!) for the half-pint sized kids to be jumping up and down the stadium benches (since that's waist-height for bunches of them). Instead, the San Francisco Sprint kids' course was built inside the concourse. There were stairs, ramps, and flat runs, among other obstacles. Parents, volunteers, and Spartan staffers all cheered on the kids as they ran the course. Every finisher got a kids' race medal and shirt, too. It was great to see kids wearing their medals right there with mom and dad wearing theirs–the kids were so proud!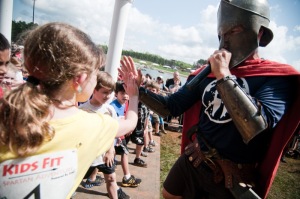 Spartan Races have a devoted following. How devoted? You can buy an annual pass to run as many times as you choose–that include running the same race multiple times on the same day. I saw a guy at San Francisco who ran the course at least 10 times during the day. There is an entire online community, too. Spartan and Reebok have partnered up for a line of athletic wear, and you can also buy Spartan training gear (such as the weighted Spartan "pancake").
Spartan Races give back to the community. Military and first responders always get a 25% discount on registration. There is also a charity partners program where charities can get a unique code to earn 15% of all of the registration fees from that code. More on the Spartan website
Spartan Races isn't just a race series, it's a whole Spartan Lifestyle. Joe De Sena, athlete and founder of the Spartan Race series, wrote a book, and it isn't just about sports. The title is Spartan Up!: A Take-No-Prisoners Guide to Overcoming Obstacles and Achieving Peak Performance in Life. It covers willpower, nutrition, exercise, and a variety of other topics related to kicking butt in life. I haven't read it yet though it looks like a good read (but if anyone reading this wants to send me a copy, that would be awesome). He also started a podcast.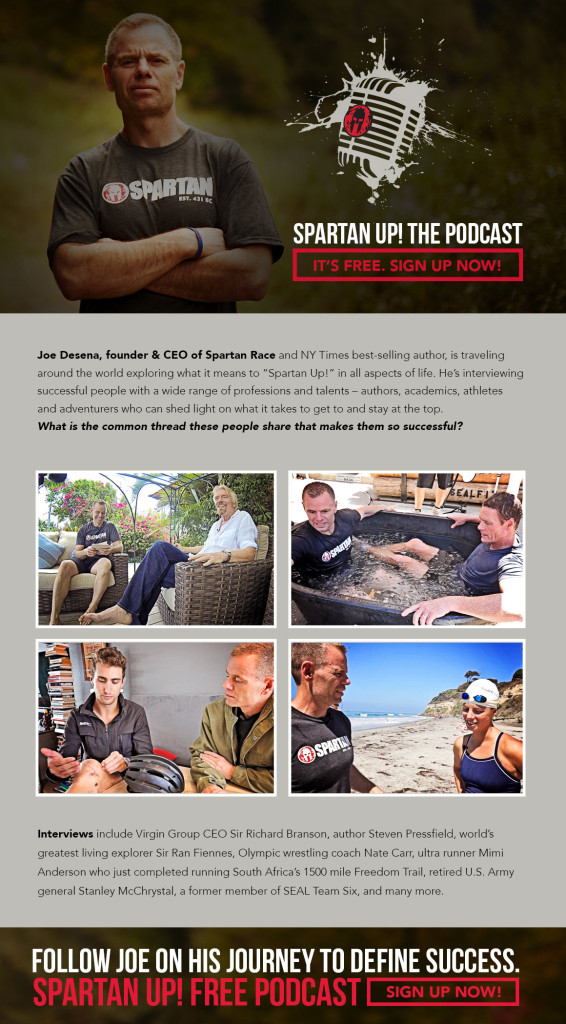 To get to the Spartan Podcast, click on Spartan Podcast (sorry, not yet HTML-savvy enough to make the graphic above click-able).
There is a Spartan e-magazine, and you can read it for free. The latest issue is here, click on Spartan Magazine. Inside you'll find race re-caps, travel guides for the Spartan destinations, and articles on fitness and nutrition.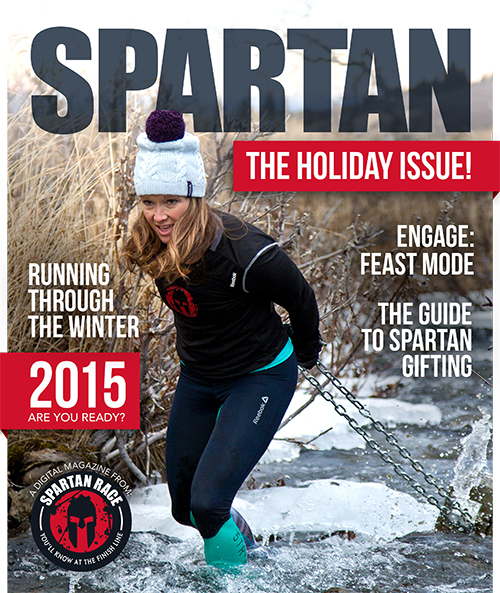 But why just read about it? There is a free Spartan Race workout tour. Unfortunately for me, the Berkeley workout is January 10 and the San Jose workout is January 11 (and I will be otherwise occupied running The Dopey Challenge at Disney in Florida). Check out the entire tour HERE
Want more? There are certified Spartan SPX coaches (see the website for a list). If you're a fitness professional, you can take a certification workshop.
Spartan Coaching Mission:
The mission of Spartan Coaching is to create a community of coaches and participants that embrace the Spartan lifestyle. Through this program we will help each individual reach their fitness goals and adopt a healthier lifestyle. We will do this in an encouraging environment that welcomes individuals of all abilities and fitness backgrounds. We will work tirelessly to help all that seek better health, through the application of Spartan values.
You can join the mailing list for the Spartan WOD (workout of the day), or read them online. You can join the Spartan Cruise, hosted aboard the Norwegian Sky. complete with a (land-based!) Spartan Race.
Upcoming California Spartan Races:
January 17, 2015 So-Cal Beast at Vail Lake (sold out!)
January 18, 2015 So-Cal Sprint at Vail Lake (sold out!)
January 24, 2015 So-Cal Super at Vail Lake (80%)
January 25, 2015 S0-Cal Sprint at Vaile Lake (75%)
June 6, 2015 Monterey Super at Toro Park (50%)
July 18, 2015 San Franciscio Sprint at AT&T Park (50%)
Dates TBA: Sacramento Super, Sacramento Sprint; Los Angeles Stadium Sprint
There are, of course, Spartan Races all over the country. (I just happen to be living and blogging in California, so it's the center of my universe right now.) For a full listing of events, check out the Spartan Race website.
Spartan Races need volunteers! Not ready to run? (Or think you're not ready to run but just might be convinced if you could take a peek at it first?) Volunteer! Like I said, volunteers were treated really well, and even got a free race entry. You could spend your morning volunteering, and then race in the afternoon.
ARE YOU READY TO RUN?? If you can't wait, head over to the Spartan Race website (HERE) and register using code SPARTANBLOGGER for 10% off any race. If you're feeling lucky, enter to win a FREE entry!