Disclosure: the prize for this giveaway will be provided by siggi's (legally: The Icelandic Milk & Skyr Corp.). Everything in this post is my own creation unless otherwise indicated. The folks at siggi's did not preview or edit this post, it's all me, baby!
A few years ago I stumbled on siggi's and fell in love. Since then, I've learned more about the siggi's story, and even met Siggi himself! As I'm writing this from Oakland, California I'm just one week out from the third IDEA World/Sweat Pink BlogFest, which siggi's has sponsored for the past two years. Actually I SHOULD be in Indianapolis at FitBloggin' and FitSocial 2016–which siggi's is also sponsoring this year–but as you may have heard, Southwest had a little computer issue, and that left me stranded. Oops. In any case, I am thankful and happy to have siggi's sponsor these events for health and fitness bloggers. I'm even more thankful they make a protein-packed, yummy skyr.
But back to the story. A few years ago I fell in love with siggi's. At that time, siggi's had one product: Icelandic style skyr, a strained non-fat yogurt. I wish I could tell you the story, but I honestly do not remember how it happened! I do remember two things.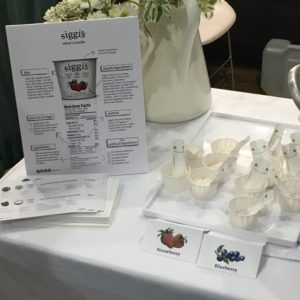 First, I was very impressed by the ingredients list. Here is the ingredients list from the peach flavor in front of me:
pasteurized skim milk,
peaches,
cane sugar,
fruit pectin,
live active cultures
That's it. Five ingredients, and I know what each one of them is and why it is there. (The package has a list of the live active cultures, in case your nerdy streak runs deep.) This was around the point that I started to get more picky about my food. While I still indulge in some items that are absolutely, inexcusably, 100% junk food, I'm trying to be more conscious of eating more whole foods. I really liked that siggi's doesn't have any artificial colors, flavors, sweeteners, or artificial anything else. I also really loved that there isn't a ton of added sugar. The peach skyr sitting in front of me (150g serving size) has 11g of sugar, and 14g of protein, for example. Compare this to other yogurts and you'll see how awesome this is.
Let's compare strawberries to strawberries. A serving of siggi's strawberry skyr is 150g, and contains 11g sugar, 16g protein, and 120 calories. (I picked those data points because they are important to me.) Data from the respective manufacturer's websites:
 original Yoplait strawberry, serving size not listed on website (currently has 18g sugar, used to have 26g; 6g protein; 150 calories
thick 'n' creamy Yoplait strawberry, serving size not listed on website (28g sugar, 7g protein, 180 calories
Greek yogurt Yoplait strawberry, serving size 150g (18g sugar, 11g protein, 140 calories)
Dannon creamy strawberry, serving size 113g–note smaller serving size (12g sugar, 4g protein, 80 calories)
Dannon Oikos Greek strawberry, serving size 150g (18g sugar, 12g protein, 120 calories)
Chobani (fruit on the bottom style) strawberry, serving size 150g (15g sugar, 12g protein, 120 calories)
I'm not picking on these guys–they are no better or worse than any other brand, store brand, etc.–those are just brands that immediately popped to mind when I thought of yogurt. I didn't even bother to compare other "fruit on the bottom" styles to siggi's, or the dessert flavors (i.e. anything with "pie" in the name) as those are a hot mess of sugar…and let's not mention the yogurt marketed to kids with cartoon characters on it. Seriously, you might as well hand your kid a Snickers. Now sometimes you WANT a dessert, and I've been known to pick a certain coconut cream pie flavor of yogurt instead of a pudding…you make your own choices 🙂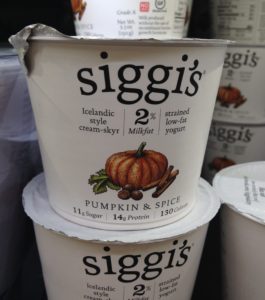 The "not a lot of sugar" brings me to the second thing I remember: the taste! One of the things I liked about the initial wave of Greek-style yogurts is that they are thicker than what I will call mainstream yogurt; I also liked that the initial offerings of those yogurts didn't seem as sickly sweet as mainstream yogurt. My first taste of Skyr blew my mind! It's thick and smooth and creamy. If you open a container and hold it upside down (don't squeeze!) it is so thick that it will stay in the container. When I eat it, I feel like I am eating something of substance–and not just because of the 14g of protein–because it has a creamy mouth-feel. While you don't have to chew it (it's yogurt), it feels more satisfying to me than mainstream yogurt, more like a solid breakfast. I learned it takes four times as much milk to make a serving of siggi's as it does to make a mainstream yogurt.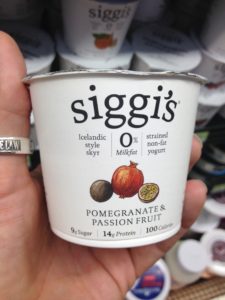 After I decided I loved the products–seriously, I said "goodbye!" to the rest of the yogurt world and haven't looked back–I became a member of the inaugural siggi's Culture Club. Each month we had a challenge to focus on, all about sharing the love of siggi's. I took coupons for freebies to my yoga students and they universally loved siggi's. My current favorites are seasonal flavors: pumpkin in the fall, and strawberry basil in the summer. Other flavors in the siggi's family include peach, raspberry, strawberry, pomegranate & passion fruit, blueberry, orange & ginger, vanilla, mixed berries & açai, and (of course!) plain (with no added sugar). All of these come in single serving cups, and the vanilla and plain come in economical 24 oz. packages as well.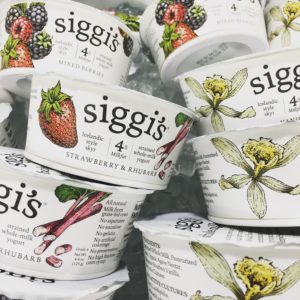 siggi's now makes other products in addition to the Icelandic style skyr strained non-fat yogurt, including a low-fat mile skyr (2%milkfat), whole-milk skyr (4% milkfat), filmjölk (a drinkable yogurt), and tubes (a kid-friendly to-go product with 5g sugar and the same five basic ingredients). I haven't tried anything but the skyr yet, though I'm stalking my local retailers for the others.
But enough about my experience, here's a chance to win your own!
The fine print: There is ONE prize, which consists of coupons for free siggi's. If you eat one a day, it's a 30-day month's worth. After I contact you, you'll have seven days to claim it; at that time you must provide your mailing address so I can send it to siggi's and they can send you the prize!
a Rafflecopter giveaway