I got up at o'dark-thirty to hop a flight to Dallas, picked up my rental car, and headed off to the convention center. Unfortunately I didn't know that (1) there are no food or coffee places within walking distance of the convention center, and (2) there are very limited options inside the convention center. So I had popcorn and a Dr. Pepper for lunch. (Safety Tip: next year, plan ahead!) A quick no-line stop to pick up my bibs and shirts, and it was time to explore the expo!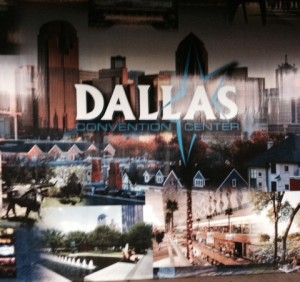 While smaller than the San Francisco and Los Angeles expos, the Dallas expo had some good stuff I've not seen elsewhere. Humana, the title sponsor for the race, was printing out post-sized photos of races and handing out free water bottles. Dunkin' Donuts had samples of iced coffee. There were booths for several local events, including a Texas 10k series and the Plano balloon festival. I discovered the coolest adjustable headband ever, made by a company called LemonHeads. If you are a runner with long hair, you have got to check these out! Not only can you adjust the length of the elastic band, but you can also use the loop created by adjusting as a ponytail holder or bun holder. They have many colors and patterns, and two different styles. One is a ribbon headband, and the other is made from stretchy sports fabric. After one of the booth staff helped me try one on I was hooked, and I bought two: a ribbon style for running, and a stretchy fabric for yoga (to hold my bangs out of the way and prevent them from dripping sweat into my face). If you can't picture how these work, there are videos on the (click!) Lemonheads Website: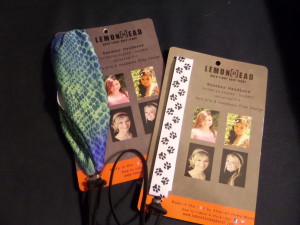 One nice thing about the Dallas Convention Center, it does have good, free, public wifi. I parked on a couch in front of some art, plugged my computer into the power outlets (plentiful!) and accomplished some work before my friend T arrived. Since I'm an instigator, I talked T into signing up for her first 5k event. After picking up her bib and shirt, I did another spin through the expo. It was really fun to see the running culture (and the "runner mall") through T's eyes.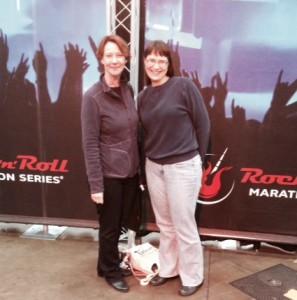 We both swore we were going to bed early, but T's delicious vegetable chickpea pasta led to a few more glasses of wine than we usually drink, and we stayed up later than planned, catching up while I tried to bribe T's cat to let me scratch her ears.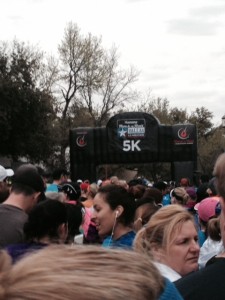 Saturday morning we got up a bit too early for my taste, and T made breakfast (eggs and tomatoes, and a big pot of coffee) before we drove over to Fair Park. The weather was playing games with us and threatening to rain, though in the end we barely felt a few sprinkles. The 5k was self-seeded, and since we planned to walk we settled in towards the back.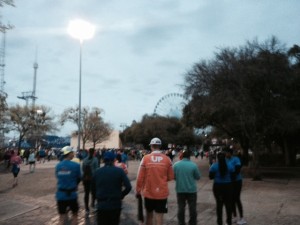 T enjoyed some great people-watching, as I pointed out the various known characters (e.g. Team Chocolate Milk, Half Fanatics), race swag (lots of Hot Chocolate hoodies!), and costuming elements (such as random tutus, matching socks, my favorite Brooks sneakers…).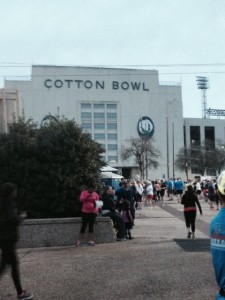 The course had a slice of not-so-exciting out and back around a parking area, but the rest of the course showed off Fair Park's WPA-era buildings, museums, gardens, and public art. I'd never been through the area.
The weather threatened to rain, and it was cloudy the entire time. No one really seemed to mind, since at least that meant it wasn't too hot. Fortunately for us–or at least for me, since I'm still wearing glasses–it didn't start to rain until near the end. Even then it was just a few sprinkles, no big deal. Refreshing!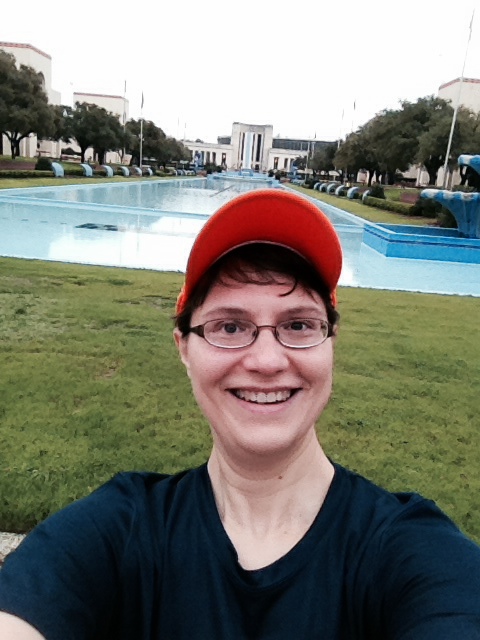 After the stroll (oh right, it was a  race!) we caught the end of the concert and I explained a little bit more about what the ends of various races looked like. For an inaugural race, I thought there was a pretty good turn-out, even if it was a bit early (and a bit cool-ish) to grab a beer afterwards, or eat anything from a carnival food truck. Deena Kastor was there, signing and taking pictures, but I was so caught up in explaining the quirks of race culture that it didn't occur to me to get my bib signed. Oops.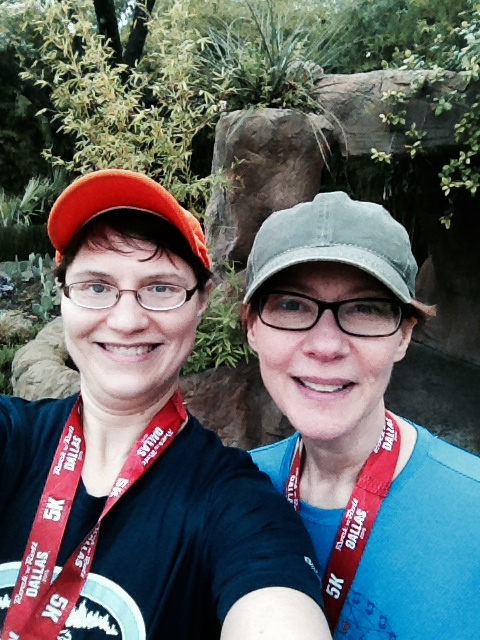 If I'd been thinking more clearly, I'm sure I would have taken pictures of the turtle pond, the birds, the very cool garden-like atmosphere in some areas of the park, and the museum fronts. My bad. Here's a bling shot instead: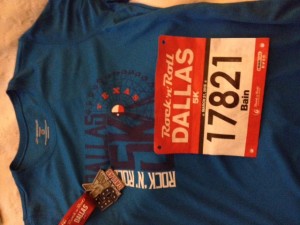 The rest of Saturday was a sloth-fest for me as I tried to catch up on the sleep I missed last week. A shower, followed by a long nap, and another decadent dinner by T: tofu rice biryani, curried vegetables, and a red lentil dal. We didn't stay up too too late, since the half marathon was going to have me up early.
Did you Rock the Dallas 5k? What did you think? What would you suggest the team do differently next year?
Psst! Want to read about the half marathon and brunch? Click HERE