Psst! In case you missed it, my recap of the expo and the 5k is HERE
The worst part about races is prying myself out of bed so unnaturally early. (I'm not a morning person.) After a brief adventure in parking—advice for next year: target a specific garage or lot AND check to see which freeway exits are closed—I managed to score $3 parking not too far away from the start. Bonus, there were large groups of other runners who appeared to know where the start was, so I followed them!
I arrived at the starting line just as the national anthem was finishing. One advantage to being in a later corral is that you always have plenty of time for a pre-race potty stop. The disadvantage is that the porta-potties are sometimes out of paper, which was the situation today. Fortunately runners are awesome, and as I was checking for paper (and finding none, of course!) another runner handed me a pack of tissues and said, "none of them have paper. Pass these on."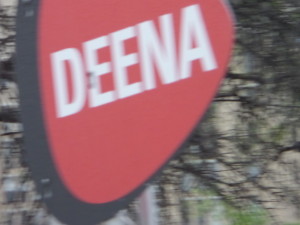 Next I scoped the entire starting area for Dunkin' Donuts. I had (mistakenly) thought they would be at the starting line with coffee. (They were at the finish line. Side note, did you know Dunkin' Donuts serves Fair Trade Coffee? True story.) I hopped in the corral and started to look around at today's running buddies as the race started, and set my Bia for one of its last connected runs. (In a sad day for running, Bia announced it will shut down due to lack of funding. As a proud Bia backer via Kickstarter, it breaks my heart to see the team's dream come to a halt.) I set a 1:00/1:00 interval, intending to run the first mile before settling into intervals.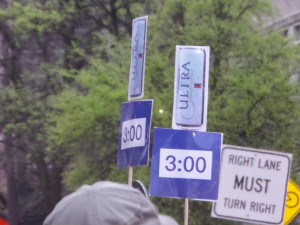 My right leg had other plans, however. It had felt a little wonky after I rolled it out post-5k, and while I can point to a number of things that could have caused it, it's a brand new kind of wonkiness. I've had a grumpy IT band before, but this was not that. A quick romp through an anatomy reference indicates it is the outer edge of the lower portion of the biceps femoris and/or the adjacent portion of the vastus lateralis. Let's just call it OUCH. Since I've got the Livermore Half Marathon on Saturday and Rock 'n' Roll San Francisco on Sunday and I can't really be injured, Ouch ruled my race today. While I mainly did intervals through mile 7, at that point Ouch wasn't up for running full minutes. I modified to run 30, walk 1:30 and did that for awhile.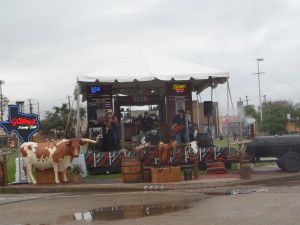 On the bright side, the course had a healthy dose of Texas-themed entertainment. My favorite band came with a set that looked like a BBQ joint, including a smoker. (No meat on the smoker, but I'm pretty sure I smelled some mesquite.)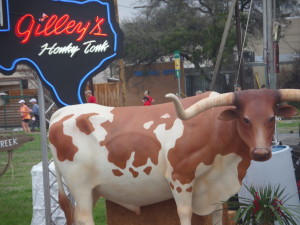 Running past this I decided not to stop for a selfie (if you see the picture above, there is a faux bar bronco with a saddle where you could sit and selfie, or have the groupies snap one for you). It reminded me of hearing about Jennie's, a place in Austin that has (or at least had) chicken shit bingo, which is pretty much exactly what you think it is. Anyway, mad props to this band because they had a great set and were pumping out good tunes.
The designated "selfie station" had a choice of Texas-sized Texas-related items. I decided to take a high-five instead.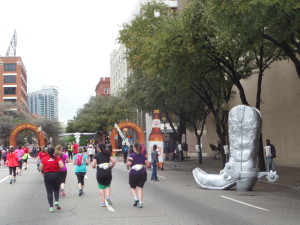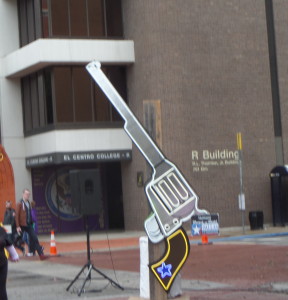 It was fun to see people stopping for a quick pose with a giant object before running around the corner.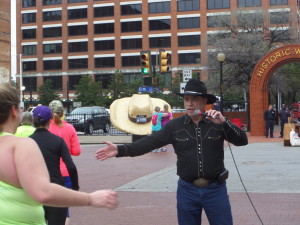 The course continued out of Deep Ellum and back over the river via the new Margaret Hunt Hill bridge. It's a very cool bridge–architecturally interesting too–yet somehow I was enjoying it so much that I forgot to take a photo. Around mile 9 I really, really wanted coffee. I'd had my electrolytes, downed my EnergyBits, and my body (even Ouch) seemed to be demanding some caffeination. For the next mile or so, all of the potential coffee-acquisition opportunities were on the other side of the road, across traffic. Cruel world! Then I saw it: Oak Lawn Coffee.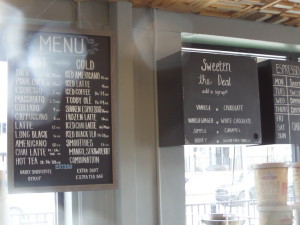 Though I initially bounded up the two steps only to discover that patio gate was closed and I was supposed to enter around the side (D'oh! Runnerbrain!) one of the nice patrons pointed to the other door and I changed course. Once inside, I couldn't remember the word for "mocha," so it took me a minute or two to actually order. As the nice guy behind the counter was about to ring me up, he asked if I was running the race (pointing to my bib). "You're the first person from the race to come in," He said. "Coffee's on the house." Not only was it on the house, it was DELCIOUS! Not overly sugary, strong coffee taste and a creamy finish.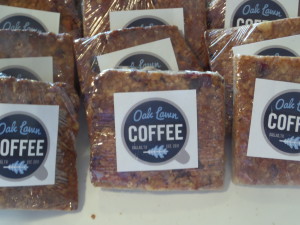 Oak Lawn Coffee is the bomb, and if you're going to run Rock 'n' Roll Dallas next year (or will be in the area), go get a drink there. It was delightful to not only have a nice treat and a warm coffee in my hand, but as people watching the race (and other runners) pointed and made comments ("Ohmygod look! She's got coffee!" "Wait, is that a latte??") it just made the race THAT much more fun.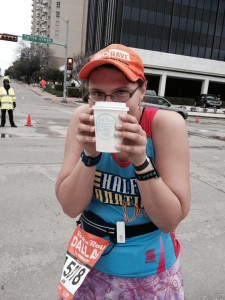 Next I ran into the Race Guards. (I aspire to be a Race Guard, and just need to get down to the Red Cross and do the challenge for first aid so I can avoid spending several hours going over material I literally used to teach.) They had some lovely biofreeze-like spray that felt wonderful on my biceps femoris and vastus lateralis. While the logged the treatment as "IT band," I don't fault them for not being as nerdy into anatomy as I am.
Just down the road a bit, another great potential selfie-station that I un-selfed. I was loving this race again!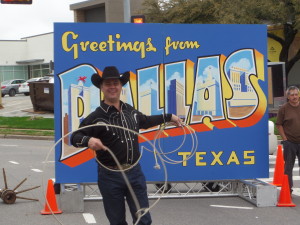 After the coffee level was safely down past "inherent danger of spilling," I took a few run breaks. I like to finish the last .1 running, if only because the people at the finish line can see me run across the finish and they have no idea I didn't run the whole thing. At the 13 mile sign I took off, through the corral lined with the flag of the Lone Star State, cheered on by the Dallas Cowboys Cheerleaders! One benefit to being at a slower pace, the announcer almost always says your name. I love that part!
[This is where I should have a photo of the Dallas Cowboys Cheerleaders. Oops.]
T met me at the finish line which was an extra treat. Usually I head to races by myself, and it is rare anyone is waiting for me at the end. After I collected the half medal and my banana, I headed over to the reunion area to peek at the finish line merchandise, collect the Remix Challenge medal, and grab that Dunkin' Donuts iced coffee. (All fluids are good ones after a race.)
When in Texas, celebrate Texas style, right? Naturally that meant heading to legendary institution El Fenix for a frozen margarita (and a pint of ice water) with my chilaquiles. I didn't quite polish off the chips, but I was tempted! If you're in town, don't miss it.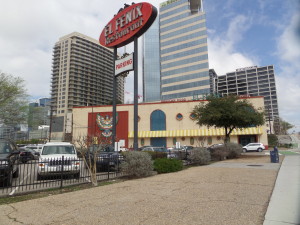 Since I used to live in Texas, and still have family there, this wasn't my first visit to Dallas; and since I used to live in Austin, I'm naturally somewhat prejudiced against Dallas. This trip really changed my mind about the city though. It has changed so much since I moved out of Texas—more housing downtown, more downtown culture and restaurants and things to do—that now I think it looks like a neat place to live (minus the Texas summer heat, of course). Happily, I remembered to put the phone in airplane mode, I got walking directions back to the mystery parking lot (at Griffin and McKinney, in case you need a cheap lot next year) where I took this obligatory cactus shot.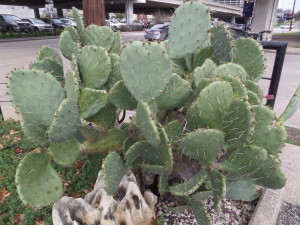 The rest of the story is the same as every race: shower, compression socks, nap hard, hit the plane. Ouch is still bothering me, even after I rolled on it. I'm going to do a little more research on how to correct that before next weekend.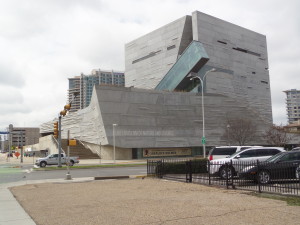 Did you Rock 'n' Roll through Dallas? What did you think?