Technically I live in Alameda, but I work in downtown Oakland and consider the Oakland Half Marathon my hometown race—not to sound too much like Sarah Palin, but you see can Snow Park, site of the start/finish and after-party from my office window.  Earlier this year, Runners World magazine featured a two page story about the Oakland Running Festival.  The Festival is more than a half marathon.  Runners can also choose a full marathon, marathon relay, 5k, or kids' run (which is, as the name implies, for kids). New for 2014 there was also a "We Run The Town" challenge—run both the 5k and the half marathon, receive an extra piece of bling—for those ready to bump it up a notch, but perhaps not up to the full marathon.  When I shared the Runners World photos of the Raider Nation guys dolled-up in their Oakland best to my running roommate Kirstin, she knew them! Already registered for the half and excited to run it again, I then committed to memorizing their names so I could surprise them as I ran by.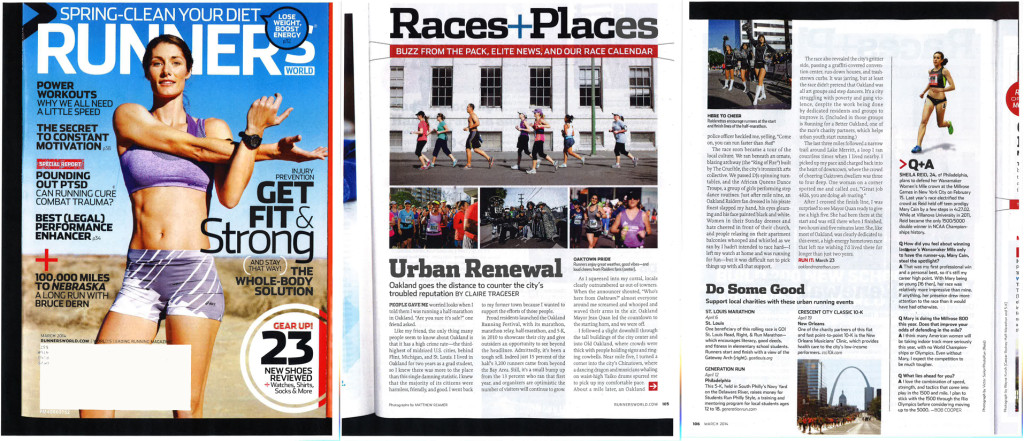 This should not have been a great race for me, since I had not run a single step since the Glass Slipper Challenge at DisneyWorld some four weeks earlier.  (True story! Hey, work kept me busy and out of town and on airplanes most of that time, and I spent more time trying to figure out which time zone I was in than where I could plan to run.) There's  no way I was going to miss the race, but I did decline the inaugural "We Run TheTown" challenge…while anyone who knows me knows just how much I love my bonus bling, I thought it best not to press my luck, you know? Since I am currently on a much tighter racing budget than I was last year, I decided to go to the expo almost as late as possible. My thought was that there would be fewer temptations that way, both in terms of fewer things to eat and fewer things to buy.  (Yes, it took all my willpower  to NOT sign up for Santa Rosa at the expo—a race I'm pretty sure I'm going to register for later anyway—but I was afraid it would be a slippery slope!) Thankfully the half has a relatively late start, so I was able to semi-sleep in, drive into Oakland, and still find parking.  This year there were multiple free lots, a nice perk for those used to running in San Francisco (where "Free Parking" only exists on Monopoly boards). I set myself up in the back of the pack, expressed admiration for a very pregnant runner, snapped a selfie with another Half Fanatic, and wondered if I was going to keep over mid-course from lack of training.
The first few miles felt great! I love that the mayor comes out to wave the runners through the starting line, and I love running through the mix of architecture that is downtown Oakland.  After a few miles one of my GTR friends snuck up on me from behind, and with the assistance of her interval timer we played  leap-frog until about mile 6 (first she'd run ahead, then I'd catch up and pass her, and when I stopped she'd run ahead).  According to Nike+, my first few miles were great, and I broke my own PR for the 10k (which, incidentally, I set last year on the same course). Eventually my hammies yelled UNCLE! And around mile 7, I couldn't see her ahead of me anymore. The course was very similar to the course last year, and was great for all of the reasons I wrote about on the Women's Health Action Hero Blog (which, if you missed it, you can read here: http://whplanofaction.com/actionheroes/how-to-win-a-half-marathon/) The after party was just as much fun as 2013, with live bands, an assortment of food trucks, beer from 21st Amendment Brewery (http://www.21st-amendment.com), and wines from Barefoot Wine (http://www.barefootwine.com). I don't think I've ever been so happy to sip on some sparkling California wine!  But I'm getting ahead of myself.  Along the 2014 course I was happy to grab an orange from the crew at The Brown Sugar Kitchen (http://brownsugarkitchen.com) which also had a DJ and other treats; and this year I had the forethought to throw both hands in the air while running under the arch of flames—literally, an arch with fire on it—set up by local industrial arts non-profit The Crucible (http://www.thecrucible.org) which also put out a dragon belching flames and a few other combusting delights.  Raider Nation rocked the underpass with a DJ and high fives all around, but there was no sign of Azell Afrodesiac, Gorilla Rilla, or the Senior Raider (happy belated birthday, Sean!), all of whom were clearly playing hooky just to mess with me.
About midway through the half, the marathoners join the same course as the half-ers and we all finish the race together.  My legs started to talk some serious smack at me around mile 7, and I was definitely dogging it for most of the rest of the race, humbled as a steady stream of marathon runners—people who already ran the length of my entire race and then some—passed on by. I started to see more and more pairs of runners, one older and one younger, in nearly matching shirts, eventually learning that they are part of Running For A Better Oakland (http://www.rboakland.org), an organization that pairs volunteer adult runners with kids for the race.  Their Mission Statement:
Running for a Better Oakland (RBO) is a non-profit organization that encourages Kindergarten – 12th grade Oakland students to develop healthy lifestyles through running. By building confidence, setting goals, providing training and encouragement, RBO will give students the values for achievement and hard work that they can draw on for all areas of their lives.
Seriously, how cool is that?  Very cool, until the middle school kids and their coaches start to pass me, two by two, on the loop around the lake!
I felt a little bit like the unicorn, solo and left behind as all the others made it back to the ark. For the last mile and a half, I played a slower, less methodical leap-frog with one determined running girl and her coach. The runner seemed to be maybe middle school or early high school age-ish, and by mile 11 was clearly SO OVER this race.  Her feet hurt, and she was tired.  Her coach was a peppy slip of a woman who still had more energy than Tigger, cheerleading and pacing a faux-fartlek from light post to light post. I learned that Runner was doing her very first ever half marathon (and at that point was sure it would be her last). I told her I was proud of her for training and starting, because so many people never even try to do a race.  As the gap between us and the finish line slowly shrank, Runner told me she was going to wear her medal to school the next day. I told her once she crossed that finish line she would know that she can do anything, as long as she prepares and sets her mind to it.
The last little snip of the race course is uphill. Good times. (Not.) I broke it into three pieces: run, walk, run. Runner and her coach—and several other two-by-twos—ran right past me to conquer that finish line. Some photographers were posing them, with their medals, as I walked through the chute.  I'll never forget the transformation I saw in Runner between first meeting her at mile 11—pink in the red-faced and worn-out kind of way, dragging behind her coach—and the gigantic and genuine grin gracing her from head to toe as she posed with her medal: a new athlete with the entire world in front of her.