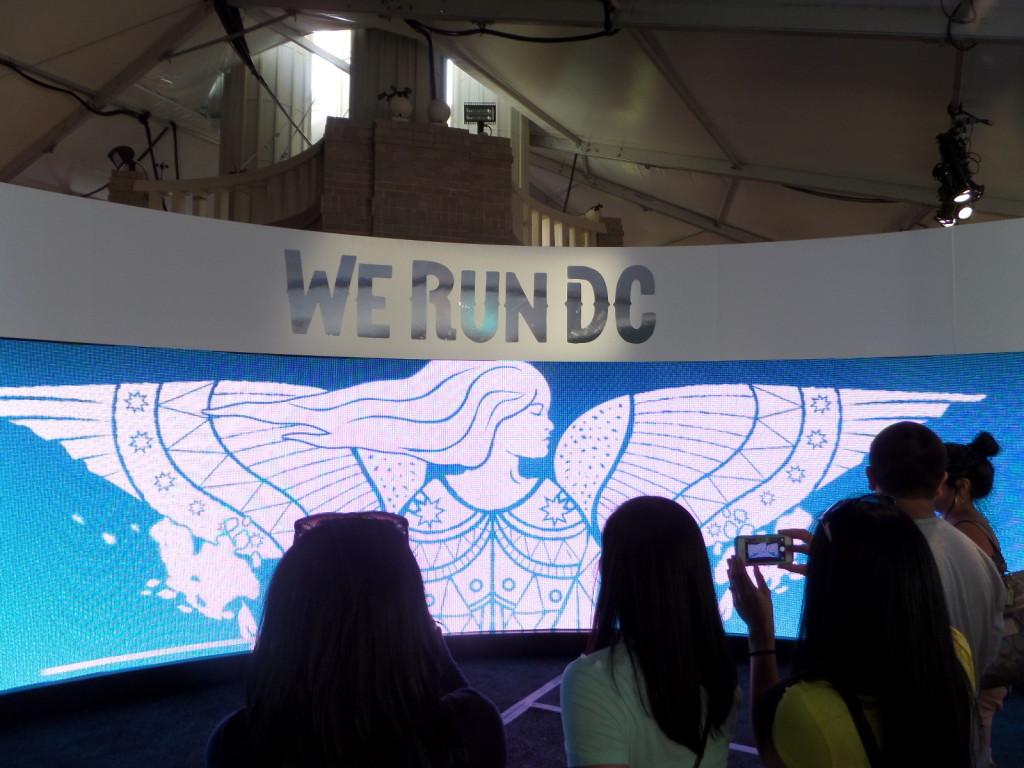 After the blogger brunch, it was time to delve into the race proper. I was lucky to hit a lull in the packet pickup line–I learned from volunteering last year for two days that there is a huge ebb and flow–and there was literally no line after brunch when I walked over to the big tent. It took all of ten minutes to collect my bib, packet, and shirt. I really love the colors for this year's D.C. race (the plum of the runner shirt, and the turquoise used for many other things) and via facebook and Instagram already had my eye on a plum colored pullover. But before I headed to the Nike Store–a practically mandatory pilgrimage before any Nike Women's event–I went over to the Expotique.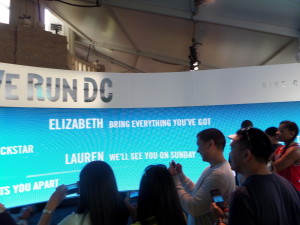 The coolest thing about the Expotique was entering the tent. The welcome screen displayed messages for each individual runner by name, presumable triggered by the timing chip on the back of the bib. Perhaps I'm spoiled from other races, or maybe it is that I remember the San Francisco Expotique from my first Nike race as bordering on magic (no line, massage, manicure, smoothie samples, games with prizes from sponsors, and a guaranteed prize area for Nike+ users where I scored some headbands), but the Nike Expotiques at both D.C. races have seriously disappointed me. This year there was a huge line for Nike+ people to have a treadmill gait analysis (something available to me at most of my local running stores), a few mannequins with new Nike fashions, hair braidin by Paul Mitchell, cheer sign making with Luna and some Luna bar samples, the Team in Training station, and a big wall-like poster/cutout for all of us to sign. I think I was in and out in about five minutes.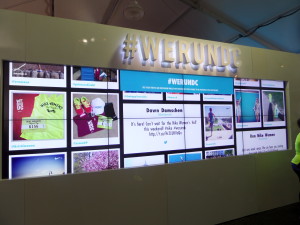 On to the pilgrimage to the Nike store in Georgetown. Every Nike Women's race has featured a wall with each runner's name on it; naturally, it's sort of a thing to find you name and pose. Almost obligatory.
The store itself was much better managed this year, in that it seemed like there was more merchandise constantly brought out (everything was available in every size on the floor), and many more registers open. The Nike store tends to get slammed during these events because of (1) race-specific merchandise, and (2) limited edition race-specific shoes. They've never had the race shoes in my size–I wear a 10, and for larger sizes there are often just a few pairs available–so I've pretty much given up on ever owning a pair. Too bad, they're very nicely done. The race displays include course maps and the infamous Tiffany necklace. A quick note on that necklace…Nike Women's races have had firefighters (or similar) handing out those little blue Tiffany boxes since the races started. The "necklace reveal" is part of the pre-race festivities every year. It is part of the draw, and there are even morale signs along the course that say "That necklace is mine!" so I was VERY disappointed in Nike's pre-race behavior around the prize this year. Previously the registration forms and publicity all referred to the Tiffany necklace. This year not only did the D.C. pre-race materials omit all mention of the necklace (the lottery registration form had some vague reference to a "finisher award," or something like that) but Nike's responses to inquiries on all social media before the race were dodgy. (Specifically, Nike categorically refused to answer the question, "Do D.C. finishers get a Tiffany necklace this year?" multiple times. I know because not only did my question get blown off, I watched the official facebook page where Nike also refused to answer several dozen other variations of that question.) WTF, Nike? While speculation ranged from Tiffany not wanting to be associated with the race, to the possibility of such a high trademark usage fee that Nike wasn't willing to pay to use the name Tiffany, to Nike doing a little marketing test to see if the same number of runners would enter the lottery, after seeing the necklace my own theory was that Nike or Tiffany waited until the last minute to have it commissioned. While it looks a bit better in person, and the design has grown on me, my first impression was that it looked like an Easter egg and the New Year's Eve ball from Times Square had a baby. (In other words, Meh.) Despite my love for plum, the aqua color suited me much better so after I grabbed my 1/4 zip pullover I headed to the hotel to relax.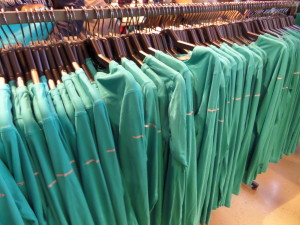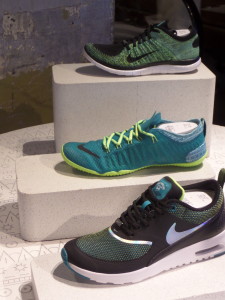 I met my Philadelphia runner buddy (who used to work for Nike, when we both lived in Portland) and had dinner with some other runners at Buca di Beppo. Because, you know, any excuse to eat more pasta, right? Race day morning I was pleased to be staying at one of the Team in Training host hotels (though I wasn't with the Team for this race), within walking distance of the start and with coffee on the way. I bumped into a fellow lost Half Fanatic, and together we failed to find the group photo and instead grabbed a groupie.
The race itself was pretty glorious. The course was essentially the same as the inaugural course last year, only run in reverse. (I'm not sure what the complaint was, but apparently Nike made this change in response to feedback from runners last year.)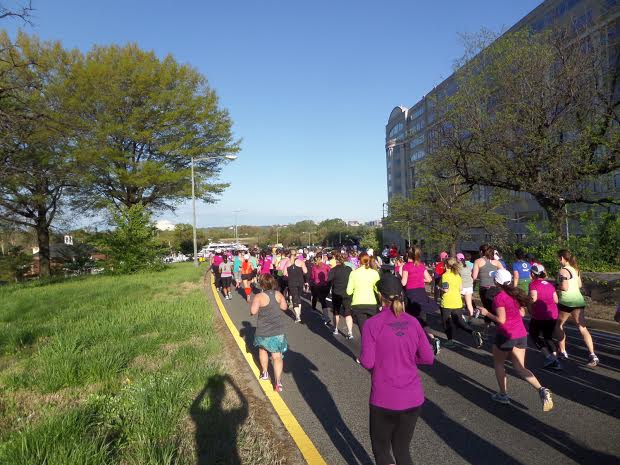 The weather was perfect, and once I again I really enjoyed running through all of the monuments and sculptures and greenery that is the very best of the District of Columbia. Well-stocked water and aid stations met me and the other cheap runners (we're not slow, we're "maximizing the value of our entry fees"). After I collected my little blue box–without the cheerleader-like lifts some women performed with the firefighters because I'm about twice cheerleader height and weight–I was delighted to see Nike upped the ante at the finish line.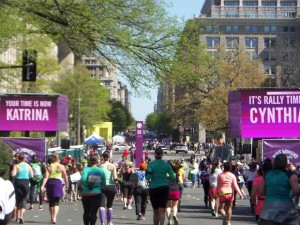 First, no disposable water bottles.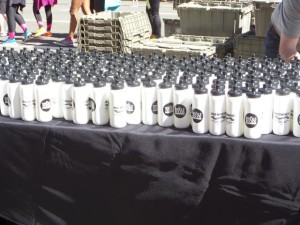 Instead, individual refillable bottles (already filled, but with gigantic water refill stations at the read), followed by bags to collect only the snacks we intended to eat (allowing one to leave behind anything you don't like). There was a great refresh tent, where after I grabbed one of the refreshing face wipes (but didn't partake of the other beauty items available), I spent some quality time with a foam roller on a yoga mat.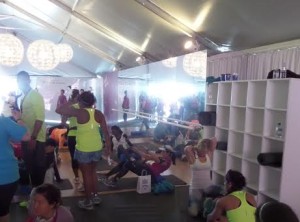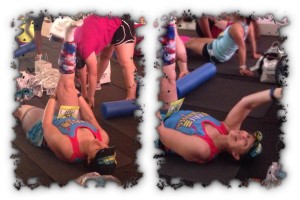 From there, I went to the mocktail bar and enjoyed some rehydration. (Initially I spent a few minutes in the finisher boutique merchandise line, but it was insanely long, and there was no shirt or jacket in the world cute enough for me to wait that long on my feet.) After I added my name to the haircut list–I needed one, the line wasn't long, and the proceeds went to charity, to it was like all kinds of win–I sat and watched the rest of the runners finish. I enjoyed a lovely haircut, then walked back to my hotel (grabbing another mocha on the way).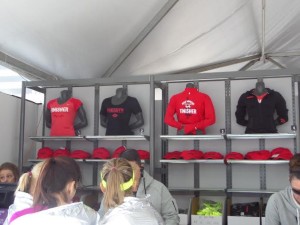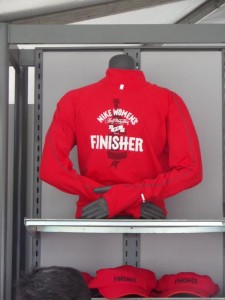 The best part of this race, for me, is definitely the course, followed closely by the national participation (meaning my runner-friends from all over attend it). I actually enjoy the D.C. course much more than San Francisco, the Nike race in my ow backyard. Sure, it is an expensive race, but part of the entry fee goes to the Leukemia and Lymphoma Society, and few races have such great scenery. I'll be back for 2016, if they will have me. (Team in Training has automatic entries, as do college students–a nice touch, supporting younger women in their running–but the rest of have enter the lottery and cross our fingers.) So…fingers crossed!