Disclosure: I received five Luvo meals to review because I am a BibRave Pro. (I had previously encountered Luvo as a sponsor of the Shape magazine Meet and Tweet event.) Learn more about becoming a BibRave Pro (ambassador), and check out BibRave.com to review find and write race reviews. As always, the opinions in this post are 100% mine–read my integrity statement!
I'm really busy, and don't enjoy cooking for one, or preparing dinner at the end of a long day. But I'm also trying hard to keep my eating habits away from food that comes in through my car window or is so processed that I don't recognize what it is. Last fall, I was lucky enough to score an invite to Shape Magazine's "Meet and Tweet" event, where I first heard about Luvo. Most of the samples Luvo brought to the event contained meat, but I did get to try one of the vegetarian burritos–tasty!  Luvo also sponsored the hydration stations, and gave each attendee a well-designed, super cute infuser bottle that is currently my favorite water bottle. When BibRave provided the opportunity for the Pro team to try Luvo meals, I signed up as fast as my mouse could click.
But let's step back for a moment.
Once upon a time not that long ago, a "frozen meal" was a Swanson's TV dinner, heated and served in the Pan Am Airlines-inspired aluminum tray. Not only did they save 1950s and 1960s housewives countless hours so they could focus on other tasks (you know, ironing the bed sheets, busting out the hot rollers to primp before the man of the house returns from his long day at work), but surely they were a sign that we were living in the future. I remember the beefed-up "Hungry Man" dinners introduced in the 1970s (can't have those hungry manly-men going without dinner just because they hadn't married yet or because the little lady got herself a job), and the 1980s' "Kid Cuisine" (though I'm still not sure why kids need their own special food—can't they just eat regular food?). For at least the last decade or two, the phrase "frozen meal" has conjured up images of overly processed, boxed food with more polysyllabic mystery ingredients than recognizable ones, the glossy packages featuring professionally styled "serving suggestions" that surely must be photos of something other than the contents of the box.
Frozen food's reputation has taken a hit, especially among the younger, savvier generations who don't trust "big food" to have their best interests at heart. Industry insiders have commented that consumers are increasingly skeptical (just like this BibRave Pro) of any food that comes in packages, and want products with ingredients they recognize. (Check out this article from Fortune.)
That pretty much describes me. I recognize that modern food technology enables me to have cooked food that is safe to eat directly out of my grocery store—and I like visually appealing, cootie-free food—but I don't want to have to guess at what's in my food, and I don't want to have to pay restaurant prices for frozen meals. Luvo is a great compromise: I recognize the ingredients, it heats perfectly in the microwave due to the proprietary pouch, AND it tastes delicious.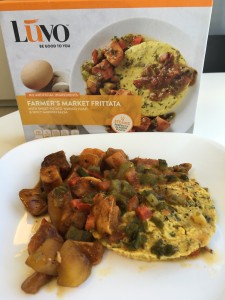 Let's take a look at the Farmer's Market Frittata, which was one of my favorite dishes.  It is intended as a breakfast dish, but I ate it for lunch, along with an apple and a beverage. At 250 calories and 12 grams of protein (10 grams fat, zero trans-fats; 29 grams of carbs—in case you care about the macros), the frittata plus a medium apple was enough for me to feel satisfied.
First question: What's inside?
Sweet Potatoes
Mango
Egg Whites
Apple Juice From Concentrate
Tomatoes (Tomatoes, Tomato Juice, Salt, Calcium Chloride, Citric Acid)
Mushrooms (Mushrooms, Water, Salt, Citric Acid)
Water
Poblano Chiles
Red Bell Peppers
Tomatillo
Milk
Parmesan Cheese (Cultured Milk, Enzymes, Salt)
Onions
Ricotta Cheese (Whey, Milk, Cream, Vinegar, Salt, Xanthan Gum, Locust Bean Gum, Guar Gum)
Part-Skim Mozzarella Cheese (Pasteurized Part-Skim Milk, Cheese Culture, Salt, Enzymes)
Goat Cheese (Pasteurized Goat's Milk, Salt, Cheese Culture, Vegetal Rennet)
Green Bell Peppers
Contains Less Than 2% Of:

Balsamic Vinegar
Citric Acid
Dehydrated Onion
Extra Virgin Olive Oil
Garlic
Garlic Powder
Green Chili Pepper
Green Onion
Guar Gum
Jalapeno Peppers
Lime Juice Concentrate
Natural Flavor
Oat Fiber
Rice Starch
Roasted Tomatoes In Oil (Tomatoes, Sunflower Oil, Garlic, Salt, Oregano)
Seasoning (Natural Flavor, Potassium Chloride, Yeast)
Seasoning (Sea Salt, Potassium Chloride)
Spices
Turmeric And Annatto For Color
Whole Eggs
Xanthan Gum
Now there are probably a few things in the list you've heard mocked in the national TV campaign the dairy industry is waging against non-dairy milks, or targeted as evil "chemicals" by a certain food blogger who shall remain nameless. So before you get yourself tied up in knots, here's the REAL scoop:
Calcium chloride is a salt, similar to sodium chloride (you know, white table salt). Similarly, potassium chloride is a salt—maybe you've purchased it as a commercially available salt-substitute.
Those "gum" ingredients… Xanthan Gum, Locust Bean Gum, Guar Gum…these are all polysaccharides (a carbohydrate  with more than one monosaccharide bonded togther; monosaccharides are simple sugars like glucose). Guar gum (aka guaran) is made from ground up guar beans; the beans are dehusked, milled, and screened to obtain the guar gum. Locust bean gum does not have any insects in it, but is basically guar gum made from locust beans (carob beans) instead of guar beans. Xanthan gum is made by fermenting simple sugars (glucose, sucrose, lactose), then drying the product and grinding it into a powder. (But wait, you may ask, aren't these "weird chemicals"? You can buy they all from Bob's Red Mill, a trusted brand in natural foods for more than three decades. As thickening and stabilizing agents, they are commonly used in gluten-free baking.)
Second question: is this idiot-proof?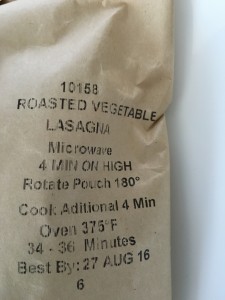 Um, sort of. Both the box and the pouch tell you to microwave it seam-side up. I missed that, and made a little bit of a mess with my first ravioli meal. Oops.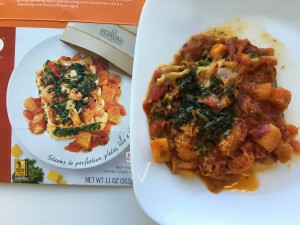 The food still tasted just fine, but when you heat them up, the pouches expand in the microwave. If you are like me and didn't bother to read the actual instructions carefully, and put the seam down, you just end up with some minor leakage from the pouch at times. (When you cook them seam-side up, there might be a little steam, but the seam doesn't always burst.)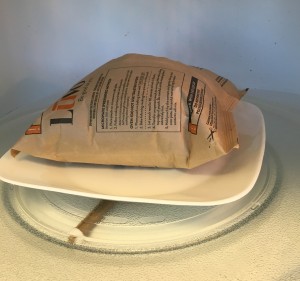 As you can see, the pouch poofs. My kale ricotta ravioli slid right out. At first it seemed like a small amount of food (like 6 ravioli), but it gave me some much-needed perspective on portion size! The ravioli made a great light lunch or, when paired with a salad, a substantive one. One thing I liked about Luvo at the Meet 'n' Tweet was the handout about customizing Luvo meals, which included recipes using Luvo–like how to use the Luvo Orange Mango Chicken to make lettuce wraps.
If you haven't figured it out, I found all of the meals I tried quite tasty. The surprise stand-out for me was the Roasted Vegetable Lasagna. Look, I grew up in a midwest "steak and potatoes" kind of family that all think it is bizarre that I no longer eat animals. We ate canned and frozen produce for most of the winter. The most adventurous options available to use were a Chinese restaurant and a Chi-Chi's. I grew up as a bit of a picky eater, and I didn't have a sweet potato or kale until I was over 30. So "with butternut squash, whole wheat noodles and kale" was almost a taunt about how yucky this would be.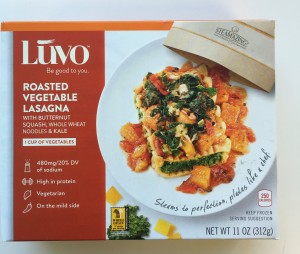 Except it wasn't. It was completely delicious, and I wanted a second serving. (Not because I was hungry, but because I loved the taste.)
A few more pointers about the Luvo brand:
Luvo has a woman CEO! Christine Day, former CEO of lululemon, is a sort of rock star. Even Fortune thinks so.
If you do eat animals, at least Luvo meals don't use meat raised with hormones or antibiotics. (NOT using antibiotics is super important—read why here.)
Dairy products are sourced to be rBST-free.
Concerned about the effect of GMO crops and Monsanto on international agriculture? Luvo is committed to non-GMO soy, corn, and canola.
Each Luvo meal or burrito has fewer than 500 calories. Paired with a salad or a piece of fruit, it's enough to satisfy.
Luvo uses organic ingridients whenever possible.
Frozen meals have a reputation for being high in sodium—but Luvo defies that, with fewer than 500mg sodium per serving. (No, they didn't mess with the number of servings per package—each of the pictured meals is one serving.)
Protein, fiber, and nutrients come from real food.
Overall, I'm really happy with Luvo, and intend to head to the Whole Foods near my office to stock up. For other reviews on Luvo, try an omnivore's opinion, or a meal-by-meal review.
I'm pleased that Luvo has stepped up to my plate, and can't wait to taste more of their vegetarian dishes. (Did you see they have a quinoa and vegetables enchilada?? How about the vegetable coconut curry pilaf?)