Sunday I ran the Brazen Racing Almost New Year's Eve run at Lake Chabot park. It's a cool way to end the year because it was my second time running my first trail race, and the first half of the "marathon." Friday I started 2016 by running the same course in reverse! Well, "running" might be a bit of an exaggeration, given the elevations there wasn't much running on my part. Brazen Racing organizes 20+ races each year, all in parks, and largely trail runs. (The course at Lake Chabot includes some paved sidewalks into and out of the picnic area that serves as the start and finish line.)
One feature of some of the Brazen half marathons is the "hiker start." This option allows slower runners and hikers to start an hour early, which is particularly nice when you might need more than four hours to conquer the hills. The downside is that when you take an early start, there is always the possibility that the aid stations won't be ready for you yet. (This wasn't a problem at the Brazen races, by the way.) Trail races also present limited options for aid station placement, and they are not always evenly spaced like they would be on a road race. What's a runner to do?
Enter Orange Mud. The HydraQuiver Vest Pack 1 was my best friend during both of the Brazen Races. I carried hydration, snacks, tissues, my phone, gloves, lip balm, and a Buff (when I wasn't wearing it) and still had plenty of pocket space leftover. By the way, since I'm not great with the photos (and the one below is borrowed), I recommend checking out Brad's pics at Trail Running Faith and Jenny's at Runny Legs and Burnt Toast.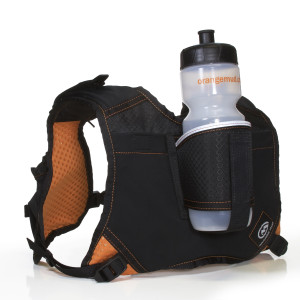 One reason this type of pack appeals to me is that you can use multiple water bottles. Ever left one in your car for a few weeks by accident? Then carefully washed the sipping valve? Yuck. Bladder-style hydration packs just freak me out, because I'd never feel comfortable that they were clean and always be either obsessing or sipping on soap.y water. Yuck.
It's hard to evaluate running gear online–though Orange Mud has multiple videos on the website to help you see how the gear looks and fits on an actual human–and if you just see the HydraQuiver itself, you might be a little hesitant about the fit. Don't be. The vest has a strap you can adjust on each side; in addition to the buckle, there is also a separate slider to hold the end of the strap (so that it doesn't hang down or flap around after you adjust it). The strap's location (plus that slider) keep the strap close to your body, and away from your arms–no chafing here! (Full disclosure, Heather over at Marathon Mom did experience chafing, though she noted she has this difficulty with lots of things.)
The front of the pack is also adjustable–though OrangeMud recommends using this for "micro adjustments" only, as the side straps are the main fit–with the strap landing high on the sternum. The placement is perfect for me, and doesn't cause any chest discomfort or sports bra interference.
The back of the pack is a bottle holster and two smaller pockets. (I slipped a tube of Nuun into one of them.) The bottle holster is adjustable, so you can take a bigger bottle or a smaller one. (The pack comes with a 25 ounce BPA-free bottle.) All you have to do is adjust the strap that goes across the bottom (it is velcro).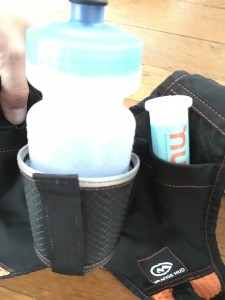 Initially I wondered if it would be awkward to reach behind my head for hydration, since I'd never done it before. In a word: NOPE. It felt very natural, and even when using a smaller bottle I didn't need to fumble to slide it into the pocket. It was an easy grab to get it out and stuff to get it back in. I'm not making this up, Angie over at Angie Runs found it really smooth too.
On a side note, the ONLY problem I experienced with this pack was with bottles. When I used the bottle pictured above, I didn't dry the threaded edges well enough before I filled it, and so it leaked out the sides of the lid as I was running. This was clearly user error, and might actually be a fun feature in super hot weather (self-cooling), ha ha!
The front of the pack has four pockets. The shoulder pockets are open on the bottom and close with a velcro strap. (It would be awkward to have a pocket where the opening was at the top of your shoulder.) I used one pocket to hold a pack of tissues. These pockets are also suitable for self-contained items like hats, gloves, Buffs, bandannas. I could also see using them to hold packaged snacks, like Honey Stinger chews. If you have a smaller phone, or need to take your wallet with you, those pockets are perfect. They were a little small for my iPhone 6.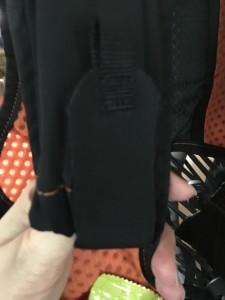 The two lower pockets open at the top and have elastic to keep things from flying out while you run. The right-sided pocket also has an additional drawstring-type device to further constrict the top. These pockets are easy to access while you're running (no need to mess with velcro). During my runs I used them for a pack of partially eaten Honey Stinger chews, a container of Energy Bits, an itty-bitty lip balm, the Buff I kept taking off and putting on to adjust as I ran in and out of shaded areas, Dixie cups from the aid stations (on a trail run you can't throw anything on the ground, and Jelly Belly beans are easier to carry in a Dixie cup than in your hands). See Jess Run took hers out on a 50k, and liked having her hands free for the aid stations!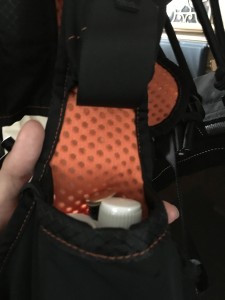 It was rather cold for both runs, so I wasn't particularly worried about overheating, though my experience with this pack indicates that wouldn't be an issue. The main pieces next to the body are meshy-fabric-covered material with big ventilation holes. Even as I was sweating during my runs, the sweat was wicking away from my body. I never felt hot or particularly wet underneath the vest.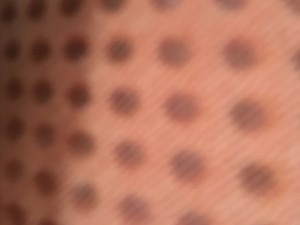 Overall, I'm really pleased with the Orange Mud HydraQuiver Vest Pack 1. The construction is durable and comfortable, and the pockets made this more than a hydration carrier. While I initially pegged this as a trail running product, after using it for these races I can see it as a pretty great tool for any medium to long training runs, trail or road.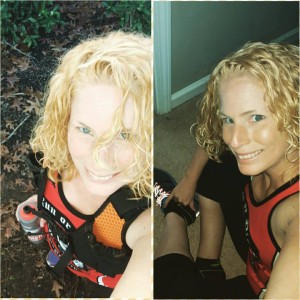 You can also check out a video of BibRave Pro Sarah with this pack at Sweet Blonde's Fit Life. To learn more about how this pack compares to the double-barrel, check out Heather Runs 13.1
Still on the fence? Would saving 15% on ANY OrangeMud order persuade you? Use code BIBRAVE to score your own discount. OrangeMud also makes hand-helds, if that's your jam. Be sure to join us on twitter for #bibchat sponsored by OrangeMud on Tuesday, January 5th at 6 p.m. Pacific.
How do you carry your hydration on long runs? What about other stuff?