It's national Get Smart About Antibiotics Week. (I discovered this by accident, so I'm sharing it widely.)  Appropriate too, as we're moving into cold and flu season AND about to celebrate Thanksgiving. Did your Thanksgiving turkey take any antibiotics?  Unfortunately unless you've sought out a drug-free bird, you'll never know.
Earlier this week I participated in a twitter chat with Center for Disease Control (CDC) experts Dr. Tom Chiller, Dr. Lauri Hicks, and Dr. Loria Pollack (#SaveAbx), and if I could communicate just one thing from that chat it would be this:
I view antibiotics as a resource like fisheries or a forest. If we don't protect them, they will be gone.    –Dr. Daniel Uslan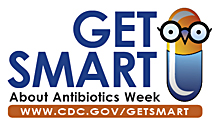 We haven't discovered any significant new antibiotics in over 20 years. Antibiotic resistance leads to infections that have limited or no treatment options.
Antibiotics are among the most commonly prescribed drugs used in human medicine (and also among the most commonly counterfeited drugs, so don't even think about buying them on the internet). Most people do not understand how antibiotics work, yet the way we use antibiotics today directly affects how effective they will be in the future. Because they have been around for our whole lives and are relatively safe drugs—by which I mean few people die or suffer very bad side effects from taking them—the perceived risks of antibiotics are overlooked by the general public. We easily forget that antibiotics are a "social drug." Each time you use an antibiotic, it becomes less effective for you AND for others.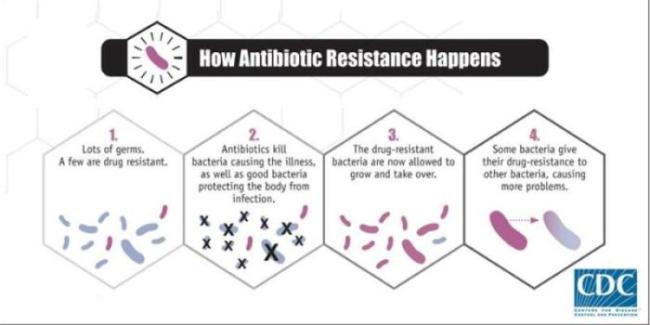 Essentially it's like bacteria evolution: the strongest (most drug-resistant) survive and reproduce, populating the world with eve more drug-resistant bacteria. Taking antibiotics when you don't need them, or failing to finish a course of antibiotics, promotes growth of antibiotic resistant bacteria (sometimes called "superbugs"). The Capital and Coast DHB in New Zealand reported that the risk of contracting EBSL (an antibiotic resistant superbug) in Singapore increases from 6.3% to a whopping 29.4% with hospitalization and antibiotic use. The CDC estimates that antibiotic resistance causes at least 2,049,442 illnesses and 23,000 deaths in the US alone. (In contrast, leukemia causes 22,569 deaths and homicide causes 16,259.) Of those, approximately 410,000 illnesses are caused by antibiotic resistant germs in food.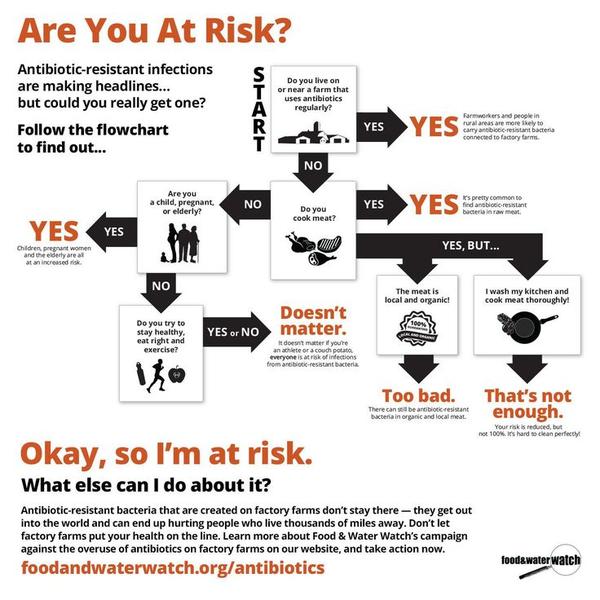 Antibiotic use isn't just out of control in human medicine, but also in agriculture. Approximately 80% of antibiotics used in the US are given to food animals, not people. That we can protect people from getting infections from eating animal meat is a wonderful thing for public health; that most feedlots use antibiotics like cow-treats due to overcrowded and unsanitary conditions is not. Meat producers also pump antibiotics into all kinds of healthy animals to cause the animals to grow faster and bigger (which is good for their bottom line, but bad for the future use of antibiotics).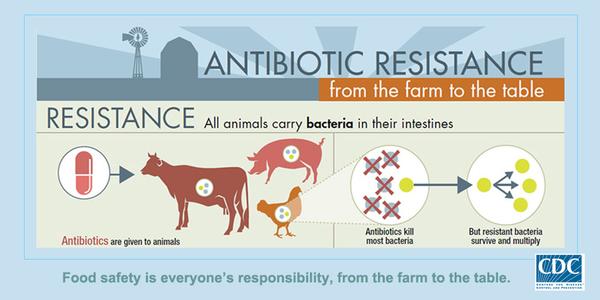 Antibiotics are an important tool we have to fight infections and maintain/protect health, but in order to keep them effective, we need to make sure they doctors and patients are making the right decisions about antibiotic use. Essentially, we need to use the right medicine for the right patient at the right time—this includes promptly identifying the specific disease-causing pathogen so that doctors can match the right drug to the right bug, prescribing antibiotics only when they are necessary and will be effective, and finishing the entire prescribed course of treatment.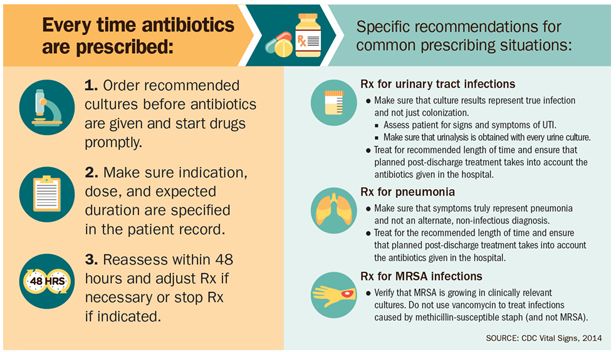 HOW TO TAKE ACTION!
Preventing infections is the first step towards reducing antibiotic overuse.
Practice good hygiene. Wash your hands. Clean and cover cuts and scrapes.
Follow best practices when cooking meat. Immediately clean surfaces and tools that touch raw meat. Keep raw meat separated from other ingredients (until cooking).
Get a flu shot.
Be a responsible patient when seeking medical treatment.
Don't insist your doctor prescribe an antibiotic.
If prescribed an antibiotic, take ALL the medication as directed.
Choose your food wisely.
Buy meat from companies that pledge to use antibiotics responsibly.
If you have the storage space, consider buying a share of an organically raised animal. Many farms offer "co-op" style buying.
A few sources for turkeys: Diestel, D'Artagnan, Plainville Farms, Harvestland brand, Mary's Free Range Turkeys. Check for turkey farmers in your area (a Google search is actually quite helpful)
"The wonderful thing about food is you get three votes a day. Every one of them has the potential to change the world." Michael Pollan
FOR MORE INFORMATION
Centers for Disease Control and Prevention. http://www.cdc.gov/getsmart/
"Get Smart: Know When Antibiotics Work"
"Get Smart for Healthcare"
"Get Smart: Know When Antibiotics Work on the Farm"
"Get Smart About Antibiotics Week"
Antibiotic Resistance and Food Safety, Center for Disease Control website. http://www.cdc.gov/foodsafety/antibiotic-resistance.html
"Antibiotic-Resistant Infections Cost the U.S. Healthcare System in Excess of $20 Billion Annually." PR Newswire. http://www.prnewswire.com/news-releases/antibiotic-resistant-infections-cost-the-us-healthcare-system-in-excess-of-20-billion-annually-64727562.html
Sydney Baldwin, "You've Got Questions About Antibiotic Resistance; We've Got Answers" at the Food & Water Watch blog. http://www.foodandwaterwatch.org/blogs/youve-got-questions-about-antibiotic-resistance-weve-got-answers/
Eliza Barclay. "Did Your Thanksgiving Turkey Take Any Antibiotics?" NPR. http://www.npr.org/blogs/thesalt/2013/11/26/247377377/did-your-thanksgiving-turkey-take-any-antibiotics
"Bibliogaphy on Antibiotic Resistance and Food Animal Production: Scientific Studies (1969-2014). Pre Charitable Trusts. http://www.pewtrusts.org/en/research-and-analysis/issue-briefs/2013/05/21/bibliography-on-antibiotic-resistance-and-food-animal-production
Martin Blaser, "Why antibiotics are making us all ill" on the Guardian, http://www.theguardian.com/society/2014/jun/01/why-antibiotics-making-us-ill-bacteria-martin-blaser
"Getting Smarter: A Year of Action on Antibiotics" via the Pew Charitable Trusts. http://www.pewtrusts.org/en/research-and-analysis/collections/2014/11/getting-smarter-a-year-of-action-on-antibiotics
"Hunting the Nightmare Bacteria." (video) PBS Frontline. http://www.pbs.org/wgbh/pages/frontline/hunting-the-nightmare-bacteria/
"Overuse of antibiotics in animals is dangerous for people." (video) Consumer Reports. http://www.consumerreports.org/cro/video-hub/3291481807001/
Sharing Antimicrobial Reports for Pediatric Stewardship (SHARPS) collaborative. http://www.sharpsgroup.org/
Lydia Zuraw, "FDA: Antibiotics Sales to Farms Up 16 Percent Between 2009-12" http://www.foodsafetynews.com/2014/10/antibiotic-sales-to-farms-up-16-percent/#.VGuulaPTmDZ