Disclosure: I received advance access to the e-book version of Following Fit in exchange for my feedback and honest review. The author also graciously offered a copy of the printed book, which is the prize in this giveaway. All of the words and opinions in this post are my own.
When I started to read Following Fit, I knew from the first pages of the introduction that I was going to rip through this book like college kids rip through a bag of Doritos. Like Kristen Perillo, I was a "bread thief" (and even had extra rolls and a tiny amount of butter instead of dessert in the no-fat, high-carb 90s). I also dropped athletic pursuits early. We had the same early experiences with self-imposed perfectionism and anything less than 100% meaning failure. If you grew up in the 80s and 90s, you'll recognize parts of your own life in Kristen's story, too.
Like blogs? You'll love the book. This book evolved from Kristen's former blog, so it is written in bite-sized pieces. Each short chapter tells part of the story, and could stand alone as an essay. I could see an English class using this book as a study in essays, one chapter each week; I could see reading one chapter each night as a light and easy read before bed. Her commentary on how popular media treat the female body in a number of contexts is particularly on point.
It's not just about the fitness. Even if you're not an avid reader of health and fitness books, there's something in here for you. This book touches on the very personal meanings of concepts like commitment, worthiness, motivation, health, and failure. I particularly enjoyed that several of the sections focused on fitness myths (e.g. "women should never lift weights over five pounds"), and how even a basic non-professional knowledge of weight lifting allowed Kristen to connect with her male high school students. Ultimately this is less a book about fitness, and more a book about identity and self-knowledge.
It's not a "how to" book. Unlike many books in the health/fitness/healthy-diet space, this is not a how-to. Kristen does not pretend she has all the answers, or dole out advice claiming it is "one size fits all." Instead, Kristen tells HER story—not in the social media highlights-reel-only style, instead including the parts of her life that film editors would leave on the cutting room floor. The scenes of lost motivation, feelings of disconnection between mind and body, and looking back on past choices and habits and wishing they were different are all a part of life, and all included in the book. One of the chapters I found most challenging to read was about Kristen's decision to transition away from vegetarianism (being a vegetarian myself, and being constantly told this is "just a phase" punches my buttons to this day). It's clear that this was the very best choice for her, and as I read through her process I found myself internally finding more empathy for my friends who are ex-vegans and ex-vegetarians. (I have always maintained that it's not my job to decide what eating pattern is best for your body; the "I was vegetarian for x years" comments feed into my annoyance with the whole "just a phase" thing.)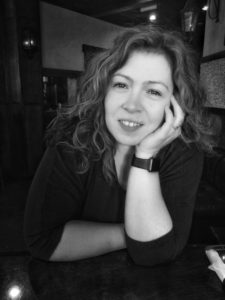 Kristen is not one of those "fake experts." I also really appreciated how—unlike most fitness bloggers—Kristen consistently reminds the reader she's not a medical professional, sticks to facts when writing about medical issues, and always consults a medical professional when it is appropriate for her. If other bloggers learned nothing else from her book but this, she'd be doing a massive service to the fitness community. If her readers learned nothing beyond "hey, this is the pattern that reliable, legitimate bloggers follow," again, that's a massive service to the fitness community.
It's not all sunshine and unicorns. Throughout the book, Kristen keeps it real. As a blogger myself, I'm sure she had plenty of material to work with and had to pick and choose which posts would become book chapters and which would be omitted. Yet instead of showing only the shiny happy moments, Kristen also shares her struggles with gaining weight due to binge eating, frustrations with a post-surgery shoulder that isn't as strong as she would like, and nerves before her first session working as a personal trainer.
Just Read It. Following Fit is a delightful departure from the books that dominate the health and fitness market. I highly recommend this book, and wouldn't be surprised if you find yourself re-reading sections, or making notes in the margins and at the end of each chapter. Wherever YOU are in your relationship with yourself, this book will remind you that you are not alone. More important, you are fine just where you are.
Where to get it. Following Fit is on my Amazon list of books for runners (affiliate link). Once you've read it, why not leave a review on GoodReads? If you want to learn more about Kristen, check out her website. Or follow her on Instagram or Twitter.
Win Yours Here!
Rules: This giveaway is NOT sponsored by anyone or anything. You must have a mailing address in the United States or Canada to enter. (Sorry, international readers–postage overseas is killer.) Entries will be verified, so please follow the instructions. Winner will be notified by email and have a reasonable amount of time to respond and claim the prize. Winner must be patient! The printed book has not yet been released! You'll get it when I get it, grasshopper.