Come join me for my next two runs: Run 10 Feed 10 (Sunday, October 26 in San Francisco) and the Berkeley Half Marathon (Sunday, November 9)!
Run 10 Feed 10 San Francisco is one of the three races in the Run 10 Feed 10 series.  There are also a series of fun runs and the option to "run your own" as a virtual 10k. The series, presented by Women's Health Magazine, raises funds to solve the world's most solvable problem: childhood hunger. Children who come to school hungry have a hard time focusing and fall behind in school.  Some researchers are exploring the connection between childhood food insecurity and adult obesity–because how your nourish your body as a child affects your body's systems as an adult. Kids can't help themselves, but we can help kids; and the FEED Foundation's partnerships with locally-rooted non-profit organizations stretch your dollars even more than you could.  Every registration automatically pays for 10 meals.  You can also fundraise or make a donation. (Both are optional, but every dollar counts.) You can donate to my fundraiser here (click): Run 10 Feed 10 Registration; and use promo code WHBAIN
If you're not registered to run the Berkeley Half Marathon, why not? Go register! You can even save a few bucks using my ambassador code BHM2014ELIZABETH All of the details are at The Berkeley Half Marathon home page;  This year (the race's second) the course will go through the UC Berkeley campus (or "the Cal campus," for those of you who grew up around here). The course map is online, along with the elevation profile (two mini hills and then a nice flat piece). It's a back-of-the-packer-friendly race, with four hours to finish (that a pace of over 18 minutes per mile–much more generous than the Disney runs). A portion of your entry fee supports the Berkeley Public Schools Fund, and if last year was any indication, it's going to be a great run! Last year we had gorgeous weather, and seriously who doesn't love a race that ends in a beer garden?  (Right, I know, I don't drink beer.  But still, it's the idea!)
If you ran the San Francisco Half as well, you have special bling waiting for you at the finish line: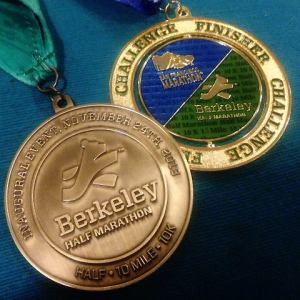 Would you like to run the Berkeley Half Marathon?  I've got ONE race entry.  The prize is ONE half marathon entry only (no travel, no lodging, no other promises). The winner will receive a code to register for the race for free!