In a marketplace evermore crowded with Big Food's prepackaged pseudofoods, Clif Bar remains an independent, family-owned company producing bars with ingredients you can pronounce (and love). Also, I personally have to love a company that has headquarters in Emeryville, CA, once described by then-Alameda County District Attorney and future Chief Justice of the United States Supreme Court Earl Warren as "the rottenest city on the Pacific Coast." Naturally I was thrilled when I had the opportunity to try the Clif Bar Mojo Dark Chocolate Trail Mix Bars and Clif Mojo Fruit & Nut Bars.  In a tag: #nomnomnom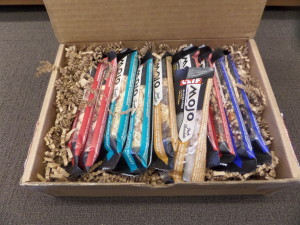 The new bars come in Wild Blueberry Almond, Cranberry Almong, Coconut Almont Peanut, Dark Chocolate Cherry Almond, and Dark Chocolate Almond Sea Salt. Despite my love for chocolate, my favorite flavor is Coconut Almond Peanut. The dominant flavors are toasted coconut and nuts—NOT sugar!—and it makes a fulfilling snack.  Here are the ingredients:
Organic Peanuts, Almonds, Organic Tapioca Syrup, Organic Coconut, Organic Rice Crisps (Organic Rice Flour, Organic Cane Sugar, Salt, Calcium Carbonate), Organic Inulin, Organic Honey, Organic Roasted Soybeans, Sea Salt, Natural Flavor, Natural Vitamin E (Antioxidant).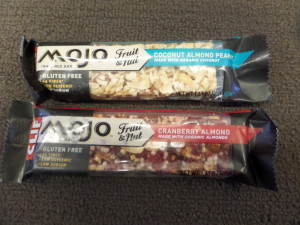 While I didn't need to eat more than one at a time to feel satiated, I certainly wanted to eat them all. Eventually I did eat them all, but I did it one at a time so I could really taste each flavor. That made it harder to pick a favorite, but I'm a sucker for a coconut bar that doesn't taste like it was made with sugary sticky oversweet leftover Mounds or Almond Joy.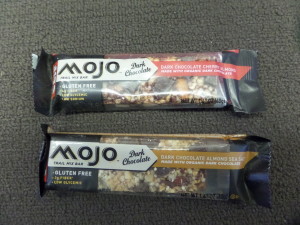 Before I even tasted the bars, I surfed around the Clif website. Because there is so much green-washing and outright lying going on in the world of Big Food, or perhaps because I practice law, I've been pretty skeptical of anything provided in a press release.  (To be clear, I received the Clif bars with only a single-sided postcard featuring a photo of the bars, a short phrase describing each flavor, the suggested retail price, and the Clif Bar social media links. No press release.)
I decided to ask some questions outside of what I could find on the website.  This was both to satisfy my own curiosity and desire to use this blog to only endorse products that I love and believe in.  I was not disappointed!
Here is my mini-interview with Clif Bar:
Q:  I know that the chocolate is Rainforest Alliance certified, but can you tell me about the other ingredients? Are there any specific projects or programs with a single ingredient?
A: We use USDA-certified organic palm kernel oil in many of our bars, which ensures a strong ecological approach to palm oil production. Currently, 65% of our palm kernel oil is Rainforest Alliance Certified. Our organic supplier is currently working towards 100 percent Rainforest Alliance certification. We have worked with our suppliers to understand their commitment to positive environmental and community practices.
Q: What is Clif Bar's involvement/commitment/aspiration in the Fair Trade department?  I know that the Fair Trade label has undergone some changes, and that it has never been accessible to many small and co-op farms; I'm more interested in the principles (working with suppliers and paying a fair price to the farmers historically disadvantaged by the global market) than the official label.
A: Fair trade is an important issue and Clif Bar wants to ensure a socially just and environmentally responsible supply chain. We recognize the importance of fair labor conditions, community development and environmental sustainability. As of June 2013, all of our CLIF Bars are being made with Rainforest Alliance Certified cocoa. In addition we have a responsible sourcing and supplier code of conduct that outline our minimum expectations of how our vendors do business as it relates to legal requirements, ethical practices, and labor conditions. Our code is based on the Universal Declaration of Human Rights and the International Labor Organization (ILO) conventions, and covers a full range of ethical trading issues focused on basic labor rights; including a safe working environment, the right to organize, and non-discrimination in the workplace, among many others.
Q: There is currently a certain amount of backlash in the twitterverse against "Big Food," especially as big international conglomerates are buying up what used to be "mom and pop" organic brands.  Can you tell me more about Clif Bar's plans for the future? Will it remain a family company for the foreseeable future?
A: We are an independent, family-owned company, continuing to make progress on our 5 Aspirations (Sustaining our Planet, Community, People, Business and Brands). To further invest in our future as an independent, family-owned company, we recently announced plans to build our own bakery in Twin Falls, Idaho, which is scheduled to open in 2016.
Afterwards, I felt even better about liking these bars, which are also gluten-free and low glycemic index. The Dark Chocolate Almond Sea Salt and Dark Chocolate Cherry Almond are both backed with a thin layer of dark chocolate. It's not too much chocolate—after all, this isn't a candy bar—but it is the kind of quality-tasting chocolate that doesn't require snarfing down an entire bar. Ordinarily I don't go for fruit in my bars, but the Wild Blueberry Almond and Cranberry Almond both won me over. Frankly, they are delicious.  I'd still choose the Coconut Almond Peanut any day though.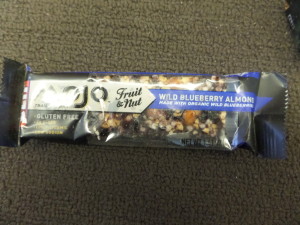 You can learn more about Clif Bar on their website, www.clifbar.com or by following them on Twitter (@ClifBar) or Instagram (@ClifBarCompany). Clif Mojo Fruit & Nut and Clif Mojo Dark Chocolate Trail Mix Bars are available now.
---
Disclosure: I was provided with a box of Clif Mojo bars, two of each flavor, to sample and discuss on social media.  I did not promise a favorable review (or any review, for that matter). Except where specifically noted above, all words used in this review are my own.