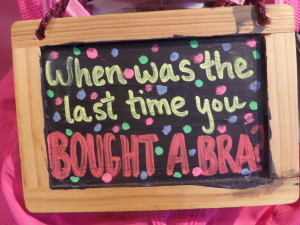 Seriously, when? As I thought about it yesterday morning, I realized that I had not bought a new bra in three years. Yikes! "A bra should never see a birthday" is one of the little bits of wisdom I learned at the preview for Title Nine's FitFest event.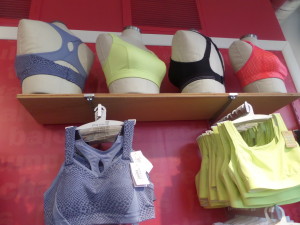 If your bra has had too many birthdays, read on, my friend. (If it's old enough to vote, RUN to your nearest Title Nine RIGHT NOW.) Not only is Title Nine hosting events across the country where YOU can find your new chest-friend, but they are also sponsoring a giveaway! Enter to win include a personalized fitting (either at one of the 23 Title Nine stores or by phone, depending on where you live) and one bra.
Not only has it been that long since I bought a bra, it's been even longer since I was measured and fitted. How long? It was at Victoria's Secret, back when the entire store was done in dark wood, the London Symphony Orchestra provided the music, and the sales associates wore relatively conservative suits; it was before PINK, before Victoria's Secret had a fashion show, before they sold make-up, and before the bags were pink striped and had hearts.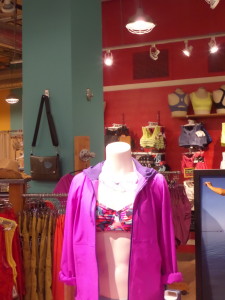 Anyway, I was thrilled to be asked to attend the Title Nine preview party, even if I wasn't so sure about getting fitted for a bra. (Prior to the above-mentioned time, I think I was fitted by someone's great-grandmother at JC Penney. Not a comforting experience.) Fortunately there was wine, and suddenly all the girls were talking about the girls.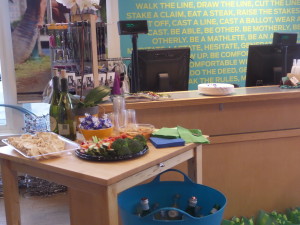 For example, nobody is the same size in every brand and flavor of bra, and not every style is going to fit every woman, much less flatter. "If the girls are in the same zip code and they are neighbors, you're going to need a different bra than if the girls are in the same zip code and live a few houses apart," one bravangelist explained. (Think about it–it makes so much sense!)
Oh and before I forget–Title Nine has sports bras, "regular" bras, and work-to-workout bras. If you've never seen the ((bounce)) catalogue, you're missing out. So you probably want to go to FitFest. FitFest includes personalized bra fitting advice from a "bravangelist" expert and an expanded assortment of bras (more than what your local store usually carries–like a trunk show). I came in with an agenda to choose a new everyday bra, since I'd recently tried to wear a thinner white t-shirt and realized every bra I own is visible through it. Ugh.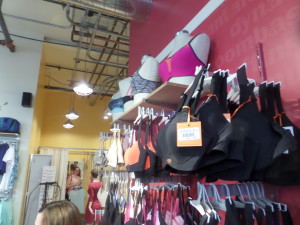 I explained to Amy, my bravangelist, what I wanted, she measured me, and we were off!  One thing about these Title Nine bra people, they know what they are doing! First, Amy brought me four bras: "I brought you two you asked for, and two you didn't" Second, as I was trying them on, I noticed that the different styles had different sizes on them. It wasn't a mistake, either–you know how some brands just have their own weird or different sizing? Well Amy did!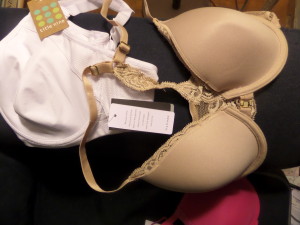 I was surprised to learn that the bras Title Nine carries include both their own brands AND many other brands. There are A to DDD+ sizes, and contoured cups that are shaped, but not stiff; there are bras for no impact, low impact, and high impact. One fun feature of FitFest is the "Bounce-ath-a-lon" area, for those who want to put Title Nine's bras to the test. Seriously, do you need an excuse to get on a hippity hop?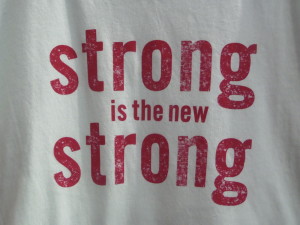 If you're looking for a new bra, RSVP for FitFest at your local Title Nine store. Check out  www.titlenine.com for a full list of cities and more information. If you happen to be in the San Francisco Bay Area, here are a few of the upcoming events:
• June 17-18, 10am- 7pm
Title Nine Los Gatos
218 N. Santa Cruz Avenue, Los Gatos
• June 24-25, 10am-7pm
Title Nine Palo Alto
208 Hamilton Avenue, Palo Alto
• July 15-16, 10am-6pm
Title Nine Walnut Creek
1637 Mt. Diablo Blvd, Walnut Creek
The evening ended with many happy bloggers. Actually it was hard to leave, I was having way too much fun talking to the Title Nine staff and other bloggers. (I learned a lot about triathlons. I still don't want to do one. Yet.) I went home with three bras, two of the everyday kind (one in hot pink!) and one completely bounce-proof yet 100% flattering (non-uniboob) sports bra. I wore the beige one to work today with one of those t-shirts, and it was perfect. It sounds stupid and sappy, but I cannot remember the last time I liked a bra this much. (Usually I race home and tear it off as soon as I can.)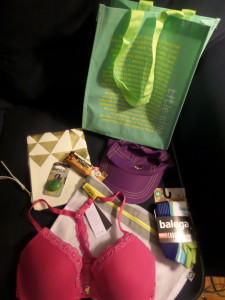 Okay now, time to win a new bra!
Disclosure: Title Nine invited me to a sweet Blogger FitFest and provided me with an expert bra fitting, bra, and treat bag. (Oh, and some wine.) All opinions are my own.