Disclosure: I am one of the volunteer ambassadors for The Race. By backing The Race on Kickstarter, I joined The Unity Collective, nearly 600 individuals and groups strong. It's not too late to register! Join me in Atlanta on October 13, 2018. Here's the link to register: The Race. Want to learn more? Here's the event website: The Race.
The Race is a collaboration of running community leaders, vendors, and supporters united to host a road race that supports black owned businesses, runs through historically black neighborhoods, makes a positive impact with charity and service, and garners massive national support from the African-American running community and beyond. –The Unity Collective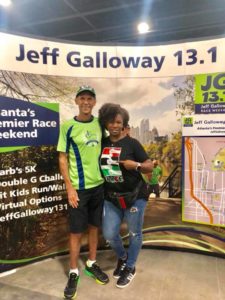 After I started running races, I looked around and realized that the runners around me did not reflect the population at large in any area where I lived or ran. Despite all the joking among slower runners that "in my dreams, I'm Kenyan," overwhelmingly, the runners looked a lot like me (average white girl from the 'burbs). Running is supposed to be a relatively simple sport with low barriers to entry (really, you just need running shoes and some clothes–and they don't have to be expensive), so…what's up? As co-host of The Runner of a Certain Age podcast, I invited all kinds of runners as guests. Aside from being friendly to everyone I meet at an event, and encouraging everyone who wants to try it to come out and run, I was a little stumped at what I could do.
At the same time, I observed that it wasn't just the runners that were overwhelmingly white. The race directors, businesses at race expos, and even the places where the races took place…but what can I do beyond offer a friendly smile or word of encouragement to the runners in front of me?
Enter: The Race
Before I get to my story and the story of The Race, what are you doing on September 29th? The Race has FULL course preview events that day, and since I can't be there (West Coast here), YOU should go and tell me all about it. RSVP on the event page on Facebook. Oh and while you're at it, why not make friends with The Race over on Instagram?
My friend Jessica, who I met as a BibRave Pro, lives in Atlanta and she turned me on to this new event. If you've ever been a race director or an event director, you know that start-up costs can kill an event before it even starts. The Race had a really successful campaign on Kickstarter, to ensure the initial costs like printing PR stuff and paying for permit fees could be paid even before companies and organizations stepped in to sponsor.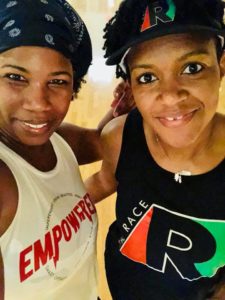 The Race is a brand new event under the direction of experienced race directors Tes Sobomehin Marshall and Da'Rel Patterson. (Check out their interview on YouTube!) While Atlanta has a lot of road races, this one is focused on running historically black neighborhoods. This means that lots of people who don't usually see a race going past their home or business are going to see runners–and seeing runners in your world, many of whom look like you, might just inspire you to give it a try. Sylvan Hills was originally deeded as a white-only neighborhood; Adair Park dates back to the 1870s and has a rich railway history; Castleberry Park is a national historic arts district; Atlanta's Student Movement Boulevard played an important role in the Civil Rights movement; Joseph E. Lowery Blvd. is named for one of the icons of Atlanta's Civil Rights movement as are Dean Rusk Park and the Dean Rusk YMCA. Check out the full half marathon course map!
There is a 5k option and in addition to the half marathon, just in case you're not quite up for a half marthon yet (maybe 2o19?). The half marathon has pacers all the way down to 3:30!
There are only 2500 entries total available this year, and 600 VIP experiences. I'd love to see The Race sell out, but I can only run it once–so you should go register to join me!
Why join The Race?
For starters, it's an inaugural race. Yup, LEGACY BRAGGING RIGHTS–you can say you were there first! (How cool will that sound in 2028?!?) Beyond that, the mission statement above is awesome. This is a race that runs through a a part of historically black Atlanta that is ignored by other running events, and is designed to include runners who may feel alone or unwelcome at other events. The whole weekend will be a celebration of inclusion and the black history and present of Atlanta. Finally, The Race is on Saturday, with a community service project on Sunday. This is an opportunity for every runner to give their time to improve the world around this event.
If you are a black runner, this is an opportunity to see many more runners that look like you than you'll find at, say, any given running event in Portland, Oregon or Alameda County, California (the places I have run most). If you're a person-of-super-white color like me, this is an opportunity to be an ally and help a black community event be successful and thrive. Look, I do as much foot-in-mouth-hey-I'm-TRYING as the next white girl who grew up in the suburbs. Here's a chance to listen, learn, and help create a legacy race for black Atlanta.
Oh, and The Race's friends at Lululemon made a video about the why!
What's going on during The Race weekend?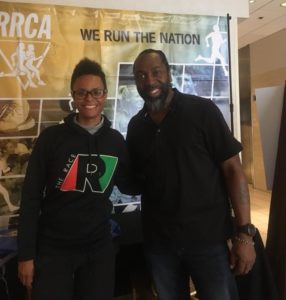 The Race weekend starts on Thursday with a Welcome Night and VIP Event. Some VIPs backed the vent on Kickstarter, while others paid a little extra for a VIP experience over the event weekend.
On Friday, October 12th, The Race's Expo, Packet Pick-Up, and Meet & Greet takes place at Impact Event Center (2323 Sylvan Road East Point, GA 30344), 11:00am to 7:00pm. Every Expo needs volunteers, so if you're free please volunteer via the event website. Even if you can't volunteer, stop by the Expo after work to check out what's building in the black running community in Atlanta and beyond!
The Race, the main event, is on Saturday, October 13th: The Race Half Marathon 2018 Legacy & 5K. The race will start at Impact Event Center (2323 Sylvan Road East Point, GA 30344), with the half marathon kicking off at 7:00am, and the 5K beginning at 7:15am. The official pace team covers every pace from 1:45 (hello, speed demons!) to 3:30 (finish with pride and strength!). I can only assume that the finish line of The Race will include massive celebration of a successful inaugural event. See you there?
The Race doesn't end with a road race but continues on Sunday, October 14th when runners and supporters join the Community Impact Service Project, time(s) and location(s) TBD. Finally, the weekend concludes with the Celebrate Atlanta Block Party on Sunday night!
Mad Props To…
…The Unity Collective and all of the generous sponsors of The Race. (I'll give them instagram-love all race weekend, of course!)
See You There?
Register today–there really are a limited number of spots. Fast, slow, or in between, there's a spot in The Race for YOU.
Not ready to run? Seriously, come volunteer! Check out the open positions on Active.com's event page.