I've found the ultimate in non-slip head bands: Bani Bands!  Read on and learn how you can score some of the best headbands out there for yourself.
Confident I've tried pretty much every brand of headband out there, Bani Bands are THE headband for me.  These are the only ones that really stay put on my head because they are adjustable–you can make them longer or shorter to accommodate the size of your melon (and apparently I've got a big head, who knew?).
When I was in first grade, having long hair was really cool, because if you were a girl with long hair, then one of your friends could sit behind you during show and tell and play with your hair.  No, I'm not kidding.  (Hey, it was the 70s, cut me some slack, okay?) Up to that point Mom–a wise woman!–had kept my hair cut short, realizing she'd likely be responsible for long-hair-care, and with two kids in diapers who can blame her for not being interested?  We already knew my hair was unruly, since every time Mom tried to curl it under at the ends (you know, school concerts, photo day, etc.) it rebelled by uncurling, either going totally flat or reversing the curl at whim. Anyway, one day I came home from school and BEGGED my parents to let me have long hair. Like any self-respecting first grader I bugged them and bugged them and BUGGED them until they finally relented.
Aside from a the unfortunate era of the spiral perm, and the subsequent uber-short boy-cut to deal with the aftermath, I've had long hair ever since.  Adamantly stick-straight, incorrigible, long hair. It refuses to do anything at all whatsoever, other than get in my face while I'm running, or turn into one giant dreadlock if I ponytail it and then go swimming. No joke. When I was a competitive Irish dancer we used to curl our hair. I'd wash it with no conditioner, blow dry it, put a tiny bit of mousse on the roots, put it in rollers, spray it, sleep on it, spray it, unroll it, recurl the end bits, spray it, and add the headband; when my competitions were over, I'd run a brush through it and it would be back to straighter than ever.  THAT straight.
At one of  my first running expos I saw some beautifully sparkling headbands by Sparkly Soul: 360 degrees of sparkle, backed with a velvet ribbon.  Since it was the Divas Half Marathon, I carefully selected a stretchy dark aqua blue band, intending to run with it.  Unfortunately, during the day it very slowly slid off of my head.  While the velvet ribbon tried as hard as any ribbon could to make that headband stay put, the baby-hair-like texture would not permit it to stay on my head. Non-slip for most, I guess, but not for me.
Later on at the Detroit Marathon expo, I was very excited to discover Sweaty Bands: adorable headbands in hundreds of patterns both sparkly and no, and backed with a similar velvet ribbon.  "Guaranteed not to slip!" Yes! I thought I'd found Nirvana (the place, not the band). I decided the Sparkly Soul headband must have slipped because it had velvet ribbon all the way around, and since the Sweaty Bands had elastic around the back (the part that would fall under my hair), surely THIS was the solution.  Sadly no, instead the elastic around the back gradually crept up the back of my head, and the headband wiggled its way off.  (I've since learned that Sweaty Bands does offer an adjustment service to make the elastic longer or shorter, for $3 per headband.  The cost is reasonable, given that the work has to be done by hand, and I'll likely have them extend the elastic on my Disney Wine & Dine headband . But it nixes my ability to buy it and wear it at the same time.)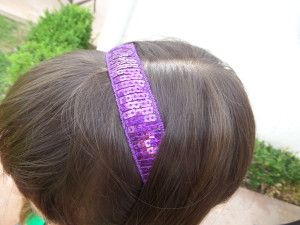 Things continued like this–me trying on headbands all the time, all the headbands deathgripping my head or shooting right off–until the Nike Women's Half Marathon.  My gift bag had this beautiful purple sparkly headband in it with an ADJUSTABLE back!  I slid it out to almost all the way and put it on my head…where it stayed ALL DAY.  I could cinch the elastic down super small so that the same band could fit on a toddler's head too. Brilliant!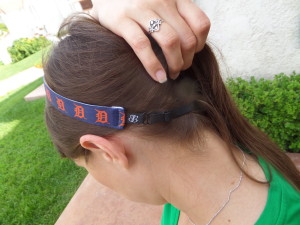 I had to learn more about the company, so I hopped over to the website, http://www.banibands.com where I learned that not only do I love the headbands, I love this company. It was founded by two sisters (one of whom apparently also has a larger melon). Bani Bands are sewn by home sewers in the U.S. and China, supervised by the founders and a close family friend. This production method lets moms choose to stay home with their kids, and grandmas supplement a fixed income, and college kids help pay their way.  You can read about some of the women who make your headbands right on the website. Seriously, how cool is that?
Even better, Bani Bands is licensed to make headbands for major league baseball teams and some sororities.  When I was offered the chance to try out some Bani Bands, of course I had to represent my home team.  (Go, Tigers!) The MLB headbands come with the same kind of "this is the genuine article" tag that you'll find on an officially licensed jersey or ballcap, too. As you can see from the picture, mine came with a tag that also told me who made my headband.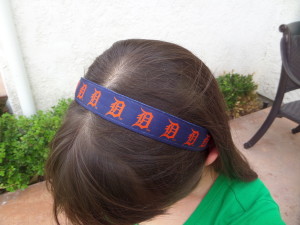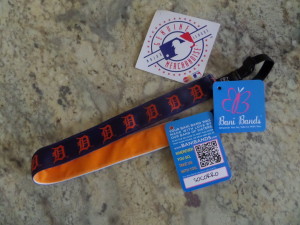 Another clever innovation: the braided headband.  These are made from sparkly ribbons, literally braided.  Instead of the soft velvet-like ribbon underside, these rely on the texture of the sparkly material to stick to your head.  I was doubtful, so I asked to try one.  True story, it stayed put!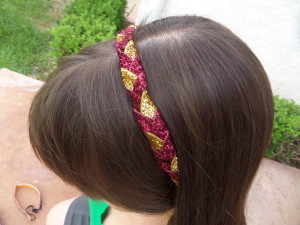 As if all of this wonderfulness was not enough, there are two other really great things to love about Bani Bands.  First, they offer a selection of headbands at discounted rates for use in fundraisers.  There is a color for your team (and your opponents'!) or organization.  Second, there is an ambassador program (and you bet I'll be applying as soon as I've got this giveaway posted and live).
You can order from the website, or use the site to find a retail partner.  Better yet, how about you win some right here?