Dear Kristin,
I'm your Betty.  (Or at least one of them—I did spread the word to my ninja posse of badass women, so I hope you'll pick some of them too.)
Mom died last year.  (When she was first diagnosed with cancer I signed up to walk the 3-Day on the grounds that all cancer sucks and it didn't matter she didn't have breast cancer, and raised $5,000.  The next year I did it again.)   She wanted to die at home with her family and her dog, and that's how she did it.  When she started on hospice, I went home to hang out with her.  Even though she was busy dying, we laughed a lot, and told bad jokes, and even when she couldn't get out of bed she insisted I help brush her hair and put a little blush on her so she didn't look "too scary."  It is royally unfair that Mom died before I got married, before my brother's kid was born, before she reached her goal of 50 years of marriage to Dad (she made it to 46).  I don't get mad and refuse to be defeated.  My response to Mom's death was to run my fastest half marathon (which wasn't very fast, and Dad beat me by over half an hour) and raise $24,500 for the American Cancer Society.  (I would have raised more, but I only had July to mid-November to do it.)
I'm an instigator.  I'm the one encouraging my co-workers to get out from behind their desks and sign up for the Warrior Dash or take a trapeze lesson.  Last year I pushed the Detroit office of my firm to run the half marathon relay, which inspired one partner to keep running so she could run the entire half this year.  This is my second year as an Action Hero for Women's Health magazine, promoting the Run 10 Feed 10 events and raising money to feed the hungry through partnerships with the FEED Foundation.  This summr I not only got Dad to run the Rock n Roll Half Marathon in Chicago, I also convinced him to don an Elvis wig and pose with me–here's the photographic evidence: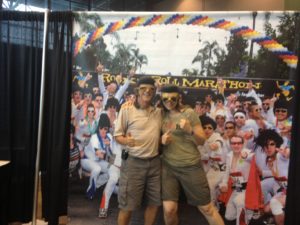 I'm versatile.   My day job is lawyering; I know more about the linings of your bodily cavities, the proper way to post-tension a tennis court slab, and how to tap a sewer pipe than you have any need to know.  My Monday-at-6-am-job is teaching yoga.  (I'm not a morning person but I can reliably predict I won't be in court or a deposition at 6 a.m. on Monday.)  I've translated for a volunteer group building stoves in rural Guatemala and appeared on stage with the Italian National Opera Company, unpacked clothing at Macy's and supervised the children's wardrobe for the Oregon Ballet Theatre (both of those after law school).  When I met my Brazilian mother-in-law for the first time, we conversed in French because it is the one language we have in common.
I'm tenacious.  As of today, I've run 15 half marathons this year.  (There are another 11 on calendar.)  I started a blog at www.trainwithbain.com (I fought WordPress and won!).  At age 15 I chaperoned myself on a trip to the national Scout jamboree in Finland, and at age 23 I chaperoned a group of eight Girl Scouts on the same trip.  I've bagged a Munro, sang onstage with the band at Isolde's Tower in Dublin, and drove on the isle of Harris.  Next year I think I'll learn SUP (better! SUP yoga!), try a long bike ride, maybe do a sprint triathlon?  I'm also going to apply to join Race Guards.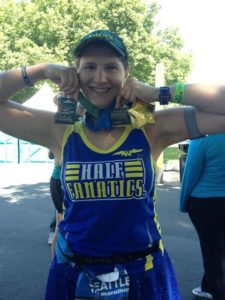 I'm opinionated.  I'm a vegetarian who will tell you how to poach salmon and marinate a turkey.  I love to engage in a good debate, hear your experiences, and learn something new.
I love to cross the streams (and I'm really good at it).  I work in a suit-wearing profession while cultivating a community of Mensa members, runners, Burning Man attendees,  hackers, authors, PhDs, and yoga practitioners.  I've lived in six states.  My real purpose in life seems to be introducing people who need to meet each other but wouldn't otherwise have a way to meet.  My secret superhero power is to accidentally meet the most interesting person at the party.  I'm licensed to teach PiYo, Zumba, RealRyde, TurboKick, and Piloxing.
So call me Betty.  Or Elizabeth.  (Just not Lizzie—I don't want to have to kick your ass.)
xoxo,
Bain