"Do as I say, not as I do" is the sure sign of a hypocrite, yet that's my message to you about trail racing… Up until December 28th, I had not considered that running on a trail would be THAT much different than running on the road. They both have hills, they both have twists, I figured the main difference would be the many, many more opportunities to trip over a pebble and inadvertently re-enact the Mary Decker-Zola Budd fiasco of 1984 (only with at least a dozen more runners going down). Oh my sweet, ignorant optimism!
Before I get into the story, the backstory is two-fold. One, I'm on a mission to land on earth in the Half Fanatics. Two, I've signed up to run 1,000 miles through Run This Year. (If you haven't signed up yet, go! Sign up! It is free, and there are sweet swagalicious prizes!)
Brazen Racing hosts a series of 24 trail races each year, all over the greater San Francisco Bay Area.  Everyone I know raves about their races, so I decided to sign up for a pair: the New Year's Eve (actually held on December 28) and the New Year's Day.  Those who finish both receive a pretty nifty triple medal.  A great reputation with runners plus a pretty shiny equals a race I want to run.
So on December 28 I reported to Lake Chabot for my very first trail run: a half marathon, naturally.  As the cheerful volunteer handed me my bib, the starting bell rang (exactly on time), and I managed to politely throw my gear bag at another volunteer as I darted off to the back of the pack, fumbling with my bib along the way. I wasn't quite the very last to start, but I was close, starting up Nike+ and silently resolving to leave earlier for the January 1 event.
All was run, run, walk, run, walk, walk, run until the first climb.  Since I ran the inaugural  Tiberon By The Bay Half Marathon in 2013—Tiburon, meaning "shark" in Spanish, gets its name from the gigantic shark-fin shaped hill that dominates it—I am not afraid of hills.  Well, I wasn't afraid of hills until I hit the first one.  It is not a good sign when I find myself gasping for air before I've hit the first mile marker.  Oops.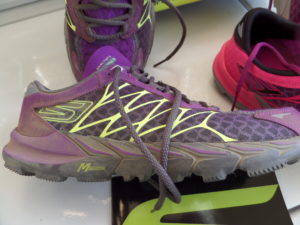 Fortunately, I've adopted a Panglossian "I run in the best of all possible worlds" mantra, and laughed my butt off (or at least the parts of it that were not in major pain). Since my two favorite ways to describe my "racing" are (1) "I don't run fast, I run cute. Play to your strengths," and (2) "I'm not slow, I'm maximizing the value of my entry fee," I just plodded along, running on the (very few!) flat parts, chugging slowly up the mountains like The Little Engine That Could, and stopping to pet the cute dogs I met along the way. I ran up to the first hydration and aid station, where I finally met the famous Endorphin Dude! Then I chugged up yet another mountain. I skipped and hopped over the suspension bridge because it was fun to make it go bouncy-bouncy. I lingered at the remaining aid station buffets, downing some electrolytes and Energy Bits, picking up some Jelly Belly beans to take along with me in a little Dixie Cup. The Brazen volunteers were all happy and encouraging, the weather was perfect, and the views of the park were gorgeous. (Yes, I stopped at the top of every hill—I EARNED that view, thankyouverymuch.)
Along the way, I learned that running downhill can be every bit as hard as running uphill. After considering the "gaiters" that some runners had on kind of dorky, I felt much less smug when I stopped to pick rocks out of my shoes. I managed not to trip on any pebbles, but I did stub the same toe on four or five different tree roots, and the eucalyptus tree bits tried to stab me in the ankles several times.
When I finally crossed the finish line, more than FOUR HOURS after I started my race—dude, people run WHOLE marathons in less than that!—I was pleasantly surprised to learn I was not the Dead Last Finisher. A cheer erupted as I crossed the finish line (really, people cheered!) and found several runners I'd met during the last year hanging out at the finish line. The Brazen Racing team had put on a post-race smorgasborg including coolers full of the It's It ice cream sandwiches (the real San Francisco Treat!) and every manner of salty and sweet and carb-o-licious snack you might want post-run, plus bananas and juicy blood oranges.
After I got home, showered off, and put my pajamas back on, I was very glad I had already signed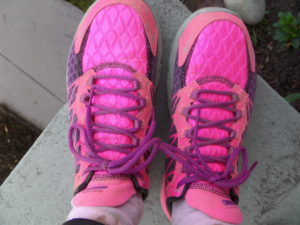 up for the New Year's Day. At the time, I wasn't sure my legs would let my fingers sign up for any more races! Fortunately, New Year's Day ran the course in reverse. This turned several super steep climbs into downhill crawls. I took delight in the bouncy-bouncy bridge (this time crossing it by myself, so it took a little more skipping and hopping to make it happen) and shaved just about 30 minutes off of my New Year's Eve time. Go, me! The trail racing adventures continued that week as I ran my third trail half on January 4 (for those counting, that makes 3 in one week), but that's another story for another day.
Want to try running a trail? Check out Brazen Racing. They offer a variety of distances, great course support, and a volunteer program where your volunteer hours turn into race discounts or free race entries.
Have you ever run a trail race?