BlogFest: Snacks for Days
Disclosure: while this is not a sponsored post, and contains no sponsored content, my ticket to BlogFest—just like everyone else's—was generously paid for by the BlogFest sponsors. I'm thankful for that. As is my editorial policy, all of the opinions and words below are my own. The giveaway prize is sponsored by me–I ate all the yummy snacks in the swag bag, but decided to share some of the ones I picked up during BlogFest–though it includes some of the non-edible cute swag given to bloggers at BlogFest.
For the Love of Snacks!
Let's talk about snacks. I love snacks. I would happily trade breakfast and lunch for snacks all day. Sadly, my go-to snacks are not always the healthiest options, or the optimal building blocks for my body and fuel for my workouts. In world of Snickers bars and Twix ads—not to mention a wide selection of junky choices always at arm's reach—what's a girl to do?
Enter BlogFest. #SnacksForDays should be the official hashtag of BlogFest, because we get fed well! This year, like all others, we had a number of great sponsors in the snacking business to keep us going.
Be Better
Even though bars—snack bars, granola bars, protein bars, candy bars—is a pretty crowded food category these days, I like to stay on top of what is available. Let's face it, most of us don't cook all of our meals every day, and some of us frequently find ourselves in situations where a satisfying snack is not easily at hand. To avoid office vending machines, my solution has been to keep a drawer stocked with lunch-able items (canned soup, Tasty Bite meals, etc.) at my desk. Bars are a key component of this, and no matter how much I love one type of bar, I also get bored easily…and if I'm bored, whatever junk is in the vending machine looks much more appealing than what is in the drawer.
But back to Be Better.  Be Better is a brand new line (which explains why I'd never heard of it). There are two Be Better products: a flaky protein wafer bar, and protein squares (two per pack). During BlogFest, the Be Better table in our conference room kept a full stock of all of the flavors, and we were able to try them at our leisure. I naturally gravitated towards the coconut flavors, Coconut Trail Mix protein squares, and coconut crunch protein wafer bars. I found the protein bars to be a little bit messier to eat than I had anticipated; due to the flaky layers that give the bars their light and satisfyingly crispy texture, it is possible to eat the bar and wear the bar at the same time. (As someone with zero natural grace, this is how I ate the first bar.) By the time I ate the second bar, I had learned to be a little more delicate in my chomping, which greatly cut down on the resulting mess. By the time I hit the third one, there were just a few crumbs. The protein squares surprised me for two reasons. First, they have chocolate in them and remind me very much of a gourmet type of candy bar. Second, despite my first observation and their delicious flavors, I found that I prefer to eat them one at a time (as opposed to eating both of the squares in the pack).
Be Better follows the current bar trend of being higher in both protein and calories than many older snack bars (think of anything from the very misguided 1980's low-fat era), and I found one bar was the perfect size for a snack that sated my hunger and made me feel like I'd eaten something of substance. The Hazelnut Crunch protein wafer bar has 200 calories, 17 grams of total fat (largely from the nuts), 4 grams of fiber, and 11 grams of protein, for example.  The caramel & almonds with dark chocolate protein squares have 150 calories, 9 grams of fat, 2 grams of fiber, and 10 grams of protein PER SQUARE (each pack has two squares).
You can learn more on their website, https://www.beingbettermatters.com which is also the only place to buy them right now. (Or at least I checked Amazon and found nothing, and Google didn't return anything.) At the time I'm writing this post, there is an offer to get a hat, a sticker, and another sample with your first order if you subscribe to the Be Better mailing list.
Psst! My friend Christine is giving away a WHOLE BOX of Be Better bars! Head over to her blog to enter to win!
Jimmy Bar
Jimmy Bar sponsored our BlogFest swag bags this year and while they weren't hanging out in the room with us, they put some bars in our bags and were super welcoming at their Expo booth. It might sound odd to have two sponsors that both make bars, but Jimmy Bar and Be Better seem more like separate categories to me. (That's probably because I'm a snack conneisseur.) While Be Better features chocolate and a light and flaky texture, Jimmy Bar has does not feature chocolate (though there are some chocolate flavors available) and has a texture that I describe as like a Rice Krispies treat where someone pulverized all of the Rice Krispies before making it and then allowed it to harden up a bit after it cooled. It's snacktastic. (I bought two boxes before I left the Expo.)
Jimmy Bar's protein bars also follows the higher calorie, higher protein trend I'm seeing in snack bars now, so one bar is plenty for a snack. For example, the Birthday Cake flavor Jimmy Bar has 260 calories, 11 grams of fat, 29 grams of carbs, and 21 grams of protein. Depending on how your other meals are timed, I could also see eating a bigger breakfast and dinner, and having a Jimmy Bar as a lunch (with a piece of fruit or something, to make sure I get produce in that meal).  I'm planning to add Jimmy Bar to my running stash as well, because the solid texture of the bar means it will be easy to open and eat while I'm out on a run or at a race. Jimmy Bar makes multiple varieties including some that are vegan, nut-free, and in smaller sizes. You can learn more about Jimmy Bar at their website.
Jimmy Bar has been around since 2013, and is more widely available than Be Better. There is a store locator on the Jimmy Bar website, and you can also buy them on Amazon (that's an affiliate link, but it doesn't cost you anything extra to use it and Jimmy Bars are eligible for Prime, so…). They have a Dog CEO, and currently offer free shipping on orders over $40.
La Croix
While not present in the BlogFest conference room, La Croix also played a major role in my BlogFest and not just because they sponsored the BlogFest Networking Happy Hour that marked the official end of BlogFest. In addition to being a BlogFest sponsor, La Croix is a staple in my fridge. (Friends, 24 cans at Costco for around $7.) Also, they always have a great booth at the IDEA World Expo, and this year was no exception. The photo booth has been a staple for the past few years, and they supply fun props to use. This year each side of the La Croix booth had a color/flavor theme. In addition to their photo booth (tangerine), they had a set of punching bags and pink boxing gloves on one side (berry), and yoga mats and blocks and foam rollers (lime). Each corner had a big fridge filled with every flavor of La Croix, including the new key lime (which was also included in our swag bags).
If you've been living under a rock, you can learn more about La Croix on their website, which also has cute pictures of some of their other sampling booth layouts from other events. If you can't find La Croix at a store near you, try Amazon (affiliate link, and some combinations are available on Prime).
Unfortunately this year the Expo was not in the same building as most of the IDEA sessions—one reason I hope IDEA does not return to San Diego–it was at the far end of the San Diego Convention Center. Since it took a good 15 minutes to walk from one building to the next, I didn't get to spend as much time in the expo as I had hoped. This won't be an issue next year in Anaheim, thankfully.
Fizzique
While not an official sponsor of BlogFest, Fizzique did include some product in our swag bags, and I know they have worked with Sweat Pink, so I went out of my way to find them at the Expo and see what they are all about. The description–sparkling water with whey protein–sounds weird and questionable, but the product is actually quite tasty. First, it's clear. (I had expected it to be milky-looking due to the whey protein.) It's only 80 calories, which is about halfway between a diet soda and a regular one. All of the calories come from the protein, as Fizzique has zero carbs.
Fizzique is at the intersection of two very popular categories of consumer packaged goods: sparkling water and protein. The idea behind Fizzique is to curb hunger between meals by giving your body some protein but not many calories. (It is NOT a meal replacement drink.) Each can also has 45 grams of caffeine, which is about the same as a cup of green tea. There are currently two flavors, Tropical Limon and Strawberry Watermelon. I tasted both, and I like them both. In a toss up, I'd pick Strawberry Watermelon.
Fizzique currently has an offer on their website where you can get 10% off if you subscribe to their email list. Or you can order from Amazon (affiliate link, but if you've read this far you probably don't mind supporting the blog?) and it is eligible for Prime.
Win BlogFest Goodies!
There are two prizes for this giveaway: Snacks and Sips.
Snacks. This prize features the brands that sponsored BlogFest, Be Better and Jimmy Bars…though I may just have to sneak a few more things in there to fill up the box, you know?
Be Better drawstring backpack
Be Better protein squares in Coconut Trail Mix, Almonds & Hemp Seeds, Honey Oats, and Caramel & Almonds
Be Better protein wafer bar in Hazelnut Crunch
Jimmy Bar tote and sweat band
Jimmy Bar clean snack bar in No Bluffin' Banana Muffin
Jimmy Bar high protein bars in Birthday Cake, Peanut Butter Ice Cream, and Coconut Cream Pie
Sips. This prize features La Croix-themed items, because seriously, who doesn't love La Croix? Drink it straight, use it as a mixer, make it into a mocktail. There's enough swag here to share with your bestie, too.
La Croix printed tote
La Croix embroidered hats (one for you, one for a friend!)
La Croix enamel keychains
La Croix decals
La Croix enamel pins
La Croix branded workout bands
Enter using the widget below. But first, start by leaving a blog comment to tell me which prize you'd like to win! Two winners will be randomly selected, the first winner gets to choose their prize.
Post Footer automatically generated by Add Post Footer Plugin for wordpress.
Disclosure: while this is not a sponsored post, and contains no sponsored content, my ticket to BlogFest—just like everyone else's—was generously paid for by the BlogFest sponsors. I'm thankful for that. As is my editorial policy, all of the opinions and words below are my own. (Product links are to my Amazon affiliate storefront. You pay nothing extra, I make a few bucks to pay web hosting fees.)
Remember how you looked forward to Christmas as a kid? All the anticipation, special treats, relatives, preparations! That's how I feel about IDEA World, especially now that BlogFest takes up the first two days. Sometimes the things I wasn't all that excited about turn out to be the very best things—just like Christmas, BlogFest is full of surprises!
This year, BlogFest hit at a somewhat inopportune time. I have A LOT going on in my "day job," and some parts of that are extremely stressful. A year after moving to Portland, I'm still not fully settled into my apartment (and I've already renewed the lease). My godfather is extremely sick. One of my best friends just lost her mother. I have twenty-five (yes, 25!) drafted but unfinished blog posts, multiple brand new yet unread books on my dresser, a pile of packages that haven't yet made it to the post office, and a mound of laundry patiently waiting for me. Every time I got closer to finishing something, I hit another set back. For example, I finished the first of five big giveaway posts, only to discover the photos I wanted to use are on my camera, and the battery was dead, and unlike my old camera this one requires a special battery. (Hooray for Amazon Prime.) Even though the thought of travel just depressed me and made me want to stay home so I could continue to dig myself out of the heap, I knew I'd feel better once I actually got to BlogFest.
 I chose the last flight from Portland to San Diego on Wednesday night (for day-job-related reasons), and got in quite late. I was so excited to see Briana again that we spent a little more time than we should have catching up, and suddenly it was way past my bedtime. Oops. I didn't sleep well at all, and just could not pry my body out of bed to get to the morning BlogFest workout on the beach. (As it was, in order to be on time to the opening remarks, we had to check in and get our badges beforehand, and the day started WAY earlier than I usually get to the office.) Despite the fact that the first day was THURSDAY, in my head it was Monday. (Seriously, it has been that kind of week!) The morning workout, presented by sponsor Fit Bodies, Inc., wasn't something I felt I could do without compromising my commitment to NOT coming down with post-convention crud. I heard the workout was really fun, a simulated workout on the beach (with the "beach" being inside). I did read all about Fit Bodies prior to BlogFest. Essentially it is a way for personal trainers and group ex instructors to have a working vacation at a reduced price; in exchange for teaching a week of classes, fitness professionals can stay at the host resorts for a greatly reduced fee and enjoy all the same amenities as a regular guest. (I will definitely be checking into this for 2019!)
We kicked the day off with a welcome and initial thank you for the speakers. The morning presentation was Petra Kolber. You may not know who she is, but I've been following her since back in the days before DVDs. I used to get my VHS exercise tapes from Collage Video, and Petra was a force in the era of "step aerobics" (as well as the subsequent "Hi-Lo" format and beyond), so her name was all over the catalogue (and later, the website). At first I was a wee bit concerned that her topic—"The Perfection Detox: Tame Your Inner Critic, Live Bravely and Unleash Your Joy"—was just a big ol' ad for her upcoming book (named, of course, The Perfection Detox). Yes, I'm cynical at times, but if you've read my prior posts you already knew this… I'm pleased to report that (1) I was totally wrong, and (2) I am so excited for the release of Petra's book that I want to plan a group participation (free!) #PerfectionDetoxChallenge online. (Head over to my Amazon affiliate page and pre-order her book. Stay tuned for more details.) Petra shared her own history with anxiety and imposter syndrome, and encouraged each of us to STOP being so self-critical. Petra's message was something I think we all really needed to hear, and it was a welcome shift from the energy that permeated the earlier part of my week.
Moment of transparency: originally I had planned to write a multi-part re-cap based on the three days I attended BlogFest and IDEA World. It suddenly makes MUCH more sense to break things down by topic, so instead of continuing on with Thursday, I'm shifting to talk about the rest of the super content from the BlogFest sessions.
If I was excited to hear from Petra Kolber—who I swear does not look like she is old enough to have been on VHS—I was positively stoked to hear from the first speaker for the afternoon, Sadie Nardini. If you do yoga you may already be familiar with Sadie Nardini. If you work out and hang out on Instagram, you've probably seen an ad for one or more of Sadie's online courses, such as Fit and Fierce over 40 or Yoga Shred. In the yoga world, she's seen as a bit of a yoga rebel (and not just because she has a fierce blonde mohawk and is in a rock band). Technically, Sadie was there to teach us about creating online content that provides asymmetrical income—the opposite of trading time for money—with a presentation titled "How to Make 6 Figures Online While You Sleep—Even if You Aren't Tech-Savvy." The meat-and-potatoes of the presentation outlined how to plan and film online content and create courses. But the underlying message was to quit being afraid of getting it wrong or doing a terrible job, and to go out there and DO that thing. Sadie had a really cool way of demonstrating how who she is on video is simply who she is not-on-video, with just a smattering of being nervous about being on video. (Aren't we all??) I wish I'd had the chance to go hang out with her at wine o'clock, but I didn't want to miss the next presentation.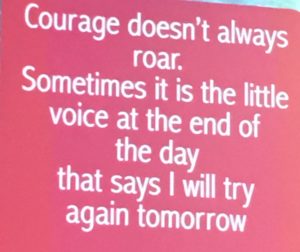 The theme of this year's BlogFest—which I've nicknamed "Stop Beating Yourself Up!"—continued with the BlogFest Keynote on Friday, delivered by Heidi Powell. Heidi spoke frankly about the businesses she runs with her husband, Chris Powell, and taming her own inner self-perfection-demanding critic. She also gave us a unique perspective on how to deal with the haters (you know, the people hiding behind their computers who have nothing better to do than criticize some detail of whatever it is you've most recently done). For more detail on the key takeaways on the BlogFest theme, check out Fab Fit Friends. Oh, and also Run Out Of The Box.
BlogFest is a social media conference, so we also had some presentations very specific to the things we do online. Chantal Brodrick came all the way from Australia to talk to us about "The Power of Podcasts," but then lost her voice! Fortunately she had prepared her slide deck and had a friend deliver her presentation. Even though she couldn't talk, Chantal still came to see us and help answer questions. No less a celebrity, GiGi Ashworth of Gigi Eats Celebrities gave a talk on video titled "Make Love to the Camera." If you're online, you know video is where all the action is right now, and I don't just mean YouTube. Instagram supports video, as does Facebook (which owns Instagram). Twitter has video all over it. Blogs even have embedded video now, and some of it looks better than what is available on TV! GiGi's talk was practical and hilarious. If you've watched any of her videos online, just imagine her teaching about how not to look ridiculous on camera. Finally, we had a quality presentation by Kristine Beatty, "Actionable Analytics—Beyond Your (Google Analytics) Home Page." This is probably the technical talk I needed to hear most, since it is the topic I know the least about; sure, I have Google Analytics installed on this blog, but I have no idea what to do with it other than look at page views and bounce rates. I sent Kristine a message right after her presentation (since I'm such a newbie that even some of the terms she used lost me) and I'm definitely planning to use her slide deck and the resources she recommended to learn more.
Overall, the content in this year's BlogFest was SOLID. Each year has been a little different in terms of how the schedule is organized and which topics and speakers are featured. This year, I'm committing to not beating myself up. Would you like to join me?
Feel free to follow me on Twitter and Instagram, where I'll be announcing my online book club/offline "Perfection Detox" Challenge when Petra's book comes out. You can also join my tribe using the form at the bottom of the blog—and I do solemnly promise and swear there will be no spam, ever, and I won't share your email address without your permission, ever.
Thank you to this year's BlogFest sponsors. (Curious? Click and learn more!)
Before I go, tell me: how does "perfection" have a hold on your life? What would it be like to live your life in a self-judgment-free zone? I'll randomly choose a comment to win a sweet prize (which might just include a copy of Petra's book when it is released in August) on July 31, 2018.
Post Footer automatically generated by Add Post Footer Plugin for wordpress.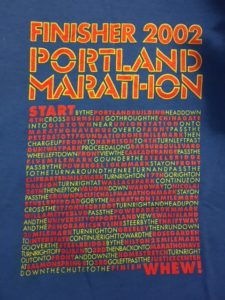 Yesterday, the Portland Board of Marathon Directors announced that there will be no Portland Marathon in 2018. Further, the organization is dissolving, and all remaining funds will be donated to local charities. The 2500 runners who already registered for the 2018 event will receive full refunds.
I loved and adored this race.
The Portland Marathon was my first marathon. After moving to Oregon in 2001, I got involved in Volkssports, which in the United States largely consist of untimed 5k and 10k walks hosted by local clubs. Participants track the number of events they have completed in one booklet, and the number of kilometers in another. As soon as I learned there was a walking division for the 42k Portland Marathon, I started talking my friends into walking it with me. In the end, it was me, my friend Susan, and my Dad. During the marathon we called Mom every few miles to give her an update.
I loved that marathon, which gave the three of us a ton of things to laugh about later. At one point, Dad turned to Susan and asked how she was doing. Susan smiled and said, "I think I should have packed Advil, because I am in some MAJOR pain." Later in the course we were greeted by a tiny grandmotherly women who caught up with us. She asked if it was our first marathon, and we chatted for a few minutes before she told us to enjoy ourselves, and "I've got to go now. Goodbye!" Still walking, she sped ahead of us and we saw the sign on her back: this is my 50th marathon, how 'bout you? Yes, we got looped by the friendly neighborhood powerwalking grandmother. After Susan drove us back to my apartment, Dad and I learned why you shouldn't immediately sit down after a marathon–getting up was so hard!–and slowly climbed the stairs to my second story apartment. Then I dropped my keys. We both started to bend down to pick them up, and we both stopped. (If you've completed a marathon, you know why!)
The Portland Marathon was the first race expo I ever went to, in the basement ballrooms of the downtown Hilton. Now that I've been to hundreds of race expos, I realize it wasn't even that large in terms of race expos, but it was very exciting. I remember seeing all of the vendors and their running stuff, the weigh-in for the Clydesdale and Athena divisions, and the barbell station for the "pump and run" competition. As a walker, this was all foreign to me. There were attachments to your bib to indicate you wanted to have your picture taken, and another to confirm we had paid the local AVA club so they could stamp our walking books.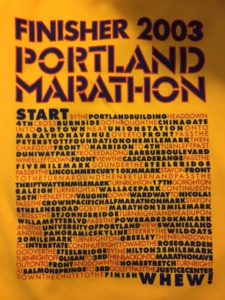 The finish line was my first big race finish line, complete with big finish line goodies. After receiving the medal–a shiny wonder on a red, white, and blue ribbon that I cherish–we received FINISHER shirts. (My first race shirts. My first shirts from Leslie Jordan, the first big athletic apparel company founded by a woman–also a local company.) All runners received a rose, a tree seedling, and other gifts, in addition to the gigantic buffet of post-race food: bananas, snacks, water, gatorade, slices of bread…I was hungry but couldn't contemplate eating the dizzying buffet that lined the post-chute area.
I loved the Portland Marathon so much I did it three more times, and talked other friends into joining me. One year I even made it to the after party. (The first year, after Dad and I showered, we slept for many hours. Too tired to deal with anything, we ordered a pizza for dinner.)
I loved the iconic course, which showed off the entire city. (Until the city ruined the course last year, more on that later.) Runners went through downtown, the gates to Chinatown, under the Steel Bridge, over the St. John's Bridge, and covered parts of each quarter of the city. The course went through a variety of neighborhoods, where residents threw marathon parties with signs, and kids got out sidewalk chalk and pom-poms and acted like cheerleaders. It have views of the Cascades, Swan Island, and the city's skyline. The course literally was the finisher shirt design for many years, which I also loved (though some people were annoyed that the design was the same from year to year).
I loved how much of the city got involved in the marathon. There was entertainment at literally every mile (and you thought the Rock 'n' Roll series invented that idea? Nope!). I remember belly dancers, classical musicians, a Christian rock band. The course was staffed by volunteers from all sorts of groups; I first got involved in the marathon as a volunteer with the Penn State Club, as the Big Ten Clubs of Portland manned a water stop and several course monitor/directions posts.
I loved how much the marathon gave back. For years the Portland Marathon hosted "marathon school," to teach other race directors how to put on a world-class event. The Portland Marathon was a world-class event. People came from all over the world to run it. Runners World consistently listed it as a destination race and a bucket list race. The marathon gave money to local charities, too.
For years after I started running, any time someone asked for a race recommendation, the Portland Marathon was at the top of my list. When I moved back to Portland in 2017, I was excited about the possibility of running the 50th annual Portland Marathon. I wasn't the only one in love with this event, which The Bleacher Report called an "exceptional all-around event."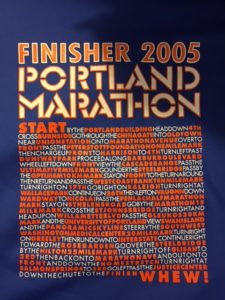 A few bad apples spoil the cider.
Unfortunately, underneath this all a gigantic mess was brewing.
First, former Portland Marathon director, Les Smith, had embezzled a boatload of funds from the non-profit marathon. (Source for this fact and others in this paragraph. I should point out he ended up working out a deal and so wasn't convicted of any crime and did not admit any guilt–but you don't agree to pay back $845,000 that you didn't take in the first place. Fortunately he's banned from serving on non-profits, planning races, and practicing law as part of the agreement.) Like hundreds of thousands of dollars. So much that the Oregon Department of Justice was involved. In addition, there was a questionable relationship between the non-profit Portland Marathon and a for-profit company called Next Events that Smith partially owned. That investigation isn't quite over. It's pretty understandable that once this news broke, runners were uneasy about signing up to run the Portland Marath0n.
Second, that iconic course? It died an ugly death. The final year for the fast, flat (other than the lead-ups to the bridges) course was 2016. The first thing every announcement cites is "declining registration." I am positive the destruction of the beautiful course directly resulted in a decline in registrations. The 2016 race also hit a snafu when the safety plan didn't get approved by the Portland Fire Bureau, which seems kind of unthinkable since the race had a 40+ year history and surely the organization knew what it would take to file a proper plan, and on race day had not circulated the approved plan to the race officials and volunteers–the course was almost shut down. The race also directed runners to run extra mileage.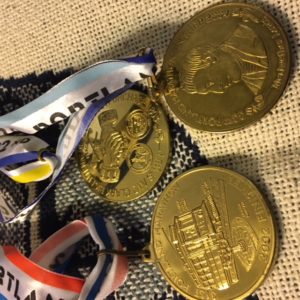 (That op-ed piece from The Oregonian–Portland's newspaper–also documents other problems, including handing the first place trophy to the third place winner. In the end, Oregonian staff called for Portland to find another organization to organize the 2017 Portland Marathon.)
Sometime between when I moved to California in 2008 and 2o17, Portland became very antagonistic to races. I had barely started to run a 5k here and there by the time I left, but at that point all of the races I did were downtown, with a start and finish convenient to local brunches. When I moved back, I was shocked to learn that many of those courses, such as Pints to Pasta, had not only moved out of downtown, but had moved to other cities! This is baffling to me, as many runners meet up with friends after events for drinks or brunch (or both), and I definitely did some shopping after some of those races.
After the 2016 race, the city of Portland forced the course change, supposedly on the grounds that there were not enough Portland police officers to take care of the epic, historic course of the Portland Marathon. (When Runners World is publishing the scoop to the entire running world, that has to hurt registration too.) I'm not privvy to the internal discussions on that, but I have definitely been to races that used trained volunteers and police from other jurisdictions where the host city couldn't supply the number of police the city required. The 2017 almost didn't happen because the marathon organization ignored the requirement for a new course (and I'm guessing did not submit any alternative proposals for police coverage). Just a month out from the marathon, the event did not have a permit. According to that Runners World article, the marathon also still owed a police bill from the 2016 race!
In the end, the 2017 was pretty awful-looking, and I was glad I had not signed up to run. Instead of the gorgeous loop that showed off the best of the city, the course was largely an out-and-back along main roads and the freeway. Yuck. If I had been registered, I would have been pissed, despite the then-director's attempt to spin the course as flatter and faster and even more BQ-friendly. Big ol' bowl of NOPE there.
The 2017 race almost did not happen–surely another cause for declining registrations for 2018. For those who didn't read about it in Runners World (the article is linked above), the city officials and race officials had a terrible working relationship after the 2016 event–no surprise even given the little I know–and by June 2017 the Oregon Department of Justice was investigating Smith. (That's actually what kept me from registering in the first place.)
The Portland Marathon's official statement regarding the cancellation of the marathon and dissolution of the organization is here. I find it is less than transparent, and downright dishonest in some aspects. Can you blame the city for wanting to "move in another direction" after the serious problems in 2016 and the discovery that the former race director embezzled nearly a million dollars from what was supposed to be a charitable group–one that was the face of Portland to thousands world wide? How is it that the Board of Directors failed to notice that the organization was breaking the law? (Smith and his partner, Mamie Wheeler, were the only two officers of both the non-profit Portland Marathon and their for-profit Next Events–creating a massive conflict of interest–in violation of Oregon law. Since Smith had been race director for 30 years and was also an attorney, he definitely knew better.)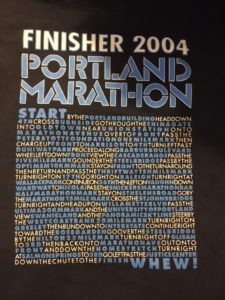 In the face of what amounts to a dumpster fire, I believe the Portland Marathon organization had no choice but to dissolve. It abused the trust (and time and work) of runners and volunteers alike. The city had openly solicited proposals for another group to produce the event. After a rest, I'm hoping the city finds another race director who has the experience and integrity to give Portland the marathon it so richly deserves.
Post Footer automatically generated by Add Post Footer Plugin for wordpress.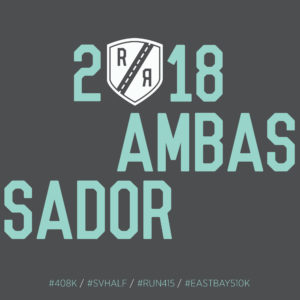 Disclosure: I am SO stinkin' proud to represent these races as part of the Represent Running Ambassadors. Yes, I do get to run the races for free in exchange for helping to promote them, but I signed up for the inaugural Silicon Valley Half Marathon before I was asked to return to the team. All opinions are my own–and you know I have plenty of them!
I'm behind some race reviews, but I could barely wait to start writing about the inaugural Food Truck 5k and Silicon Valley Half Marathon! (Yeah, yeah, it was over a week ago–I had some blog issues.) The Food Truck 5k was Saturday afternoon. My understanding is that it was originally going to be an early evening race, but there was some sportsball thing or event that kicked the start time up to 3pm. In any case, that was perfect for me, as it allowed me just enough time to sleep in a little bit, hop a flight from Portland to San Jose, Lyft to the Fairmont Hotel, check-in, unpack, change, and head over to the festival area to pick up my stuff.
Locals did have the option to pick up packets in advance at Sports Basement, which was always a fun choice for me when I lived in Alameda. Sports Basement offers a discount for runners on the day of bib pick-up, and since I always found something there I needed (and at a great price!), it was a win-win. Now that I'm in Portland, however, going to the Sports Basement pick up would have meant a day off from work and another night in the hotel. Yeah, I know, you feel so bad for me. Anyway, there were also some other pre-race-weekend events, including a run with Meb! (Do you feel bad for me now? Because I had to miss that?)
One of the great things about running in San Jose, there are a ton of hotels within walking distance of any reasonable starting line–more if you rent a car, or are willing to take a car. For Rock 'n' Roll San Jose 2017 I stayed at the AC Hotel, which would have been a great choice for these races too. The SV Half host hotel was the Fairmont, and they gave us a screaming deal: it actually cost less to stay there than to stay at the AC! The Fairmont is one of the aging grand dames of the hotel world, and I loved staying there. My room was gigantic, the bathroom had both a shower and a separate bath tub, and there was a separate vanity and mirror outside of the bath room. Sure, there are some signs that the hotel wasn't built yesterday–the USB outlet in my room did not work, and the bathtub spout had a hand-held shower permanently attached (because the actual shower was not enough showers for one room?) so I couldn't take a bath, but it's a great place. After the races and a much-needed shower, I met a friend for snacks and cocktails in the bar.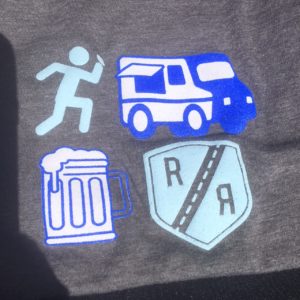 Day-of-event packet pickup was a breeze, and I got both my Food Truck 5k and my SV Half gear at the same time. (In hindsight, I should have waited until after the 5k to get my SV Half gear, as there was no bag check, but as an ambassador I had a little help.) There was plenty of parking nearby, though I had walked from the hotel. I had some time pre-race to walk around and see the vendors and race sponsors. Amazon had free sweat towels, and I wish I had grabbed one before the 5k so I could sweat on it (instead I thought, "oh, it's one more thing to carry." Silly me.) Amazon also sponsored free race photos all weekend and had a photo booth, so that was fun. After clowning around for some photos in the festival area–and checking out the food trucks to plan my post-race eats–the ambassador squad headed over to the 5k starting line to take more pictures.
Actually, we all walked OVER the starting line, heard a bunch of beeps, and wondered if the timing system thought we were running…then we looked up at the starting line structure and wondered why the letters were all backwards. (Yes, a bunch of social-media-fueled runners didn't understand the selfie-setup.) Suddenly it was about time to start, and I was WAY too close to the front, so I sidled over to the right as far as I could get, and decided to hang there until the right group started to move past. (We didn't have corrals for the 5k, but people did a pretty good job of self-selecting–it was impressive.)
The course was basically an out-and-back with a bit of a loop (running on parallel paths for a portion). Most of it was on a paved path through Guadalupe River Park and Columbus Park, though a small portion was on sidewalks and a street to get to and from the start/finish area at Arena Green East. I ran most of the first mile at a very easy (read: slow!) pace, did a run-walk for the second mile, and walked all of the third mile (with the exception of the last .1, of course). The heat was brutal and unexpected! I'd flown in from Portland, where it was in the 50s. The average temperature in San Jose in mid-April is in like 50-65 degrees. This year? It was 80! I didn't run any of that third mile because my body–descended from two long lines of pasty-white people from northern climates–was like "NOPE!" I felt great after the run anyway.
Post-run, first I went to the Barefoot wine tent to sample their "refresh" spritzers. (No, not at all like a "wine cooler," yuck. More like "wine with bubbles.") Then I bought a glass of sparkling wine and I hit up Cielito Lindo Mexican Street Kitchen for some tacos. (The menu on the website does NOT do them justice–I ate two different vegetarian taco types, decorated liberally with verde, roja, and molcajete sauces.) It was only after I ate all three of them and the tasty, tasty hot sauces that I realized I should have put them on Instagram. Oops. Bad blogger! Other options for Saturday included Road Dogs, Akita-sushi, BBQ Kalbi, Curry Up Now, and Treatbot (ice cream–VERY popular that day!). Everyone was clustered under the trees and in the shade, but having a great time. In addition to many food options, sponsor booths, and vendors, there was live music! Starting at 1 and lasting until 7:30 p.m. we had Bird and Willow, Israel Sanchez Music, NOIYA, Casey Wickstrom, and Love District.
Soaked to the bone with sweat, and sated by the street tacos, I headed back to the hotel for a much-needed shower and a wee nap. Then it was dinner and a cocktail, and off to bed to be well-rested for the inaugural Silicon Valley Half Marathon!
Want to read more about the Food Truck 5k? Check out additional reviews by The Ruminator , The Running Lushes, and Stephanie.
Post Footer automatically generated by Add Post Footer Plugin for wordpress.
Disclosure: I was able to attend Natural Products Expo West 2018 as Media Support because I am part of the New Hope Blogger Co-op. I paid the going press rate for my conference badge, and received absolutely no compensation (I paid for my hotel, meals, etc.) from New Hope 360, or any other company, in exchange for my attendance or coverage of Expo West. (I only had access to the press room for the blogger happy hour, too.) While I did receive product samples and swag from various exhibitors and companies, ALL opinions are my own. Per my integrity policy, all sponsored content or affiliate links will be clearly disclosed.
Natural Products Expo West—or Expo West as the insiders call it—is the biggest business to business trade show for consumer products in the "natural" and "organic" markets. ("Natural" is in quotes because it has no legal meaning when used to describe a product, or on a product label, in the Untied States. I opted to put "organic" in quotes because there are several organic standards including the USDA organic label and the Oregon Tilth organic certification, and I'm not necessarily referring to any specific organic protocol. Since too many quotation marks are annoying, just assume I put both in quotes from here on out.)
Attendees include grocers and retail outlets seeking the newest innovative products, marketing firms, businesses with products to sell, businesses still in the development stages, and all manner of business support services from importers and exporters to label makers to packaging companies to product formulators to third party testing laboratories and much more. At the same time, and in the same space, there is a big show called Engredea, where businesses and product manufacturers can learn and do business with the companies that make and process ingredients—literally everything that goes into a product from maple syrup to every kind of oil to stabilizers and emulsifiers and sugars and lentil flour and anything else you can imagine (as well as a bunch of stuff you only know about if you work in food production).
The companies that attend cover the entire range of consumer packaged goods brands. There are nationally-known names like General Mills, Kashi, Bob's Red Mill, Clif Bar, and Now Foods. There are companies you've likely seen on Shark Tank, including Chapul (the cricket protein people), Ice Breakers candy, Jackson's Honest (potato chips and other chip made with coconut oil), and Brazi Bites (Brazilian cheese bread). There are companies you may not have heard of yet, such as The Nutty Gourmet (they make the very best walnut butters ever—in my least humble opinion), Petchup (nutrition supplements for pets in the form of gourmet sauces), and Frill (a creamy and delicious frozen vegan dessert). There are kombuchas, colas, and coffee; food wraps, no-FODMAPs, and maple saps; pastas, pretzels, and probiotics. The products are vegan, vegetarian, omnivore, and carnivore; fresh, frozen, shelf-stable and every other possible form. As a result, you see attendees wearing attire that ranges from full-on lawyerly suits to shorts and Birkenstocks, polyester to organic cotton, tye-die to spandex.
The show currently takes up all of the available convention hall, meeting room, and hotel space at the Anaheim Convention Center and surrounding hotels. There are so many attendees that on Friday night Expo West crashed the Uber app, making hundreds and maybe thousands of people late to business dinners, public relations pitches, and social events. This is despite a sophisticated network of (free) busses to transport attendees from the Convention Center to Angel Stadium (there is nowhere near enough parking at the Convention Center, so many attendees park at Angel Stadium) or to dozens of hotels in the surrounding area. Hotel space near the
Convention Center sells out within minutes—more than 80,000 people attend the show, and companies often reserve blocks of rooms for those working the show on their behalf—and I met people staying as far away as Newport Beach because they couldn't find any hotel or even an Air BnB that was closer (and not $1,000/night).
Expo West is broken down into several distinct sub-spaces. This year, Hot Products (meaning new or hot on the market, and not meaning "foods that you eat while they are hot" as I mistakenly believed during my first Expo West!) occupied the North Halls. The Arena, Convention Center Halls A through E, and the third floor had exhibitors, including Engredea. Thursday's Fresh Ideas Marketplace (meaning innovative products, not salad bars and fresh produce as I thought my first year) is housed in a giant white tent near the Marriott. The main plaza between the Hilton and the Marriott had food trucks, multiple exhibitor booths, a stage with live music, and roaming promoters, while the smaller plaza near the North Halls had a few food trucks and additional seating. Finally, a section of the parking lot between the Hilton and Morton's restaurant had food-truck style Expo exhibitors as well as a few food trucks, and more tables for lunching.
Outside of those spaces, there are also several other things going on in the Convention Center spaces. There is a pitch-slam where new products can pitch to established brands and companies (think Shark Tank, but without the made-for-reality-TV aspects). One of the medium-sized hotel ballrooms hosts a variety of speakers, including the designated keynote speakers. (This year's speakers included Jennifer Garner.) The smaller conference rooms host educational sessions on topics from the most recent FDA regulations to the exploding market for CBD-based products, new studies regarding sleep and nutrition, and more. Some of these are sponsored by exhibitors, while others are not. In addition to these session, which are open to all attendees, there are also specialized tracks that serve as a business school crash course for entrepreneurs, and more. There is a sort of job fair too. Other on-site events include sponsored breakfasts, daily early morning yoga, private business meetings, and after-hours parties. I have no idea how much of the rest of Anaheim hosts additional, private/invitation-only events (which cover the range from happy hours to multi-course meals, and even branch out into a 5k race!).
Despite the app, website, and printed brochure, it can be overwhelming to navigate Expo West. It isn't always obvious which hall a given booth is located in, and travel from Hall D to Hall A can take 30 minutes due to pedestrian traffic—even though they are attached to each other. The scale of this event is so enormous that even if you did nothing but walk the show floors' spaces—something few people do, due to meals, meetings, appointments, lectures, speakers, and other events—you still couldn't see everything in the show's four days. This was my third year at Expo West, and I finally feel like I figured out the best way for me to cover the show as a blogger. (Which included: make appointment with brands I wanted to spend time with, make a list of priorities for booth visits, stick to my top product categories, and get to the Fresh Ideas tent BEFORE it opens.) Over the course of several posts, I'm going to share what I saw, tasted, and learned, with the goal to help YOU live YOUR best life now.
Curious about a particular type of product, a brand, or a trend? Drop a comment or shoot me a tweet, and I'll make sure to cover it in an upcoming post.
Post Footer automatically generated by Add Post Footer Plugin for wordpress.
Disclosure: Bain here. I didn't run Rock 'n' Roll New Orleans this year, so I didn't write this post–it's a guest post by fellow Rock 'n' Blog team member Gretchen Schoenstein! (I did write the headline, so don't blame her for that, okay?) Gretchen ran this race as a Rock 'n' Blog team member (which means she didn't have to pay the entry fee) but all of the content (including the pictures) and opinions are hers alone. Enjoy!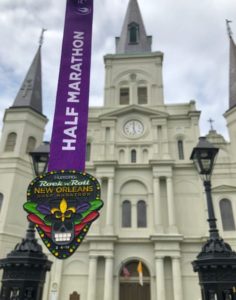 What better way to celebrate New Orleans 300th Anniversary than to run a Rock 'n' Roll half marathon! RnR NOLA has got to be one of the most, if not the most, colorful race weekends out there. And the most energetic. And most beaded for sure. Those colors, that energy and of course those beads were on full, enchanting display this past weekend.
It might seem a bit odd to celebrate a city known for amazing food and drink to bring a bunch of runners to town to join the hometown runners–had more than one cab and ride-share driver remark on "y'all aren't the usual crowd"–but where else are you going to celebrate your finish line with a sazerac than in the city that invented the drink?
For me, it's a city I've been aiming to get back to to run since I first ran #RnRNOLA back in February 2011. Back then, it was only my 7th half marathon, and my 3rd Rock 'n' Roll event. This past NOLA race was my 64th half marathon (54th RnR half!) and oh so worth the effort to finally get to run it in New Orleans again! It's such a unique place to run–the history, the food, the people. Folks who are from New Orleans have a pride that is nearly unmatched for their city, and they're so grateful to have all us runners come to town and not only enjoy a beautiful course that shows off some of the best parts of the city, but also make a point to really celebrate in a city that knows how.
You could sum up RnR NOLA for a lot of runners as: Run Hard, Play Hard!
And when I say run hard, here's the great news, it's not necessarily a hard run. Meaning, it flat, fast, and below sea level. Which is beautiful. You can't help be hopeful and expectant for a happy finish time. Not only that, but the music along the course is unique to the city and some of the most dynamic you will hear on any course. 'Kingfolk' standing on the bed of a pick up truck playing vibrant New Orleans jazz while shouting and whooping it up with runners as the pass by? Yes please! Or how about looking up and around and seeing the history surrounding you in the churches, buildings, and homes architecture. And if you keep looking up, you'll see beads just about everywhere.
Speaking of music–the speakers in the new mile markers signs? You have to hear them! Especially when you hear a song again along the way, like it's your own soundtrack following you.
Run hard and you may just get a PR. Like I did seven years ago. Here's the thing: it's still my PR. And so I'd had aspirations of aiming for that PR again–ended 2017 races on an upswing, so why not? Well, the flu and pneumonia got in the way in January and February, so I had to shift my goal a bit. This you can do in NOLA. It's a low risk, high reward kind of race. You can go for it, and this being the first of 12 halfs for 2018, I decided to get curious and use it as a way to kick the tires or test the water of what my body is capable of at the moment. Within the first few miles, I thought, hmmm, if I fight for every second I can on this course, I might just beat ALL of last year's race finish times.
And so you take in the whole course, the amazing runners (eager in sequined skirts, green purple and gold shirts, sunglasses with the sun beaming) along the way like the woman running backwards, or the two guided blind runners inspiring everyone around them, Kathrine Switzer, or the Darth Vader wearing a Saints hat cheering people along. And the spectators? New Orleans might just have some of the best out there. So loud, so fun, so delighted to see us running towards them.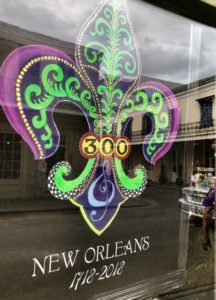 Speaking of seeing things coming – you cannot miss the NEW SIGNS along the course! New signs for water, gel and SiS support. I'd heard about these coming up but until you experience them you cannot begin to know how helpful they are. First, they're super obvious from down the way, so you can much better navigate moving to the right or left or staying in the middle without tripping over runners making last minute decisions. The flow of runner traffic is much smoother through there.
Plus, seeing the signs way up ahead allowed me to finish a gel or make a thoughtful decision about water, yes or no? And if yes, which side? And also if yes, how much? My fueling was far better managed which made for consistency that I know helped keep my pace and health along the course.  These signs are a game changer. As always, there was stellar volunteer support at those water and gel stations–people working so hard to make sure runners have access to things they need–the determined commitment they have makes you shout out THANK YOU as you run by.
When you finish in City Park, it's nearly an instant party. How could it not be? It's New Orleans, c'mon! There were even food trucks nearby and I've never seen so many runners lined up for delicious offerings with Soul Offerings and Cowboy Mouth raging on stage–if you're a food truck, you did extremely well serving a lot of hungry runners. That afternoon and evening, after everyone had crossed their finish lines, the bars and restaurants were buzzing with runners eating and drinking their way through the city; you could spot them, they had a hobble in their giddyup and a big smile on their face.
Oh, as for me? Just being in New Orleans and recalling some of the familiar course, including running down and back along St Charles Avenue, a bit along Magazine Street, down by the Mississippi river with it on your right and St Louis Cathedral on your left, past Cafe du Monde, and up onto Esplanade Avenue and entering into City Park past the huge fountains was worth the travel and the effort. And yes, I pushed myself because I could and because the course allowed it. And so, happily, I crushed ALL 10 of last year's finish times by nearly three minutes. Couldn't have done without the New Orleans course and the Rock 'n' Roll support.
Happy 300th Birthday New Orleans. Laissez les bon temps rouler indeed!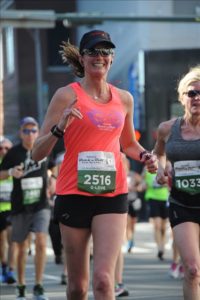 About the Author. With half marathons being her preferred distance, Gretchen Schoenstein has run 64 of them since April 2010. In late 2006 she was unable to walk, diagnosed with a debilitating auto immune disease that resulted in doctors telling her she'd never run again. For 3.5 years she listened to them and then decided to run despite their protestations and laced up a pair of running shoes and hasn't looked back, running 64 half marathons in eight years, with a goal of 75 total by the end of 2018. It doesn't mean there haven't been challenges and flare ups, including being diagnosed with asthma, but as every step is a gift, Gretchen is grateful for every day she gets to run and every step she gets to take. 
Psst!
Bain here. Why not follow Gretchen on
Instagram
and
Twitter
? Her handle is @rungrateful, in case those links are giving you trouble. You can also find her blog at
iwonderwoman.com
Post Footer automatically generated by Add Post Footer Plugin for wordpress.
Inspired by Jenna Blumenfeld's article, 5 food trends that should end in 2018, I offer you Six Food Trends That Need To Die Immediately. (For the record, I'm on board with all of Jenna's recommendations–erythritol [I would expand this to "overuse of sugar alcohols"], bottled water, protein overload, natural flavoring [at least where the flavoring ingredients can be described legally and accurately], and "pixie-dusting," which is throwing in a dash of some ingredient like turmeric or reishi and then splashing claims about the ingredient on the packaging even though there isn't even a single serving of the ingredient in there.)
Six Food Trends That Need To Die Immediately
"Clean Eating." I love the idea behind clean eating–eat more produce, more whole food, fewer things that fall into the category of over-processed junk food. It pre-dates the zany blogger-amplified contemporary "clean eating" by years. See, for example, Tosca Reno's series of books (influencer link) which started in 2007 and focus on healthy and nutritious eating, not a ton of restrictive rules. (BTW, there is LOTS of processed food that is not over-processed. A few examples: fruit that is washed, sliced, and frozen; shredded and bagged salad; simple pico de gallo in a tub.) More apples, more carrots, fewer Twinkies, fewer Fruit Loops. I really loathe the actual term, "clean eating." It implies that anything that doesn't fall into the approved definition is dirty or contaminated. It's a way of letting disgust define your eating (or It's just one step from "clean eating" to dietary snobbery and an attitude of superiority. The term is readily accepted in most circles, but it's easy to take it too far and twist a basically fine idea into an obsession or an eating disorder such as orthorexia. In my own experience, I have a friend who became so particular about the food she was eating that when she went to visit her parents there was "nothing to eat." That might sound normal if you grew up in a meat-and-potatoes Midwest suburb, but her parents own and operate a produce farm and orchards. I'm not the only critic of "clean eating;" check out the evaluations by Vice, Vogue UK, a variety of other publications (you can use Google to find more), and the Daily Mail UK's piece on how clean eating hurts women. There's even a film on the subject, Clean Eating–The Dirty Truth. Let's continue to believe in, and advocate for, healthy eating and access to nutritionally dense food like fresh produce for ALL people, but let's quit using judge-y language to do it, eh?
"Natural." The word natural conjures up all sorts of wholesome images, and the people marketing to you know this. The problem is that the word "natural" is susceptible to all sorts of interpretations. I don't care if you use the word with your own definition. What I take issue with? Using the word "natural" on consumer products and food. Why? Unlike many of the words on your food and household products–words like juice, cheese, and organic–the term "natural" has no legal meaning. It's not defined by the FDA. This means anyone can put it on any package with any intended meaning. Almost worse, it means a small group of lawyers are wasting limited judicial resources on lawsuits. There have been lawsuits challenging the use of the word natural on products that contain GMO corn, high-fructose corn syrup, types of vanilla, xanthan gum, and for products such as green tea that when tested had "trace levels" of glyphosphate, juice made from concentrate, cheese and yogurt made from milk from cows that ate GMO grains, and pita chips with B vitamins created synthetically but identical in every way to those found in nature. You can read more and find links on this Washington Post article. There are two easy solutions to this problem. One, ban the use of the word "natural" on all consumer products. (No one is going to like that solution.) Two, require any product using the word "natural" to include a footnote that states "the term natural has no legal meaning, and is not a guarantee of the quality or origin of this product." There are other ways to resolve the "natural" dilemma, of course, but if we wait for the FDA to step in my great-great-great granddaughter will be president.
P.S. I'd like to remind you that "natural" does not have the same meaning as "healthy" or "good for you." A few 100% natural items to consider: cyanide, crocidolite asbestos, white oleander, poison dart frogs, black widows, volcano, cobras, certain bright red mushrooms, hemlock, ticks, manure, MRSA, listeria, malaria, salmonella…and the list goes on.
Detox, tea-tox, pre-tox, cleanse. Everything marketed in this category makes me want to vomit because it is so grossly misleading that it is unconscionable. Worse, many of the recommended practices can cause health problems in healthy people. But let's start from the top: The term "detox" is used in the medical realm to refer to medical interventions for a person who is physically dependent on a drug and treatment of the associated withdrawal symptoms. "Detox" may also used in the case of an accidental poisoning. For an actual, real detox, there is science to explain exactly what toxic substance is being removed from the body, and how it is being removed. For example in many case of poisoning, activated charcoal is used to absorb the poison ("activated" means it has been treated to make it more absorbent, allowing it to soak up more) and generate a laxative effect to help it exit the body. (There is chemistry to explain how this works, and you can go look it up.) Commercially marketed "detox" and "cleanse" products claim there are mysterious "toxins" built up in your body and if you release them from your body by taking the magic pill or drinking the special smoothie, you will improve your health. Even if they specify a scary-sounding "toxin" (heavy metals!) none of these products will explain to you which toxin(s) they allegedly remove, nor will they explain the chemical and biological means by which they allegedly remove these toxins. (Because they don't.) There's not a single, credible, peer-reviewed study showing any detoxes achieve the results they claim–all detox claims are 100% hype. For the amount of money going into this market, that's beyond suspicious. Worse, some allegedly detoxing things can be dangerous. Colonic irrigation has no proven benefits, for example, and most "tea tox" products either contain ingredients that sound nice but do nothing or known laxatives (such as senna)–and of course they are marketed as "100% natural." Ugh.
As for the term cleanse, if your kidneys and liver are functioning properly, you are "cleansing" right now. Go look at a basic human anatomy text and read about the circulatory and urinary systems. (BTW, if your kidneys and liver are NOT functioning properly, you should be under medical care–poorly functioning kidneys may require dialysis to keep waste products out of your bloodstream, for example.) If you are afraid your body has bad stuff in it that needs to get out, start by "cleansing" your kitchen of all the things containing stuff you don't want in your body.
If you're enjoying this post, why not share with your friends?Click To Tweet
Alkaline everything. Let's go back to basics. Your body works very hard to maintain a state of equilibrium called homeostasis. Basically, your genes are pre-programmed to know what is best for your body on any given scale. Think about your body temperature; your body naturally regulates to keep you from getting too hot or too cold (you sweat in the heat, and your body sends more blood to your core in the cold, among other adaptations). In chemistry, everything has a pH based on how acidic it is. At one end of the 0 to 14 scale is 100% acid  (pH 0) and on the other end is 100% not-acid, also called alkaline (pH 14). Just like your body adapts to keep your temperature at the right place, it also adjusts to keep your pH at the right place. Different parts of your body have different needs in terms of pH, for example your stomach creates an acidic environment to help you digest food while your blood is slightly alkaline. Your body (and specifically your kidneys) works really hard to keep your blood at the right pH because allowing it to get even a little bit too acidic OR a little bit too alkaline means you will die. While I love the idea of getting Americans to eat more green vegetables, you're never going to "alkalinize" your body by eating them. If you did, you'd die. Oh, and in case someone tries to argue that a change in urinary pH is proof in support of this unscientific nonsense, remember that urine is a waste product kept in a holding tank (the bladder) so the body can get rid of it.
Profiteering via ignorance and disinformation. This is so rampant in the consumer marketplace, in every category of product. This is a sugary kid cereal advertising it is made with whole grains–even if true, that just makes it slightly better than the non-whole-grain alternative, it doesn't turn Cap'n Crunch into health food. This is products touting that they are non-GMO when there isn't even a GMO version of that product or its ingredients available (e.g. salt, popcorn, and EVERY product that doesn't contain squash, cotton, soybeans, field corn, papaya, alfalfa, sugar beets, canola/rapeseed, potato, and one type of apple which are the only available GMO crops) and failing to mention that no one has so much as gotten a tummyache from a GMO. This is any product that relies on consumer ignorance or fear to help sell itself. We are better than this. Consumers deserve to be educated and know the facts, and companies should be working to make this knowledge easier to obtain, not harder.
Nutritional Imperialism. As Americans, we live in one of the richest nations on Earth, one that wields a considerable amount of political and economic power. Unfortunately, we collectively end up pillaging other nations to support our needs and wants. All of those exotically sourced ingredients? Many have a negative impact on the environment and the economy in their nations of origin. Take palm oil, for example. As demand increases, we're threatening the orangutan population and rapidly increasing deforestation. (Details at Rainforest Action Network, Say No To Palm Oil, World Wildlife Fund, Union of Concerned Scientists.) Companies are responsive to consumer demand, so why not demand the companies that make the products you buy use sustainable palm oil or an alternative? (There's a debate on whether palm oil can be truly sustainable, but I'll leave you and Google to that.)  Palm oil isn't the only bad guy, it's just an example.
One of the alternatives to nutritional imperialism is trade that helps build and sustain the local economy while respecting the environment. This isn't necessarily the same as Fair Trade, which is a specific third-party certification that can be cost-prohibitive for small companies. A few companies doing this type of work are Kuli Kuli, which has helped women farmers in Ghana, Haiti, and Nicaragua earn an income and support their families, and Dean's Beans, which has relationships with each of the farmers that grow their coffee beans and actively supports the farmers and communities that grow them.
Which food trends would you like to vanish?
Post Footer automatically generated by Add Post Footer Plugin for wordpress.
Disclosure: I was fortunate enough to be selected for the 2018 Rock 'n' Blog Team. Members of the Rock 'n' Blog Team receive free entry to up to ten Rock 'n' Roll races and one VIP, and other surprise perks. All of the opinions in this review are my own, there is no sponsored content. Per usual, I've got plenty to say on my own.
The times, they are a changin', since Ironman bought Competitor Group and is now entering its first year solo as the owner and producer of the Rock 'n' Roll Marathon Series. While some of the bigger changes were already phased in—such as the much-anticipated price increase for Tour Pass and the elimination of the unlimited Tour Pass option (bringing the cost per Tour Pass race to $70) and the transition of the Competitor staff who accepted offers to move to Tampa into their new Ironman roles—many were waiting for the first race of the year to see what the new series owner has in store for Rock 'n' Roll.
General Communication. Or lack thereof. The complaint I have heard most frequently is that it is currently impossible to get ahold of anyone at Rock 'n' Roll to fix problems. I'm not sure if none of the customer care people from Competitor wanted to move over to Ironman, or if Ironman was unprepared for the volume of email, but there are a lot of unhappy runners out there on social media. Currently the fastest way to get a response is to contact Rock 'n' Roll through their Facebook page, which seems really inefficient especially when many of the inquiries could be handled with the exact same response. (I'll share it here: Yes, the Rock 'n' Roll team are aware that many people are still waiting on Heavy Medals they earned in 2017. Sources say there's a meeting soon to get to the root of the problem and get medals in hands ASAP. If you're missing a medal, hang in there!)
Personally, I'm disappointed the new team wasn't proactive in communicating the cancellations of the Brooklyn and St. Louis races—basically people found out about it after they were removed from the website. This is a huge missed marketing opportunity for Ironman, especially since there are semi-credible rumors that new Rock 'n' Roll destinations are on the way. When Rock 'n' Roll and the Vancouver races parted ways, everyone who had run Vancouver got an email about the change. This was a great way to help set runner expectations—oh, the races are going forward, they just won't be part of the Rock 'n' Roll series—without having to field a dozen email inquiries about what if you pre-registered, etc.
Pre-season general communications could also have been used to communicate some of the series-wide changes in advance of the races and prevent them from becoming fodder for Facebook page complaints, as well as to put a more positive spin on some of the unpopular changes. Unfortunately, it wasn't from Ironman but from social media (or at the Expo!) that most people learned the marathon jackets have been discontinued, as have the physical Tour Pass credentials (and the Tour Pass priority check-out line for the Brooks/Rock 'n' Roll merchandise area), and the Tour Pass vanity bibs/back bibs.
Registration. Ironman decided to kill Competitor Group's RaceIt registration system and use Active.com instead. From a financial standpoint, this probably makes the most sense for the company (and may have been contractually required—I don't have any inside information, but I know a little about business and it is at least a possibility). While some runners have chafed at the increased fees and Tour Pass now has fees added to it, members of the Active Advantage program may wind up ahead…but still pay $40 in fees for the Tour Pass 10-pack. (Active Advantage is the premium subscription for Active. Members save up to $10 in fees per registration, among other perks. If you register for a race and the fees are $5, you don't pay the $5. The Tour Pass 10-pack fees are about $50, so Advantage members pay $40.)
Confirmations. In years past, each participant got an email to print out a waiver. You'd go to the Rock 'n' Roll website, enter your full name and birth date, and (assuming you were registered!) a .pdf document would pop up, pre-populated with your name, address, bib number, and other details. This year I got my email, and went to the website to print the waiver. It only required my last name, and when I pulled up the confirmation page to print, it was blank—I had to hand-write all of the information in myself. While that last part is definitely a #firstworldproblem, I'm a little concerned about only needing my last name to pull up my bib number. If you don't need to know anything else, it's pretty easy to print up a confirmation sheet and pretend to be me. Sure, the volunteers at packet pickup are trained to look at each ID before issuing a bib, but the same is true at runDisney races and there are at least two known documented instances of bib theft at the Disneyland races.
Pre-Race Communications. I've run the Rock 'n' Roll Arizona marathon once, and the half marathon twice, in addition to a few rounds of the 5k (and that sweet remix medal). Though I opted out of the 5k this year—the December sale price was still a bit higher than I'm willing to pay for anything but a charity 5k—I had initially set my expectations based on my past experiences, all of which were good. (See my review for last year.) The pre-race email from Rock 'n' Roll completely changed my expectations. These all communicated that the new Rock 'n' Roll experience would be focused on the on-course experience: a band every mile, more food on course, new signage, and other enhancements to the actual race. I also got several emails about the all-new, improved series app with live runner tracking, which I downloaded immediately. Boarding the plane to Phoenix, I was excited to see what the new race experience would be like.
Expo: Entry. My race roommates and I basically went from our planes to the race expo at the convention center downtown. Arizona confuses me a little, as it seems like all the cites overlap each other and are smushed together, yet nothing seems to be near anything else. (If you're headed to this race, I highly recommend being prepared to Uber and Lyft.) Anyway, we got to the expo safely and strolled right past the "look up my bib" stations because we were prepared. Walking into the expo, the first thing I noticed was the Hall of Fame banner, because it wasn't there. I usually start my expo by taking selfies with my Hall of Fame friends who aren't going to the race, so that was a bummer. I hope the Hall of Fame banner debuts at Rock 'n' Roll New Orleans.
Expo: bibs, shirts, and Brooks. It was a quick few minutes and I had my bib in hand. The bibs are basically the same design as last year, with one major improvement: no more shoe timing tags. If you've run Rock 'n' Roll in the past, you know the routine: pull the plastic strip off of the bib, tear it in half, attach the correct half to a shoe by making a loop. No more. Finally the timing tag is ON the bib, so you don't have to do anything about it, it's there. Another improvement? The back of the bib has a pre-printed label with your emergency contact's name and phone number. This is a great idea. The only complaint I heard is that you cannot fold the bib—which is large—without wrecking the timing chip. This isn't a problem for me, since I'm tall and I generally put my bib on a race belt or use Race Dots. My shorter and smaller friends have less available real estate for the giant bib would love smaller bibs or a different timing tag. I'm confident that in a race or two they will craft a  hack that takes care of this. Yay, bibs!
The shirts? That's another story. While I didn't immediately notice, I overheard several runners complaining about the shirt fabric; on further inspection, it does appear thicker, less soft, and less wicking than the shirts from last year. I don't know if Ironman fired all of their graphic designers or what, but the shirt is pretty awful. This was an issue with Rock 'n' Roll shirts a few years ago—they were all poorly designed and a crazy percentage of them were grey–it was one of the major gripes of the season. For starters, the Arizona shirt is grey. The graphic appears to be the stock image for all of the series shirts this year—the rectangular-shaped object over the bottom that has the race name on it is the only variation. (For New Orleans, it is a street car.) In Arizona, this design would have looked better in colors of the state flag– red, blue, and yellow.  I heard quite a few complaints about the shirts, which is unfortunate as it's a huge missed opportunity for the race. From the race's standpoint, the shirt functions as free advertising (as other people will see it, assuming the participants wear it), and it can also serve as a reminder to keep the race in the runner's memory throughout the year (assuming they wear it) and perhaps plant the seed of running the race again the next year. Hopefully Ironman is listening to runner feedback, since that has always been one of the main reasons the Rock 'n' Roll series was beloved by repeat participants, and will make a mid-year course-correction.
In another random twist, the samples inside the gear check bag? A sleep aid and a laxative. Strange combo. (I tossed both. I wish there had been a "no thank you" box for them instead.)
The gear produced by Brooks, in contrast to the official race shirt, was adorable. Brooks had several great designs and colors. Since one of the two things I had forgotten to pack was a hat, I treated myself to a new one—turquoise/teal with embroidered race name on the side. Brooks also had the snazzy new Rock 'n' Roll design shoes, a tie-dye print that just made me happy looking at it. The Brooks area also featured an expanded line of Rock 'n' Roll race-specific merchandise, from pint glasses and coffee cups to a stuffed animal. The only bummer in this area is that the express lane for Tour Pass holders was gone, again making me think the Tour Pass may not be on the tour next year.
Expo: main expo. Since I had forgotten to pack only two things—the aforementioned had and my sunglasses—my agenda at the expo was to get a hat and a pair of goodr sunglasses. (Sadly, I lost my favorite Maui Jim's at Disney World, and Maui Jim wasn't at the expo.) The Arizona expo was small compared to the expo at each of the prior Rock 'n' Roll Arizona races I attended. Curiously, there were several booths that had nothing to do with running or tourism in Arizona, which are the things I expect to see at a race expo. There was a booth doing some kind of hair extensions, for example. There were two or three booths selling anti-wrinkle creams which was a huge disappointment. I'm hoping this isn't a trend—there were also aggressive anti-wrinkle cream peddlers at the IDEA World fitness convention in Las Vegas last year, but I attributed that to Las Vegas.  I don't go to a race expo to have some booth assault me with a "no more Botox" theme. Thanks, I don't do Botox, I take good care of my skin, and wrinkles are a natural part of aging. Whatever. It was a weird expo, with many of the main race sponsors not there, and several of the regular exhibitors also absent. Overall, the expo was somewhat disappointing, but I assume this was a function of (1) the newly increased booth prices for exhibitors, and (2) the series' new focus on the on-course experience.
The parts I liked best about the expo were seeing my friends and trying Tailwind for the first time. One of my friends is now a head honcho with the Spartan Race series expo booths, and we got to catch up. (Look for big things coming from Spartan this year—more races, more stadium sprints, more in-expo experiences.) A bunch of the Rock 'n' Roll regulars tend to eventually congregate in the Rock 'n' Roll booth to catch up, make plans, and take pictures. Finally, at the Hot Chocolate booth I also had a "hey! I follow you on Instagram!" moment, which is always fun. For me, the best part of running races is all the great runners, and I'm always thrilled to meet people in person who I've only seen online.
Tailwind, if you haven't tried it, is AMAZING. I've been wanting to try it for quite awhile, but I hesitate to buy any running fuel that I haven't taste-tested first. If you've tried enough running fuels, you know that not all of them agree with all digestive systems and that you really want to know if one is going to fight you before you buy a bunch of it.  The Tailwind booth had four different flavors of fuel to taste, and two of their recovery drinks (which I skipped for now). Tailwind is a powder you mix with water, and it serves as both fuel and hydration. When mixed as directed it has a thin consistency like water, a very light flavor, and almost no color (Tailwind doesn't have any artificial colors in it). To my great surprise, not only did I like all of the types of Tailwind I sampled, the orange (yes, orange!) was my favorite. Usually I'm a berry or fruit punch flavor type of runner, and I avoid orange popsicles, orange soda, orange drinks, and orange desserts. Tailwind orange is pretty delicious though. I bought a bag of orange (orange!) at the expo special price, and also some samples (single-serving size) of other flavors. In my mind, this was a major expo win—but more on Tailwind later.
Race Day Preparations and the Starting Line. My crew selected their hotel based on proximity to the finish line at the park. Turns out it was also quite close to the starting line for the half marathon. (The marathon has a smaller field, and a separate start.) The morning of the race I got dressed, mixed up a packet of Tailwind (which dissolved immediately, without extensive mixing/shaking, and without any gritty undissolved bits at all), and headed over to the starting line. Unfortunately, I relied on the app to tell me where the starting line was—and it was wrong. I learned this when I arrived at what I thought was the starting line, only to join about 20 other runners walking over to where the starting line actually was. Bummer.
The starting line did feature new corral markers, which were inflatables instead of cardboard signs. While they were easy to spot, they were difficult to read. The markers are thick material like a bounce house, and they wasted spaced with "corral" and the number sign. To my over-40 eyes, they were actually harder to read from far away than the old sign-on-a-stick (I ended up in the wrong corral initially).
On the bright side, the starting line had pumping music and a ton of energy. We all missed Ann, the usual Rock 'n' Roll announcer, who is sidelined with an injury for the time being. The stand-in did a great job of keeping the crowd pumped up though, and there was a lot of fun and fanfare.
The On-Course Experience. Had I stuck to my expectations based on my prior experience running this race, they would all have been met. But as I mentioned earlier, I had received a bunch of email hyping the new focus on the experience during the race and so I was excited to check out the new race experience, so I was looking out for the specific items mentioned in the email.
One of the things mentioned in the emails was new signs at the corrals and on the course. The signs on the course were color-coded aid station signs that let runners know what would be offered at the aid station. I definitely appreciated that I could see the signs before I got to the aid station. At the same time, signs are a depreciable asset and need to be replaced every now and then; while I liked the new signs, I see them as more of an ordinary business expense and less of an enhancement for the runners.
Food on course. Half marathoners did not get food on the course. (I believe the marathon runners were offered bananas on the course.) Based on the emails, I thought there would be some actual food at the half marathon aid stations.

Gel stations. In past years, the half marathon course had one aid station with gel; last year the official gel was Glukos, and prior to that it was Gu. This year, Science in Sport (SiS) is the official gel. Some people love it, others don't. Since I was experimenting with Tailwind, I didn't eat gel on the course. It's good that I wasn't relying on it, as the pre-race emails all promised me two gel stations on course, but there was NO gel at the first gel aid station. I saw the signs, and they were followed by an empty table and empty boxes. This is a course with a 4-hour time limit. I finished well in advance of the time limit, and was nowhere near the end of the pack. I'm disappointed there wasn't enough gel for the slower runners at the aid station.

Bands Every Mile. The pre-race emails also promised a band every mile. For the first 8 miles, the race delivered: a band every mile! Then the bands dropped off. There is an out-and-back portion of the course (which really needs a timing mat—it's a known cheat-point as I documented last year) which I get would have been difficult to band-up, but there weren't any bands for the last several miles. (There was a DJ station, but the DJ left before the course closed.) I'm not sure I need a band every mile, but if you promise me a band every mile and don't deliver, that's not good.
"On Course Activations." The pre-race emails promised more of these. When I read them, I thought "wow, this is a badly-worded email" because "activation" is a jargony-PR term that basically means something interactive with a brand. (So, for example, the opportunity to take a test-drive in a Toyota at the expo is an activation.) Historically, the on-course activations have been things like the inspiration zone with encouraging quotes put up by Alaska Airlines in Seattle. The only one I noticed at this race was the Toyota zone DJ.
Overall, I had a good experience on the course. Post-Dopey I was walking, and I didn't stop at Bosa Donuts this year, but the weather was gorgeous and the course has some scenic spots. I figured this out around mile 11, when I was thinking I'd never run this race again but then realized it was because the race wasn't meeting my expectations—ALL expectations set up by the pre-race emails.
Tailwind. Side note, remember how I tried Tailwind at the expo? I mixed some up for the race and carried it with me. Instead of taking Powerade during the race, I sipped on Tailwind throughout the course. (I did take a few cups of water at some of the aid stations, but no extra fuel.) I only carried one bottle (size: Camelbak podium, Nuun bottle) and it lasted the entire course. I never got sick of the taste, which is very light. My tummy stayed happy the entire time, and even after the race I wasn't starving and ready to hoover all of the foods. I'm so excited to have found Tailwind! If you haven't tried it, you really should!
Finish line. The finish line was just like it has always been, with some adjustments to the post-race snacks. I grabbed a bottle of water and a post-race chocolate milk as I usually do (though Gatorade was also available). I took a banana. Snacks consisted of a granola bar (the plain hard granola kind), pretzels, and Pringles.  Personally, I really miss when the granola bar was a Power Bar (the thicker ones with the cake-like consistency); everyone who knows anything about sports nutrition knows you're supposed to put some protein in the tank within the first 30 minutes after an endurance event. (This made me extra thankful for the chocolate milk!) I also miss the Del Monte fruit cups, though they were logistically a bit of a pain.
Finisher Festival. Rock 'n' Roll Arizona has one of the best finisher festivals of the series! We had a great band, per usual, and a series of food trucks from the Maine lobster guys who were on Shark Tank to a truck that served really great pretzels shaped like giant moustaches. It's a great atmosphere, and a ton of people come to watch the band. We had great weather, though it was very, very sunny. Normal for Arizona, but kind of brutal after running a race.
Bling. The medal is cute, and features a cactus and bright colors. Unlike the generic design for the race shirts, the race medals this year are more race-themed, though to date every medal revealed is a guitar-pick shape with brightly-colored and cartoony artwork. The ribbon is a wide, satin-y ribbon with a colorful design and the race information, and I expect these will continue to be the standard (especially after the strong runner feedback several years back requesting them).
Marathon Zone. As I mentioned, I didn't run the marathon this year (though the year I did run the marathon, I would have loved to have a marathon zone!). The Marathon Zone was one of several special perks just for marathoners. This was part of the focus on the race experience (and, I assume, added to assuage the hurt feelings of the marathoners who signed up to run Arizona last January and thought they were getting a marathon finisher jacket). Other marathon specials were the bananas on the course, and a red carpet (literally) at the finish line. Back to the Marathon Zone, which was a separate area for marathoners only. Inside there was a separate spread of food, including pizzas and Snickers bars, and a massage tent with free massages.
While the theory was nice, the concept was poorly executed. For one, there was no shade at all in the Marathon Zone, other than the massage tent. As I mentioned earlier, the mid-day finish meant straight-on Arizona sun for the finish. The Snickers bars melted completely (I saw examples). There were zero marathoners sitting on the chairs out in the full-sun. In contrast, the VIP area had umbrellas over at least some of the tables. For two, the Marathon Zone was far from the stage so it wasn't possible to watch the headliner concert and enjoy the pizza and massages—you had to leave the area to watch the concert. In contrast, the VIP area was within the sight-lines of the stage. Finally, the entire marathon zone was shut down before the marathon course was finished. In other words, even if you finished the race within the time limits, you might not get to enjoy the amenities because they had already been disassembled. (This is the case for some friends of mine.) If you are going to have special amenities for the marathoners, they should be available to ALL marathoners who finish within the course time limits. (Instead, random people were handed entire pizzas as they shut down the Marathon Zone, while my marathoner friends arrived to find an empty field.)
Ultimately, I'd run this race again–and recommend it to you, too. Next time, I won't let the pre-race hype emails set up my expectations though. It's still early in the season, and there was a post-race survey that I'm sure plenty of runners filled out, so I'm sure the proud new owners of Rock 'n' Roll have plenty of information. I hope they choose to carry on the Rock 'n' Roll legacy of responsiveness to runner feedback–and maybe tone down the promises in the pre-race emails.
Did you run Rock 'n' Roll Arizona this year? How was the marathon? The 5k? The mile? Will I see you at any of the other races I'm planning to run this year?
Where else will I rock 2018?
San Francisco
San Jose
Seattle
Los Angeles
Chicago
San Dieg0
San Antonio
Las Vegas
Denver? New Orleans? Hm…
Post Footer automatically generated by Add Post Footer Plugin for wordpress.
Follow my blog with Bloglovin
Imagine The Color Run–self-identified as the happiest 5k on the planet–and a yoga studio had a baby. What do you get? Poof! Black light yoga with freebies and confetti! What The Color Run did for the 5k, Soul Pose yoga (a project of the people that brought you The Color Run) does for yoga. Since I had a good time at The Color Run (see the review linked near the top of this post), I figured I'd try Soul Pose, "the happiest yoga on the planet." Even though I know I'm an over-educated, slightly anal-retentive yoga teacher, who could resist black light yoga with body paint? After all, it's good to mix it up every now and then. (Note that some of the events are NOT black light yoga, but are held during the day–see the website for more information.)
Oh hey, a disclaimer here: if you're a yoga purist, if you get upset that people call a class that is nothing but poses a "yoga" class, if you object to posture practice without meditation and pranayama, if you want to have a dialogue about the Yoga Sutras or the Pradipika, if you want to use every class to debate whether American yoga is cultural appropriation or a new creature, this isn't for you. You'll be miserable. If you can let go of your expectations and think of this as a black light party where you do some physical practice stuff, you could potentially have a good time.
Step One: Get On The List. I can't remember where I first heard of Soul Pose yoga, but I added myself to the mailing list and started following them on Twitter so I could be the first to hear about when there would be a Soul Pose near me. I read the website, which promises that Soul Pose is for everyone, even if you "have never set foot on a mat." Once the date for the Portland session was published, I waited for registration to open.
Step Two: Register! Registration for a Soul Pose event includes a yoga mat, a sweat towel embroidered with the Soul Pose logo, a "namaste" bracelet, a confetti pack, and access to paints before the session. (More on these perks later.) During the first week of registration (September for a December event) there were also extra gifts, depending on which day you registered. I'm a bit of a sucker for hoodies, so I registered the day the gift was a zip-up Soul Pose hoodie. My co-worker T wanted a mat bag, so she registered on a different day. We had a choice of four different sessions in Portland (8:30, 11:30, 2:30, 5:30), which is something of a yoga mecca–seriously, there are as many places to do yoga here as there are in San Francisco, which is ground zero for yoga in the United States. Registration was around $20 plus a registration fee from Active.com (but since I am an Active Advantage member, those fees were waived as a perk of Active Advantage membership). Pro Tip: If you run any races that use the Active.com platform, it's probably going to work out in your favor to join Active Advantage. The annual membership is like $70, but includes a refund of registration processing fees for events that use the Active platform (up to $10 per event), a refund of the cost of your fifth event of the year, a free pair of Pro Compression socks (value $50), the opportunity to win free race entries and monthly gear giveaways, and more.
Step Three: Hurry Up And Wait. Then, the wait. In between registration and the event, Soul Pose sent out a couple of offers, like a Black Friday/Cyber Monday special. In addition to the events, you can also purchase Soul Pose gear, from my hoodie to yoga blocks to water bottles and other clothing and props. I think I got a reminder email, and just before the event there was an email with an event guide, basically laying out what to expect, when and where to arrive, etc.
The Happy Day! While lots of event guides advise you to arrive early, and it seemed a little extreme to arrive an hour early to check-in for a yoga class, I managed to get my butt (and a minimal amount of stuff–the Event Guide told participants to bring a water bottle and not much else, due to space limitations) on MAX early enough to arrive about an hour early. There was a HUGE line, stretching well outside the venue and it was cold. (Portland-cold, not Midwest-winter-cold, but still.) Given the space they rented, they could have arranged the line so more of it was inside if they had shifted the footprint of various booths. While waiting I checked out the line. It was largely composed of stereotypical American yoginis–thin, female, white, well-dressed–including a higher-than-average number of containers of kombucha. I saw exactly zero men. I did see some not-thin yoginis which made me feel better (I think yoga is for every body, not just waifs), and some moms who had brought their kids. The line did keep moving, and once I got to the front it was one quick scan of my ticket (scanner = iPad mini, ticket = email on my iPhone) and I was handed my hoodie, towel, and bracelet; with a quick "your mat will be waiting inside" and a welcome, it was off to find the paint.
Body Paint Was Limited: Bummer. I wish I had known that there wouldn't be very many paint markers, and that many of them would already have run dry or dry-ish after the first session. The white should have really popped under the black lights, but it was so dry that I had to kinda stab myself with the marker to make it paint, and the color was washed out. The green one worked pretty well, but two of the markers I grabbed were so dry that they didn't produce any paint at all–and there had only been one session before the one I attended. Pro Tip: Plan ahead, especially if you are in a later session. Buy a set of day-glo poster paints and some brushes, and bring them with you. (Poster paint is non-toxic and washes off with soap and water. The day-glo colors super pop under black light. You could paint yourself at home, but you run the risk of smearing it, or having it dry and flake off before you arrive.)
Venue: Adequate, Not Great. Soul Pose took place at the Portland Expo Center. Initially I was pretty excited, as I was thinking about all of the external bits: plenty of parking, easy access to public transit, big indoor space. I hadn't thought about the yoga practice itself. While the room was big enough–our "sold out" session had room for at least another 50-75 people in it–it wasn't a great space for yoga. The biggest issue for me is that the floors are the kind of polished concrete that you find in every convention center and were not at all compatible with the "yoga mats." I had to put that in quotes because yoga mats ordinarily have a slight component of padding, and a somewhat serious component of traction. This is why yoga mats used to be called "sticky mats," and why many modern yoga mats are made of, or surfaced with, rubber. Unfortunately, the Soul Pose mats are very lightweight, stiff, thin foam. They have no traction at all and slid on the polished floor. During the practice my mat also puckered up when I stepped my foot from place to place. Pro Tip: Skip the Soul Pose mat entirely. Bring your own mat. If you're afraid your body paint will mess up your mat–and it might–or you want to paint your Soul Pose mat, bring a regular yoga mat to put under your Soul Pose mat. It's likely going to make the balancing poses harder due to the squishiness of the Soul Pose mat, but it will keep your mat from sliding around.
What is @SoulPose? @TrainWithBain tried it out, and she's spilling the dirt (and the confetti!). #yoga #blacklightClick To Tweet
Another thing that bears mentioning: the temperature. It was cold inside that expo room, and the room had a polished cement floor (which you touched during parts of the practice). Cold! The organizers should have warmed the room up better, whether by space heaters or the heating system, as even a "warm-up" doesn't keep the body warm when the ambient temperature is cold. I get that it is hard to manage temperatures in rooms filled with people, as I've been to a million and one conferences and convention centers, but I hadn't expected the bare room and the cold floor. Oops. Pro Tip: wear long tights/pants and light layers. If I had known the room in advance, I would have brought toe-less socks  and arm warmers to start class. I probably would have done the entire class in long sleeves if I'd had the option.
The Rig: Festive and Theatrical. While I found it a little weird to make a human tunnel to "run in" the instructor (like a football team running a cheerleader gauntlet on the way into the stadium), but whatever, okay. There was a small, round elevated stage for the instructor; when we entered the room the mats were arranged in circles around the stage. There were white party lights strung from the stage to several points outside the circle of yoga mats, and multiple black light sources that hit most of the yoga mats with almost full coverage. Honestly, it was kind of a fun set-up for the instructor (versus rows of mats with the instructor in the front) and the black lights did their job. Pro Tip: wanna glow? Wear white or day-glo colored clothing. Make sure your body paint is solidly colored-in, too. Other good options are things that have lights, or those snap bracelet glow-sticks. Need extra help or an example of the poses? Get as close to the stage in the center as you can.
Instruction: NOT For Beginners. I only went to one of the four sessions, and each had a different instructor. I'm likely biased because I'm an instructor myself. I don't know how many people were in the room, but it was definitely over 100. There was one instructor, and one assistant. This was inadequate coverage for the number of people in the room who needed help. When I say "needed help," I don't mean "man, their poses were lame." What I mean is that I observed several things that were potentially catastrophically unsafe (like "do it this way, and you're 80% likely to sprain that joint") and that a tiny bit of assistance could have made much safer–and much more comfortable!–for the participants and their knees and ankles. (Especially since the mats were all sliding on the floor.)
There was no instruction as to how to get from one pose to the next, which concerns me as an instructor because most yoga injuries that are not catastrophic (think falling on your head), or long-term-misuse injuries happen during transitions. For example, to safely transition from a right-sided Warrior I to a Warrior II (and avoid tweaking a knee, etc.) you not only turn your hips to the left, but also step your left foot towards the right long-side of the mat (which gives your pelvis the room to move). It's important to keep your right knee over your right ankle (as if you let it slide further forward and you lose your balance while moving that back/left foot, you could mess up that knee). Yet the instructor just said "Open up to Warrior II." There was no instruction on the things that tend to bother beginners the most, such as what to do if your wrists are sore from so many downward-facing dogs. There was no instruction on where to point your toes, which is one of the most basic points for any pose. (For example, I saw a dozen people doing a right-foot-forward Warrior I pose where the right foot was turned in such that the right toes were pointing to the left corner of the mat or rotated even further.) I was also confused when the instructor talked us into what she called "Pyramid Pose" because that's what I did–following her instructions to face both feet towards the front of the mat–and everyone around me was doing a wide-legged forward bend!
My guess is that the instructors (all of whom were drawn from the local CorePower studio chain) had only done the CorePower 200-hour training, had no specific teacher training on how to teach basic yoga to beginners (honestly, this topic is almost completely ignored in most 200-hour teacher training programs), and lacked extensive experience teaching to raw beginners. I'd love to see Soul Pose run a continuing education class for teachers who want to teach for Soul Pose, focused exclusively on clear instruction for those who have "never set foot on a mat" as their advertising said this would be a great experience for them, yet didn't cater to that level of inexperience at all.
Pro Tip: don't expect to be taught how to do yoga at Soul Pose. Ask a more experienced friend to come with you, or at least to review some of the basic yoga poses before you go: downward-facing dog, cat-cow breathing, warrior I and II.
Instructor Positives! The instructor did a good job creating a chill atmosphere. She reminded everyone to have fun and enjoy the practice, which was definitely keeping with the "happiest yoga on Earth" vibe. Everyone was reminded to take child's pose whenever they wanted to, and there were a significant number of breaks where we stood in mountain pose (tadasana) to breathe, which is kinda refreshing. Also, unlike the "spiritual sandwich" model of yoga class–you know, something heart-felt and mushy at the beginning and the end without much besides posing in between–our instructor did a good job of weaving positive messages throughout the class. She had a great personality for teaching, and seemed genuinely grateful for the opportunity to teach with Soul Pose. Pro Tip: show up with an open heart and an attitude of gratitude!
If you're an experienced yoga practitioner, and don't need much in the way of alignment instruction, you're going to be fine. I can't say you'll be challenged or get an "intensely physical class" as promised by the website, but you'll likely get your sweat on and have a good time.
The "Block Party." The Event Guide and the emails mentioned a Block Party, which I figured was going to be like a typical "yoga mall" with vendors trying to sell everything under the sun that might be tangentially related to a (western) yoga (posing only) practice. Instead, it was a curious mix of sponsors and other vendors. There was a Soul Pose boutique (selling the same things that are on the website), a vendor selling what I think were Christmas ornaments, and one with yoga-themed headbands. The Bakery on Main had gluten-free granola to sample. La Croix handed out ice-cold cans of La Croix (and I'm a huge fan!). White Claw hard seltzer (yes, that does mean alcoholic) was there sampling their three current flavors. Overall it was very low-key.
If Soul Pose asked me for tips: I'd advise them to (1) pick a venue where the floor had carpeting (like a hotel ballroom) or a texture to keep the mats from slipping; (2) bring in another 10 assistants per session who have experience working with first-time-yoga-class-attendees; and (3) select a teacher who is skilled in teaching to beginners and not just in keeping the vibe. Also, why are you calling the bracelet a "namaste" bracelet when it's like a Pura Vida style bracelet that says "Soul Pose" (not "namaste") on it? Oh, and a coat rack would have been really helpful too–December in Portland is chilly!
Would I do it again? Sure! Who doesn't want to drop a squat into malasana and then throw confetti?? (Okay, so it was a wee bit annoying to be picking confetti out of my bra after class, but hey–the risk-reward analysis says when in doubt, throw the confetti.) I'm pretty sure this was the first Soul Pose yoga event in Portland, so just like an inaugural race there are some kinks to work out. Next time, I'm taking my own pro-tips (see above) and especially my own body paint.
Post Footer automatically generated by Add Post Footer Plugin for wordpress.
Disclosure: absolutely nothing in this post is sponsored content. Every single word and idea is my own. The giveaway in this post isn't sponsored either, except by me, and neither are any of the associated upcoming giveaways. I have clearly labeled the affiliate links, which give me free stuff if you subscribe (and you get extra goodies too).
Can I Stuff Your Stockings?
Christmas stockings were a HUGE deal in my family growing up. Grandma had knitted each of us a fancy stocking: the kids had green, white, and red with our names and a different Christmas-themed item in each band, with a giant pom-pom at the toe; Mom's stocking had a grandma figure with soft fluffy hair, and Dad's had a Christmas tree with little sequined ornaments.
As a kid, the Christmas stockings were the only things we were allowed to open on Christmas day before Mom and Dad got up. There were traditional Christmas-y items like candy and little toys, but also practical things like toothbrushes and socks. Once we got older and moved out–and effectively moved the Christmas celebration to the Friday morning after Thanksgiving–the Christmas stockings had all the goodies (and a check).
This year, I'm celebrating the holidays by stuffing YOUR stocking! My plan is to post a different giveaway each day (be sure to follow @TrainWithBain on Instagram) but don't hold me to it–we've all seen what can happen when you get too attached to a plan.
On the 1st Day of Christmas: Subscription Boxes?
Subscription boxes are everywhere these days–there are even entire blogs devoted to nothing but subscription box reviews. Some boxes are monthly, while others are quarterly. The least expensive boxes start around $10, while some of the quarterly boxes cost $100 or more. There are subscription boxes for every niche, and even sub-niches within those. Need a dog subscription box? There is BarkBox for dogs, or maybe PoochPerks is more what you need; if your dog chews stuff there is BullyMake for dogs who are heavy-duty chewers, if you prefer to get a box from your usual pet food supplier then Chewy.com has GoodyBox. For runners, there is Runner Box, Stride Box, Runner Crate, Challenge Box (aimed at FitBit users), Fun Run Box, 5k Crate, and more. Whatever you are into, there is a box for you.
Birchbox was the first box I tried. As a woman who has always sucked at the "girly-girl" stuff, I basically had no idea how to buy makeup. My basic routine was set by the drugstore makeup I bought in high school, and the one or two foundations I had sampled at department store counters. (Remember when that's where all the cool kids bought their makeup?) I liked the idea of getting to try samples of products and discover what might work for me before committing to full-sized products. Since I hate wasting money and creating garbage, it pains me to buy a full-sized product and then discover I hate it and end up wasting the rest of it. Birchbox seems focused on high-end brands, many of which I had never tried. My samples often included perfume (and despite my lack of girly-girl knowledge, I love perfume). Anything you like, you can order a full-sized product from the Birchbox shop.
Later I found ipsy (this is an affiliate link), which includes a makeup bag with the goodies each month. Ipsy seems more customized than Birchbox, and samples change based on your ratings of prior samples (including what you think of the brand, type of product, color, and more). I've loved some of the pouches, and sometimes use them instead of gift wrap for small presents and gift cards. The brands in my ipsy often include K beauty brands, and are generally brands I'm unfamiliar with–it's good to broaden my horizons. Like Birchbox, you can opt-out of a category of products, and edit your profile to emphasize what you like. Also like Birchbox, the products in your monthly box are a surprise until they show up–though you can take a sneak peek by clicking through the email. Each month there are special deals on products featured in ipsy bags that you can find on the website. Ipsy also has monthly giveaways. Ipsy has the option to pause for a month, but only for one month. (I currently have a few invites to send a free glam bag, so let me know if you think ipsy might be for you–I'll happily send you one.)
Somehow Julep (this is an affiliate link) found me. Julep started out as a nail polish subscription box, with two polishes and accessories such as buffing blocks or quick-dry drops in each box. Julep has since branched out to skin care and a full makeup line. With Julep you take a quiz that assigns you a style. Each month there is a curated box for each style. On the 20th you can peek at your curated box–if you do nothing, it is automatically sent to you. You have the option to take your box, choose another style's curated box, or mix and match to make your own box. You can also skip your box, or have it sent to a friend instead, but you have to choose before the selection window closes. (Otherwise, your box is auto-shipped…and when you get busy, it's easy to miss that window.) I've built up quite the color collection, so I also branched out into their makeup and skin care lines. I'm a huge fan of the gel eyeliners, and the solid face cleaners (great for traveling because they are carry-on friendly). Some Julep products are now available at Ulta.
The one problem I have run into–and more with Birchbox and ipsy than with Julep–is that sometimes I get things that I can immediately tell are just not for me.  Or sometimes my preferences are so clear that I get multiple items that are very similar (like eyeshadows in the same shades, or two different brands of the same makeup brush). Generally my friends score when that happens. Some things make great stocking stuffers and mini-gifts, too.
Guess what friends? Time for YOU to score. Before I moved I barely had time to breathe, much less sort through my stuff before I packed. When you move and start working the new job immediately, that doesn't leave much time to unpack and sort and arrange, and I have continued to travel all over the place to run, so it wasn't until Thanksgiving that I had the opportunity to sort through the beauty stash. It's bigger than the space designated to hold it, so let me stuff your stocking?
The first item in this stocking stuffer package is a brand new hair dryer. While I still use the hair dryer I got as a gift with purchase when I bought some leather sneakers (a la the Reebok princess line) back in 8th grade, I do have a backup (which I bought from Birchbox). I then got a super nice one as part of a thank-you box for being a Women's Health Magazine Action Hero–and I haven't even opened the box! There's a list of what else is in the prize below, but let's get to the good stuff. Here's how to enter:
Also in the prize package:
Panasonic nanoe Hair Dryer, model EH-NA65-k
4 ipsy cosmetic bags (bags are empty and unused)
TrainWithBain's favorites from Julep, all full-sized!

Glow highlighting powder
Love Your Bare Face detoxifying cleansing stick
It's Balm—2 colors!

Flamingo pink crème
Electric coral crème

Color that treats nailpolish—2 colors!

Katherine (a dark purple cream)
Channon (a shimmery full-coverage white)

Kaolin Clay konjac sponge
When pencil met gel eyeliners in gilded gold shimmer and ultraviolet

Toni & Guy casual sea salt texturing spray 2.5 oz
Makeup brushes

Clinique eyebrow tamer and eye makeup combo
Bare Escentuals retractable brush with cover
Shmissglam small contour brush
Beaute Basics contour blush
Beau Gachis smudge brush
Crown Brush pointed crease brush
3 brushes from Luxie Beauty:Pap

Medium angled shading
Blush
Flat top

Paper masks:

Nature Recipe Honey
2 Etude House Olive
Sephora rose

Versace single-use perfume samples
Calvin Klein euphoria perfume samples (2) spray
Elizabeth Arden pure finish mineral bronzing powder
Derma E hydrating day cream with hyaluronic acid 0.5 oz
Ruffian nail laquer in nake (neutral beige/cream) 0.17 oz
LAW nail polish in Peri Or Whatever (light periwinkle cream) 0.37 oz
Ole Henrickson truth sugar glow polishing mask 0.3 oz
J Browza brow pencil
Make Up For Ever Aqua XL in black
Ciate London Wonderland gel kohl liner in black
M skin Y Theorem Repair Serum 0.35 oz
Tarte Tarteist lip paint in delish (a neutral rosy brownish pink)
Nomad highlighting powdwer (sample size)
Elizabeth Mott, Whatup Beaches matte bronzer (sample size)
FAB First Aid Beauty Ultra Repair Cream 1 oz
The Organic Pharmacy lip and eye cream 0.35 oz
Clinique samples:

Dramatically different moisturizing lotion+
Turnaround Cream
Moisture Surge

SK-II facial treatment essence
Crystal body deodorant towelettes
Sweet Spot wipes
Nano2 natural deodorant
Maybe a few surprise bonuses!
Post Footer automatically generated by Add Post Footer Plugin for wordpress.