Making Breakfast CLICK!
Disclosure: The fine folks at Click sent me a canister of CLICK All-In-One Coffee and Protein Drink Mix (caramel, nomnom!), a canister of CLICK Active All-In-One Coffee and Protein Drink Mix, two sample packets of other flavors, and a CLICK logo Blender Bottle. They are also generously providing a giveaway prize! As always, this review is my work, and contains my opinions. I wrote this–there is no ghost-written or "sponsored" content in this post.
#CoffeeYesCoffee #ButFirstCoffee
Coffee is one of the greatest things on Earth. (If you disagree, you might be reading the wrong blog.) I love, love, love coffee. The best part of my Saturday (after sleeping in!) is grinding whole beans and making a fresh pot, then settling in for a mini-staycation. Coffee, however, is not breakfast. Even with milk and "fixin's" coffee just doesn't have the staying power I wish it did, and it definitely doesn't have the nutrition to be a meal–if you're drinking a coffeehouse coffee in the morning, it's basically a sugar-bomb; if you're drinking it non-fat to "save calories" you're removing part of what could help your tummy feel satisfied even if I do get that you don't need your mocha to have 450 calories (that's a venti Starbucks mocha with 2% milk and whipped cream).
Right before I moved from Oakland to Portland, a friend told me about CLICK, a new drink mix that is real coffee with protein. Not coffee-flavored protein, but coffee with protein. Actual coffee, not faux-coffee. Protein is an important part of breakfast because it helps you feel full. Intrigued, I dashed off an email to the founders to learn more. Naturally the box with the goodies arrived right as I was moving and everything was in chaos, so I set it aside instead of tearing into it immediately. (This was not easy. I love opening boxes!)  I decided to wait until the road trip part of the move, for two reasons. One, taking CLICK with me meant I would have an easy breakfast every day. (Important when you are driving hundreds of miles with a cat and his many accessories.) Two, there is some data that starting a new habit while away from home will help you carry that habit over when you get home. (If you've read any books about habits and willpower, I'm sure you already know a few things about habit change. If you haven't, I highly recommend Willpower: Rediscovering the Greatest Human Strength by Roy F. Baumeister and John Tierney, The Willpower Instinct by Kelly McGonical, and The Power of Habit by Charles Duhigg. They tread some of the same ground, but approach the topic from different angles.)
As an adult, I've become a serial breakfast skipper. (Or should that be cereal? I snap, crackle, pop myself up!) I know my body pretty well, and I can definitely feel my work and workouts suffer when I skip breakfast or just have coffee. When I skip breakfast, I am generally super ravenous by the time lunch rolls around, ready to stuff All The Foods into my face. As annoying as moving is–don't ever move, ever–I decided to leverage the move as a life re-set. In "my new life" I have enough breakfast to make my body happy until lunch. While I doubted the CLICK literature asking if my coffee pot felt neglected (because no way am I giving up coffee!), I was game to try it.
Wait, what's in CLICK? CLICK is an instant drink mix made from real coffee. (I promise, it tastes NOTHING like that bland "instant coffee" or "freeze dried coffee" stuff your parents had in the 1970s.) CLICK is intended to be a breakfast (or other meal or snack) replacement, though you can drink it in place of any regular coffee drink (saving calories and adding nutrition). In addition to two shots of espresso, CLICK has protein and 23 essential vitamins and minerals. Yes, it has sugar, but not much (5g per serving). If you make it with water, a serving is 110 or 120 calories, depending on which flavor you choose and how much you use. (If two scoops is too much flavor for you, try using just one scoop. My sweet spot is around one and a half scoops.) To make CLICK, you put CLICK in water and shake/stir. You can make it with milk or a milk substitute. You can make it hot or cold. You can make it fancier in a blender. You can make it in a box, you can make it with a fox! Oh, wait. Wrong story. Carrying on… CLICK is NOT for you if: One, you are vegan. CLICK contains milk. (If you're interested and enough other people pester them too, I bet a vegan CLICK could be in the works.) Two, you are allergic to soy. CLICK contains soy-based ingredients. Three, you hate coffee. CLICK is coffee. If you hate coffee, can we even be friends?!?
The first taste test: cold-ish. It sounds silly now, but the first time I mixed CLICK I panicked. What if I don't like it? What if it tastes weird? It sounds silly for many reasons, but at that moment I was on a very tight budget and this is what I had planned for breakfast. (Plus I had agreed to write an honest review, and no one likes to have to tell someone "hey I tried your product and it was icky.") To me, a yucky breakfast is almost worse than no breakfast at all. The number one thing I fear in a drink mix is grittiness, and most drinks mix better in warmer rather than colder water, so I started with cold-ish water. I was particularly worried  because I was using water as a base, which would make any grit even grittier. If you've ever had protein powder, I'm sure you know what I mean–there's nothing like drinking a glass of sand. Cautiously, I put the shaker ball into the Blender Bottle, added CLICK, added water, closed the lid (very important step!), and gave it a few shakes. It quickly dissolved. I took a deep breath, followed by an itty-bitty baby sip and…
IT WAS DELICIOUS!
First, the flavor was delicious. The caramel tasted like a fancy cold coffee drink treat. Second, CLICK dissolved completely. The resulting drink had a 100% smooth, completely liquid consistency without any lumps. There was NO grittiness at all, not even a little bit, and no weird crunchy bits left at the bottom (you know, those weird protein powder dregs). I quickly hoovered the remainder. Afterwards I felt like I'd had a coffee drink, and a little breakfast. My tummy was happy until lunch.
Icy cold coffee! The next day, I decided to try iced CLICK. The container said I could ice it, but I wasn't sure I believed (yet). Also, some drinks are much better if you make them hot and ice them later. Since this was a test, I put the mixer ball in the Blender Bottle, filled the cup with ice, added CLICK, and then filled the cup with water (as cold as the tap would allow). After putting on the lid and shaking, I was shocked that CLICK dissolved completely! Even though it dissolved well at room temperature, I honestly thought it would be a little sandy-tasting when iced. Nope! I really like CLICK icy cold, so this is how I have been making it ever since. I'm still amazed that a powdered drink mix with protein dissolves this well without using an electric blender.
How much do I love CLICK?
For starters, I've continued to start every work day with iced CLICK (except the days I have been out of town–I need to get some little containers to put single servings in so I'm not relying on single-serve packets or plastic bags). I had planned to try making a hot CLICK, but Portland has been pretty warm since I moved and the thought of commuting on MAX with a hot beverage is not appealing. (That will change, I know!) When I reached the bottom of the canister, I hustled over to the website for more. As a result, I'm happy to report the vanilla latte flavor is also very yummy. (I haven't opened the chocolate yet, as it seems overly decadent to have three canisters open at once.) Not only did I spend my own money on this–no special discount code or anything–I opted to buy the four-pack of canisters (and it comes with a cute hot drink mug). This is not a fling, my friends, this is a long-term relationship. I might need to go change my Facebook status. (My coffee pot is super jealous. I haven't purchased a single bag of coffee beans since I moved.)
CLICK Active is another super yummy coffee-based drink mix with protein. CLICK Active is designed to take advantage of that magical post-workout "window of opportunity" when your (now worked-out and tired) muscles are extra-ready to suck in the nutrition to help repair and build muscle. You can read more about post-workout nutrition in general on my favorite nutrition site, Precision Nutrition. In a a nutshell, in a post-workout situation, nutrition helps the body to replenish glycogen, decrease protein breakdown, and increase protein synthesis. That's what CLICK Active aims to do–and it's still a better plan nutritionally than a venti mocha. CLICK Active has protein plus branched chain amino acids (BCAAs), which are the building blocks of protein, and therefore also of muscles. BCAAs are more easily digested than protein (which your body has to work to break down into amino acids before your body can use them).
The difference between CLICK and CLICK Active is basically the difference between a meal replacement drink and a recovery drink. No, the two are NOT the same thing! Think of CLICK as a low calorie breakfast or snack to help keep you on track nutritionally, and CLICK Active as a post-workout drink that helps your muscles recover. You can read more about the difference on the CLICK website's blog. The CLICK website has all sorts of useful information, including a weight-loss plan (focused on portion sizes, making good choices, and exercise!) and recipes for shakes and snacks (coffee protein CLICK pop, anyone?).
How much do YOU love CLICK?
You won't know until you try it, right? So you should enter to win it!
My new friends at CLICK are offering one prize: your choice of a canister of CLICK or CLICK Active, in the flavor of your choice (assuming availability) and a snazzy purple CLICK branded Blender Bottle to go with it.
Since I practice law and all, here are the rules: (1) this contest is not sponsored or endorsed or in any way affiliated with any social media outlet (Twitter, Facebook, Instagram, Snap, Tumblr, Pinterest, mySpace, Livejournal, or anything else you can name); (2) there is no purchase necessary to enter; (3) entrants must be 18 or older because I don't want to violate the Children's Online Privacy Protection Act, and because in the U.S. minors can't enter into a binding contract, and because teenagers don't need to start the day with two shots of espresso; (4) there is one prize and will be one winner, who will be required to submit their shipping address for prize delivery purposes; (5) the winning entrant will be contacted by email, and must respond to that email within three days or a new winner will be selected; (6) this contest is void where prohibited (I'm pretty sure that still includes Quebec, sorry!); (7) if I missed any major legal points I reserve the right to add them here.
Post Footer automatically generated by Add Post Footer Plugin for wordpress.
The cardboard palace, that is. I just moved from Alameda, California back to Portland, Oregon. While it is absolutely glorious to be back in Portland in the summer, can I take just a moment to whine? Moving sucks. My advice? Don't ever move. (Seriously. The next time I move, it better be because I just bought the house I plan to die in.) All of the best moving advice on the internet talks about moving like you have several months to plan–I'm not sure who this applies to, exactly. When you move in a hurry (especially after living in the same place for more than five years), nothing is organized. I mean, the first few boxes are carefully packed and labeled, and the label matches the contents. Towards the end, you have a crapload of boxes marked "miscellaneous." What's  inside? It's a mystery! At times I feel like I'm shopping in my own boxes…
Speaking of which, opening the boxes leads to even more "fun" surprises. This includes the "treasures" (Advil that expired in 2013, expired coupons for San Francisco eateries) and the "interesting facts" (like how my silverware holder thing is about 1/16″ wider than my kitchen drawers, and how the bra I bought a few months ago but hadn't worn yet has a dud strap that needs repaired).
My life is still mostly in boxes, save for me, Professor Nick Sterling, the cat accompaniments (water fountain, litter box, food dishes, cat treats…), and the laundry (from which I am currently dressing myself). It turns out that unboxing in an apartment is a cascading process. So, for example, I can't unbox the books until I unfold and stack the bookcases; that requires both finding the hardware to stack the bookcases and moving the boxes out of the way, and placing the China cabinet…which can't move until I clear a path, which requires moving the sofa and dining table, which requires moving some boxes out of the way… When I packed for Rock 'n' Roll Seattle, I literally could not find my half marathon running shoes and just bought a new pair at the expo. (Brooks Glycerin, size 11. Pulls no punches, fits well, #runhappy.) It's a little insane. The high point, to date, has been finding the box that had the bed sheets and pillows in it, since nothing beats sleeping in my own bed.
In case you missed it, I moved back to Portland for a shiny, new, full-time day-job.  So far, I'm loving it, and thrilled that I made the move. It's fairly scary to leap into a new job, especially if you've been at the same employment for years, but I'm confident I will continue to love my "new" life. Work has had me very busy and traveling out of town (I've been on three out-of-town trips requiring airplanes, and that doesn't count visiting relatives in San Diego), as I wasn't in a situation where I could afford to take an extended vacation and my new employer would have loved it if I could have started the day after I accepted the offer. (Which I could not have done, move aside, as I feel it is important to live up to your own integrity when making choices. I wanted to leave my former employer in a good position, all my files/work in order, upcoming events covered, etc. No need to burn bridges or be a jerk–I was there for years, like the people, and do wish the firm well.)
My computer, while found, is lifelessly awaiting the day I open the box containing the power cords. (Meanwhile my computer at work won't support a browser I can use with Co-Schedule. Not that I'm supposed to be using my work resources to blog, but…) I have partially drafted posts on Hawaii, Rock 'n' Roll San Francisco, The Blue Ridge Marathon (my BEST, ever, DNF)…and I probably should have written about Rock 'n' Roll Seattle by this point. While I have connect the iPad to the internet, a certain pushy kitty-cat has been making it very difficult to type on the Bluetooth keyboard. (Someone needs to invent a cat snuggle pouch with a built-in petting device for the cat that also serves as a "laptop" desk. Seriously.)
While I feel like I should  be blogging and tweeting and instagramming All Things Healthy Lifestyle, in reality my kitchen is covered in partially unpacked kitchen goods and forwarded mail, any my healthiest meals have been Click for breakfast (and oh yeah, I totally have a post to write about that…and a super overdue book review that I would write now but I'm still trying to figure out which  box it is in, and this great paleo-vegan protein powder). I took a Pure Barre class, but that doesn't quite balance out the amount of pizza I've eaten since moving. If life is an 80-20 proposition, I've been eating and living in that 20…and the 80 is asking for payback!
Just to make matters more chaotic, I'm largely working out of Seattle for the next two months or so. This means unpacking happens on the two days I am home, in between loads of laundry and spoiling the cat.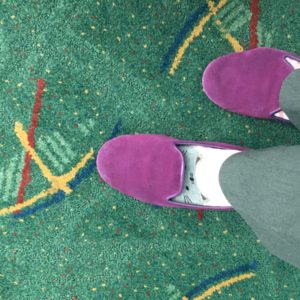 If you're in Seattle, share your best tips on where to eat healthy vegetarian and where to work out?
If you're not in Seattle, got healthy living tips for the road warrior?
Post Footer automatically generated by Add Post Footer Plugin for wordpress.
Disclosure: I attended Natural Products Expo West on a Press pass. This post is not sponsored, endorsed, written, paid-for, etc. by Expo West (or any related entity) or any of the companies and products discussed below. The giveaway prize consists of samples I picked up at the Expo or purchased. Per usual, the topic was my idea and the opinions are all mine. Happy reading!
Chickpeas are everywhere this year. (Beets too, but that's another post.) At Expo West I saw chickpeas in soups, ready-to-eat meals, baked goods, flour, chips, puffed snack foods, frozen snacks and entrees, and pretty much every category (other than beverages–maybe next year?). I'm not sure if I'm obsessed with chickpeas because I never ate them as a kid, so as an adult they are still a novelty, or because I know they are packed with protein and fiber, making them a great addition to my eating plan.
These are my favorites:
Vana Green Chickpea Superfood Bowls
Vegan, certified gluten-free, soy-free, non-GMO
There are so many good things to say about these that I don't want to forget the most important: they are yummy! Vana Life Foods makes four varieties, each featuring green chickpeas: chipotle, black beans, and sweet corn; chimichurri, coconut, and butternut squash; kale, potato, rosemary, tomato; coconut, lime, cilantro, bell pepper, sweet potato. I'm not going to lie, I took lousy notes as I tasted my way across the expo, so I can't remember which one was my favorite. The kale/potato/rosemary/tomato was sort of Italian-food inspired, not too zesty, with the kale sufficiently hidden that I didn't feel like I was chewing on the lawn. The coconut/lime/cilantro/bell pepper/sweet potato also has lemongrass in it, and the flavor reminded me a little bit of Thai food. The chipotle/black bean/sweet corn has a vaguely Cuban flavor about it, zippy but not so spicy that it puts your mouth on fire. Finally, the chimichurri/coconut/butternut squash has to be South-American-inspired (as google tells me chimichurri sauce comes from Argentina).
Don't fear the green chickpea. If you've never eaten one, pretend it's like the first time you ate green pasta, or colored frosting. Why are they green? As Vana's website explains:
A green chickpea is a garbanzo bean harvested from the vine in its optimal nutritional state that is immediately blanched and flash frozen to preserve all its inherent goodness. That's because when it's green, the flavorful young legume is packed with protein, fiber, A, B, and C vitamins, and minerals—while being low in fat, saturated fat, and cholesterol. Basically, it's a superfood at its best.
Seattle-based Vana won the Expo West NEXTY (sort of like an Oscar for natural food) for Best New Packaged Food. The shelf-stable pouch has two places you can tear across the top to open (little notches help you tear it properly). Tear at the top line to pour out into a bowl, pan, etc. Tear at the bottom line if you want to keep the food in the package and microwave it–it turns into a bowl! (This is really a pretty cool trick.) There is no BPA in the packaging, and it is recyclable.)
When I left the booth, I told the great folks at Vana that there were only two things wrong with their product: (1) there are only four flavors (for now–looking forward to next year!), and (2) there aren't any in my office desk drawer. The website has a store locator. You can also buy these green chickpea pouches through the Vana website, or via various other online vendors (e.g. Jet, Amazon). The price varies, but is generally $4-5; on the Vana website, a single pouch is $4.99 while a six pack of the same flavor is $26.94 (cheap compared to eating lunch out, even if you factor in the additional cost of a piece of fruit or side and a drink).
If you're enjoying this review, why not share with your twitter peeps?Click To Tweet
Banza: Pasta Made From Chickpeas
Gluten-free, kosher, soy-free, allergy-friendly, produced in a nut-free facility, vegan (except for the mac n cheese varieties)
Technically this one is "cheating" since I first met Banza at IDEA last summer, but they were at Expo West this year.  (In 2015 Banza won the "People's Choice" NEXTY at Natural Products Expo East.) You know how when you make traditional pasta you can eat a bowl the size of your butt, and then you still want seconds? So you love pasta, but maybe think you shouldn't eat it so often? Banza is your dream, baby. Over 90% of the pasta is chickpeas, and the protein and fiber ensure that not only do you have to eat a smaller portion, you aren't going to be starving and go back for seconds (or thirds). Banza cooks like regular pasta, though the water might foam up a tiny bit more (because hey, chickpeas). Just like regular pasta, you have to keep an eye on it towards the end to make sure it comes out al dente and not all mushy.
My personal favorite is the rotini shape, which I douse in warm italian spaghetti sauce mixed with Beyond Beef crumbles and then top with grated parmesean or mozarella shreds. (The ridges on the rotini help hold the saucey goodness.) Banza also make macaroni/elbows, spaghetti, penne, and shell shapes, and offers four varieties of mac and cheese. My favorite thing about Banza is that unlike several other non-wheat pastas I have tried, this one has the right toothiness to it, so when you chew it is just like chewing regular pasta.
Banza started in Detroit in 2013 with a non-cook 23-year-old kid messing with his food (or so the legend goes). I love a scrappy start-up with a great product, but I'm not sure you can call Banza a start-up anymore, since you can buy their pasta in Target and they are part of the inaugural class of the Chobani Food Incubator. At any rate, you can find Banza in 2,700+ stores in the US and Canada, including Shop Rite, meijer, HEB, Wegmans, Sprouts, Fairway, Marianos, Whole Foods (select regions–but if you bug the manager at your local store you can probably get it too), and Eataly. You can also buy from various online sellers such as Thrive Market ($2.95/box), where prices are $3-5, or buy directly from the Banza website (6 boxes for $30 though if you choose the subscription option, you also save 20%).
Hippeas: the vegan improvement on cheese puffs
Certified gluten-free, vegan, corn-free, and have no added MSG, trans-fats, or artificial preservatives
If you were at Expo West, it was really hard to miss the cute Hippeas swag themed to match their packaging. The Hippeas booth was strategically located at the corner of the room closest to the door, so a ton of people hit it up immediately when the Expo opened for the day, meaning tons of bright yellow bags with smiles on them (the eye is a chickpea, of course). If you weren't at Expo West, you may have seen Hippeas at Starbucks and wondered what's inside those yellow bags. The best I can put it, it's a crunchy snack with the texture of those cheap cheesy puffs but with unusual flavors and a MUCH better nutrition profile.
Hippeas flavors include far out fajita, sriracha sunshine, vegan white cheddar, maple haze, pepper power, and happenin' hickory. Far out fajita–the flavor I'm putting in the prize pack–is described as "A fiery stash of chilli, paprika and cumin puffs to take on your journey to self-discovery" on the website. They are definitely flavorful, so you might want to watch out what you pair them with! A single serving has 4g protein and 3g dietary fiber. It's not the same as eating the chickpea, but it's a definite snack improvement.
Hippeas also gives back. You can head to their website and read about current initiatives, including their support for Farm Africa. Oh, and they are hiring.
Chickpeatos: a crunchable munchable
Organic, kosher, gluten-free, vegan, non-GMO
When I tasted these in the fresh ideas pavilion, I was trying to describe the new Popped Chickpeatos to the guy working the booth. "They are like a Cheeto but made of chickpeas!" Um, duh, that's why they are called ch-ickpea-tos. I immediately felt stupid and stuffed some more chickpeatos into my mouth so I had to stop talking.
The non-popped Chickpeatos are roasted–NOT deep fried–in olive oil (except for the cinnamon toast flavor, which is roasted in coconut oil). Right now you can buy rosemary, spicy cayenne, and tomato basil (and cinnamon toast). They don't have a lot of fussy ingredients; for example, here's what's on the ingredients list for rosemary chickpeatos: chickpeas, olive oil, rosemary, salt, garlic powder. Most of the ingredients are organic.
Chickpeatos are great by themselves (I know, I tried them all!) but the company that makes them, Watusee, also has great recipes on the blog. How about chickpeatos instead of croutons? How about a recipe to use up the spices and crumbs that remain in the bag when you're done? Check the blog. They have you covered. Watusee also makes a one-ingredient bread crumb substitute: chickpea crumbs! Anything you would use bread crumbs or panko on, you can use chickpea crumbs. It's a sneaky way to add a wee bit of protein and fiber to any dish. Watusee also works to fight food insecurity–a huge problem in the United States–by donating products and supporting the Capitol Area Food Bank and D.C. Central Kitchen.
Chickpeatos have some nutritional punch that makes them better than your average chip. One serving has 6g protein and 5g fiber. A case of 12 bags (5 oz, 5 servings per container) purchased directly from Watusee is currently $45. They charge a flat $5 to ship.
But Wait! There's More!
I could literally go on for another two blog posts on all the ways I saw chickpeas at Expo West. For example, I haven't even mentioned hummus yet! Truitt Family Foods is a brand I knew before Expo West, as they were a BlogFest sponsor. I am a huge fan of the Fiesta Chili Lime hummus in go-cups (which I eat completely, then rinse the container to recycle it). Technically that flavor isn't a chickpea product (the base is white beans and Greek yogurt, but the go-cups don't require refrigeration), but I love it so much I had to mention it. I also visited Hope Foods, who I first met at Expo West last year and have subsequently seen at various race expos. If you haven't tried the coconut curry hummus (or the frozen dessert hummus–yes! it's a think!), try them at your first opportunity. Their booth always has so much energy, and they make all sorts of unusual flavors (lemon peppercorn, kale pesto, spicy avocado, to name a few).
This year I tried Lilly's Hummus for the first time. Super smooth, based in Oregon, what's not to love? My favorite is the roasted red pepper, and I just learned Lilly used hazelnut briquets (not the nuts, just the shells) to do the roasting. Great re-use of what is otherwise a "waste" product.
But instead of going on and on, how about a giveaway?
Chickpeas Prize Pack! The prize pack includes a full-sized box of Banza penne, Hippeas swag (tote and buttons), Hippeas 4oz bag in far out fajita, Maya Kaimal chickpea chips in lightly salted flavor, Biena foods chickpeas in sea salt, information on Watuse Chickpeatos and Vana Life Foods, and misc. other Expo West goodies (to fill the box, because partially empty boxes are sad). Again, this prize is NOT sponsored, endorsed, whatever by any of the companies included. There is one Chickpeas Prize Pack. Open to mailing addresses in the United States and Canada only (sorry everyone else, but postage…)
Runner-up Prize Pack! This prize pack will consist of a selection of snacks and goodies from the Expo West show. It's a pot-luck assortment, and will likely include some exotic chips, nuts, and fruit snacks. Again, there is one Runner-up Prize Pack. Again, open to mailing addresses in the United States and Canada only.
Post Footer automatically generated by Add Post Footer Plugin for wordpress.
Disclosure: this is NOT a sponsored post (no compensation, product, or freebies were offered to entice me to write it), and is neither written nor endorsed by Good Farms. Per usual, the choice of subject matter and all of the opinions here are mine. This is the first of my posts inspired by #ExpoWest 
This weekend was the industry meeting, trade show, and adult trick-or-treating extravaganza known as Natural Products Expo West: a gathering of more than 100,000 people with exhibits/booths for more than 3,000 companies. For 2017, I can't think of a better find to spotlight than Good Farms. Remember my last post about food waste? I had a lot of conversations around food waste at Expo West (which itself produces quite a bit of waste, but that's a subject for another time). One of the most promising trends in the natural foods space is using "waste" products instead of putting them in the trash. (All that fancy coconut water people are sipping? Did you ever think about where the rest of the coconut goes?)
Enticed by strawberry juice! Friday morning I made my way to the Arena section, an entire room I missed last year, when I came upon a booth decked out in strawberries with a video slide show. If you know me, you know I'm a total strawberry junkie: I have fond memories of spending a day each summer picking strawberries with my family at Blessed's Strawberry Farm ("one for the basket, two for me") and filling the "way back" of the station wagon with berries; when I lived in Oregon I anxiously awaited the annual Burgerville strawberry milkshake season; most recently I wait for the spring farmer's markets to open so I can buy directly from the farmers. When I saw strawberries, I was drawn like a bee to a blossom and let me tell you–SO worthwhile!
Right,back to the juicy goodness. Good Farms' cold-pressed, organic strawberry juice is simply wonderful. You can smell the strawberries as the cup nears your face (since the juice is not heated, the volatile organic compounds that create the strawberry's aroma remain mostly intact). The juice tastes just like biting into a strawberry, minus the pulp and seeds. It is very flavorful–I could see using a few splashes in my fizzy water to make a refreshing mocktail. While I didn't check the nutrition label, I know it is fruit juice…so I'm glad it comes in 14.5 ounce bottles instead of gallons (as otherwise I'd drain the whole jug much too quickly). If you'd like to get your hands on some, try Costco, Whole Foods, Chick-fil-A, Panera, and meijer. (Note those are the Good Farms partners, not necessarily all of them will have the strawberry juice, which is currently in limited production.)
Ugly reject strawberries make great juice. That's because there are nothing wrong with the strawberries, which come from organic strawberry farms in Mexico; they simply don't meet the beauty standards supermarkets set for strawberries. Using these berries instead of treating them like garbage not only results in delicious juice, it also makes sure farmers get paid for their crop, farmworkers can earn a better wage (more sold produce = higher profit = more money to pay wages), and it is a responsible use of the resources that went into farming the berries in the first place (including water, soil/dirt/land, and labor). Finally, it prevents the berries from ending up in a landfill, where they would either remain intact for centuries (as in a standard landfill, where the ever-increasing materials on top deprive those on the lower levels of the air necessary to rot), or decay and produce gases and contribute to climate change (if put onto a dump-style trash pile).
But wait, there's more! If you're following along to this point, you may have the same question I had: "Wait, after the strawberries are juiced, what happens to the smushed-up berry parts?" That's wasted, right? WRONG! At Expo West I had the opportunity to talk to some of the Good Farms project team. The great guys in the booth were kind and patient with all of my questions. They explained that the juice project is currently a small operation–two trucks of berries per week–because it is important to get the process, production, and finished product done well before scaling up. (That way you can scale as time and resources permit, staying true to your original vision.) They are working to connect the farms with secondary markets for the smashed berry parts, such as companies that make all-fruit frozen pops. I imagine those berries would also be useful to companies that make yogurt, smoothies, and dried fruit products.
It's not just about the strawberries–it's about the farmers. Every piece of produce has people behind it. In the US, we have typically treated farm workers poorly. While I haven't studied the socio-economics of why, I imagine the shift from slave labor to poorly paid sharecropper labor (read: racism and the resulting racial and economic inequality) play a role. The framers of the US Constitution were landed, white gentry who definitely thought themselves more valuable and worthy than everyone else (e.g. the First Nations who already lived in the Americas, slaves, indentured servants, women). The Good Farms strawberry farms are in Mexico; in the US the workers who pick strawberries are almost always migrant farm workers, typically without access to education, social services, or medical care. Farm workers tend to move to follow the crops (where the work is), which means children who should be in school may be in multiple schools each school year, every year, making them more likely to fall behind academically and less likely to graduate from high school or pursue higher education. Female farm workers are subject to a high level of sexual harassment and assault, often at the hands of the bosses who are supposed to be protecting them. One report I heard on NPR (morning of 3/13/17) estimated that 45% of the farm workers in California are undocumented, which means they don't enjoy many of the legal protections that US workers are entitled to, such as minimum wage, rest periods, and meal breaks. It also means that women who are sexually harassed or abused are less likely to seek help for fear of being deported and separated from their children. California only recently (since I moved here in 2008) passed laws mandating access to shade and clean drinking water for farm workers. We've got a LONG way to go here.
Good Farms is moving the needle. Good Farms is a stakeholder in the Equitable Food Initiative (EFI). You can read more about EFI on their website, but the basic gist is this: treating workers better (through fair wages and labor practices, access to education, sensible pesticide policies, proper protective equipment and safety protocols) is the right thing to do. EFI goes beyond third-party audits (like when OSHA shows up to spot-check your operation) by creating an on-farm team that is responsible for implementation and maintenance of their program. EFI partners include the United Farm Workers Union and Oxfam America. This is true of all of their farms, not just the strawberry farms. The Good Farms strawberry farms are also fair trade, certified by Fair Trade USA. You probably don't even consider whether terrorists or slave-labor was involved in producing the food on your plate, but Good Farms does: C-TPAT (Customs-Trade Partnership Against Terrorism) helps them keep terrorists and terrorism out of the food chain by working with companies to protect and secure cargo, and with CIERTO to create transparent, safe labor contracts and help eliminate slavery. (Maybe you've heard about child slave labor used to obtain cacao? Slavery isn't just a chocolate problem.)
A few other notables. Good Farms works with Feeding America and other food banks to donate produce instead of wasting it (not just strawberries, of course), to the tune of 350,000 pounds in 2016. They have outside auditing for their organic standards (CCOF) and food safety (PrimusGFS). Good Farms helps their farmers in Mexico by partnering with Mexican social responsibility programs that educate workers on their rights and how to exercise them; they help undocumented Mexicans living in Mexico obtain birth certificates (because without them, you can't fully participate or exercise your rights–yet many economically disadvantaged Mexicans have never had a birth certificate). Good Farms partnered with Costco to provide disaster relief. With IEEA they provide education to farmworkers, by giving children backpacks with school supplies they reduce barriers to childhood education, and by maintaining websites and consumer outreach they teach us how to eat more vegetables and enjoy them.
Food security is a privilege. If you're reading this, there's a good chance you are a lot like me: safe place to sleep tonight, not worried about where my next meal is coming from, enough income from my relatively-cushy job (where I do not perform manual labor in a hunched-over position like the farm workers in this video on the UFW facebook page) to make discretionary purchases, leisure time to pursue personal interests. I've never gone to bed hungry because I have always had access to plenty of food. My parents had access to education and paved the way for my life, where I had even better opportunities. Most of the world is not so lucky. I'm willing to pay a little more for a quality product that improves the lives of those whose work produces the food on my table, because I can.
How about you?
Post Footer automatically generated by Add Post Footer Plugin for wordpress.
How much food do YOU waste?
Yes, I agree that "clean your plate" is a dated rule (better option: "watch how much you put on your plate in the first place"), but I'm betting that's the first thing the term "food waste" brought to mind. Most Americans likely associate food waste with at-home table scraps, or restaurant leftovers that go from plate to trash. The problem is much, much bigger than that. In August 2012, the Natural Resources Defense Council published an issue paper titled Wasted: How America is Losing Up to 40% of Its Food From Farm to Fork to Landfill. You read that right, FORTY percent. What I found most shocking is that most of that 40% has nothing to do with throwing out leftovers or not doggy-bagging your restaurant leftovers!
Why you care about food waste:
But forget about the doggy-bagging and leftovers, as a whopping 38% (source) or more is wasted before it even has the opportunity to be eaten! Ever wonder why all the apples, in the grocery store are about the same shape and size? Or the carrots are all straight and about the same length? It's because the nonconforming, weird-looking, too-big, too-small pieces are THROWN AWAY. It's bad for farmers–they don't get paid for the goods they grew–and it's bad for the environment and the planet.
How can YOU reduce food waste?
Easy! Buy ugly produce! In California (SF Bay Area, now rolling out neighborhood by neighborhood in LA!), check out Imperfect Produce (scroll down to score $10 in free goods!). In Baltimore, D.C., Virginia, Philadelphia, New Jersey and the surrounding areas check out Hungry Harvest (see below for a discount code!). Both are small businesses fighting food waste AND hunger. What do they sell? Hungry Harvest calls their produce "recovered" and explains it this way:
"Recovered" produce comprises fruits and vegetables that are perfectly fine to eat, but would have otherwise been thrown away. Recovered produce is often discarded because of aesthetic imperfections (think misshapen eggplants or off-color apples) or logistical inefficiencies (when grocery stores over-order produce, they can reject truckloads, and that usually gets thrown away).
Imperfect Produce calls their produce "ugly" but wants to assure you it tastes the same:
The produce we source is rejected purely for cosmetic reasons, meaning that taste and nutrition aren't affected. Common reasons for produce being classified as "ugly" are: too small, wrong color, misshapen. We only source the most delicious fruits and vegetables, and we have strict quality-control measures in place to ensure that what ends up on your doorstep is fresh, delicious, and nutritious. If we wouldn't eat it, we won't sell it. We're redefining BEAUTY in produce, not taste! And if for whatever reason you're not satisfied with an item in your box, we will either replace it or refund the cost of the box that week.
It's a win-win-win. Farmers get paid for produce that would otherwise become garbage. You get cheaper produce that may (or may not) look funny. Both companies donate produce to fight hunger, too! It works something like this: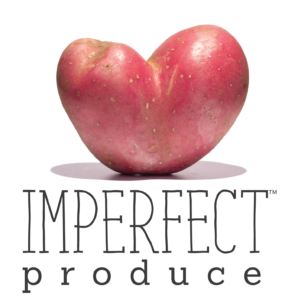 My Imperfect (Perfect!) Experience
My neighborhood's delivery day is Saturday, so I have until 3:00 Wednesday to customize my box. I get a small box of fruits and vegetables, since I travel a lot and live by myself. The basic cost (if I get whatever was assigned to the box that week) is $11-13 plus a small delivery charge ($2.99). On Monday or Tuesday I get a reminder email to check in and customize my box. (There is an option to not customize the box–surprise!–but since I'm picky I don't often use that; you can also opt for just only fruit or only vegetables.) One of the things I like is that I can decide how much of something to get, and the Imperfect site tells me why it is "imperfect" as well as where it originated. Right now, Imperfect works mostly with larger family farms in California, but they are also working to source produce from Mexico and smaller family farms. I'm really excited to see what they can do!
My box this week had 1 pound of organic brussels sprouts, a blood orange, 2 pounds of carrots, 1 pound of creamer potatoes, a grapefruit, 1 pound of onions, a 1/2 pound of red bell peppers, romaine lettuce, 1 pound of mangoes (rejected for being too small, I can easily hold one in my hand), and 1 pound of organic lemons. I paid just $15.39, including the delivery charge. There were a ton of other choices, too. Each box also includes the "Weekly Beet," a card that introduces a team member, gives a quick fact about one of the items offered that week (the asian pears offered the week of September 19th would have been rejected due to scarring and were grown in Kingsburg, CA), and a tasty recipe. Some of the recipes I have received are Blue Cheese and Asian Pear Tartines, Vegetarian Lettuce Wraps, Celery Root and Carrot Soup, Lebanese Pumpkin Hummus, and Fuyu Persimmon Salad. (You can find more recipes at imperfectproduce.com/recipes)
The pre-Thanksgiving box included a recipe booklet. Imperfect Produce does fun things, too. Once we got googly eyes in the box to decorate for a contest, and they recently sponsored a contest with Cape & Cowl, donating an additional five pounds of produce to the Alameda County Food Bank for every entry. I can easily set my box to "temporary stop" for vacation. I try to remember to set out my empty boxes Friday night, as Imperfect Produce can re-use them.
To score a $10 discount on Imperfect Produce: when you sign up for your first delivery, put my name (Elizabeth Bain) in the "referred by" box at checkout. (I hope you don't mind that as an Imperfect Produce customer, this gets me $10 too.)

Hungry (for a) Harvest?
Clearly, I don't live in Baltimore, D.C., Virginia, Philadelphia, New Jersey and the surrounding areas, so I'm not a Hungry Harvest customer–but if I lived there, I would be! I found Hungry Harvest on Twitter, and I'm thrilled to see there are other organizations doing the work Imperfect Produce does in other parts of the country. (I was extra excited to see they scored a deal on Shark Tank, which also helped fund some of my other favorite small businesses, including Wild Friends nut butters and Bombas socks.)
So while I don't have first-hand experience, it looks like Hungry Harvest shares pretty much all of the characteristics of Imperfect Produce. Delivery days are assigned by zip code, and there is a modest delivery charge. You can even have your produce delivered to your  office! Hungry Harvest also offers add-ons (Imperfect Produce has these on a variable basis). Add-ons include products from other food makers that could go to waste while still being perfectly good to consume: fresh baked bread, coffee, granola, peanut butter, jam, pesto, and produce staple add ons (lemons, limes, etc.).
Like Imperfect Produce, Hungry Harvest sources mostly local produce but is also reaching out to prevent food from going to waste, offers organic options, allows you to customize your box (and choose a size), has easy cancellation/temporary hold, and shares recipes to use your yummy produce. For every box they deliver to a paying customer like you, Hungry Harvest donates 1-2 pounds of produce to those in need. Hungry Harvest has a unique partnership called "Produce in a SNAP," a partnership with Baltimore City Public Schools to bring fresh, affordable produce to food deserts to promote healthy eating and fight hunger. The program allows food-insecure families and individuals who could benefit from affordable produce, including those on government assistance programs such as SNAP/EBT, WIC, and SSDI, to stretch their food budgets and put nutritious produce on their dinner table. (I cribbed that from their website, because I couldn't say it better.)
Hungry Harvest can't reuse the boxes, but can pick them up for recycling if you don't have access to recycling. (No recycling? Seriously, the 1970s called and they want their wasteful environmental policies back.)
To score a discount on Hungry Harvest: enter code TRAINWITHBAIN at checkout.
Beyond Eating?
You know you can also support your local farmers' market, especially if you don't have an Imperfect Produce or Hungry Harvest nearby. (Most don't have beauty pageant standards for their produce, so the weirdos can show up there.)
You can commit to less food waste in your household: freeze small amounts of vegetables for use in soups and stews, chop and freeze that onion before it goes bad, share with a neighbor. Compost food scraps using a commercial service if available, or a backyard compost or under-sink worm bin.
Local and state laws have a HUGE impact on how much produce gets wasted. The NRDC report details a few items you might watch for and ideas to reduce food waste. These include tax breaks for farmers that donate produce instead of trashing it, laws that allow individuals to donate produce from their home gardens directly to food banks (this is huge in California, where one lemon tree can shower an entire block with lemons), and changes in food labels' use of terms like "sell by," "best by," and "use by" (currently under discussion at the federal level in the United States).
How do you save the vegetables?
Post Footer automatically generated by Add Post Footer Plugin for wordpress.
Disclosure: For the past few years I have been a member of the Rock 'n' Blog team, the ambassadors for the Rock 'n' Roll series. I've tried to blog about each of the races I've run, but I do have a day-job and there are only so many hours in the day…and thankfully posting about every race is not a requirement. The 2017 has not yet been selected (applications close on February 22nd, so if you are interested click HERE for the application), but I did apply. Just in case you're not already aware of any potential bias I may have.
Don't skip this one. I almost didn't go to Rock 'n' Roll New Orleans due to stress at home and at work (and travel is stressful too) but man I am glad that I did! My flight left Oakland unreasonably early, and I arrived around 1 p.m. Pro Tip: if you're just jetting away for the race and coming back again, pack light–check the weather first, but always pack something warm and dry in case of rain.
Friday I took a brief nap before my roommate arrived. We stayed at the Aloft, which is within walking distance of the half marathon starting line and not far from the marathon starting line. It was just a short walk to the convention center–and then another 2k to get to the other side of the convention center (it's HUGE). Just before the convention center we picked up free samples of Monster's new "Mutant" brand soda. I think this is supposed to compete with Mountain Dew, as it is a citrus-flavored soda in the standard 20 oz. soda bottle and packs 115mg of caffeine. Before cracking the lid I read the label–it also packs 290 calories and 70 grams of sugar! No, no thank you.
The Expo wasn't huge, but it definitely had a New Orleans flavor, and more local participation than I see at many Rock 'n' Roll expos. Of course the ubiquitous green, gold, and purple of Mardi Gras featured prominently, and local running clubs and events had booths. I appreciated the healthy New Orleans resources (New Orleans is known for great food, but not necessarily health food), the bakery sampling (looked like King Cake, but was really a tiny croissant filled with cream and covered in sprinkles). As a New Orleans Mardi Gras krewe has its king and queen, so did Rock 'n' Roll New Orleans, complete with a coronation, confetti, and beads.
Following the expo it was time to look for dinner. As I perused Urban Spoon and Google in what used to be the nook where the pay phones lived, a woman interrupted our discussion. "Excuse me," she said, "are you looking for a place for dinner? Would you like some suggestions?" From a local? In a town known for amazing food? Heck yes!! We ended up at ___, which had a pan-Caribbean menu and everything from red meat to vegan dishes, plus a bar and amazing drink specials.
Like every other runner at Aloft, we too Lyft to the 5k. The location was perfect for a run, but less than ideal for actually getting there. One suggestion I'm sure LOTS of people made: provide transportation from central points in the various neighborhoods to the race start. We arrived as part of a convoy of Lyft and Uber and taxis. The starting line was just a short walk away. Also, it was freezing. I had packed for the weather that happened earlier in the week, and didn't have an extra long sleeve for the 5k. Oops.
It was great to have Ann back to announce the races (she'd been out on maternity leave and while the guy who announced in her place was trying and did okay, he just wasn't Ann). Prior to the race I ran into Derek, a Team RWB member who is continuing his quest to do a 5k every month, and my friend "Gracie" and her husband. The latter was something of a miracle, as we have repeatedly been at the same race but not managed to see each other. In lieu of trying to run any of it, I decided to walk to Gracie so we could catch up and have photographic rvidence of this monumental event. (Selfies or it didn't happen, right?) The 5k was entirely within the park, whiich is freaking enornmous, The weather warmed up a little, but not too too much–my friends who ran were cold as soon as they stopped. The course passed by public art, a museum, and (of course!) music. I don't claim to know what "the New Orleans sound" is, but I can tell you what the "I am a tourist here" music sounds like.
I took a shower and a nap while my roommate did the swim and bike sections of his triathlon preparation workout, and then we wandered off to grilled cheese and a Rock 'n' Blogger meet up. From there I played tour guide–despite the fact I hadn't been to NOLA since I lived in Austin–and we walked the French Quarter,  checked out the insane line at Cafe du Monde, and gawked at architecture. Tourist day, for certain. There were snacks, some down time, and dinner, and then it was an early night to bed for us.
The next morning came too soon, and it was off to the races–literally. There was what looked like a great turnout for the half marathon, with plenty of silly costumes and Rock 'n' Roll spirit. Miraculously, I saw Gracie again, and we started to walk the course together. Since I was still feeling tight and regularly seeing my sports med person, I didn't want to try to kill it. This means I missed the mimosa "aid stations" but I can't complain. I decided to Instagram as I walked the first six miles. Perhaps the rest of the story is best told in pictures.
Enjoying this? Why not share with friends. 'Did you see these highlights at #RnRNOLA? @runrocknroll and @trainwithbain rocked it!'Click To Tweet
Post Footer automatically generated by Add Post Footer Plugin for wordpress.
Note: For the 2015 and 2016 Rock 'n' Roll series, I have been honored to be part of the Rock 'n' Blog team. The 2017 Rock 'n' Blog team applications have not yet opened, so I haven't a clue if they will decide to keep me on. In the meanwhile, I bought a TourPass so I could start to rock my way in the direction of Hall of Fame (15 Rock 'n' Roll half marathons or marathons in a single year). Fingers crossed!
It started off quite innocently. At the Rock 'n' Roll Dallas half marathon in 2015 I suddenly had a desperate hankering for coffee. Coffee isn't a standard offering at any race's aid stations. As I wrote in my race recap, "Around mile 9 I really, really wanted coffee. I'd had my electrolytes, downed my EnergyBits, and my body (even Ouch) seemed to be demanding some caffeination. For the next mile or so, all of the potential coffee-acquisition opportunities were on the other side of the road, across traffic. Cruel world! Then I saw it: Oak Lawn Coffee."
Seriously, Oak Lawn Coffee MADE MY RACE that year (and not just because they let me use the bathroom too). I was so happy to have a cup of very yummy coffee in my hands that I finished the race with a huge grin on my face…and made a similar coffee stop at Rock 'n' Roll  San Francisco that year. Then I posed at the finish line with the Nestle Quik bunny because a mocha is basically chocolate milk, right? #buildit
(It's good I'm not a triathlete, as I'm sure this counts as "outside aid" which is strictly prohibited by the triathlon over-see-ing group.)
It continued into the zone of silliness at Rock 'n' Roll San Jose 2016, where I was really, really hungry by the time I came around the corner to see Five Guys. (Pro tip: don't order a large fries. For starters, the large is really, really large.) Not only was I laughing that I was walking the last mile or so of the race with a big ol' french fries in hand, a lot of the spectators and other runners were laughing too. I laughed my way all the way to the finish line. As an adult, I think the ability to amuse yourself is seriously underrated.
Since I don't run for time, a PR, or to podium in any way, I take full advantage of ways to make the race more fun. That's why I do races–they are fun. When people ask me what my pace is, I literally tell them, "stop and pet the cute puppies." If they ask again, I tell them, "approximately three puppies per hour." (Having fun is serious business, after all.) I stop to take ridiculous selfies, just because I can. I run to the edge of the road and high-five the kids.
(Enjoying this? Why not click to tweet so your friends can read it too?) Red Rocks and Donuts in the Desert: @TrainWithBain does Rock 'n' Roll Arizona 2017 #RnRAZClick To Tweet
Let me pause for a minute here, and explain WHY I do this. No, it's not just to annoy the snooty fast runners who dislike that I'm not "racing." (They seem to forget that the fact that I–and thousands of people just like me–do dozens of races a year, seriously driving up the demand for running events, and as a result there are more races for the fast people to win. Fortunately, most of the runners I've met are awesome and are not whining about how "back in the day" we all would have been swept and not given a tee-short.) Sure, in part it is because I can–and the fact that I can amuses me to no end–but there's a deeper reason: I am a bona-fide Type-A, overachiever list-maker, to-do doer, check-off-the-things person. It serves me well at work (and sometimes when I'm cleaning house), but I know if I applied my natural tendencies to running I would quickly sap every last ounce of joy from running, and instead of relieving stress running would cause more stress. So I have forbidden  myself to get "serious" about running. Running is for fun only. Of course, your mileage may vary–and I do admire those of you who focus on that BQ or PR or other abbreviations.
Back to Rock 'n' Roll Arizona, since this is supposed to be a race recap. I had flown in late on Friday, so had to pick up my bib at the last minute (aka right before the race). A flock of volunteers were on  hand to assist with this process, there were no lines (did I mention we got there a bit late?), and I was quickly off to the starting line with my friend Jackie, aka my adventure running roommate. Jackie had to head to work shortly after the 5k, so she didn't run. Of course technically neither did I, as I'd made a deliberate decision to stroll the 5k course and save some juice for the half marathon (remember, I did the Dopey Challenge the week before).
The 5k had a pretty good turnout of runners and walkers of all shapes, ages, heights, intentions, and experience levels. The weather cooperated, and I enjoyed looking at the desert in "winter." Compared to the half marathon though, it was a much smaller race. For Rock 'n' Roll Arizona, all of the races finish in the same location.
On Sunday, the half and the marathon start in two different locations, but merge just before the very end. The morning of the half it was a little chilly and threatening to rain, but I managed to stay dry. This was my first time doing this course–previously I did the full–and I really enjoyed it. Jackie and I were in separate corrals, so I don't have any running pictures with her. I do, however, have this picture she took of several people who decided they didn't want to go up the hill to the turnaround (and it wasn't even a big hill–and the views from the top were gorgeous–and Jackie asked what they were doing because, of course, maybe they were injured or something, but no, they told her they didn't want to walk up up the hill); as a result, they cut about two miles off from the course. On the road, as in life, cheaters gonna cheat, and some people are just not willing to put in the effort to actually do the job.
I will always do my best to finish the race I set out to run, until I finish, or am yanked from the course involuntarily. (If you find me face down on the pavement, be a dear and pause my watch, ok?) But that's because I actually like races. Oh, but this is supposed to be a story about coffee and french fries or something.
Last fall several skirt companies put out skirts with donuts on them. Donuts are something of a running joke–like a joke among many groups of runners–and I've been known to say #runalltheraces then #eatallthefoods so naturally I needed a donut skirt. (In case you want one too, head to Chase This Skirt on Etsy. Go like 'em on Facebook, too.) This has led to many donut-photo shenanigans because, you know, donuts after a race always seem like a good idea.
Have you every stopped for a snack during a half marathon? Would you? @TrainWithBain has and would!Click To Tweet
If donuts after the race are a good idea–and extensive research has definitely confirmed they are–what about donuts during a race? Crazy, right?
That's what I thought, as I was running down the road in Arizona, when I saw a donut shop right across the street. It was just sitting there, begging for me to befriend it. The open sign was on. I could imagine the scent of tasty donuts. After debating whether I should cross the street and grab a snack for about five minutes (good thing I'm slow, right?) when suddenly there was a  very long break in the traffic. No cars driving by, and no cars about to drive by for miles. Decision made.
I looked both ways–even though this was effectively a one-way street now (thanks, Mom)–and dashed across to Bosa Donuts. About the time I hit the front door a guy and the kid with him arrived at the door. He looked at me, decked out in race garb; he saw the bib, and gave me a quizzical look as he opened the door for me. "Life is short," I said. "Choose joy! Eat donuts!" Bosa smelled like heaven should smell, and there was no line at the counter. As I politely asked for (runner brain kicked in, what is that thing called, the one there?) "one chocolate coconut donut, please" the guy and the kid arrived at the counter. "I'm buying," he said to the lady behind the counter, and then turned to me, "get whatever you need." I smiled and laughed, and explained that I only "needed" one donut. The lady behind the counter handed it to me in a bag.
I knew what I had to do:
As I took (much smaller than shown) bites and headed to the door, I noticed the puzzled looks from the folks sitting at the table eating their donuts. "Life is short," I said. "Choose joy!" as I dashed out the door…and again looked both ways before I crossed the street.
Other runners were totally jealous of my donut (note for next time, I should get some to share) as it never occurred to them to get their own. Poor runners. I spent the next few miles laughing my butt off about my mid-race donut selfie, complete with actual donut. I couldn't stop grinning. (Again with how underrated the ability to amuse yourself is.)
This is why I run, kids. JOY!
Post Footer automatically generated by Add Post Footer Plugin for wordpress.
Why Resolutions Fail
There's a saying that "failure to plan is planning to fail." While that seems to fly in the face of the many happy lives created by seemingly random synchronicity in lieu of–or in spite of!–a plan, I think there is some truth to it when it comes to New Year's resolutions. Why? A couple of reasons.
Let's side aside the unrealistic and unreasonable ("become an astronaut this year"), the vague ("be healthier"), and the other types of ill-considered or poorly-worded goals.
First, many people choose a goal–let's use "lose 10 pounds" as an example–and then don't have a plan on how to get there. Or worse, they have a bad plan (the cabbage soup diet plan, the 2 hours of cardio every day plan, anything with the word "detox" in it). Hey, cutting off your head is an instant 12 pound weight loss, but it's not exactly the result you're looking for.
Second, those who choose a goal and have a plan often lack the patience to see the plan through. Patience isn't praised or cultivated in a culture where everything moves at the speed of email.
Third–and this is the category that kills me because I've been in it–there are plenty of people who have a goal, and a plan, and the patience, and they arrive at the goal and then….get lost. If the goal is to lose 10 pounds, people focus on the plan to lose the pounds and forget that after they lose those pounds they are going to need a plan to keep them off. (This is the biggest reason why "diets" don't work: if you only change your habits temporarily, you only get results temporarily.)
Any goal worth working towards, any resolution with any ambition, requires a change in habits. We are creatures of habit, our habits both reflect who we are and make us who we are in a never-ending feedback loop, unless we make the conscious decision to change.
My One Resolution for 2017
Ready for it? In 2017, I resolve to sleep at least 7 hours every night. (Once I get to 7, I'll work on 8.) There are so many reasons why everyone needs this resolution–even those of you who are absolutely certain you function just fine on your limited amounts of sleep–that Ariana Huffington wrote a book on them, The Sleep Revolution. (If you function "just fine" on the sleep you are getting now, what could you do if you fully recharged your body? How much more awesome could you exude?) It's not just Huffington who has clued in to this, either.
I've probably seen several dozen magazine articles about sleep this year. A 2015 editorial published in the American Journal of Clinical Nutrition concluded that because sleep and body composition are correlated, sleep is as essential to health as good nutrition. Most recently, the December 2016 issue of Shape Magazine included a quick squib on a study from the University of Manchester that found spinal disks have their own "body clock" and messing with it may worsen or cause back pain. The note concluded, "The easiest way to stabilize your body clock and pain-proof your spine may be to stick to regular bedtimes and wake-up times." While I find the conclusion a bit overdone–it's not really "pain-proof" but more like "decreasing your risk for pain"–it shows the fixation we've got on sleep, and how sleep is related to everything health.
A quick romp through my inbox reveals 157 emails that refer to sleep. (That's AFTER my inbox-zero experiment, which will certainly be the subject of another blog post.) A quick sampling of the more interesting references:
You get the idea. So I've resolved to get more sleep. C'mon, you know you want to! Even the cool kids are doing it. (See, for example, More Sleep, Less Beer: 9 Elite Runners Make New Year's Resolutions.)
Here is a helpful graphic guide with tips from Casper:

The Plan
It seems pretty easy, right? Just go to bed earlier, or get up later, or both, and poof! More sleep.  I'm not a morning person, so getting up later would be great! Except that I'd probably lose my job, and the court isn't going to take "oh, I had to get my seven hours" as my free pass to stroll in mid-proceedings. So I've got to learn to go to bed earlier. The problem is that I'm naturally a night-owl. After spending most of my day at the office and/or working, I come home, take an hour or two to decompress, and then start working on my personal projects.
Here are my action steps, consistent with good sleep hygiene:
Watch less TV, generally.
Turn off the devices no later than 10 p.m. (or one hour before bedtime, for nights where I need to get to sleep earlier in order to meet the 7 hour goal)
Limit weeknight alcohol to 0-1 drinks; add a pre-bedtime decaff tea
Drink more water during the day
Stick to my bedtime routine
How is your sleep? Do you have a bedtime routine?
Post Footer automatically generated by Add Post Footer Plugin for wordpress.
Happy 2017!! After a holiday season filled with parties, errands, travel, and year-end work-related projects, starting the new year strong can seem like a challenge in itself–what's the plan?  What workout will you do? What will you eat? While I definitely recommend having a plan, sometimes it can be easier to start out with a ready-made plan.
If you're ready but not sure where to start, here are a few challenges to start your year. This isn't an exhaustive list, it's just what has come across my desk, and it isn't in any particular order. Some challenges are free, others have a fee; some are just for January, others you can join at any time. There are challenges based on running, yoga, pilates, group ex, or solo workouts. Pick a challenge and get a jump on it!
Note: NONE of the links below are affiliate links.
SweatPink's #IAMEMPOWERED
Details: FREE. This is a challenge for everyone, at any level, to get more engaged and help build fitness and a support community. Follow SweatPink on twitter and Instagram, and don't forget the hashtags. If you are a SweatPink ambassador, be sure to login to the FitApproach website. (If you're a blogger or active on social media, why not apply to be a SweatPink ambassador?)
January 1-8: #IAMEMPOWERED Sweat Pink Community Kickoff!
January 9-13: #EB2017Goals #IAMEMPOWERED healthy cooking with Eggland's Best!
January 16-20: #BuildYourBestBody #IAMEMPOWERED fitness challenge with Hedstrom Fitness!
January 21-31: #IAMEMPOWERED #FFYHIITYOGA 10 days of HIIT Yoga challenge with Flex & Flow Yoga!
The Daily Burn and Spartan Challenge
http://lp.dailyburn.com/spartan/index.html
Details: start with a FREE 30-day trial to Daily Burn. (Using this link also gets you 25% off the next month of Daily Burn, and 25% off a Spartan Race.) This is a new collaboration presenting home-based workouts based on the SGX, Spartan's official training philosophy.  There are variations for beginning, intermediate, and advanced fitness levels, and membership also gives you access to all of the Daily Burn videos. (Note: I'm in love with the yoga hip sequence!)
grokker's #BeABetterYou
Details: Sign up to get the month of January for FREE. Once you have signed up, you get to choose a challenge. There are options for a variety of fitness levels. For every workout completed, grokker will make a donation to charity. (After January, a grokker subscription is $14.99/month starting on February 2, 2017; you can cancel at any time).
Buti Yoga: New Year's Resolution
https://butiyoga.com/collections/buti-new-year/products/30-day-transformation-challenge-bundle

Details: $99 for the 30 Day Transformation Kit (your choice of Buti Yoga DVD set, meal plan, and samples of Golden Ratio protein [not vegetarian/vegan] with a discount code if you decide to buy a canister; one month free streaming access). There are DVD options for beginners and experienced Buti practitioners–check the website for details. Buti is awarding prizes: a ticket to a Buti retreat (not including transportation) and a year-long digital subscription. To enter, finish the 30 days by February 15 and share your transformation story with Buti. Also: Bizzie Gold is running a separate Sustainable Transformation Group that kicks off on January 4.
Experience Life: Strong, Fast, and Fit
https://experiencelife.com/life-unedited/2016/12/13/how-were-getting-strong-fast-and-fit-in-2017/
Details: FREE. Six months of workouts and an optional Facebook group. Their description: "Strong, Fast, and Fit" —a six-part program with multiple, progressive, adaptable-to-you workouts and detailed coaching. This is appropriate for all levels.
Run the Year 2017
https://runtheedge.com/runtheyear2017/
Details: Sign up to run 2,017 miles (solo or with friends—you can sign up and find or create a team later.) The Basic Registration costs $25 and gives you access to monthly challenged hosted by Kara Goucher, weekly prize giveaways, access to a Facebook group for support, and a Mileage Tracker, among other things. Optional swag includes a Run The Year 2017 medal, monthly challenged poster, Milestone yearbook, and Run the Year 2017 shirt. (Wear the shirt to events to meet other participants!)
i love to run's #2017 Gold Challenge
https://ilovetorun.org/2017-gold-challenge.html
Details: There are two options this year. One, run/walk 1000 miles. Two, run/walk/exercise 100 days. Registration costs vary, depending on which package you choose, and includes an activity tracker (this one allows you to import from apps and trackers like MapMyRun and Strava). There is also a social component, so you can celebrate your progress and cheer on your friends.
Blogilates challenges
Details: POP Pilates creator Cassey Ho has a variety of FREE pilates challenges that target different muscle groups. If you're looking for year-long motivation, sign up for her email list–each month you will unlock a different workout calendar, using videos available online.
YogaDownload's 21 Day Fit and Fabulous Challenge
http://www.yogadownload.com/Challenge
Details: FREE with optional subscription. YogaDownload describes the challenge: "The challenge is free to join and available to all YogaDownload members, but you can get the most out of the challenge by signing up for one of our memberships which you can order at a discounted price [codes on the website, pricing starts at $12/month]. You'll get daily emails with your yoga classes, inspiration, an amazing suite of wellness prizes you can win and be supported by a strong community of likeminded practitioners sharing this experience from all over the world."
barre3 B3AllIn
Details: this is a guided challenge that starts January 9 (so you've got time to plan and get ready!) This four week challenge includes 5 workouts/week, a guided meal plan, and access to the wellness experts (including barre3 founder Sadie Lincoln and Dr. Frank Lipman) in the B3 online community. There is a recommended workout schedule, but you have access to new workouts each week, plus the barre3 online library. Options: do the challenge at your local barre3 studio, OR online. (Subscription prices: $29/monthly, $162 for 6 months; $300/year [$25/month]).
Yoga International's 30 for 30 in 2017
https://yogainternational.com/guide/2017-30-for-30-challenge-sign-up
Details: FREE. From the website, "It's a New Year! Let's use this fresh start to re-affirm our yoga practice. Join us for a brand new 30 for 30 Challenge, where you will receive all the motivation you need to reboot or revitalize your practice. Sign up today and receive a hand-picked 30-minute class each day for the next 30 days, delivered directly to your inbox. These half-hour classes feature a wide variety of teachers, styles, and sequences, and are sure to keep you motivated and inspired to practice each day." You can stream online, or through the mobile app. Also: Yoga International is hosting a six month meditation challenge for YI members. (There is a free 30-day trial membership available.)
The BeachBody Challenge
https://www.teambeachbody.com/en_US/beachbody-challenge
https://www.beachbody.com/product/fitness_programs/on-demand-workout-videos.do
Details: You've probably seen the BeachBody Challenge as part of infomercials for the workouts. Forget the DVDs. BeachBody has a "New Year's Special" on their streaming service (which is available online and through devices such as Roku); you can get an entire year for under $100. For those doing the math, that's $8.33/month, aka cheaper than a Planet Fitness membership. That includes access to all existing workouts, and the new ones as they drop. (Entry to the challenge is free and optional.) I am no longer a BeachBody coach, but I'd be happy to answer your questions.
Studio-Based Challenges
If you prefer to get your workouts live, there are a ton of options. (I'm willing to bet your local gym or fitness studio is hosting a January challenge, at a minimum!) Here are a few that I know about that are happening nationwide:
FlyWheel is hosting a "FLY into 2017: New Year, Real Results 4-Week Challenge." The challenge includes 5 weekly credits for Flywheel and/or FlyBarre classes (20 credits total, and the expire at the end of the program!), Early Booking, nutrition plan, home workouts to supplement your studio classes, and community support. (The link is my referral link–it lets FlyWheel know I sent you.)
OrangeTheory studios are hosting "The Ultimate Weight Loss Challenge." To learn more about it, visit your local OrangeTheory or fill out

this form online

for more details. (If you go, tell them I sent you?)
2017 Road Running Challenges
Prefer to challenge yourself via running events? Check out the Rock 'n' Roll race series! Try a "Remix Challenge" by running two events in the same weekend (e.g. a 5k Saturday and a 10k or half on Sunday). My 2016 Rock 'n' Blog discount code is good on some 2017 races, so give it a try (code: TRAINWITHBAIN). In California, you can earn some mega-bling through the California Half and Full Series races. Run 4, 7, 10, 15, or 20 series races to score that sweet challenge medal–the more you run, the bigger the bling!
What else?
There are plenty of other challenges out there. Are you signed up for a challenge? Did I miss your favorite? Let me know!
Post Footer automatically generated by Add Post Footer Plugin for wordpress.
Welcome to #GivingTuesday 2016!
Know Where Your Money Goes
The most important advice I have to give is this: know where your money goes. The best charities minimize their administrative and overhead costs, while maximizing the amount of your dollar that goes to programs and services. (Yes, I understand that making change happen requires paying rent on offices, and I agree that those working for the greater good deserve a decent paycheck.) The best charities are financially transparent, and will show you where the money came from and where it goes—look for financial reports or summaries on the website—so you know you're not funding the CEO's Masarti. Basically, don't get scammed. A few resources for vetting charities are:
http://www.CharityNavigator.org
How Do I Decide Where My Money Goes?
One way of deciding where to donate is to choose an area of concern or a cause, decide whether you want to give locally or nationally or globally, and then find a charity to match.
Animals: Animal welfare, rehabilitation, prevention of cruelty, low-cost spay and neuter services
The Arts: Music, dance, theatre, painting, writing, sculpting, museums, performances for kids, arts education
Children: Adoption, child welfare, education, medical treatment
Education: Where did you go to elementary school, high school, college? Local schools, special needs schools, scholarships
Environment: Preservation of wild places and species, pollution control, water protection
Food: Hunger, food insecurity, community gardens
Health: Public education, disease prevention, medical research, treatment
Health, specifically Mental Health: Public education, disease prevention, research, treatment, suicide prevention, counseling
Human Rights: Women's issues, refugees, gender and equality
Veterans: Transition to civilian life, support for any arena in which a vet needs help
Suggestions from Bain & Her Ninja Posse
I put out a call on Facebook and Twitter, asking where my friends are donating their money on #GivingTuesday The list below is every suggestion I received (as of midnight Sunday) plus my favorites.
American Civil Liberties Union (ACLU). https://www.aclu.org/ I'm a big fan of the Constitution. HUGE. In fact, I believe that all U.S. citizens should be able to fully enjoy the rights granted by the Constitution without undue limitations. I dislike voter suppression and miss the Voting Rights Act (this is not a political commentary—I encourage ALL to vote, regardless of their politics). As the ACLU puts it, "For almost 100 years, the ACLU has worked to defend and preserve the individual rights and liberties guaranteed by the Constitution and laws of the United States." You can help them make it to 200.
Alley Cat Allies. http://www.alleycat.org Nominated by a friend, but you know how I feel about cats (love me, love my cat). ACA works with the animal control system, provides education to combat myths about cats, works to change outdated laws that kill cats, and combats cruelty to cats. They provide disaster support (did you know you can't take your cat with you to a Red Cross shelter?), pass anti-animal cruelty laws, support a nationwide feral cat care network (including support for trap-neuter-return programs), provide cat-specific education and resources for vets, and do a host of other things. (There wasn't an executive summary on their page—likely because they do so many different things in their advocacy for cats—but the website has a ton of information). As winter approaches, even if you don't donate to Alley Cat Allies, please take some precautions to help outdoor cats: clean up antifreeze spills and avoid using salt to melt ice (both can poison cats); if you care for outdoor cats, provide a straw-lined shelter and put water in deeper bowls to prevent freezing.
Austin Pets Alive. http://www.austinpetsalive.org/ Nominated by a friend. (Mr. Potter came from Austin, but didn't come from APA.) From their website: "[mission statement] To promote and provide the resources, education and programs needed to eliminate the killing of companion animals. When Austin Pets Alive! started rescuing animals in 2008, Austin was somewhat rich in resources that prevented births. For almost ten years, more and more resources were put into spay and neuter programs, but the live outcome rate at our city shelter was stuck around 50%. Of course, the population of Austin was quickly growing, so it's likely that the spay and neuter resources were helping our live outcome rate from getting worse. While several resources were going into prevention and reducing intake, there was no effort to increase live outcomes from the shelter. Austin Pets Alive! saw that gap and created programs to save the key demographics of pets that hadn't been making it out of our municipal shelter alive. These key groups of animals included puppies with parvovirus, unweaned kittens, cats with ringworm, dogs and cats in need of additional behavioral support and/or additional medical attention. By developing comprehensive, innovative programs that targeted these key groups of animals and pulling directly from euthanasia lists, Austin Pets Alive! has saved more than 25,000 dogs and cats since 2008."
Back on My Feet. http://www.backonmyfeet.org/ Last year I ran an event for the Los Angeles Chapter, and this year BOMF is expanding into San Francisco. As they describe it, "Back on My Feet, a national organization operating in 12 major cities coast to coast, combats homelessness through the power of running, community support and essential employment and housing resources." The BOMF model is unique in that it is based on running, and the strategy is to first restore confidence and self-esteem so that individuals are better equipped to take on employment, housing, and a new life. I particularly like that instead of talking about program members as "homeless people" (which sounds impersonal and like a permanent brand to me), BOMF refers to members as individuals experiencing homelessness—emphasizing that homelessness is a temporary situation, not a defining characteristic. They need volunteers (as do many of the groups on this page) as well as dollars.
Batworld. https://batworld.org/ I have personally been a fan of bats ever since I found out they eat mosquitos. The Batworld website is a great educational resource on why bats are valuable and what to do if you find one in your house. From the website, "Bat World Sanctuary is on the front line to end the mistreatment of bats. Each year we rescue hundreds of bats who might otherwise die. Lifetime sanctuary is given to non-releasable bats, including those that are orphaned, injured, and retired from the exotic pet trade, zoos and research facilities. Bat World was founded in 1994 and is a 501c3 non-profit, accredited organization with both the Global Federation of Animal Sanctuaries and the American Sanctuary Association. Donations allow us to continue our rescue efforts for bats."
Breast Cancer Charities. There are multiple, state, local, nationwide, international. I've walked the 3 Day for the Cure supporting the Komen Foundation, and donated to the Faith Fancher  charity (California). The nominating friend is fundraising for the 26.2 with Donna; her link is here: http://donate.breastcancermarathon.com/2017-Marathon/cancersucks
California Pit Bull Rescue. http://www.californiapitbullrescue.org/ Nominated by a friend who fosters their dogs. My favorite pit bull is a tank of a dog named Rosie, who is very gentle, thinks she is a lap dog, and is beta-dog to the tiniest terrier I've ever seen be an alpha dog. From the website, "California Pit bull Rescue (CPR) is organized for the purpose of rescuing at risk "pit bull" type dogs and facilitating social change to abolish the abuse, over breeding and mis-education surrounding the breed. CPR will achieve these goals through a SF Bay Area fostering network, fundraising programs, educational initiatives and financial/physical support for needy guardians of pit bull type dogs. Established in August 2012, CPR is a 501(C)3 all-volunteer nonprofit rescue organization with headquarters in Richmond, CA. 100% of our proceeds go toward our mission goals including awareness initiatives and providing food, supplies, housing, training and medical care for the dogs we take into our rescue program. We strive to house our dogs in foster homes where they can decompress and learn how to be loved and secure family members. They remain under CPR's wing until they find the most appropriate permanent guardian with whom they can happily and peacefully live out their lives." Definitely check out their "surprising facts about pit bulls" page.
Center for Sex and Culture. http://www.sexandculture.org/about Nominated by a friend. From their website, "The Mission of the Center for Sex & Culture is to provide judgment-free education, cultural events, a library/media archive, and other resources to audiences across the sexual and gender spectrum; and to research and disseminate factual information, framing and informing issues of public policy and public health. The Center for Sex & Culture aims to provide a community center for education, advocacy, research, and support to the widest range of people. We offer classes that run the gamut from informational to experiential. We host classes and cultural events as well as offer our space to other organizations and teachers as scheduling allows. We serve a nationally (in fact, globally) significant function, adding to the few accessible resources for sex education available to the public, not just academics or specialists. We have acquired various collections of books, papers, art, erotic material, personal collections from notable people within the sex-positive community, and other media."
City Slicker Farms. http://www.cityslickerfarms.org/ Nominated by a friend, this is right up my alley: food policy and boots-on-the-ground that provides food security. She wrote, "My money goes to local food-based organizations: the food bank, Richmond Mission, and my fave: City Slicker Farms. CSF grows veggies and West Oakland and sells them to neighbors on a sliding scale. They also negotiate with landlords, then build back yard gardens in the neighborhood and give new gardeners a mentor to teach them how to grow their own food." I know there are other organizations that do similar things in other locations, so if you like the idea but want to give locally, search online.
Clearwater Marine Aquarium. http://www.seewinter.com/ Nominated by a friend. Their motto is rescue, rehab, release. From the website: "We believe in preserving our environment while inspiring the human spirit through leadership in the rescue, rehabilitation, and release of marine life, environmental education, research and conservation. We are a non-profit 501(c)(3) organization." They provide education to humans, and have webcams too!
Crisis Nursery Kids. http://crisisnurserykids.org/ Suggested by a friend; from the website: "The SAINT LOUIS CRISIS NURSERY (SLCN) is an independent, not-for-profit agency funded by donations and committed to preventing child abuse and neglect by providing short-term, emergency shelter for children, birth through age 12, whose families are faced with emergencies or who are in crisis. Founded in 1986, the Saint Louis Crisis Nursery has become a cornerstone in the fight against child abuse and neglect. In addition to the direct care of the children, the Crisis Nursery gives ongoing support and follow-up care to families and serves as a child/family advocate within the social services system. Families may voluntarily bring their children to any of the Nursery sites for a variety of reasons, including: Overwhelming parental stress, Parental or sibling illness or death, Lack of utilities, food or shelter, Domestic violence, Other emergency situations which jeopardize the safety and well-being of the child and necessitate temporary parent-child separation. The average stay of a child is two to three days. During his or her stay at the Crisis Nursery, each child receives 24-hour care by trained staff, medical services, meals and snacks, developmental assessment, therapeutic activities appropriate to the child's situation, art activities."
Donors Choose. https://www.donorschoose.org/ Mom was a teacher, so I really love this one. Crowdfunding can build stuff, and that includes better education for children. Donors Choose has a unique model where teachers write proposals for specific projects, and donors choose the project(s) where they want their money to go. My favorite option is to choose the high priority projects in schools that have the highest poverty, but you can also choose by location or by subject. If you've ever known a teacher—especially one in public education—you know that teachers often spend hundreds of dollars out of their own pockets to buy classroom supplies, even though they aren't making a lot of money themselves. This is a way that anyone can help, even if you don't have a kid. Most of these projects just need a few hundred dollars, and each of them can change a kid's school experience.
Electronic Frontier Foundation. http://www.eff.org I have a deep love for the EFF that dates back to the days when you found something on the internet by typing in a word or company name and adding ".com" to the end in the hopes that you'd find what you wanted. EFF is defending your rights in the digital world. As the internet of things grows, that digital world is even bigger. As EFF explains, "The Electronic Frontier Foundation is the leading nonprofit organization defending civil liberties in the digital world. Founded in 1990, EFF champions user privacy, free expression, and innovation through impact litigation, policy analysis, grassroots activism, and technology development. We work to ensure that rights and freedoms are enhanced and protected as our use of technology grows." The EFF website is also an excellent resource for anyone concerned about privacy, government access to personal information, electronic record-keeping, and commercialization of your data.
The Elephant Sanctuary. https://www.elephants.com/ Nominated by a friend, this non-profit runs a Tennessee sanctuary that provides long-term care for elephants. From the website, "The Elephant Sanctuary in Tennessee exists to provide captive elephants with individualized care, the companionship of a herd, and the opportunity to live out their lives in a safe haven dedicated to their well-being, and to raise public awareness of the complex needs of elephants in captivity, and the crisis facing elephants in the wild." Elephants are intelligent creatures with complex needs. The Sanctuary itself is a true sanctuary, and is closed to the public. There are elephant cams though, so you can sneak a peek.
The Epilepsy Foundation of San Diego County. http://epilepsysandiego.org.s163008.gridserver.com/ Nominated by a friend, who is fundraising and seeking donations in the name of Serena's Crusaders. https://www.facebook.com/Serenascrusaders From their website, "The Epilepsy Foundation of San Diego County is a 501(c)(3) non-profit organization serving the San Diego community since 1954, offering personal advocacy and counseling, seizure first aid training, Expressive Arts therapy, camp and a variety of supportive services. All these services are free and are available to anyone whose life is touched by epilepsy, regardless of the severity of the disability and without regard to race, creed, age, sex or nationality."
Fix our Ferals. http://fixourferals.org/home/ Nominated by a friend. From their website, "Fix Our Ferals (FOF) is a community-based, non-profit organization that promotes trap-neuter-return (TNR) to humanely reduce the cat population in the San Francisco East Bay. During our first eleven years from our founding in 1998 until 2011, FOF held 101 'mash-style' clinics at borrowed facilities. Then in July 2012, to meet overwhelming demand for low-cost spay-neuter, FOF opened our own clinic facility, the Fix Our Ferals Spay-Neuter Center. Our mission is to help both people and cats in the San Francisco East Bay by: (1) Advocating TNR as the only humane and effective method of population control, to replace the cruel and failed practice of trap-and-kill; (2) Providing affordable sterilizations to community members and rescue organizations; (3) Educating community members, leaders, and decision-makers about TNR, in order to empower neighborhoods to control and monitor their own free-roaming neighborhood cats.
Food Banks. Everywhere. Hunger exists, right here at home, probably right in your backyard. Ordinary looking people you walk past every day can be struggling to put enough food on the table and still look like everything is fine—and that's in part because food insecurity is embarrassing to many people. Poverty is only one of the factors associated with hunger; food insecurity increases when the economy isn't doing well, when unemployment goes up, and when housing prices escalate. According to Feeding America, in 2015 there were 42.2 million Americans living in food insecure households. Find your local food bank and donate cash, which they can spend very efficiently. You can even be lazy on this one, as your local grocery story probably has a donation barrel or a pre-packed suggested donation bag this time of year. Hunger knows no season. Think about this every time you buy food. What would happen if we each donated one canned item for every grocery trip?
Friends of Berkeley Animal Care Services. http://friendsofbacs.org/ Nominated by a friend. From their website, "Friends of Berkeley Animal Care Services raises much-needed funds to support programs and services that help provide a safe and happy environment for animals waiting for their forever homes at Berkeley's municipal shelter." The majority of municipal animal shelters are underfunded and tasked with doing much more than is actually possible on their meagre budgets. Many are subject to state and local laws, but not required to report or provide specific services. There's probably one near you that could use your help!
Friends of the Oakland Animal Services. http://www.oaklandanimalservices.org/how-to-help/donate/friends-of-oakland-animal-services/ Nominated by a friend. From the website, "Friends of Oakland Animal Services (FOAS) is a nonprofit 501(c)(3) organization dedicated to improving the quality of life for shelter animals. Founded by Oakland Animal Services volunteers in December 2005, FOAS was created to support the municipal shelter's efforts to better care for thousands of animals each year in the face of Oakland's ongoing budgetary challenges. Our mission is to provide homes, health, and happiness for Oakland's homeless animals. Some of our main funding areas include: Emergency and specialized medical care
Equipment needed to help veterinary staff better care for shelter animals on-site; Adoption outreach and foster program support; The creation of indoor/outdoor play areas and better animal housing, including general supplies and repairs; Transportation of animals to both local and out-of-state partner rescue groups; Tools to help with Oakland field services, including digital cameras for staff to document cruelty cases and laser thermometers to determine the temperature inside parked cars; Materials, training, and other supplies for the volunteer program that is integral to the quality of life for shelter animals."
Girl Scouts of the U.S.A. http://www.girlscouts.org/ As a Life Member and Gold Award recipient, this one is a no-brainer for my list. There are even programs for girls and their imprisoned mothers that From a friend who nominated them: "Girl Scouts of the USA have always been on my giving list. It's not only the first organization that facilitated leadership and entrepreneurship opportunities for me, as a child. I know how dollars are stretched to serve the greatest number of girls (as a former Council staff member), and how GSUSA'S commitment to pluralism, from the organization's inception has been at the forefront of 'leveling the playing field' for girls (marginalized, or not). Plus, it's FUN! (And often overlooked)." You can give to the national organization, or find your local Girl Scout Council (which likely maintains camping facilities in addition to providing programs for girls).
Girls on the Run. https://www.girlsontherun.org/ Suggested by a friend who is also a runner, though this is a group I'm familiar with too; their running programs are free to participants, and are about WAY more than just running. Here's a snippet from their website: "One girl put it this way, 'I learned that I am the boss of my brain.' Girls on the Run inspires girls to take charge of their lives and define the future on their terms. It's a place where girls learn that they can. No limits. No constraints. Only opportunities to be remarkable." There are local councils all over the country, you can find yours on the website or donate to the national organization. They also need volunteers to train to present the curriculum, and to help support their runs.
Give Kids the World Village. http://www.gktw.org/ Nominated by a friend who wrote, "one of the highest rated charities in the world. They work with organizations like Make a Wish to provide a place for kids with diseases and their families to stay while visiting Orlando." According to the website, "Give Kids The World Village is a 79-acre, nonprofit 'storybook' resort in Central Florida. Here, children with life-threatening illnesses and their families are treated to weeklong, cost-free vacations."
Global Fund For Widows. http://globalfundforwidows.org Nominated by a friend. This organization focuses on widows because in the developing world, losing a husband can be devastating to a woman and to her children. Widow often lack favorable inheritance rights (in other words, the husband's family might get all of the goods and money that used to support the family), lack a social and governmental support system, lack childcare options, and lack marketable skills and education. "The Global Fund for Widows assists its widows by creating employment opportunities where no other opportunity exists. The Global Fund for Widows seeks to align a widow's skills, abilities, interests and financial needs, with employment options created by the program or through partnerships with other organizations and employers. With financial stability, widows are inspired to become self-reliant and self-accountable. And, in this way, they are able to extricate themselves from poverty."
Heifer International. https://www.heifer.org/ Nominated by two friends, one of whom wrote, "I favor https://www.heifer.org (Heifer International) which donates living animals and plants, teaches husbandry, and requires gift recipients to pass the gift on to others in their community." Yes, I am personally a vegetarian, but I don't live in poverty either. Many of Heifer's gifts allow women to start small businesses and become financially independent. Heifer supports sustainable agriculture, plants trees, and helps end hunger
Ian Clemens Foundation. http://ianclemensfoundation.org/ Nominated by my Dad's lovely wife. Ian Clemens was diagnosed with a rare form of brain cancer at age 17 and died just a month after he was diagnosed. His family and friends have chosen to honor his memory by providing scholarships for engineering students who graduated from Livonia (MI) high schools, because that's where Ian graduated, and he wanted to be an engineer. The foundation also helps families with children battling cancer by helping children's cancer center emergency funds (available to help families with travel, lodging, loss of income, and medical expenses), and raises awareness of organ and tissue donation (because at age 17, Ian had chosen to become a donor prior to his death).
Immaculate Heart Radio. https://ihradio.com/ I'm super not-Catholic, as you know. A friend wrote that this cause is "near and dear to her heart," however, and she supports their work. According to their website, "Immaculate Heart Radio is a non-profit lay apostolate that operates a growing network of Catholic radio stations in the West. We are dedicated to sharing the heart of the Christian faith and changing lives through radio airwaves." IHR is an educational charity. There are a variety of religious and faith-based organizations doing all sorts of things in the world, so if this one isn't for you, there is likely another one that is.
International Rescue Committee. https://www.rescue.org/ Nominated by a friend working with IRC to help Syrian refugee families start their new lives in Sacramento. From their website, "The International Rescue Committee helps people whose lives and livelihoods are shattered by conflict and disaster to survive, recover, and regain control of their future." They focus on health, education (especially for girls and women, who may not even know what their rights are), and other essentials. They do three main things: (1) Ensure that people in crisis areas have what they need to survive—including food, water, shelter and basic household items—without falling into debt or resorting to desperate measures. (2) Ensure that people resettled in the United States have what they need to rebuild their lives and grow their assets. (3) Ensure that people can become self-sufficient by engaging in safe and decent work and by managing and saving their resources.
JDRF. http://www.jdrf.org/ Nominated by a friend. Type 1 diabetes used to be called "childhood diabetes" because it is a disease you are born with and have to live with for life, though it can also be diagnosed and develop later in life. In Type 1 diabetes, an autoimmune disease, the pancreas stops making insulin. JDRF funds research for treatment and eventually a cure for Type 1 diabetes. (Did you know there are different treatments for Type 1 than there are for Type 2?) JDRF research includes artificial pancreas, beta cell replacement, glucose control, prevention, and restoration. JDRF also provides support, information, education, and community for individuals and families affected by Type 1 diabetes.
Karam Foundation. http://www.karamfoundation.org/ Per my friend, "recommended by my friend who has lots of connections in Syria." #Dares4Syria campaign this #GivingTuesday. This charity is focused on helping the children of Syria, both those that stay in Syria and those who leave. Inside Syria, Karam provides emergency support for schools inside Syria. Outside Syria, the focus is on refugee children: "Karam Foundation is providing long-term support in the form of smart aid for Syrian refugee families in need. We strive not to just place aid-bandaids but instead develop sustainable, future-building tools that: Stabilize families, educate children, prevent child labor, discourage early teen marriages, and keep refugees in host countries close to Syria."
Libraries. Everywhere. You want to talk underfunded community resources? In many parts of the country, you just have to look at the library—if your town still has a library. The Dunning-Hough Library was my very favorite place in Plymouth, MI and I remember when it was housed almost entirely in a single room. (I'm thrilled to see where it has grown today!) Libraries need money to buy and repair books, subscribe to magazines, pay for utilities, maintain computer systems, pay librarians, provide programs for children, and expand their offerings into the digital world. My libraries in Portland, Austin, and Alameda have e-book lending in addition to DVDs, CDs, and more traditional media. Libraries often provide meeting space for community groups, basic literacy programs for adults, tutoring for children, and a safe place for students of all ages to study and learn.
Michigan Humane Society. http://www.michiganhumane.org/ Nominated by a friend, but also a favorite of Mom (Elaine Bain, in case you'd like to donate in her memory). MHS is the largest and oldest animal welfare organization in Michigan. MHS services include care for animals and placement in responsible permanent homes. They have affordable microchipping program and a low-cost spay/neuter program, a pet food bank, a pet behavior hotline, and more. The website is filled with all manner of information about pets, how to deal with pet behavior, adoption stories, lost pets, travel with pets, and end of life care for pets. You need pet info, MHS has you covered—and with the internet, that's even if you don't live in Michigan. Feel free to support your state's MHS equivalent.
National Center for Lesbian Rights. http://www.nclrights.org/ I recently learned about NCLR and all the work they do (which benefits many people who are not lesbians too!). Their work fits in perfectly with my desire for every U.S. citizen to fully enjoy the rights guaranteed by the Constitution. NCLR is working to achieve LGBT equality through litigation, legislation, policy, and public education. They work on immigration, asylum, healthcare, housing, sports, prisoners' rights, parenting, marriage, child custody, and so much more. They provide legal assistance to individual clients, and have a website with resources.
National Center for Transgender Equality. http://www.transequality.org In their own words, "The National Center for Transgender Equality is the nation's leading social justice advocacy organization winning life-saving change for transgender people. NCTE was founded in 2003 by transgender activists who recognized the urgent need for policy change to advance transgender equality. With a committed board of directors, a volunteer staff of one, and donated office space, we set out to accomplish what no one had yet done: provide a powerful transgender advocacy presence in Washington, D.C."
Leslie Science & Nature Center. http://www.lesliesnc.org/support-us/donate Nominated by a friend. According to their website, "Leslie Science & Nature Center educates and inspires children and adults to discover, understand, and respect their natural environment." They have nature camps, education programs, and host groups of school kids and Scouts. Their raptor center, critter house, and Black Pond Wood are open to visitors, too.
Multiple Myeloma Research Foundation. https://www.themmrf.org/ Nominated by a friend. I've learned myeloma is more common than I thought, since many of my friends seem to know someone who is affected. From their website, "The Multiple Myeloma Research Foundation (MMRF) helps accelerate the development of next generation multiple myeloma treatments to extend patient's lives, and lead to a cure. MMRF brings treatment to multiple myeloma patients 60% faster than the average through collaboration with best in class partners in the US and Internationally. In the process, we are changing the way cancer research is conducted. MMRF, a 501(c)(3), is the number one private funder of multiple myeloma research in the United States."
The Nature Conservancy. http://www.nature.org/ Nominated by a friend. From their website, "The Nature Conservancy is the leading conservation organization working around the world to protect ecologically important lands and waters for nature and people. We address the most pressing conservation threats at the largest scale. Thanks to the support of our more than 1 million members, we've built a tremendous record of success since our founding in 1951: We've protected more than 119 million acres of land and thousands of miles of rivers worldwide — and we operate more than 100 marine conservation projects globally. We are impacting conservation in 69 countries — protecting habitats from grasslands to coral reefs, from Australia to Alaska to Zambia. We address threats to conservation involving climate change, fresh water, oceans, and conservation lands."
National Coalition for Sexual Freedom. https://www.ncsfreedom.org/ Nominated by a friend. "The NCSF is committed to creating a political, legal and social environment in the US that advances equal rights for consenting adults who engage in alternative sexual and relationship expressions." Did you know that many states still have laws on the books criminalizing sex acts between consenting adults? Personally, I don't want the government (or you!) deciding what I can and can't do with my body in the privacy of my own bedroom.
Noah's Light Foundation. https://www.noahslightfoundation.org/ I fundraised for Noah's Light as a runner because they are awesome. Their goal is to find a cure for pediatric brain cancer. Amber Larkin was Noah's mother; Noah died of pediatric brain cancer and she founded Noah's Light in his honor. NLF has funded the NOAH Protocol, which in 2014 went into clinical trials as the first pediatric brand cancer trial in 30 years. Yes, 30 years. The NOAH protocol started with cells from Noah, and is aimed to reduce and eliminate several types of pediatric brain cancer, and with great results: "Throughout the previous year, The NOAH Protocol has been up and running. Children have been through various stages of treatments and to date, no toxicity has been attributed to immune cell infusion. Because of this success, the researchers have been cleared by the FDA to provide the next, higher dose level in the trial. In addition to moving to the next level for the protocol, a co-trial is underway that uses a specialized imaging technique to track the movement of NK cells as they enter the brain to fight cancer cells." Worthy work, since so few dollars donated to cancer research go to pediatric cancer, and don't children deserve a chance?
Northwest Children's Theater. http://nwcts.org/ Nominated by a friend who wrote, "I work for Northwest Children's Theater […] and I must confess they're my favorite. They spend every donated dollar on programs for disadvantaged youth, including free sensory friendly performances, Interns NW (a free program for teenagers that want to pursue theater as a career), free outreach programming to Title 1 schools, free preview shows, and scholarships to camps and classes. For 24 years they've had a policy to never turn a child or family away for lack of funds, and they have stood by this commitment, even when the founders had to use their own money to make sure every kid could go. Because of this, it's one of the only places I've ever worked for that is truly ethnically and economically diverse, and they work hard to remove damaging stereotypes from their plays (which also have talented, diverse casts). It's quite a gem."
Oregon Natural Desert Association. https://onda.org/ Nominated by a friend. From their website, "Oregon's desert is known for its stunning beauty, biological significance, recreational opportunities and cultural value. Much of Oregon's high desert is publicly-owned land primarily managed by the Bureau of Land Management (BLM). ONDA works with this agency and others every day to ensure that vast swaths of your lands remain wild, open spaces that will be there for future generations to enjoy. These lands are your lands! Over 8 million acres of these lands qualify as Wilderness but are yet to be protected as such. These lands as a whole provide important habitat for fish and wildlife such as pronghorn antelope, Greater sage-grouse, trout and salmon. Until permanent protections are gained, they are at risk."
The Pajama Program. http://www.pajamaprogram.org/ Nominated by a friend. Bedtime is something I remember as comforting and homey—I always had nice jammies and plenty of books to read (or have read to me). It's not the same for children in shelters, many of whom arrived with none of their own things and are facing bedtime in a scary and unfamiliar place. From the website, "By distributing new pajamas and new books to children in need, we are able to help provide children with a comforting, nurturing bedtime and literacy support. Our reading center helps to bridge the 30,000,000 word gap and gives these children the opportunity to read one on one with an adult, something they may not otherwise experience."
Planned Parenthood. https://www.plannedparenthood.org/ Nominated by a friend who noted, "Planned Parenthood have had a special place in my heart. As a college student, who had no medical benefits, Planned Parenthood WAS my primary care provider (1988-1993) until I got my first 'big girl' job (with benefits). If it hadn't been for PP, I would not have had a diagnosis or treatment for HPV." This could have been written by at least 100 women I know personally—most of whom had a period with no health insurance or access to health insurance and would have gone without basic health care. From the website, "Planned Parenthood delivers vital reproductive health care, sex education, and information to millions of women, men, and young people worldwide." You can give nationally, or to your local/regional Planned Parenthood (which you can find via the link).
The Pongo Fund. http://www.thepongofund.org/ Nominated by a friend who explained, "The Pongo Fund are miracle workers. $1 donated becomes nearly $2 dollars spent towards providing food for not only animals, but their humans as well. They provide medical care that PAW Team (Portland Animal Welfare Team) can't provide soon enough. They look at the animal and person as a unit/whole and do whatever they can to keep them together. Sometimes it's getting a new collar and leash others it could be socks and shoes. They always exceed." I've donated to pet food drives held for the Pongo Fund when running in Portland.
Public Radio. Everywhere. I'm a fan of KOPB (Oregon) and KQED (San Francisco), but there are local affiliates everywhere. One year I spent so much time in San Diego that I joined KPBS. You can join your local station at any time during the year, not just during the pledge drive time. You can also donate directly to NPR (National Public Radio) or PRI (Public Radio International), both of which produce news and entertainment.
Rape, Abuse & Incest National Network (RAINN). https://www.rainn.org/index.php Nominated by a friend, RAINN describes itself as "the nation's largest anti-sexual violence organization and was named one of 'America's 100 Best Charities' by Worth magazine. RAINN created and operates the National Sexual Assault Hotline (800.656.HOPE, online.rainn.org y rainn.org/es) in partnership with more than 1,000 local sexual assault service providers across the country and operates the DoD Safe Helpline for the Department of Defense. RAINN also carries out programs to prevent sexual violence, help victims, and ensure that perpetrators are brought to justice."
Save the Children. https://www.savethechildren.net/ Nominated by a friend. An overview, from the website: "Save the Children believes every child deserves a future. Around the world, we give children a healthy start in life, the opportunity to learn and protection from harm. We do whatever it takes for children – every day and in times of crisis – transforming their lives and the future we share. In 2015, we reached over 62 million children directly through our and our partners' work." Save the Children provides safe play areas in refugee camps, secures education for vulnerable children, improves access to food and healthcare, and provides other services and education.
Seedlings. http://www.seedlings.org/ Seedlings started in a basement, with the goal of increasing the availability and decreasing the cost of braille books for children. In their own words, "Seedlings braille materials have opened up new worlds for thousands of children. Seedlings Braille Books for Children is keeping visually impaired children in the mainstream of popular literature and is reaching braille readers in all 50 states and several foreign countries. Seedlings contributes to literacy by providing visually impaired children equal opportunity to develop the love of reading. At this time, less than 20% of the 50,000 blind children in the United States are proficient in braille. All too often, the written word has been inaccessible to them, and this is what we are hoping to change. Braille books are provided at each level of development, from toddler board books to classic literature for older children. Just as sighted children learn to "read" as they are exposed to the printed word, so do visually impaired children who are exposed to the tactile page at an early age. New titles are added every year as highly skilled volunteer braille transcribers spend countless donated hours translating print books into braille and preparing them for computer disk to await production. Once the original translation is complete, additional books can be printed as needed. Exposure to popular, high quality braille literature throughout childhood increases the likelihood of children developing into able braille readers."
Sponsor a Sister, via Women for Women International. http://www.womenforwomen.org/sponsor-a-sister Nominated by a friend who wrote, "I'm on my fifth or sixth sponsored sister by now. They write heart-wrenching letters of thanks. 'Dear friend who loved me before you knew me…'" Donations provide a range of services from job skills education and business training to access to food and clean water. As the website explains, "With more than 20 years of on-the-ground experience working with women in countries affected by conflict, Women for Women International understands that a comprehensive program addressing the social and economic empowerment of marginalized women is the most effective approach."
Stop Abuse for Everyone (SAFE). http://www.safeaustin.org/ Nominated by a friend who works there. From their website, "The SAFE Alliance is a structured partnership between SafePlace and Austin Children's Shelter, two organizations that serve the survivors of child abuse and neglect, sexual assault and exploitation, and domestic violence. Our Mission: To lead in ending sexual assault and exploitation, child abuse and domestic violence through prevention, intervention and advocacy for change." They have a hotline, child education programs including a charter school for survivors, and more.
St. Jude Children's Research Hospital. https://www.stjude.org/give.html A charity that works with runners to raise money for a great cause: life-saving medical treatment for children with serious diseases. From their website, "The mission of St. Jude Children's Research Hospital is to advance cures, and means of prevention, for pediatric catastrophic diseases through research and treatment. Consistent with the vision of our founder Danny Thomas, no child is denied treatment based on race, religion or a family's ability to pay." The majority of St. Jude's funding comes from individual donations, and families are not billed for medical services.
Toys for Tots. http://www.toysfortots.org/ If you don't know where to donate a physical toy, you can look up your local toy drive online. You can also donate money. From the website, "The mission of the U. S. Marine Corps Reserve Toys for Tots Program is to collect new, unwrapped toys during October, November and December each year, and distribute those toys as Christmas gifts to less fortunate children in the community in which the campaign is conducted."
To Write Love on Her Arms. https://twloha.com/ Nominated by a friend. From the website, "To Write Love on Her Arms is a non-profit movement dedicated to presenting hope and finding help for people struggling with depression, addiction, self-injury, and suicide. TWLOHA exists to encourage, inform, inspire, and also to invest directly into treatment and recovery." So many of my friends have struggled—and do struggle—with these problems, and it's time we stop stigmatizing them.
Team RWB. https://www.teamrwb.org/ In case you've been living under a rock, Team RWB has been out in force at all sorts of races, mud runs, workouts, and other team events. From the website, "Team RWB's mission is to enrich the lives of America's veterans by connecting them to their community through physical and social activity." You can donate to the national organization or find a local one. They always need volunteers, too.
Vortex. http://www.vortexrep.org Nominated by a friend. There is no way I can do their work justice by selecting a piece from their description of what they do—which includes presenting new works (plays, opera, ritual theatre), educational programming including a summer children's program, and providing a "green" performance venue (recycling, composting) that includes a butterfly sanctuary. Their mission: "We conjure and navigate the storm of imagination
with urgent, unashamed art that dares to dream the world in which we want to live.
This magic emanates from our cultural harbor, embraces diverse communities, breaks down barriers, and opens channels for vital exchange."
Water for People. https://www.waterforpeople.org/ Nominated by a friend who said, "Just having access to the most basic of needs can make a huge difference." It's true—have you ever had to live without unfettered access to clean water? Ever visited a place where you might have water for an hour, but it isn't drinkable? According to Water for People, "1.8 billion people around the world don't have access to safe water and 2.4 billion lack access to adequate sanitation. Women and children spend more than 4 hours walking for water each day, and more than 840,000 people die each year from water-related diseases. We're here to change that. We want to see communities break free from the cycle of poverty and spend time growing, learning, and thriving, instead of walking for water and fighting off illness."
Tell me?
Where are you sending resourcs this #GivingTuesday? Is your favorite not on my list? Leave a comment with a link and why you choose!
Post Footer automatically generated by Add Post Footer Plugin for wordpress.