Two Left Feet and a HIIT Workout
Disclosure: this is NOT a sponsored post. I'm not receiving any compensation, and the giveaway isn't sponsored either. While I am attended BlogFest at IDEA World for free thanks to our generous sponsors, so did everyone else.
It all started with Zumba. If you've met me and we've spent a sufficient amount of time hanging out, you know it's true: I cannot dance my way out of a paper bag. But back when Zumba was first taking the fitness world by storm, I really wanted to be good at it. In fact wanting to "be good at it" initially held me back from attending Zumba classes–I was afraid I'd be so bad as to be distracting to the other people, or that in a crowded class I'd break left instead of right and step on someone's foot by accident.
Back in the day, I watched Zumba videos on YouTube. I bought the Zumba book when it first came out. I went online and ordered the Zumba boxed set (which turned out to be the second boxed set, not the original, but that was fine by me). Eventually I worked up the nerve to go to a class in person. Turns out it was totally non-intimidating: the instructor was brand new, class was in an old church hall, and in terms of how much rhythm my classmates had I was not the whitest girl there.
Naturally I decided to become a licensed Zumba instructor. Doesn't everyone just go take the instructor training?
Every instructor wanna-be has to take Zumba Basic Steps 1, so I started there too. At the time I was living in California, and I was lucky enough to be looking for a Basic 1 training in time to register for the very best one: the pre-conference training on Wednesday, the opening day of the IDEA World conference. IDEA, originally founded as the International Dance Education Association (think 1970s aerobic dance classes–yes, just like that one video you keep seeing on Facebook), is one of the biggest organizations of fitness professionals in the world. The IDEA World conference brings together instructors from every corner of the world, plus the best of the best of fitness instructors. Got a favorite fitness DVD, YouTube channel, website, or program? The person who invented it has probably taught a workshop at IDEA.
At no-o'clock in the morning I boarded a flight in Oakland, and headed down to Los Angeles to learn how to teach Zumba. I had to ditch a lot of my uptight "I'm not good at this-ness" in that workshop. (Funny thing, that was a big theme of this year's BlogFest.) Part of Zumba's popularity is due to the fact that a class is structured less like a traditional class (learn the steps, add some more, move on to the next step) and more like a party. If you mess up a step, most likely no one notices, and even if someone notices no one cares. Zumba participants can opt for what I call "the middle school dance step-touch" level of energy, or can go all World of Dance on it. You can try a move, and then skip it if you don't like it. The point is to have fun–because exercise that is fun, instead of a chore or another item on the to-do list, is exercise you will do. I loved the music (and I love being a white girl who knows enough Spanish to be dangerous), and had a great time in the workshop learning authentic dance moves that go with salsa, cumbia, reggaeton, and more. The formula to create a class from scratch didn't seem totally foreign, though I had no clue how I'd remember more than one step at a time. (As a competitive Irish dancer, I generally did two steps, one on each side, unless it was a "set dance.")
I feel obligated to point out that while an instructor can teach Zumba classes with only a Zumba license, the master instructors teaching the training repeatedly encouraged us to pursue further group exercise ("group x") training. Accreditation agencies such as ACE and AFAA offered discounts to us so we could study for and complete a primary group x certification. Prior to this workshop I had only taught yoga classes, and the world of yoga certifications, credentials, diplomas, trainings, and licenses is fairly complicated. It hadn't occurred to me that there was some kind of universal, generic certification to prepare a person to teach group exercise in general (as opposed to teaching a specific format, like Zumba or Les Mills Pump or PiYo live).
The magic really happened after I left that workshop. Tired, but ready to take advantage of every minute I had between class and my plane home, I headed down to the IDEA World expo. The opening night party pretty much rocked my socks. I watched a demo of Kangoo Jumps at the stage. I tasted a brand new product called Shakeology that the people behind P90X were sampling. I participated in a plank crunch challenge using a suspension trainer called the TRX (becoming the first among my friends to try one). I bought my very first FitBook, the best food and fitness tracker I've used. It was my first fitness expo, and I left ON FIRE.
My first IDEA World was well before BlogFest was born, but when I first found out that BlogFest would be held in conjunction with IDEA World, I knew I HAD to be there. After that first Zumba workshop, I went on to attend two Zumba conventions and take training for Zumba Basic Steps 2, Zumba Kids, Zumba Sentao, and Zumba Toning; I earned a primary group x cert from AFAA and from ACE, trained to teach PiYo Live and TurboKick (before BeachBody purchased Powder Blue), trained to teach other formats including Piloxing and Real Ryder, became a certified health coach through ACE (complementing my graduation from Coach U), and eventually became a certified personal trainer through NASM. It all began with that workshop, and the expo at IDEA World.
BlogFest isn't just a gathering of bloggers for nerdy blog-camp, it's also a front row seat to what is up and coming in the world of fitness. When Zumba debuted the Strong by Zumba program, which is less "dance-y" and instead focuses on body-weight strength moves with music crafted specifically to work out to the beat. Check out the free 20-minute demo video here! BlogFest attendees had exclusive access to a class with Beto Perez, the founder of Zumba–even at a Zumba Instructor Convention that class would have had several hundred people there–and a meet and greet. That's why today's giveaway, inspired by BlogFest, features a Zumba-themed prize pack.
(Oh, and  I trained to teach in August I trained to teach Strong by Zumba, which I promise you is NOT a dance workout. This is bodyweight strength moves in a HIIT format with cardio–and I might even go teach this class! Honestly, NO dancing. But it is a gigantic sweat-fest…and the training is another story for another day.)
Win a Zumba-themed Prize Pack!
What's included? Over $100 of workout motivation!
ZUMBA: Ditch the Workout, Join the Party! The Zumba Weight Loss Program by Beto Perez and Maggie Greenwood-Robinson, PhD (hardcover, 2009). Includes an exclusive Zumba Fitness DVD! (the DVD is open, but in perfect playable condition) MSRP $27
Zumba Incredible Results kit (Zumba with a special round Zumba-specific step). Includes the "Fresh and Simple Nutrition Book," Program Guide, and DVDs, as well as the Zumba Rizer (which I have to ship separately). MSRP $40
Zumba Toning sticks (1 lb. size) MSRP $20
Vintage Zumba tote, purple (metallic foil covered)
Strong by Zumba promotional viewers
Vintage Zumba necklace (silvertone on black cord) MSRP $20
Assorted Zumba swag–arm party bracelets and more!
To enter, use the widget below.
Post Footer automatically generated by Add Post Footer Plugin for wordpress.
The first time I used turmeric, I was cooking from a recipe for an Indian curry in the kitchen of the very first apartment I rented by myself. As I was cleaning up, I spilled some of the curry on the brand-new white linoleum. Immediately I wiped it up but it left a bright yellow spot on the floor. Eek! Terrified to lose any part of my security deposit, I grabbed the first liquid cleaner I could find. The bright yellow? Promptly turned bright purple!!
Fortunately it only took a damp washcloth to wipe away the bright purple. (whew!)
Turmeric is the hot ingredient du jour, and played a major role at Expo West in 2017 and 2018. Since I'm not a big fan of the "golden milk" flavor, I'm giving away a turmeric prize pack (more on that below), but first I thought I'd do a deep dive into the truth about turmeric.
Disclosure: I received the contents of the Turmeric Taster Prize Pack as a New Hope Blogger Co-op member. All of the content in this post is mine, and none of the brands included even know I am writing this.
Get Your Nerd On!(Or Start Scrolling)
Since I'm an attorney for my day job, let's start by defining turmeric. In the United States, the Code of Federal Regulations, Title 21 (Food and Drugs), Part 73 (Listing of Color Additives Exempt from Certification), Subpart A (Foods) defines turmeric:
(a) Identity. (1) The color additive turmeric is the ground rhizome of Curcuma longa L. The definition of turmeric in this paragraph is for the purpose of identity as a color additive only, and shall not be construed as setting forth an official standard for turmeric under section 401 of the act. [Bain: Section 401 of the Federal Food, Drug, and Cosmetic Act is "Definitions and standards for food."]
(2) Color additive mixtures made with turmeric may contain as diluents only those substances listed in this subpart as safe and suitable in color additive mixtures for coloring foods.
(b) Uses and restrictions. Turmeric may be safely used for the coloring of foods generally, in amounts consistent with good manufacturing practice, except that it may not be used to color foods for which standards of identity have been promulgated under section 401 of the act, unless the use of added color is authorized by such standards.
(c) Labeling. The color additive and any mixtures intended solely or in part for coloring purposes prepared therefrom shall bear, in addition to the other information required by the act, labeling in accordance with the provisions of 70.25 of this chapter. [Bain: this is the labeling requirements for color additives, other than hair dyes, 21 CFR 70.25]
(d) Exemption from certification. Certification of this color additive is not necessary for the protection of the public health, and therefore batches thereof are exempt from the certification requirements of section 721(c) of the act. [Bain: Section 721 of the Federal Food, Drug, and Cosmetic Act is "Listing and certification of color additives for foods, drugs, devices, and cosmetics."]
21 CFR 73.600 (revised as of April 1, 2017). There is an entire separate definition for "turmeric oleoresin" at 21 CFR 73.615 (which is "the combination of flavor and color principles obtained from turmeric by extraction using any one or a combination of" specified solvents).
Hey, this is what you get when you cross a nerd with a blogger.
If you read that and wondered what the part in (a) is about "definitions and standards for food," here it is:
Whenever in the judgment of the Secretary such action will promote honesty and fair dealing in the interest of consumers, he shall promulgate regulations fixing and establishing for any food, under its common or usual name so far as practicable, a reasonable definition and standard of identity, a reasonable standard of quality, or reasonable standards of fill of container. No definition and standard of identity and no standard of quality shall be established for fresh or dried fruits, fresh or dried vegetables, or butter, except that definitions and standards of identity may be established for avocados, cantaloupes, citrus fruits, and melons. In prescribing any standard of fill of container, the Secretary shall give due consideration to the natural shrinkage in storage and in transit of fresh natural food and to need for the necessary packing and protective material. In the prescribing of any standard of quality for any canned fruit or canned vegetable, consideration shall be given and due allowance made for the differing characteristics of the several varieties of such fruit or vegetable. In prescribing a definition and standard of identity for any food or class of food in which optional ingredients are permitted, the Secretary shall, for the purpose of promoting honesty and fair dealing in the interest of consumers, designate the optional ingredients which shall be named on the label. Any definition and standard of identity prescribed by the Secretary for avocados, cantaloupes, citrus fruits, or melons shall relate only to maturity and to the effects of freezing. [BTW: the official version use "avocadoes" which makes me think former Vice President Quayle did the editing!]
21 USC 341. (You can find all of the nerdy goodness at http://uscode.house.gov in Title 21, Food and Drugs.)
If you don't care about the legal stuff, start reading here.
I was surprised to learn there are six different plants called "turmeric" (see the disambiguation page here https://en.wikipedia.org/wiki/Turmeric_(disambiguation) The one I care about, of course, is the gold-yellow one: curcuma longa, "a rhizomatous herbaceous perennial plant of the ginger family, Zingiberaceae."
In English, it's a plant that has underground stem that sends out roots and shoots, and if you separate that piece it can become a new plant ("rhizomatous"). It does not have a permanent woody stem, but has a stem that dies at the end of the growing season like a potato or a carrot ("herbaceous"). While the stem dies at the end of the growing season, a part of the plant survives underground and the plant can grow a new stem in the next growing season ("perennial"). This means that unlike some other plants that Americans have fixated on over the years, it's unlikely we're going to accidentally wipe out turmeric.
Uses of Turmeric
As a plant dye, turmeric has been used to dye clothing. (Wikipedia reports it isn't very good for that purpose as it fades in sunlight, but another site I found claims Asian monks use it to dye their robes.) Turmeric is also used as a dye in food products, as well as in cosmetic products. (According to UKfoodguide.net it is sometimes identified by E100 on labels.) You can find turmeric as a colorant and a featured ingredient in soaps, teas, cheeses, and more.
In cooking, the turmeric root is ground up and used as a flavoring. Turmeric is what makes yellow mustard yellow. It flavors and colors a variety of curries. A little turmeric in rice turns the dish yellow and adds a little flavor. If you just run a quick web search, you'll find millions of recipes that use turmeric. (Here are a bunch from my friends at Luvo, and here is one for roasted carrots that I think looks delicious!)
The part of turmeric that does all the cool things is called curcumin. (Note this is not the same as cumin, which is an entirely different plant.) Curcumin's chemical formula is (1,7-bis(4-hydroxy-3-methoxyphenyl)-1,6-heptadiene-3,5-dione),  and it is also called diferuloylmethane; it is a polyphenol. [Hewlings/Kalman for that factoid, and for most of the rest of this paragraph.] Not all that helpfully, Wikipedia explains that polyphenols are "are a structural class of mainly natural, but also synthetic or semisynthetic, organic chemicals characterized by the presence of large multiples of phenol structural units." Curcumin is also a curcuminoid (which has an equally unhelpful definition for those of us who are not chemistry majors). That category includes curcumin, bisdemethoxycurcumin, and demethoxycurcumin. The FDA labels curcuminoids "Generally Recognized as Safe" (GRAS), even at amounts much longer than you are ever likely to ingest (12,000/mg day).
Tasty in Curry, Questionable as Medicine?
With all the hype turmeric has gotten in the past few years, you'd think there is a bunch of science backing the effectiveness of turmeric. Nope!
Sure, ancient people did not have microscopes and the period table, or even a basic understanding of biology (just look at the history of "hysteria"), but there wasn't any interest in proving turmeric had health benefits until recently. Call me cynical, but that interest seems to coincide with the natural product manufacturers' realization that adding a health claim to a turmeric product would make it much more profitable. Saying, "it tastes nice" is one thing, but if you can say "contains anti-oxidants" then you can up the price.
Ready for a total oversimplification of the science? The two main ways curcumin acts within the human body are as an antioxidant and as an anti-inflammatory. There is evidence curcumin acts to reduce markers of oxidative stress in the body. [Hewlings/Kalman]  Oxidative stress and inflammation are like BFFs, and as near as I can tell from reading what's on PubMed, one can cause the other. There is some evidence curcumin can downregulate (stop the action of) things that cause inflammation. While we're on the topic of inflammation, that word gets tossed around WAY too much these days, especially in the fake-science and pseudoscience that is running rampant on the internet. You've got two ways to know you have real inflammation, and pretty much only two: one, observing something that is inflamed like a bruise or an injured body part or two, diagnostic testing by a qualified medical professional, like a blood test (other tests may be appropriate to diagnose inflammation). If you vaguely feel crummy, you can't just magically tell inflammation is the cause or get diagnosed over the internet.
Some of the promising research on curcumin (not turmeric) has been for arthritis and the cluster of symptoms known as metabolic sydrome. The Hewlings/Kalman article has a decedent overview and summary of the state of the research up to 2017. Unfortunately, most of the research to date has been animal research, not human research; and while we have some means to logically extrapolate, the results of even well-designed animal studies do not always translate to how a substance actually works in humans.
Turmeric has been used medicinally for a long time, though until recently there wasn't much research to support the effectiveness. While we now have additional research and data out, the health benefits of turmeric specifically, and curcumin generally, is not as rock-solid as the ads for turmeric-based products would have you believe. Even the National Center for Complementary and Integrative Health states, "Claims that curcuminoids found in turmeric help to reduce inflammation aren't supported by strong studies." [NCCIH]
Important Safety Tips!
Talk to your doctor or pharmacist. As with ANY supplement, herb, vitamin, or mineral you use on a regular basis: tell your doctor! If you're interested in trying a supplement of any kind and you also take prescription medication, please talk to your doctor or pharmacist first. You've probably come across at least one mention of an older person who got sicker or died because they drank grapefruit juice with their medication. There is some evidence that curcumin can affect anticoagulant and antiplatelet drugs, and interact poorly with GERD and some other health conditions.
Understand this: turmeric is NOT what's been studied. Remember that all of the studies and papers out there are testing refined curcumin compounds and NOT mere ground-up turmeric like you can buy in the spice section. Turmeric is only about 3% curcumin!! In addition, most of the studies don't use pure curcumin because the human body can't simply grab all the goodness out of the curcuminoids; instead, they enhance the bioavailability (making it easier for your body to grab the goods) by adding another substance. One of the more common ways to enhance the bioavailability of the ingredients in certain supplements that I have observed (by reading labels) is something called piperine, which is a substance extracted from black pepper.
Remember, you're not a lab rat. In addition, most of the studies of curcumin have been done either in petri dishes or in animals–not in people. This makes sense, since it's unethical to test potential medical things on human being until there is sufficient evidence that (1) it's safe, and (2) it's probably going to be effective. After all, if there is a treatment that will definitely cure your cancer, and something that will probably work but if it does not then you will die, it would be cruel to put you in a double-blind study instead of just giving you the treatment that is proven to work. In any case, animal studies can be useful, but human bodies do not respond the same way that mouse bodies (or any other animal bodies) do. Oh, and some of the published studies were retracted due to problems with potential data manipulation (read: lying). [Blakemore]
As with any substance, too much can cause problems. With turmeric, you're pretty much good to eat your curries every day–remember curcumin is just one component of turmeric. If you're scarfing down huge quantities of curcumin, like drinking the tea all day and swallowing a fistful of capsules as well, you might have some unfortunate side effects. Most things you eat too much of will cause some tummy troubles, from indigestion and nausea to vomiting and diarrhea. [Hall]
References
Harriet Hall." Turmeric: Tasty in Curry, Questionable as Medicine." Science-Based Medicine, June 17, 2014. Available online. This is now four years old, but is a very readable overview.
Susan J. Hewlings and Douglas S. Kalman. "Curcumin: A Review of Its' Effects on Human Health." Foods. 2017 Oct; 6(10): 92. PMCID: PMC5664031; PMID: 29065496. Available online. Not as old, but much more technical; great for getting your nerd on.
NCCIH (National Center for Complementary and Integrative Health), "Turmeric." https://nccih.nih.gov/health/turmeric/ataglance.htm (This article has a bibliography at the bottom that includes many articles available online.)
Gid-MK. "The Bitter Truth about Turmeric." January 30 2018. Medium. Super readable, mostly focused on poor (misleading) media coverage of the study on curcumin and Alzheimers.
Erin Blakemore. "What should you make of the health claims for turmeric?" August 20, 2017, Washington Post. A quick read, covers some of the potential problems with studies in curcumin, including that it might be some other compound delivering the claimed benefits.
Turmeric Taster Prize Pack!
There is ONE prize, which consists of the following items:
natural Factors Muscle Recovery & Growth Curcumizer  5.5oz (approx. retail $22)
gaia herbs golden milk 3.7 oz (approx. retail $15)
Golden Goddess Turmeric Chocolate Elixir sample x2, Turmeric Chai Elixir sample x2, and turmeric infused tea sample tin
Tea samples: yogi tea Honey Chai Turmeric Vitality, pukka turmeric glow, Republic of Tea turmeric
Nature's Path Golden Turmeric cereal sample x2
youtheory Turmeric tablet samples x2
Raw and Root Organic Tur Latte Golden Milk Infusion ($22 on Amazon)
Post Footer automatically generated by Add Post Footer Plugin for wordpress.
Disclosure: I am one of the volunteer ambassadors for The Race. By backing The Race on Kickstarter, I joined The Unity Collective, nearly 600 individuals and groups strong. It's not too late to register! Join me in Atlanta on October 13, 2018. Here's the link to register: The Race. Want to learn more? Here's the event website: The Race.
The Race is a collaboration of running community leaders, vendors, and supporters united to host a road race that supports black owned businesses, runs through historically black neighborhoods, makes a positive impact with charity and service, and garners massive national support from the African-American running community and beyond. –The Unity Collective
After I started running races, I looked around and realized that the runners around me did not reflect the population at large in any area where I lived or ran. Despite all the joking among slower runners that "in my dreams, I'm Kenyan," overwhelmingly, the runners looked a lot like me (average white girl from the 'burbs). Running is supposed to be a relatively simple sport with low barriers to entry (really, you just need running shoes and some clothes–and they don't have to be expensive), so…what's up? As co-host of The Runner of a Certain Age podcast, I invited all kinds of runners as guests. Aside from being friendly to everyone I meet at an event, and encouraging everyone who wants to try it to come out and run, I was a little stumped at what I could do.
At the same time, I observed that it wasn't just the runners that were overwhelmingly white. The race directors, businesses at race expos, and even the places where the races took place…but what can I do beyond offer a friendly smile or word of encouragement to the runners in front of me?
Enter: The Race
Before I get to my story and the story of The Race, what are you doing on September 29th? The Race has FULL course preview events that day, and since I can't be there (West Coast here), YOU should go and tell me all about it. RSVP on the event page on Facebook. Oh and while you're at it, why not make friends with The Race over on Instagram?
My friend Jessica, who I met as a BibRave Pro, lives in Atlanta and she turned me on to this new event. If you've ever been a race director or an event director, you know that start-up costs can kill an event before it even starts. The Race had a really successful campaign on Kickstarter, to ensure the initial costs like printing PR stuff and paying for permit fees could be paid even before companies and organizations stepped in to sponsor.
The Race is a brand new event under the direction of experienced race directors Tes Sobomehin Marshall and Da'Rel Patterson. (Check out their interview on YouTube!) While Atlanta has a lot of road races, this one is focused on running historically black neighborhoods. This means that lots of people who don't usually see a race going past their home or business are going to see runners–and seeing runners in your world, many of whom look like you, might just inspire you to give it a try. Sylvan Hills was originally deeded as a white-only neighborhood; Adair Park dates back to the 1870s and has a rich railway history; Castleberry Park is a national historic arts district; Atlanta's Student Movement Boulevard played an important role in the Civil Rights movement; Joseph E. Lowery Blvd. is named for one of the icons of Atlanta's Civil Rights movement as are Dean Rusk Park and the Dean Rusk YMCA. Check out the full half marathon course map!
There is a 5k option and in addition to the half marathon, just in case you're not quite up for a half marthon yet (maybe 2o19?). The half marathon has pacers all the way down to 3:30!
There are only 2500 entries total available this year, and 600 VIP experiences. I'd love to see The Race sell out, but I can only run it once–so you should go register to join me!
Why join The Race?
For starters, it's an inaugural race. Yup, LEGACY BRAGGING RIGHTS–you can say you were there first! (How cool will that sound in 2028?!?) Beyond that, the mission statement above is awesome. This is a race that runs through a a part of historically black Atlanta that is ignored by other running events, and is designed to include runners who may feel alone or unwelcome at other events. The whole weekend will be a celebration of inclusion and the black history and present of Atlanta. Finally, The Race is on Saturday, with a community service project on Sunday. This is an opportunity for every runner to give their time to improve the world around this event.
If you are a black runner, this is an opportunity to see many more runners that look like you than you'll find at, say, any given running event in Portland, Oregon or Alameda County, California (the places I have run most). If you're a person-of-super-white color like me, this is an opportunity to be an ally and help a black community event be successful and thrive. Look, I do as much foot-in-mouth-hey-I'm-TRYING as the next white girl who grew up in the suburbs. Here's a chance to listen, learn, and help create a legacy race for black Atlanta.
Oh, and The Race's friends at Lululemon made a video about the why!
What's going on during The Race weekend?
The Race weekend starts on Thursday with a Welcome Night and VIP Event. Some VIPs backed the vent on Kickstarter, while others paid a little extra for a VIP experience over the event weekend.
On Friday, October 12th, The Race's Expo, Packet Pick-Up, and Meet & Greet takes place at Impact Event Center (2323 Sylvan Road East Point, GA 30344), 11:00am to 7:00pm. Every Expo needs volunteers, so if you're free please volunteer via the event website. Even if you can't volunteer, stop by the Expo after work to check out what's building in the black running community in Atlanta and beyond!
The Race, the main event, is on Saturday, October 13th: The Race Half Marathon 2018 Legacy & 5K. The race will start at Impact Event Center (2323 Sylvan Road East Point, GA 30344), with the half marathon kicking off at 7:00am, and the 5K beginning at 7:15am. The official pace team covers every pace from 1:45 (hello, speed demons!) to 3:30 (finish with pride and strength!). I can only assume that the finish line of The Race will include massive celebration of a successful inaugural event. See you there?
The Race doesn't end with a road race but continues on Sunday, October 14th when runners and supporters join the Community Impact Service Project, time(s) and location(s) TBD. Finally, the weekend concludes with the Celebrate Atlanta Block Party on Sunday night!
Mad Props To…
…The Unity Collective and all of the generous sponsors of The Race. (I'll give them instagram-love all race weekend, of course!)
See You There?
Register today–there really are a limited number of spots. Fast, slow, or in between, there's a spot in The Race for YOU.
Not ready to run? Seriously, come volunteer! Check out the open positions on Active.com's event page.
Post Footer automatically generated by Add Post Footer Plugin for wordpress.
A race that starts literally blocks from my apartment? Count me in!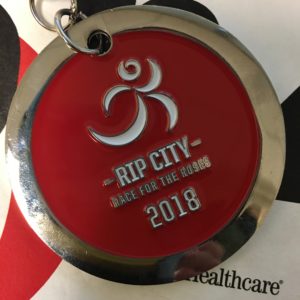 This is the first year I ran the Rip City Race for the Roses, benefiting Albertina Kerr. If you are not from Portland, you might not be familiar with Albertina Kerr, which has been a force for good in Portland since 1907. In short, Albertina Kerr empowers people with intel​lectual and developmental disabilities, mental health challenges, and other social barriers to lead self-determined lives and reach their full potential. 100% of the profits from Rip City Race for the Roses go to Albertina Kerr–everything is covered by sponsors.
I registered for the race pretty late, at the expo for the Shamrock Run Portland. (Yeah, I know, I haven't written about that one yet…but the expo was great!) If you register early, like right now, you can get the very best price for 2019. I don't remember what I paid, but I registered at the last pricing tier and while it was more than I usually pay for a 10k, I knew all of the money was going to Albertina Kerr so I didn't really care. This year, the race included a 5k, 10k, half marathon, and kids' race. Since I was supposed to run Revel Mt. Charleston on Saturday, I opted for the 10k race.
Foot Traffic on Fremont hosted the packet pickup, which was a breeze. Volunteers had printed lists of names and bib numbers. After picking up my bib and declining the matched set of four safety pins (yay, Racedots!), I walked inside the store to get my shirt, which came with a lunch-bag-sized reusable bag (courtesy of Charles Schwab). Runners could pick up on Friday or Saturday, and when I went on Saturday there was no lines and it was very chill. Foot Traffic offered 10% off any regular priced merchandise for runners, which was a great deal–they have several Portland-specific running designs in stock, in addition to the full range of shoes and clothes and accessories and fuel you would expect from a technical running store. I noticed Foot Traffic carries designs (and the book!) by Another Mother Runner and while I'm not a mother myself, I know plenty of mothers who love to run.
I have to say, the race shirt is fantastic. While it isn't a tech shirt, I honestly have scores of those and only wear them when I'm planning to sweat. The super soft grey shirt features a red print that looks like a runner and a rose, without any words, text, or other logos on the front. (All of the race sponsors are on the back.) In other words, it doesn't scream I AM A RACE SHIRT!!! like so many race shirts do. I'm certain I will be wearing it on a regular basis.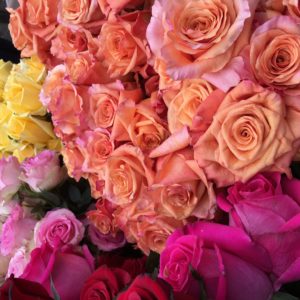 This year, the start and finish were in the plaza between the Moda Center (home of the Portland Trailblazers, or the basketball arena formerly known as The Rose Garden, much to the confusion of many a tourist trying to look at fancy flowers) and the home of the Portland Winterhawks. This was a great location to start a running event, convenient to public transit (MAX has a dedicated stop, and multiple buses stop nearby). It's also just over two blocks away from my apartment, essentially allowing me to bedroll to the race. Seriously, I saw the first race started at 7:50 and I didn't even get out of bed until 7:00.
Unfortunately I don't have a lot of pictures, as my iPhone 6 has a battery that drains faster than a perfectly clear stand pipe and I knew I'd be running Vi (not an affiliate link, but check my discounts page!) and Rock My Run on it during the race. The start/finish area featured a cute Rip City photo op; DJ; stage; booths for packet pickup, kids' bib decorating, and some of the sponsors; two coffee trucks; a shaved ice truck (or as we called it in Michigan, a sno cone truck); finisher food and drink zone; and more. There wasn't a line to pick up bibs, and there was a bag check area as well. Shortly after I arrived, I ran into my friend Holly, and we chatted until she had to leave to go walk the half marathon.
All of the courses were an out-and-back, and shared the same start and finish. From the Rose Garden, I mean Moda Center, area…we all ran a bit on the NE streets and then over the Broadway Bridge. Turning onto Hoyt, all of the courses ran through the Pearl District–which has changed SO MUCH during the 2008-2017 time period I wasn't in Portland–the Northwest, and the Northwest Industrial areas. At the 5k turnaround, the 10k and half continued onward, and at the 10k turnaround the half marathon continued. I suppose some could argue it wasn't a spectacularly scenic course, but I personally loved running through the ever-evolving urban Portland landscape. Along the course, volunteers manned aid stations that served runners both coming and going, and multiple areas had cheering squads (including one where the young women cheering must have been cheerleaders or Rockettes, since nobody can kick that high).
An announcer greeted everyone crossing the finish line (or at least by the time I finished my run-walk, the finishers were sparse enough that we were all greeted), and the Royal Rosarians and Albertina Kerr clients handed out medals and high-fives. Each finisher also received a rose. I walked over to the finisher zone; greeted by two brand ambassadors for Red Bull I happily accepted a sugar-free Red Bull on my way to the ID check for the mimosas. The finisher food buffet included bananas, oranges, Clif Bar protein bars, bagels, bread, peanut butter, cream cheese, granola, and bottled water. There were a few other things too, but I didn't eat them so they are slipping my mind.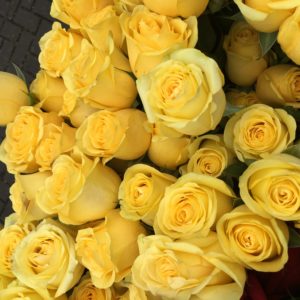 As I was noshing on my post-race snacks and sipping my mimosas, I had the great fortune to sit next to one of the Albertina Kerr race organizers. (This is my secret super hero talent: accidentally finding the most interesting people at the party.) I learned that my evaluation of Portland as somewhat hostile to to races is correct; from one year to the next, the cost to host this race–again, a fundraiser where all the proceeds go to charity non-profit Albertina Kerr–went up by a factor of ten. I don't mean it cost $10 more, or even $10,000 more, but it cost 10x what they had been paying to hold the race. For any race, that's terrifying. They had to raise the entry fee a bit, and scramble for sponsors to cover the cost of the event–one of Albertina Kerr's major fund raisers.
The post-race eats were pretty fantastic. In addition to the mimosas, orange juice, bagels, and peanut butter, there were a variety of other snackables. It was nice enough to stand or sit around outside (minus the mimosas, thanks OLCC), but the tent also had plenty of room for runners to sit down and take a load off after the race.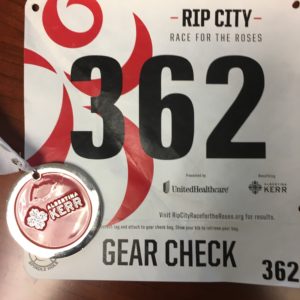 Next year's Rip City Race for the Roses is April 28, 2019. Learn more, and sign up at the website.
Post Footer automatically generated by Add Post Footer Plugin for wordpress.
…Only It's Not ALL Downhill!
When I say, "this race was tough for me," what I mean is, "after I ate lunch, walked home from the hotel where the bus dropped off, and showered, I slept for 20 hours." So I knew I wasn't "trained up" for this race, but I figured since it was a Revel, it would be a lot like the Revel Mt. Charleston half marathon–all downhill. Um, nope. There were three pretty significant hills including a nasty climb up to mile 10. (Yeah, yeah, that's what I get for relying on an infographic instead of looking at the actual course elevation profile.) I'm sure the additional elevation, particulate matter drifting from the wildfires (confirmed via the weather report), and total lack of sleep didn't help. Some idiot in my apartment building saw fit to pull two alarms Thursday night after midnight, and in order to get to the shuttle to the starting line–which thankfully was just three blocks from my apartment–I had to get up at 2 a.m. to get dressed. That's Disney early!
When I heard Revel was going to have a race on Mt. Hood, I signed up immediately. (This was at the expo for the Shamrock Run, back in March.) I had great experiences with Revel Mt. Charleston–and I ran the inaugural there, too–so a race in my backyard, ish, was a no-brainer. I'm NOT an early-morning person, and the bus ride turned out to be on a school  bus, but I was super glad the race started at 5:30 since Oregon is currently on fire and hot as hell.
Doing the Expo Early
Revel Mt. Hood's expo was in the Oregon Convention Center. (In a "aw, bless your heart,
you're not from here" kind of way, this and the hotel from which the shuttle left were called "downtown" Portland in the promo materials.) The only thing wrong with the expo is that there was no signage on the MAX side, leaving the majority of us to either wander through all the halls and discover the Revel expo wasn't in the same hall as the other race expos. Oh, and it was HOT inside, but I blame facilities for that, not Revel. The expo was small, which I think is the norm for Revel. Since I live two blocks away, I went to the expo right at 10 when it opened, to avoid the post-work crowds. No waiting for my shirt and bib, and the volunteers even put the bag-tag on the gear bag for us! I didn't like the shade of purple on the women's shirts as much as I thought I would, so I swapped mine out for a men's shirt. Easy-peasy.
This year Revel partnered with Headsweats, and all runners scored a Headsweats cap with the Revel logo. Headsweats does a great job of drying out quickly, which is cooling (added benefit). A lot of my friends wear their visors, but since I'm two shades lighter than Caspar that would result in a burned scalp. Their stuff is great though, and I had no hesitation about wearing my new Headsweats Revel cap to the race (despite that "nothing new on race day" mantra). Super stoked to see this as a partnership, and I hope it continues into the future.
Per usual, the Revel swag bag included a heat sheet (because it's THAT cold at the start) and a pair of gloves (really!); a G2G Protein bar; coupons for Papa John's (the post-race pizza sponsor), Surf Butta, and LA fitness; and samples of Replaces SR (sustained release electrolyte tablets) and doTerra Deep Blue.
The partnership with doTerra? Ugh. WHY? Yes, THAT doTerra, the essential oil multi-level-marketing company. You know, the one that claims only doTerra has "therapeutic grade oils" (a term they made up that is not subject to any third party overview), the same one that was smacked by the FDA because they had "wellness advocates" making claims about the use for their essential oils that are not backed by the required factual evidence? Yes, that one. Listen, I like nice-smelling things as much as the next person, but I would rather have seen BioFreeze on the course instead of Deep Blue and no essential oils at the expo. Also, neither doTerra nor Revel warned that Deep Blue has almond oil in it–potentially very dangerous for those with nut allergies. Please, Revel, drop doTerra and stay away from MLM companies.
The expo, otherwise, had some cool stuff. There was a timing line to check that your timing chip worked, small Revel merch store (but none of the Scott James jewelry, boo), a temporary tattoo station, a big ol' display of oofos (hooray!), and some running-related stuff. Since the course rules prohibited in-ear headphones, Aftershokz had a display. In case you missed it, I'm pretty much in love with mine. I got to try on the new Trekz Air model is SO LIGHT! The piece that connects the two side is much springier and thinner, too. I didn't buy another pair (SO TEMPTED!) but only because I already have a pair of Trekz Titanium and I'm trying to be financially responsible.
I got to play with the MyoStorm Meteor production model, and I think it's going to be pretty cool. It's a vibrating, heating massage ball that can hit all sorts of spots your foam roller cannot. It's just under 4″, and will be great for feet and hands, too. Sound intriguing? Sign up to learn when their KickStarter goes live using this link (which is an affiliate link). It reminded me of my TP Therapy Grid Vibe having a baby with the TP Therapy MB5 Massage Ball.
Another thing that might be of interest to my peeps: a line of athletic supplements for keto athletes. It's called Metcon. I'm not keto, but this intrigues me; because if you're on a keto eating plan, but then bomb your body with carbs during a race or other event, of course your stomach is going to feel like crap. (Just like if you normally eat carbs and then suddenly stop and try to run a race.) Dan, the founder, was there at the expo to answer questions.  The Metcon line has four products: Start, Power, L Carn, and Keto-Rx. The Keto-Rx product is the fuel. It has BHB salts, and MCT oil is the main fuel source. Mixed with water, it's a cloudy white color (no added colorands or other useless ingredients in this stuff). The advertised flavor is "natural strawberry," but I thought it tasted more like a light coconut. It's not overly sweet–to stay keto and paleo friendly, it is sweetened with stevia, not sugar–but it had a pleasant, slightly sweet taste. If I were a keto or paleo athlete, I would definitely use this. The products are made in the USA, gluten free, and free of banned substances (this last bit definitely matters to competitive athletes who are subject to drug testing, but from a quality standpoint, it should matter to you, too–unless you don't want to know what's in your supplements).
On the way out of the expo there was a photo booth, and two background pictures, with a bevy of props and signs. Oh! I almost forgot. The expo also had a checklist in the app, where you had to get a code from each of the sponsor vendors. All who finished the list were entered to win prizes!
Riding Clue-Free Sleep-Free Bus
When you've got a point-to-point course, shuttles are a critical component. Revel Mt. Charleston had two sets of shuttles, both of which were school buses. (That turned out to be fine, but wasn't what I was expecting; school buses don't have the suspensions to let me nap!) One set of shuttles left from the Sandy High School parking lot directly to the starting lines. Some folks chose to stay out near Mt. Hood, which is a gorgeous area, and Sandy was the designated parking lot. Separate shuttles took runners to the starting lines for the half marathon and the marathon start.
For a small extra fee, Revel also provided a shuttle from "downtown" Portland to the race (and back again). Separate full and half marathon buses loaded 2:30 a.m. to 3:00 a.m. at the Lloyd Center Courtyard by Marriott. Since I currently live about four blocks from there, this option was a no-brainer for me. I set out all of my race-day essentials, set my alarm for 2:00 a.m., and knew I'd have plenty of time to make it in the morning.
I had planned on taking a nap on the bus on the way to the start. Since we were not on tour coaches but on a school bus, no nap for me. That was DEFINITELY rough. Of course waking up at 2:00 a.m. was rough too. That's Disney-race early, and I wasn't even going to get a selfie with Mickey! I sat down on the bus, slurped up my Overnight Oats, and pretended to sleep. (I pretend to run, so I can pretend to sleep, right?)
Join Bain at @runrevel Mt. Hood 2019! Let's team up: register now for a great price, and maybe score extra perks? #halffanatic #marathonmaniacClick To Tweet
Ready, Set…
So I did my best to keep my eyes closed and tell my body that really, I was sleeping, on the ride out to the start. When we arrived at the starting line, the sun was still in bed, and the moon shone brightly above the starting line. I carefully stumbled off the bus and onto the road, and followed the other runners up a dirt road and into a field. I have no idea what the deal was with the field, but it was mown and not filled with cow-patties, so good enough for me. There were plenty of porta-potties, and since the starting line was remote they were all fresh (bonus!).
It was ridiculously cold and dark to be doing so, but after I used the porta-potties I diligently took out my sunscreen and sprayed on two solid layers. (It is easy to miss spots with the spray-on kind, and also important not to burn!) After they had dried sufficiently, I pulled on my beloved but slightly yellowed long-sleeved tee from the 2002 Great Columbia River Crossing, rolled up into my heat sheet like a little baked potato, and attempted to get a wee bit more shut-eye in the hour+ before the race.
It's a little lonely being back in Oregon, since all of my crazy runner peeps are in California. At the same time, there are some benefits. I'm closer to the founding location of the Half Fanatics and Marathon Maniacs, so there is a club photo before every race, even if it seems like a "small" one. At Revel, first we had the Half Fanatics picture. Then there was a banner swap and a personnel change, followed by the photo for the 100 Half Marathons Club, followed by the same and a photo for the 50 States Club.
I'm not sure if the photos are a little blurry, or if the people were still a little blurry when they were taken, or maybe both? Seriously I am not a morning person.
The Half Course Rocked!
After the photographs I made one last porta-potty stop, tossed my heat sheet, and handed my gear bag over to the truck. Then I joined the other runners in the short walk back to the road. Since I charged my watch but oops left it at home, and couldn't use Vi because in-ear headphones were banned on the course, there wasn't much to do to get ready to go. At o'dark-thirty, we didn't have any amplification, so I don't know if someone sang the National Anthem or not.
Overall, I loved the half marathon course. I remember three significant uphill climbs though–unlike Revel Mt. Charleston's half, which is all downhill except for the short jog to climb over the freeway overpass, this was a net-downhall, not an all-downhill. There was an uphill somewhere between mile 2 and 3 that was either not so bad or I was still asleep. (The Rum Gum helped, but clearly hadn't kicked in yet.) There was a serious uphill to the mile 10 marker. Finally, there was another slow, steady climb from mile 11 to mile 12. At that point we were on the highway, and I know you  can't move a road, but it just seemed rude to put a hill right there on the course! (Naturally I did my best to hustle up the hill while yelling "I call shenanigans!" and "Who put this hill here?")
The majority of the course was on what I'd call rural residential streets. The roads were paved and in excellent condition, with a variety of dwellings that ranged from a full-time residence, to a fishing retreat, to an artist's studio, to the family cabin, and everything in between. We had an entire lane closed off for our use with cones, and there were volunteers to direct traffic at every intersection. The vast majority of the course was shaded, which I definitely appreciated once the sun came up. (I did have a mini sunblock spray in my pack, which I reapplied at mile 11.) Due to the way the few roads are in this part of the world, it wasn't really possible for spectators to show up at random points on the course. That made me kinda sad, because there were no puppies to pet. I did see one absolutely gorgeous dog, but he was absolutely NOT down with this constant parade of people (which might be the first time he's seen a stream of runners down "his" road). The other dogs along the course were largely warning us to stay the eff out of their yards. I did see two itty-bitty kitties, but I didn't want to encourage them to hang out on the road so I waved and moved on.
At some point after mile 10, the course joined the marathon course on Highway 26. (I understand the marathon ran quite a bit of their course along Highway 26.) This wasn't awful, but it wasn't fantastic either. For some of the highway segment we were running on a generous shoulder, and for the section that had the smaller shoulder, we had one of the east-bound lanes closed off for our use. It was definitely safe, but Highway 26 is the major east-west road for a decent part of the state, so there were trucks and all manner of traffic whooshing by. I was glad that was limited to about two miles of the course, after which we turned down the road towards the finish line. This, again, was a shaded, residential type street area, though it wasn't a major thoroughfare like the earlier part of the course. There were also more people out cheering in this area, since it was possible to walk in from the finish line.
Ah, the Finish Line!
A Revel finish line, in my experience, has always been great. There's the usual clock, timing mat, photographer, announcer set-up. Oh, and did I mention that Revel gives all the runners FREE photos? True story. A day or two after the race, I had access to 30 photos with me in them (and that's before I look at the mob scene photos, or the albums with runners who can't be identified by their numbers). As a not-so-fast runner, I came in with a slow dribble of runners and not a mob, so I was announced as I crossed.
After grabbing my medal, there were volunteers to hand me a bottle of water and a chocolate milk protein shake. Then I slowly made my way over to the pizza table and grabbed a slice, and a donut, and a diet Coke (all part of the official finisher food). There were two backdrops with props and signs for photos (either yours, or via the photographers taking the free photos). The results tent printed out a card for each finisher, and those with Boston Qualifying times got a special luggage tag announcing it. The age group awards were additional charms to put on the event medal. I really like how the ribbon is looped on, giving the medal a distinctive look.
The Long Ride Home
Soon it was time to shuffle over to the shuttle for the ride back to Portland. I had cleverly tucked my oofos into my checked bag, so my feet could chill as I stood and sat and waited for the bus. There were fairly long lines for the shuttles back to Sandy, which ran on a loop (pick up, drop off, repeat). The location wasn't conducive to running more buses (you couldn't put two on the roadway on opposing sides and still have space for running safely). The bus back to Portland left at the top of every hour, so I had some time to chat with other runners.
Here comes the PSA for this blog post: if it has been more than two years since you last took a CPR and first aid class, please, go sign up for a class RIGHT NOW. The Red Cross has classes all over the country, many days and times–choose one that works and go sign up! On our bus on the way home, I was again trying to sneak in some nap time. Suddenly there was a loud, "Is there a doctor on the bus?" Fortunately, there were two medical professionals on the bus. I don't want to invade the privacy of the runner who had the problem, but I will say both loss of consciousness and vomiting were involved. As the two medical pros took over care, the other runners got the bus driver to pull over, and another runner called 911 to get an ambulance.  When the EMTs arrived, it seemed like everything was fine–the runner had a family member with them, and the two left with the EMTs in an ambulance.
Frankly, when you don't know what's going to happen, a medical emergency can be a little scary. But if we didn't have medical professionals on the bus, I knew what to do. When I heard the call for a doctor, my brain immediately turned on and I snapped to attention. Again, we were very lucky to have two medical professionals on the bus who jumped into action. But if they hadn't been there, would YOU know what to do (beyond call 911, obviously)? If you were the one experiencing the medical emergency, wouldn't you want someone on the bus who could take control of the situation? Yup, me too.
Final Thought: All Good on Mt. Hood
I was impressed with the inaugural Revel Mt. Hood half marathon, and will definitely sign up to run next year. (If you follow that link, you're joining my team, Train With Bain.) In fact, I'm thinking about running ALL of the Revel races next year. After all, if Mt. Charleston and Mt. Hood are both great, I bet the others are too.
If you are looking for a net-downhill (note that's not ALL downhill!) race with a rural,, pretty course that's mostly in the shade, you should definitely consider Mt. Hood. If you don't live in the area, you can either rent a space near Sandy or Mt. Hood and use the rest of the weekend for fishing or a cabin retreat, or stay in Portland and explore the city after the race. See you June 29, 2019?
Post Footer automatically generated by Add Post Footer Plugin for wordpress.
Disclosure: I am a proud ambassador for Represent Running, the series that brought you the Inaugural Silicon Valley Half Marathon. Race ambassadors get some sweet gear and free race entries in exchange for promoting the races. (Of course I was so excited when I first heard about the race that I immediately signed up–seriously, did you see the swag?)  OH HEY, you can already register for next year. Don't wait CLICK AND REGISTER!
After the heat of the San Jose Food Truck 5k, I was really glad the weather cooled off a bit–especially because the race didn't start at o'dark-thirty. I also really liked that part. There's nothing better than a good night's sleep in a big fluffy bed, and then NOT getting up before the sun to go run the race. (Well, maybe I should have run before the sun got up…SPF 30+ is no match for my vampire-like skin's reaction to the sun.) At any rate, I strolled from the Fairmont to the starting line, glad to have opted for the downtown San Jose experience. (Also for the CREAM sandwich I ate the night before: birthday cake ice cream on two sugar cookies. NOMNOM.)
The Starting Line
First I realized that my bib only had one dot–but it was supposed to have two. See, this weekend was chock full o' bonus bling: a challenge medal for running both the San Jose 408k and one of the weekend events, and another challenge medal for running both days (the Food Truck 5k on Saturday and either the SV Half Marathon or the 10k on Sunday). One of the other Represent Running ambassadors pointed me to the problem fixer-upper tent, and a minor crisis was averted. (Do NOT get between me and my bling!)
After a bunch of clowning around at the starting line, I started to pay attention to the pre-race speakers. It may be kinda nerdy of me, but I enjoyed learning a little more about the work of the Silicon Valley Education Foundation, the official charity of the race and its mission to prepare every student for college and careers, with a focus on STEM. If you don't live in the area, you probably think of Silicon Valley as full of rich white guys–and it is, but there is also a sharp contrast between that impression and reality, which is that plenty of kids need help. It's an expensive place to live, and there is food insecurity even among people who work "good" full time jobs. You can learn more about SVEF (and throw in some bucks!) here: https://svefoundation.org/donate/  There was also plenty of local love for bringing a big run back to downtown San Jose.
Out On the Course of the Silicon Valley Half
Speaking of a big run, San Jose has many running events throughout the year, but the Silicon Valley Half Marathon course was NOT a copy-cat course. Sure, it had some of the same streets, but the course itself as a whole was brand new. I particularly enjoyed the areas in the neighborhoods and near parks and schools. as it was quite warm and I needed shade! Every one of the water stops was fully staffed by great volunteers–this was not the kind of race where half of the water stop spots are filled by teens glued to their iPhones.
One of the fun things about an inaugural race is that you get to create all of the race stuff from scratch. Ordinarily, I don't care about mile markers. (Frankly at most races they all look the same and are generic.) But there are lots of runners who selfie it up at every mile. So why not make the most of those selfies (since you know they're going on Instagram)? The Silicon Valley Half Marathon made great mile markers, themed to various aspects of life in and around San Jose. Unless it's a Disney race–where each mile marker is themed and plays music–I don't take mile marker pictures…yet I have almost a complete set from this race.
Given that it was hot, and I was feeling tired even after luxuriating in my fluffy bed at the Fairmount, I knew I was not gunning for a PR. I started with the intent to run about half, and walk the rest. For the first few miles, I was leap-frogging with the 3:00 pace group. Around mile 4, I decided to tag along. Mad props to Too Legit Fitness for providing amazing pacers. (Seriously, go follow Too Legit Fitness on Instagram.) While I ultimately decided to slow my roll at mile 7 or so, the pace team kept me going on the 3:00 pace up to that point. I've only ever run with one other pacer I loved so much, but this race had a team! Like not just one runner with a sign looking at his watch. I don't have any official scoop here, but there were two women passing off the timing stick, and their gigantic fan club/run group. It was super motivating! Also, there were a few additional people from the pack who checked in with everyone else who was running, handing off a little snack here or a sip of water there to make sure that everyone was still moving forward.
Setting The Pace: Too Legit
The pacers were so awesome that after each pace team finished, the pacers went back out onto the course to cheer in more runners. This might not matter at all to you if you're a sub-2:00 runner, but for those of us in the "back of the pack" (you know, the ones most races ignore and forget to feed, or let the sponsors pack up and go home before we finish?) it was a really great perk. Starting about a half mile from the finish line, there were pace team members cheering and jumping around. Some took the time to walk or run for a block or more with incoming runners. It was really cool to see the pace team out there, after running a half marathon, still out there encouraging everyone.
Mad props to the entire pace team (and apologies for anyone I missed): Nando Gonzales, Fernando Loera, Randy Pangelina, Melissa Yamashita, Jill Ahearn, Eric D. Sullivan, Earl Hooks II, Jackie Silva Torres, Sylvia Loera, and Jimmy Quilenderino. You can find them all on instagram.
Post-Race Festivities
After the race, runners were treated to a post-race beer (actually I used mine to get sparkling wine–even better!) and live music. Lululemon provided little totes for each runner, which made it much easier to juggle the bling, banana, snacks, and bottled water at the finish line. The park was ideal for picnicking, and there were food trucks (and not the same trucks from the 5k but an entirely different set!). Plenty of runners brought their family and friends out to enjoy the music and food and beautiful day.
1
Other runner perks included a long-sleeve quarter zip (instead of a race t-shirt) that I just love (it's a teal colored Leslie Jordan brand, super soft–you can see it on some of the folks in the starting line picture above), a sweet duffel bag, and FREE race photos, courtesy of race sponsor Amazon (who also had a photo booth on site, along with free sweat towels).
The park also had booths from all of the sponsors, and from local vendors selling both running-related items and items of general interest. Sparkling wine sponsor Barefoot had a booth tasting their new canned sparklers, in addition to beer and wine for sale at the beer tent. It made for a fun and relaxing afternoon.
On the plane home I started to think about the Silicon Valley Half Marathon 2019. Since the inaugural event had zero noticeable flaws, I'm sure word will get out and there will be many more runners in 2019. You should be one of them! Come join me–I'm going to register ASAP. (Note: you can actually register right now!)
Post Footer automatically generated by Add Post Footer Plugin for wordpress.
Disclosure: while this is not a sponsored post, and contains no sponsored content, my ticket to BlogFest—just like everyone else's—was generously paid for by the BlogFest sponsors. I'm thankful for that. As is my editorial policy, all of the opinions and words below are my own. The giveaway prize is sponsored by me–I ate all the yummy snacks in the swag bag, but decided to share some of the ones I picked up during BlogFest–though it includes some of the non-edible cute swag given to bloggers at BlogFest.
For the Love of Snacks!
Let's talk about snacks. I love snacks. I would happily trade breakfast and lunch for snacks all day. Sadly, my go-to snacks are not always the healthiest options, or the optimal building blocks for my body and fuel for my workouts. In world of Snickers bars and Twix ads—not to mention a wide selection of junky choices always at arm's reach—what's a girl to do?
Enter BlogFest. #SnacksForDays should be the official hashtag of BlogFest, because we get fed well! This year, like all others, we had a number of great sponsors in the snacking business to keep us going.
Be Better
Even though bars—snack bars, granola bars, protein bars, candy bars—is a pretty crowded food category these days, I like to stay on top of what is available. Let's face it, most of us don't cook all of our meals every day, and some of us frequently find ourselves in situations where a satisfying snack is not easily at hand. To avoid office vending machines, my solution has been to keep a drawer stocked with lunch-able items (canned soup, Tasty Bite meals, etc.) at my desk. Bars are a key component of this, and no matter how much I love one type of bar, I also get bored easily…and if I'm bored, whatever junk is in the vending machine looks much more appealing than what is in the drawer.
But back to Be Better.  Be Better is a brand new line (which explains why I'd never heard of it). There are two Be Better products: a flaky protein wafer bar, and protein squares (two per pack). During BlogFest, the Be Better table in our conference room kept a full stock of all of the flavors, and we were able to try them at our leisure. I naturally gravitated towards the coconut flavors, Coconut Trail Mix protein squares, and coconut crunch protein wafer bars. I found the protein bars to be a little bit messier to eat than I had anticipated; due to the flaky layers that give the bars their light and satisfyingly crispy texture, it is possible to eat the bar and wear the bar at the same time. (As someone with zero natural grace, this is how I ate the first bar.) By the time I ate the second bar, I had learned to be a little more delicate in my chomping, which greatly cut down on the resulting mess. By the time I hit the third one, there were just a few crumbs. The protein squares surprised me for two reasons. First, they have chocolate in them and remind me very much of a gourmet type of candy bar. Second, despite my first observation and their delicious flavors, I found that I prefer to eat them one at a time (as opposed to eating both of the squares in the pack).
Be Better follows the current bar trend of being higher in both protein and calories than many older snack bars (think of anything from the very misguided 1980's low-fat era), and I found one bar was the perfect size for a snack that sated my hunger and made me feel like I'd eaten something of substance. The Hazelnut Crunch protein wafer bar has 200 calories, 17 grams of total fat (largely from the nuts), 4 grams of fiber, and 11 grams of protein, for example.  The caramel & almonds with dark chocolate protein squares have 150 calories, 9 grams of fat, 2 grams of fiber, and 10 grams of protein PER SQUARE (each pack has two squares).
You can learn more on their website, https://www.beingbettermatters.com which is also the only place to buy them right now. (Or at least I checked Amazon and found nothing, and Google didn't return anything.) At the time I'm writing this post, there is an offer to get a hat, a sticker, and another sample with your first order if you subscribe to the Be Better mailing list.
Psst! My friend Christine is giving away a WHOLE BOX of Be Better bars! Head over to her blog to enter to win!
Jimmy Bar
Jimmy Bar sponsored our BlogFest swag bags this year and while they weren't hanging out in the room with us, they put some bars in our bags and were super welcoming at their Expo booth. It might sound odd to have two sponsors that both make bars, but Jimmy Bar and Be Better seem more like separate categories to me. (That's probably because I'm a snack conneisseur.) While Be Better features chocolate and a light and flaky texture, Jimmy Bar has does not feature chocolate (though there are some chocolate flavors available) and has a texture that I describe as like a Rice Krispies treat where someone pulverized all of the Rice Krispies before making it and then allowed it to harden up a bit after it cooled. It's snacktastic. (I bought two boxes before I left the Expo.)
Jimmy Bar's protein bars also follows the higher calorie, higher protein trend I'm seeing in snack bars now, so one bar is plenty for a snack. For example, the Birthday Cake flavor Jimmy Bar has 260 calories, 11 grams of fat, 29 grams of carbs, and 21 grams of protein. Depending on how your other meals are timed, I could also see eating a bigger breakfast and dinner, and having a Jimmy Bar as a lunch (with a piece of fruit or something, to make sure I get produce in that meal).  I'm planning to add Jimmy Bar to my running stash as well, because the solid texture of the bar means it will be easy to open and eat while I'm out on a run or at a race. Jimmy Bar makes multiple varieties including some that are vegan, nut-free, and in smaller sizes. You can learn more about Jimmy Bar at their website.
Jimmy Bar has been around since 2013, and is more widely available than Be Better. There is a store locator on the Jimmy Bar website, and you can also buy them on Amazon (that's an affiliate link, but it doesn't cost you anything extra to use it and Jimmy Bars are eligible for Prime, so…). They have a Dog CEO, and currently offer free shipping on orders over $40.
La Croix
While not present in the BlogFest conference room, La Croix also played a major role in my BlogFest and not just because they sponsored the BlogFest Networking Happy Hour that marked the official end of BlogFest. In addition to being a BlogFest sponsor, La Croix is a staple in my fridge. (Friends, 24 cans at Costco for around $7.) Also, they always have a great booth at the IDEA World Expo, and this year was no exception. The photo booth has been a staple for the past few years, and they supply fun props to use. This year each side of the La Croix booth had a color/flavor theme. In addition to their photo booth (tangerine), they had a set of punching bags and pink boxing gloves on one side (berry), and yoga mats and blocks and foam rollers (lime). Each corner had a big fridge filled with every flavor of La Croix, including the new key lime (which was also included in our swag bags).
If you've been living under a rock, you can learn more about La Croix on their website, which also has cute pictures of some of their other sampling booth layouts from other events. If you can't find La Croix at a store near you, try Amazon (affiliate link, and some combinations are available on Prime).
Unfortunately this year the Expo was not in the same building as most of the IDEA sessions—one reason I hope IDEA does not return to San Diego–it was at the far end of the San Diego Convention Center. Since it took a good 15 minutes to walk from one building to the next, I didn't get to spend as much time in the expo as I had hoped. This won't be an issue next year in Anaheim, thankfully.
Fizzique
While not an official sponsor of BlogFest, Fizzique did include some product in our swag bags, and I know they have worked with Sweat Pink, so I went out of my way to find them at the Expo and see what they are all about. The description–sparkling water with whey protein–sounds weird and questionable, but the product is actually quite tasty. First, it's clear. (I had expected it to be milky-looking due to the whey protein.) It's only 80 calories, which is about halfway between a diet soda and a regular one. All of the calories come from the protein, as Fizzique has zero carbs.
Fizzique is at the intersection of two very popular categories of consumer packaged goods: sparkling water and protein. The idea behind Fizzique is to curb hunger between meals by giving your body some protein but not many calories. (It is NOT a meal replacement drink.) Each can also has 45 grams of caffeine, which is about the same as a cup of green tea. There are currently two flavors, Tropical Limon and Strawberry Watermelon. I tasted both, and I like them both. In a toss up, I'd pick Strawberry Watermelon.
Fizzique currently has an offer on their website where you can get 10% off if you subscribe to their email list. Or you can order from Amazon (affiliate link, but if you've read this far you probably don't mind supporting the blog?) and it is eligible for Prime.
Win BlogFest Goodies!
There are two prizes for this giveaway: Snacks and Sips.
Snacks. This prize features the brands that sponsored BlogFest, Be Better and Jimmy Bars…though I may just have to sneak a few more things in there to fill up the box, you know?
Be Better drawstring backpack
Be Better protein squares in Coconut Trail Mix, Almonds & Hemp Seeds, Honey Oats, and Caramel & Almonds
Be Better protein wafer bar in Hazelnut Crunch
Jimmy Bar tote and sweat band
Jimmy Bar clean snack bar in No Bluffin' Banana Muffin
Jimmy Bar high protein bars in Birthday Cake, Peanut Butter Ice Cream, and Coconut Cream Pie
Sips. This prize features La Croix-themed items, because seriously, who doesn't love La Croix? Drink it straight, use it as a mixer, make it into a mocktail. There's enough swag here to share with your bestie, too.
La Croix printed tote
La Croix embroidered hats (one for you, one for a friend!)
La Croix enamel keychains
La Croix decals
La Croix enamel pins
La Croix branded workout bands
Enter using the widget below. But first, start by leaving a blog comment to tell me which prize you'd like to win! Two winners will be randomly selected, the first winner gets to choose their prize.
Post Footer automatically generated by Add Post Footer Plugin for wordpress.
Disclosure: while this is not a sponsored post, and contains no sponsored content, my ticket to BlogFest—just like everyone else's—was generously paid for by the BlogFest sponsors. I'm thankful for that. As is my editorial policy, all of the opinions and words below are my own. (Product links are to my Amazon affiliate storefront. You pay nothing extra, I make a few bucks to pay web hosting fees.)
Remember how you looked forward to Christmas as a kid? All the anticipation, special treats, relatives, preparations! That's how I feel about IDEA World, especially now that BlogFest takes up the first two days. Sometimes the things I wasn't all that excited about turn out to be the very best things—just like Christmas, BlogFest is full of surprises!
This year, BlogFest hit at a somewhat inopportune time. I have A LOT going on in my "day job," and some parts of that are extremely stressful. A year after moving to Portland, I'm still not fully settled into my apartment (and I've already renewed the lease). My godfather is extremely sick. One of my best friends just lost her mother. I have twenty-five (yes, 25!) drafted but unfinished blog posts, multiple brand new yet unread books on my dresser, a pile of packages that haven't yet made it to the post office, and a mound of laundry patiently waiting for me. Every time I got closer to finishing something, I hit another set back. For example, I finished the first of five big giveaway posts, only to discover the photos I wanted to use are on my camera, and the battery was dead, and unlike my old camera this one requires a special battery. (Hooray for Amazon Prime.) Even though the thought of travel just depressed me and made me want to stay home so I could continue to dig myself out of the heap, I knew I'd feel better once I actually got to BlogFest.
 I chose the last flight from Portland to San Diego on Wednesday night (for day-job-related reasons), and got in quite late. I was so excited to see Briana again that we spent a little more time than we should have catching up, and suddenly it was way past my bedtime. Oops. I didn't sleep well at all, and just could not pry my body out of bed to get to the morning BlogFest workout on the beach. (As it was, in order to be on time to the opening remarks, we had to check in and get our badges beforehand, and the day started WAY earlier than I usually get to the office.) Despite the fact that the first day was THURSDAY, in my head it was Monday. (Seriously, it has been that kind of week!) The morning workout, presented by sponsor Fit Bodies, Inc., wasn't something I felt I could do without compromising my commitment to NOT coming down with post-convention crud. I heard the workout was really fun, a simulated workout on the beach (with the "beach" being inside). I did read all about Fit Bodies prior to BlogFest. Essentially it is a way for personal trainers and group ex instructors to have a working vacation at a reduced price; in exchange for teaching a week of classes, fitness professionals can stay at the host resorts for a greatly reduced fee and enjoy all the same amenities as a regular guest. (I will definitely be checking into this for 2019!)
We kicked the day off with a welcome and initial thank you for the speakers. The morning presentation was Petra Kolber. You may not know who she is, but I've been following her since back in the days before DVDs. I used to get my VHS exercise tapes from Collage Video, and Petra was a force in the era of "step aerobics" (as well as the subsequent "Hi-Lo" format and beyond), so her name was all over the catalogue (and later, the website). At first I was a wee bit concerned that her topic—"The Perfection Detox: Tame Your Inner Critic, Live Bravely and Unleash Your Joy"—was just a big ol' ad for her upcoming book (named, of course, The Perfection Detox). Yes, I'm cynical at times, but if you've read my prior posts you already knew this… I'm pleased to report that (1) I was totally wrong, and (2) I am so excited for the release of Petra's book that I want to plan a group participation (free!) #PerfectionDetoxChallenge online. (Head over to my Amazon affiliate page and pre-order her book. Stay tuned for more details.) Petra shared her own history with anxiety and imposter syndrome, and encouraged each of us to STOP being so self-critical. Petra's message was something I think we all really needed to hear, and it was a welcome shift from the energy that permeated the earlier part of my week.
Moment of transparency: originally I had planned to write a multi-part re-cap based on the three days I attended BlogFest and IDEA World. It suddenly makes MUCH more sense to break things down by topic, so instead of continuing on with Thursday, I'm shifting to talk about the rest of the super content from the BlogFest sessions.
If I was excited to hear from Petra Kolber—who I swear does not look like she is old enough to have been on VHS—I was positively stoked to hear from the first speaker for the afternoon, Sadie Nardini. If you do yoga you may already be familiar with Sadie Nardini. If you work out and hang out on Instagram, you've probably seen an ad for one or more of Sadie's online courses, such as Fit and Fierce over 40 or Yoga Shred. In the yoga world, she's seen as a bit of a yoga rebel (and not just because she has a fierce blonde mohawk and is in a rock band). Technically, Sadie was there to teach us about creating online content that provides asymmetrical income—the opposite of trading time for money—with a presentation titled "How to Make 6 Figures Online While You Sleep—Even if You Aren't Tech-Savvy." The meat-and-potatoes of the presentation outlined how to plan and film online content and create courses. But the underlying message was to quit being afraid of getting it wrong or doing a terrible job, and to go out there and DO that thing. Sadie had a really cool way of demonstrating how who she is on video is simply who she is not-on-video, with just a smattering of being nervous about being on video. (Aren't we all??) I wish I'd had the chance to go hang out with her at wine o'clock, but I didn't want to miss the next presentation.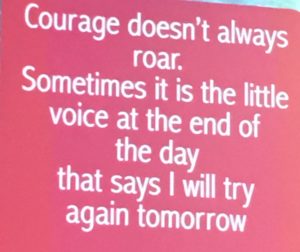 The theme of this year's BlogFest—which I've nicknamed "Stop Beating Yourself Up!"—continued with the BlogFest Keynote on Friday, delivered by Heidi Powell. Heidi spoke frankly about the businesses she runs with her husband, Chris Powell, and taming her own inner self-perfection-demanding critic. She also gave us a unique perspective on how to deal with the haters (you know, the people hiding behind their computers who have nothing better to do than criticize some detail of whatever it is you've most recently done). For more detail on the key takeaways on the BlogFest theme, check out Fab Fit Friends. Oh, and also Run Out Of The Box.
BlogFest is a social media conference, so we also had some presentations very specific to the things we do online. Chantal Brodrick came all the way from Australia to talk to us about "The Power of Podcasts," but then lost her voice! Fortunately she had prepared her slide deck and had a friend deliver her presentation. Even though she couldn't talk, Chantal still came to see us and help answer questions. No less a celebrity, GiGi Ashworth of Gigi Eats Celebrities gave a talk on video titled "Make Love to the Camera." If you're online, you know video is where all the action is right now, and I don't just mean YouTube. Instagram supports video, as does Facebook (which owns Instagram). Twitter has video all over it. Blogs even have embedded video now, and some of it looks better than what is available on TV! GiGi's talk was practical and hilarious. If you've watched any of her videos online, just imagine her teaching about how not to look ridiculous on camera. Finally, we had a quality presentation by Kristine Beatty, "Actionable Analytics—Beyond Your (Google Analytics) Home Page." This is probably the technical talk I needed to hear most, since it is the topic I know the least about; sure, I have Google Analytics installed on this blog, but I have no idea what to do with it other than look at page views and bounce rates. I sent Kristine a message right after her presentation (since I'm such a newbie that even some of the terms she used lost me) and I'm definitely planning to use her slide deck and the resources she recommended to learn more.
Overall, the content in this year's BlogFest was SOLID. Each year has been a little different in terms of how the schedule is organized and which topics and speakers are featured. This year, I'm committing to not beating myself up. Would you like to join me?
Feel free to follow me on Twitter and Instagram, where I'll be announcing my online book club/offline "Perfection Detox" Challenge when Petra's book comes out. You can also join my tribe using the form at the bottom of the blog—and I do solemnly promise and swear there will be no spam, ever, and I won't share your email address without your permission, ever.
Thank you to this year's BlogFest sponsors. (Curious? Click and learn more!)
Before I go, tell me: how does "perfection" have a hold on your life? What would it be like to live your life in a self-judgment-free zone? I'll randomly choose a comment to win a sweet prize (which might just include a copy of Petra's book when it is released in August) on July 31, 2018.
Post Footer automatically generated by Add Post Footer Plugin for wordpress.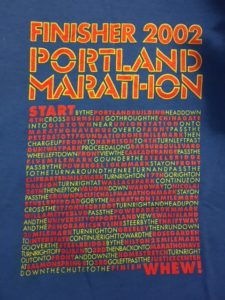 Yesterday, the Portland Board of Marathon Directors announced that there will be no Portland Marathon in 2018. Further, the organization is dissolving, and all remaining funds will be donated to local charities. The 2500 runners who already registered for the 2018 event will receive full refunds.
I loved and adored this race.
The Portland Marathon was my first marathon. After moving to Oregon in 2001, I got involved in Volkssports, which in the United States largely consist of untimed 5k and 10k walks hosted by local clubs. Participants track the number of events they have completed in one booklet, and the number of kilometers in another. As soon as I learned there was a walking division for the 42k Portland Marathon, I started talking my friends into walking it with me. In the end, it was me, my friend Susan, and my Dad. During the marathon we called Mom every few miles to give her an update.
I loved that marathon, which gave the three of us a ton of things to laugh about later. At one point, Dad turned to Susan and asked how she was doing. Susan smiled and said, "I think I should have packed Advil, because I am in some MAJOR pain." Later in the course we were greeted by a tiny grandmotherly women who caught up with us. She asked if it was our first marathon, and we chatted for a few minutes before she told us to enjoy ourselves, and "I've got to go now. Goodbye!" Still walking, she sped ahead of us and we saw the sign on her back: this is my 50th marathon, how 'bout you? Yes, we got looped by the friendly neighborhood powerwalking grandmother. After Susan drove us back to my apartment, Dad and I learned why you shouldn't immediately sit down after a marathon–getting up was so hard!–and slowly climbed the stairs to my second story apartment. Then I dropped my keys. We both started to bend down to pick them up, and we both stopped. (If you've completed a marathon, you know why!)
The Portland Marathon was the first race expo I ever went to, in the basement ballrooms of the downtown Hilton. Now that I've been to hundreds of race expos, I realize it wasn't even that large in terms of race expos, but it was very exciting. I remember seeing all of the vendors and their running stuff, the weigh-in for the Clydesdale and Athena divisions, and the barbell station for the "pump and run" competition. As a walker, this was all foreign to me. There were attachments to your bib to indicate you wanted to have your picture taken, and another to confirm we had paid the local AVA club so they could stamp our walking books.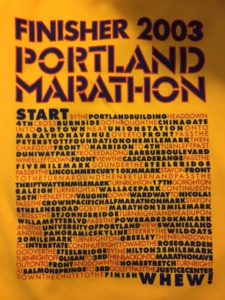 The finish line was my first big race finish line, complete with big finish line goodies. After receiving the medal–a shiny wonder on a red, white, and blue ribbon that I cherish–we received FINISHER shirts. (My first race shirts. My first shirts from Leslie Jordan, the first big athletic apparel company founded by a woman–also a local company.) All runners received a rose, a tree seedling, and other gifts, in addition to the gigantic buffet of post-race food: bananas, snacks, water, gatorade, slices of bread…I was hungry but couldn't contemplate eating the dizzying buffet that lined the post-chute area.
I loved the Portland Marathon so much I did it three more times, and talked other friends into joining me. One year I even made it to the after party. (The first year, after Dad and I showered, we slept for many hours. Too tired to deal with anything, we ordered a pizza for dinner.)
I loved the iconic course, which showed off the entire city. (Until the city ruined the course last year, more on that later.) Runners went through downtown, the gates to Chinatown, under the Steel Bridge, over the St. John's Bridge, and covered parts of each quarter of the city. The course went through a variety of neighborhoods, where residents threw marathon parties with signs, and kids got out sidewalk chalk and pom-poms and acted like cheerleaders. It have views of the Cascades, Swan Island, and the city's skyline. The course literally was the finisher shirt design for many years, which I also loved (though some people were annoyed that the design was the same from year to year).
I loved how much of the city got involved in the marathon. There was entertainment at literally every mile (and you thought the Rock 'n' Roll series invented that idea? Nope!). I remember belly dancers, classical musicians, a Christian rock band. The course was staffed by volunteers from all sorts of groups; I first got involved in the marathon as a volunteer with the Penn State Club, as the Big Ten Clubs of Portland manned a water stop and several course monitor/directions posts.
I loved how much the marathon gave back. For years the Portland Marathon hosted "marathon school," to teach other race directors how to put on a world-class event. The Portland Marathon was a world-class event. People came from all over the world to run it. Runners World consistently listed it as a destination race and a bucket list race. The marathon gave money to local charities, too.
For years after I started running, any time someone asked for a race recommendation, the Portland Marathon was at the top of my list. When I moved back to Portland in 2017, I was excited about the possibility of running the 50th annual Portland Marathon. I wasn't the only one in love with this event, which The Bleacher Report called an "exceptional all-around event."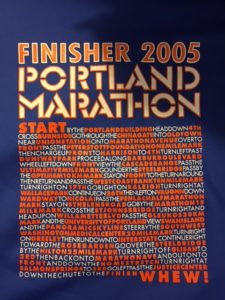 A few bad apples spoil the cider.
Unfortunately, underneath this all a gigantic mess was brewing.
First, former Portland Marathon director, Les Smith, had embezzled a boatload of funds from the non-profit marathon. (Source for this fact and others in this paragraph. I should point out he ended up working out a deal and so wasn't convicted of any crime and did not admit any guilt–but you don't agree to pay back $845,000 that you didn't take in the first place. Fortunately he's banned from serving on non-profits, planning races, and practicing law as part of the agreement.) Like hundreds of thousands of dollars. So much that the Oregon Department of Justice was involved. In addition, there was a questionable relationship between the non-profit Portland Marathon and a for-profit company called Next Events that Smith partially owned. That investigation isn't quite over. It's pretty understandable that once this news broke, runners were uneasy about signing up to run the Portland Marath0n.
Second, that iconic course? It died an ugly death. The final year for the fast, flat (other than the lead-ups to the bridges) course was 2016. The first thing every announcement cites is "declining registration." I am positive the destruction of the beautiful course directly resulted in a decline in registrations. The 2016 race also hit a snafu when the safety plan didn't get approved by the Portland Fire Bureau, which seems kind of unthinkable since the race had a 40+ year history and surely the organization knew what it would take to file a proper plan, and on race day had not circulated the approved plan to the race officials and volunteers–the course was almost shut down. The race also directed runners to run extra mileage.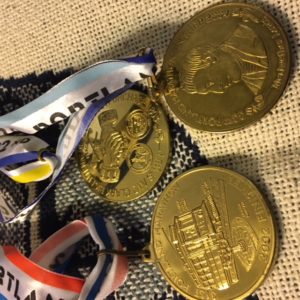 (That op-ed piece from The Oregonian–Portland's newspaper–also documents other problems, including handing the first place trophy to the third place winner. In the end, Oregonian staff called for Portland to find another organization to organize the 2017 Portland Marathon.)
Sometime between when I moved to California in 2008 and 2o17, Portland became very antagonistic to races. I had barely started to run a 5k here and there by the time I left, but at that point all of the races I did were downtown, with a start and finish convenient to local brunches. When I moved back, I was shocked to learn that many of those courses, such as Pints to Pasta, had not only moved out of downtown, but had moved to other cities! This is baffling to me, as many runners meet up with friends after events for drinks or brunch (or both), and I definitely did some shopping after some of those races.
After the 2016 race, the city of Portland forced the course change, supposedly on the grounds that there were not enough Portland police officers to take care of the epic, historic course of the Portland Marathon. (When Runners World is publishing the scoop to the entire running world, that has to hurt registration too.) I'm not privvy to the internal discussions on that, but I have definitely been to races that used trained volunteers and police from other jurisdictions where the host city couldn't supply the number of police the city required. The 2017 almost didn't happen because the marathon organization ignored the requirement for a new course (and I'm guessing did not submit any alternative proposals for police coverage). Just a month out from the marathon, the event did not have a permit. According to that Runners World article, the marathon also still owed a police bill from the 2016 race!
In the end, the 2017 was pretty awful-looking, and I was glad I had not signed up to run. Instead of the gorgeous loop that showed off the best of the city, the course was largely an out-and-back along main roads and the freeway. Yuck. If I had been registered, I would have been pissed, despite the then-director's attempt to spin the course as flatter and faster and even more BQ-friendly. Big ol' bowl of NOPE there.
The 2017 race almost did not happen–surely another cause for declining registrations for 2018. For those who didn't read about it in Runners World (the article is linked above), the city officials and race officials had a terrible working relationship after the 2016 event–no surprise even given the little I know–and by June 2017 the Oregon Department of Justice was investigating Smith. (That's actually what kept me from registering in the first place.)
The Portland Marathon's official statement regarding the cancellation of the marathon and dissolution of the organization is here. I find it is less than transparent, and downright dishonest in some aspects. Can you blame the city for wanting to "move in another direction" after the serious problems in 2016 and the discovery that the former race director embezzled nearly a million dollars from what was supposed to be a charitable group–one that was the face of Portland to thousands world wide? How is it that the Board of Directors failed to notice that the organization was breaking the law? (Smith and his partner, Mamie Wheeler, were the only two officers of both the non-profit Portland Marathon and their for-profit Next Events–creating a massive conflict of interest–in violation of Oregon law. Since Smith had been race director for 30 years and was also an attorney, he definitely knew better.)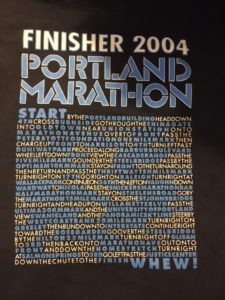 In the face of what amounts to a dumpster fire, I believe the Portland Marathon organization had no choice but to dissolve. It abused the trust (and time and work) of runners and volunteers alike. The city had openly solicited proposals for another group to produce the event. After a rest, I'm hoping the city finds another race director who has the experience and integrity to give Portland the marathon it so richly deserves.
Post Footer automatically generated by Add Post Footer Plugin for wordpress.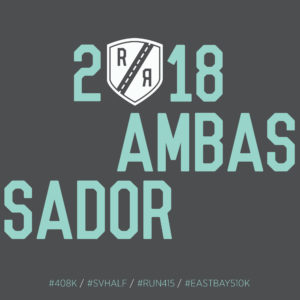 Disclosure: I am SO stinkin' proud to represent these races as part of the Represent Running Ambassadors. Yes, I do get to run the races for free in exchange for helping to promote them, but I signed up for the inaugural Silicon Valley Half Marathon before I was asked to return to the team. All opinions are my own–and you know I have plenty of them!
I'm behind some race reviews, but I could barely wait to start writing about the inaugural Food Truck 5k and Silicon Valley Half Marathon! (Yeah, yeah, it was over a week ago–I had some blog issues.) The Food Truck 5k was Saturday afternoon. My understanding is that it was originally going to be an early evening race, but there was some sportsball thing or event that kicked the start time up to 3pm. In any case, that was perfect for me, as it allowed me just enough time to sleep in a little bit, hop a flight from Portland to San Jose, Lyft to the Fairmont Hotel, check-in, unpack, change, and head over to the festival area to pick up my stuff.
Locals did have the option to pick up packets in advance at Sports Basement, which was always a fun choice for me when I lived in Alameda. Sports Basement offers a discount for runners on the day of bib pick-up, and since I always found something there I needed (and at a great price!), it was a win-win. Now that I'm in Portland, however, going to the Sports Basement pick up would have meant a day off from work and another night in the hotel. Yeah, I know, you feel so bad for me. Anyway, there were also some other pre-race-weekend events, including a run with Meb! (Do you feel bad for me now? Because I had to miss that?)
One of the great things about running in San Jose, there are a ton of hotels within walking distance of any reasonable starting line–more if you rent a car, or are willing to take a car. For Rock 'n' Roll San Jose 2017 I stayed at the AC Hotel, which would have been a great choice for these races too. The SV Half host hotel was the Fairmont, and they gave us a screaming deal: it actually cost less to stay there than to stay at the AC! The Fairmont is one of the aging grand dames of the hotel world, and I loved staying there. My room was gigantic, the bathroom had both a shower and a separate bath tub, and there was a separate vanity and mirror outside of the bath room. Sure, there are some signs that the hotel wasn't built yesterday–the USB outlet in my room did not work, and the bathtub spout had a hand-held shower permanently attached (because the actual shower was not enough showers for one room?) so I couldn't take a bath, but it's a great place. After the races and a much-needed shower, I met a friend for snacks and cocktails in the bar.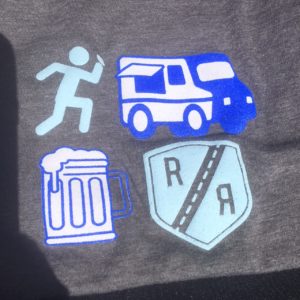 Day-of-event packet pickup was a breeze, and I got both my Food Truck 5k and my SV Half gear at the same time. (In hindsight, I should have waited until after the 5k to get my SV Half gear, as there was no bag check, but as an ambassador I had a little help.) There was plenty of parking nearby, though I had walked from the hotel. I had some time pre-race to walk around and see the vendors and race sponsors. Amazon had free sweat towels, and I wish I had grabbed one before the 5k so I could sweat on it (instead I thought, "oh, it's one more thing to carry." Silly me.) Amazon also sponsored free race photos all weekend and had a photo booth, so that was fun. After clowning around for some photos in the festival area–and checking out the food trucks to plan my post-race eats–the ambassador squad headed over to the 5k starting line to take more pictures.
Actually, we all walked OVER the starting line, heard a bunch of beeps, and wondered if the timing system thought we were running…then we looked up at the starting line structure and wondered why the letters were all backwards. (Yes, a bunch of social-media-fueled runners didn't understand the selfie-setup.) Suddenly it was about time to start, and I was WAY too close to the front, so I sidled over to the right as far as I could get, and decided to hang there until the right group started to move past. (We didn't have corrals for the 5k, but people did a pretty good job of self-selecting–it was impressive.)
The course was basically an out-and-back with a bit of a loop (running on parallel paths for a portion). Most of it was on a paved path through Guadalupe River Park and Columbus Park, though a small portion was on sidewalks and a street to get to and from the start/finish area at Arena Green East. I ran most of the first mile at a very easy (read: slow!) pace, did a run-walk for the second mile, and walked all of the third mile (with the exception of the last .1, of course). The heat was brutal and unexpected! I'd flown in from Portland, where it was in the 50s. The average temperature in San Jose in mid-April is in like 50-65 degrees. This year? It was 80! I didn't run any of that third mile because my body–descended from two long lines of pasty-white people from northern climates–was like "NOPE!" I felt great after the run anyway.
Post-run, first I went to the Barefoot wine tent to sample their "refresh" spritzers. (No, not at all like a "wine cooler," yuck. More like "wine with bubbles.") Then I bought a glass of sparkling wine and I hit up Cielito Lindo Mexican Street Kitchen for some tacos. (The menu on the website does NOT do them justice–I ate two different vegetarian taco types, decorated liberally with verde, roja, and molcajete sauces.) It was only after I ate all three of them and the tasty, tasty hot sauces that I realized I should have put them on Instagram. Oops. Bad blogger! Other options for Saturday included Road Dogs, Akita-sushi, BBQ Kalbi, Curry Up Now, and Treatbot (ice cream–VERY popular that day!). Everyone was clustered under the trees and in the shade, but having a great time. In addition to many food options, sponsor booths, and vendors, there was live music! Starting at 1 and lasting until 7:30 p.m. we had Bird and Willow, Israel Sanchez Music, NOIYA, Casey Wickstrom, and Love District.
Soaked to the bone with sweat, and sated by the street tacos, I headed back to the hotel for a much-needed shower and a wee nap. Then it was dinner and a cocktail, and off to bed to be well-rested for the inaugural Silicon Valley Half Marathon!
Want to read more about the Food Truck 5k? Check out additional reviews by The Ruminator , The Running Lushes, and Stephanie.
Post Footer automatically generated by Add Post Footer Plugin for wordpress.