Disclosure: I received a free UV Buff to review because I am a BibRave Pro. (Per usual, all opinions are my own–you should know by now I don't need any help with that, I've got plenty of 'em!) Learn more about becoming a BibRave Pro here. Read and write race reviews at BibRave.com! It's a great way to choose between conflicting races, and help other runners.
If you didn't figure it out from my post on the UV Half Buff, I pretty much loved it. Cliff's Notes version: it wicks sweat, dries quickly (even when washed in a sink), holds shape/size after washing and wearing, and makes a fantastic hat liner. The folks at Buff were kind enough to let the BibRave Pro team test out a full-sized UV Buff as well. Naturally in BibRave orange, because #OrangeIsTheNewFast!
Like the UV Half Buff, the UV Buff blocks 95% of UV rays. Since endurance athletes notoriously suck at reapplying sunscreen, this is an important tool in the protective clothing aresenal. If you run wearing a visor–you know, leaving the entire top of your head, where you never put sunscreen, exposed to the sun for hours–you really ought to get a UV Buff to wear under your visor. You can't see your scalp, so I'm pretty sure you're not regularly checking it for suspicious spots, and that could endanger your health. (Read an article quoting University of South Florida doctors, or read about melanoma of the scalp and how deadly it is, and then go buy a UV Buff to go under your visor already.)
Just like the Half Buff, the full-sized version is seamless, soft like butter, and the patterned ones have a continuous pattern. Oh, and it seems to me there are more pattern choices for the full UV Buff than the UV Half Buff (though I'm notoriously bad at math, which is why I'm thankful for accountants and calculators). That's important for us, the fashioned-challenge runners, who have a hard enough time getting dressed without worrying about whether we've got the back of the pattern in the front or vice versa. All you have to do is decide if you want printed side inside or outside. Of course if you go with BibRave Orange, there's no pattern to worry about (and no inside and outside either!).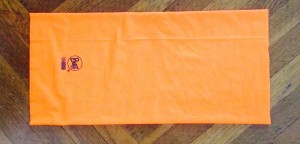 One thing I like about the full-sized Buff, it's more versatile than the Half Buff. Since you have more fabric to work with you, can do things like make it into a hat, which is my favorite way to wear it. Basically you slide the tube over your head so about half is on your head and half is stretched into the air, make a twist in the fabric at the top of your head, and then pull the remaining fabric back down onto your head.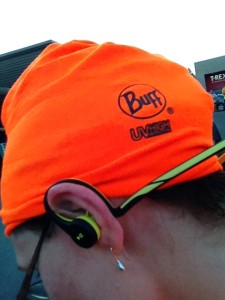 In case this seems difficult to figure out, the card that comes with the Buff includes pictures of different ways to wear it. There's also a scannable QR code that takes you right to the videos on the website.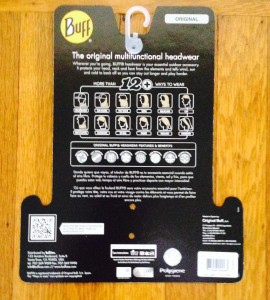 I wish I had brought my full-sized Buff with me when I ran the Mile in the Sand. I could have pulled it up over my mouth and nose to keep the sand out! I'm also looking forward to wearing the bigger UV Buff around my neck during sunny winter runs. (Did you know you can get a sunburn in the winter? Have you seen the "ski goggle tan-beards"?)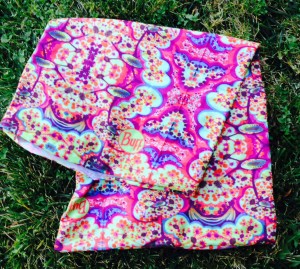 I'm such a fan of the expanded possibilities of the full-sized Buff that I bought a second one with a zany pattern. (It's called Cali, in case you are interested, and while that one isn't a UV Buff, it rocked as a hat-liner.) From the Buff website, here are the benefits of the UV Buff:
Blocks 95% of UV rays*
Soft, breathable Coolmax® Extreme fabric
100% seamless
12+ ways to wear
Polygiene® Active Odor Control
Moisture-wicking
Thermal protection from cold & wind
Quick-drying
2-way lateral stretch
One size fits all adults
But hey, don't just take my word for it. Rachel, Chadd, and Laura also blogged about their thoughts.
Not only will UV Buff be sponsoring the upcoming #bibchat–join us on Tuesday, September 22 at 6 p.m. Pacific time and you might win a prize–Buff has generously continued the BibRave discount code! Use BIBRAVE10 to save 10% on your purchase from Buff USA. But don't delay–the code expires September 30!
Have you tried the UV Buff? Have you tried any full-sized Buff?