VERSION INFORMATION
All, there are now several groups in a much better position to do this work than I am. Because of this, I am now promoting their listings instead of mine. (I don't have help updating this. Both of these organizations do. Plus if I dedicate my time to helping #2, we get more done. #WeBeforeMe) Both are searchable, and both have a way to enter in the specific need/ask for each organization. I strongly suggest you use these resources:
Deaconess, after being inundated with masks following their call for help, has a searchable database. It covers more than the United States.
COVID Mask Crafters is a facebook group where I stumbled into being an admin. It's now a website: https://covidmaskcrafters.org/ We are US-based and focused.
Healthcare workers and allies created this site to crowdsource both traditional, full-on PPE and homemade masks: https://getusppe.org/
FINAL UPDATE for location-specific info below: 3/23/2020 10:40 am PDT
INTRODUCTIONS
WARNING! Please DO NOT go sewing a bunch of masks and randomly taking them to a hospital!! No matter how good your intentions are, it is not helpful, and may be very unhelpful, to drop of supplies that are unacceptable or not needed. (Imagine if someone showed up on your door every day and gave you a bag of stale potato chips. They're just trying to help. But now you have to deal with all the stale chips.) BEFORE you start making things, make sure they are (1) wanted, and (2) made to the requirements of the intended recipient.
WHERE TO DONATE MEDICAL-GRADE MATERIALS
Donate any N95 Masks You Have At Home. Unless you have been living under a rock, you know that medical staff across the country are facing a shortage of PPE (Personal Protective Equipment). This includes scrubs, goggles,, face shields, gloves, and face masks. You've probably read about N95 particle filtering masks. Hospitals are desperate for those. Medical staff are literally asking on NextDoor and Facebook. (If you have any, please call your nearest medical center to see if you can donate them, or check your local news coverage.) Why are N95 masks hard to get? NPR explains. NEW!! Link to spreadsheet of hospitals seeking medical supplies–not homemade masks, but professional PPE and supplies–and how/where to donate them!
ONLY DONATE HOMEMADE MASKS WHERE THEY ARE WANTED!!
I am only listing the facilities that have confirmed they actually WANT masks. PLEASE read carefully, as each has a different need. If there isn't one near you, try calling a local nursing home, as many nursing homes will want masks for their residents (and a colorful cheery one might be nice).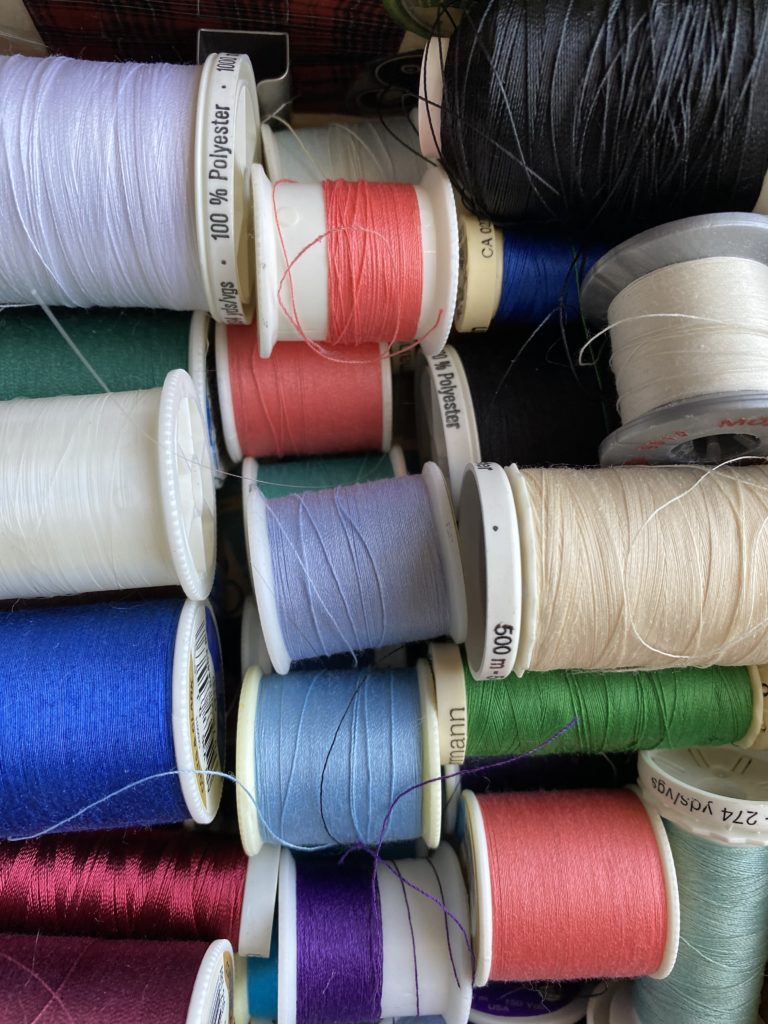 WASH YOUR PERSONAL MASK DAILY IN HOT WATER
If you're only looking to make a mask for yourself/family. There are some lovely tutorials on this page: https://www.sewcanshe.com/blog/5-free-diy-face-mask-tutorials-using-fabric If those are too fancy/advanced, scroll down to the Deaconess (Indiana) link and watch the video–the Turban Project mask is easy to sew. Please be sure to wash your own fabric masks in HOT water and dry thoroughly in the dryer. Otherwise, they might harbor bacteria. Ew.
Details Listed By State
Universal Suggestions: Pre-wash your fabric in HOT water. This is to ensure against future shrinkage. READ CAREFULLY. Every facility has different rules.
For facilities that do not have any specifics listed, my suggestion–based on the ones that do want something specific–is to use the Turban Project pattern (video on the Deaconess page, under Indiana). Use 100% cotton fabric, pre-washed in hot water (to prevent future shrinkage). Make the inside and outside different colors/patterns (so the user can easily distinguish one side from the other). Package in plastic bags or boxes, clearly labeled with the delivery information.
Got Masks To Send Now?
If they don't match a specific ask below, please email Janie. She is generously distributing among her personal network (because even when a facility doesn't solicit them, they may allow their employees to use them). janiehamilton86 at gmail dot com
Connecticut
Sharon Hospital (Sharon). The only details I have right now are that the drop-off point for sewn masks is Cotton Candy Fabrics, 457 Federal Road, Brookfield, CT 06804 https://www.cottoncandyfabrics.com/ I have been told they would like The Turban Project pattern (see Indiana, video on the Deaconess page).
Florida
Longwood Health & Rehabilitation Center. They are looking for 500 masks. No specific ask at this time, so please see my suggestions above. Send to: Longwood Health & Rehabilitation Center, 1520 S. Grant Street, Longwood, FL 32750 Attn: Randy Few
Georgia
Phoebe Putney hospital in Albany, GA. If you want to help, they need volunteers to sew covers for N95 masks, (These are worn over the N95 masks, so that each person can reuse the same mask for aweek.) To participate, call volunteer services 229-312-4336. To give you an example of what's going on, they burned through a 6-month supply in a record time of like 5 days, and only have a couple days worth left. https://abcnews.go.com/GMA/News/video/volunteers-stitch-masks-health-care-workers-69681106 for a video on their efforts
Tanner Health System. This project is being coordinated by the Southeastern Textile and Quilt Museum. Full details are available on their Facebook page, including the TWO acceptable patterns (USE ONLY THOSE), drop-off location, video how-to and more. Must be 100% cotton fabric..
Illinois
Illinois Cancer Care. They are asking for the Turban Project pattern (see listing in Indiana for Deaconess there's a video tutorial too). Full details here. Deliver to the Peoria location 8940 N. Wood Sage Rd, and pre-arrange pickup via email to [email protected]
Indiana
Deaconess Hospital (Evantston, IN which is nowhere near Chicago, sorry!!). Deaconess is welcoming home-sewn masks. They put together a resource page on how to make and donate masks. This one has an easy-to-follow video using a pattern from The Turban Project. They want 100% cotton masks–this has to do with sterilzation. Please note that this mask is not universally acceptable—you must find out what your facility wants–so call if you are going to make this one for your local facility. https://www.deaconess.com/masks A volunteer coordinator from Deaconess suggested these types of masks are always in demand for other uses too, such as for chemo patients receiving infusions. UPDATE FROM DEACONESS: Update: We have been overwhelmed by the outpouring of support and kindness from our community, the country and the world. We now have plenty of masks coming our way. If you are from outside the Evansville, Indiana area, consider reaching out to a hospital, nursing home, cancer-related organization, etc. near you, as many other health care facilities are also experiencing shortages in masks.
Owensboro Health. See below under Kentucky.
Iowa
Unity Point Health (Cedar Rapids). The request is for a very specific pattern; the full masks (which will include a filter) get assembled at the hospital. For more details, go here: https://www.unitypoint.org/cedarrapids/sewing-surgical-masks.aspx The specific pattern and instructions on where to deliver masks is on that page.
Kentucky
Owensboro Health (serves Kentucky and Indiana). This facility has a page with spedific guidelines, including the two specific patterns they want, and the exact fabrics, etc. to use. It will be updated with drop-off information early next week. https://www.owensborohealth.org/news-events/news-media/2020/fabric-surgical-masks-information/
Maine
Statewide. Collecting masks for distribution to hospice patients, families, workers. Accepting both The Turban Project (see Indiana listing for Deaconness) and N-95 covers (see Washington listing for Northwest Kidney Centers). Requestor emphasized these will not be used in place of Proper PPE for healthare providers, or for COVID-19 positive. (These will free up the precious PPE for those who really need it!) Please send to Christii Maquillan, 42 Cedar St., Bangor, ME 04401
Massachusetts
Burlington, MA (Boston area). The only information I have right now is this post: https://patch.com/massachusetts/burlington/coronavirus-lahey-hospital-seeks-volunteers-sew-masks
Michigan
Henry Ford/Alliance. They have just made their own prototype, and will be looking for volunteers to make masks and face shields. Their model is quite different from the home-sewn ones. Here's the video of their prototype: https://www.michiganradio.org/post/its-controlled-chaos-healthcare-workers-mask-supplies-dwindle-0 As of March 20 they had distributed a somewhat complex pattern to use (which I have). This morning I was notified the project is ON HOLD. Henry Ford is NOT accepting ANY masks at this time. I will update as I learn more.
McLaren (Bay City and Macomb). BAY CITY location is currently accepting masks, according to coverage by WNEM. I do not have any further specific information. Drop off at the McLaren marketing building, 503 Mulholland Ave, Bay City, MI. Drop off from 8am to 4:30 pm, Monday through Friday. MACOMB location is accepting masks, 1000 Harrington Street, Mt. Clemens, MI 48043. Please deliver masks to the ER entrance. FLINT location is collecting volunteer contact information, which they will use if they need to ask for masks later. To sign up, call 810-342-3895.
St. Joseph Mercy (Ann Arbor). Accepting 100% cotton masks made using the Turban Project pattern (see Deaconess listing under Indiana). Deliver to the hospital screening staffat St. Joseph Mercy, 5301 McAuley Drive, Ypsilanti, MI 48197 Attn: Lisa Friedman, Please DO NOT call Lisa—she's slammed with work right now.
St. Joseph Mercy (Oakland). They are accepting masks with pockets for filters (see listing under Washington for Northwest Kidney Center for pattern) or those made with fusible interfacing. Elastic or ties are good. Rectangle style is fine. Take masks to ER entrance 4405 Woodward Avenue, Pontiac, MI 48341 Attn Dana.
Kalamazoo County Government. This is an ask for masks for first responders and community. They are requesting N-95 covers, which are the same pattern used by Phoebe Putnam (see listing for Georgia). The mask pattern is sometimes called "The Phoebe." For a .pdf with complete details including how to drop off, CLICK HERE.
Bronson Methodist Hospital (Kalamazoo). Bronson is accepting donations of the Phoebe Putnam pattern N95 covers. Please see listing for Kalamazoo County Government for a link to the pattern. Drop off is Monday through Friday from 9 to 4 at the Health and Community Services Department, at 311 East Alcott Street.
Northville. The principals of Northville Public Schools are supporting a mask drive. They want the Phoebe Putney mask design, or the Turban Project mask. You can also make face shields. Drop off at any of the NPS elementary schools (there is a box outside the main entrance at Winchester) and the Old Village School, north entrance where they will be collected and distributed as needed.
New Hampshire
Dartmouth-Hitchcock. This medical group sent out a call for N95 masks and gloves. They are now asking for the Turban Project style masks. Full details on their website.
North Carolina
UNC Health. No specifications as to which masks they want are available at this time. I suggest the Turban Project (Deaconess) or The Phoebe (Phoebe Putney) models. They are accepting homemade masks at four locations:
UNC Health Learning Street, 2001 Carrington Mill Blvd., Morrisville, NC 27560. Drop-off times: March 23; Noon – 4 p.m., March 24-27; 9 a.m. – 4 p.m.
UNC Wellness Center at Meadowmont, 100 Sprunt Street Chapel Hill, N.C. 27517. Drop-off times: March 23 – March 28, 8 a.m. – 5 p.m.
UNC Wellness Center at Northwest Cary, 350 Stonecroft Lane Cary, North Carolina 27519. Drop-off times: March 23 – March 28, 8 a.m. – 5 p.m.
Rex Wellness Center of Raleigh, 4200 Lake Boone Trail Raleigh, NC 27607. Drop-off times:March 23 – Friday, March 27, 9 a.m. – 4 p.m.
WakeMed. They are NOT accepting homemade masks. Please DO NOT give them any!
Oklahoma
Stillwater Medical Center. This is the message on their Facdebook page: "THESE MASKS WILL NOT BE USED FOR HEALTHCARE WORKERS OR ANYONE DEALING WITH COVID-19 SITUATIONS. We are looking for seamstresses who can sew cloth masks to help with the nationwide shortage. They must be 4 layers of fabric for filtering. (Edited to add emphasis!) Here are some pictures of ones that have been made. They need to be adjustable. Our preferred pattern is from [link below] Spread the word to all seamstresses. Thanks so much. This is a perfect time to use up your fabric stash. The donated masks will be used in other NON CLINICAL OR WORRIED WELL PATIENTS NOT REALATED TO COVID-19. This will allow us to save our N95 masks & other PPE for Healthcare Workers. Donated masks can be dropped off at our Stillwater Medical Plaza building, located at 1201 S. Adams from 8am to 5pm, Monday through Friday. All donations will be laundered before dispersing to our various areas where they are needed. "The pattern they want: https://buttoncounter.com/2018/01/14/facemask-a-picture-tutorial/
Oregon/Washington
Providence Medical Group. There is currently no information on the Providence page about the 100 Million Mask Challenge. I requested information to publish here and will update as I am able. As of 3/20/20 9:30 am Providence has not released the details regarding what they want or where to send it. Stay tuned! https://blog.providence.org/blog-2/volunteers-making-homemade-masks-to-combat-shortages-caused-by-covid-19
Providence in RENTON, WA. Kits with enough materials to make 100 medical masks will be offered March 26 from 12-4 p.m. at Providence St. Joseph Health, located at 1801 Lind Ave. S.W. in Renton. BUT ACCORDING TO THE PROVIDENCE SITE THE KITS ARE ALL CLAIMED: https://www.providence.org/lp/100m-masks GREAT NEWS!! They got so much media coverage that local businesses stepped up to make ALL the masks! Kit distribution is canceled! I'm on the people-who-sew-and-can-help list and will update when I get more information.
Maryville Nursing Home. Their ask was for people to sew scrubs and masks. There are several ways to help. If you are NOT local, you can make the Deaconess pattern masks and mail them to: Maryville, 14645 SW Farmington Rd,, Beaverton, OR 97007. If you ARE local, they need help with the following projects: (1) people to cut fabric and N95 material to make mask kits for the seamstresses (this can be done at home–you pick up fabric and the patterns there, but work at home); (2) seamstresses to make the masks from the kits; (3) they are about to receive the polyester fabric they need to make their washable gowns and will soon need help assembling those kits and sewing the robes. Please contact mgarcia at maryville dot care if you are local and can help.
Tennessee
St. Jude Children's Research Hospital (Memphis). They need mask STRAPS for the kiddos. This is an entirely different project: https://www.stjude.org/get-involved/other-ways/volunteer-at-the-hospital/how-to-become-a-volunteer/at-home-projects/mask-straps.html Please use soft flannel.
Texas
Wise Health System (Decatur). The Auxiliary is sewing masks, and they would LOVE for you to help. They require 100% cotton fabric, 2-ply masks with ROUND elastic (not flat). You can use the Turban Project pattern (above, see Indiana, Deaconess for a video) but use ROUND elastic. Once completed, please mail to:
Wise Health System
Attn: Customer and Patient Relations
609 Medical Center
Decatur, TX 76234
Parkland Memorial Hospital (Dallas). Currently accepting homemade masks. Please direct your masks and your questions to: Parkland Memorial Hospital, 5200 Harry Hines Blvd, Dallas, TX 75235 Attn: Karen Watts
Washington
Northwest Kidney Centers (Renton). Information obtained from this press piece. They are asking for 100% cotton fabric, pre-washed, and ROUND elastic. They prefer this pattern–scroll down to the section that says "Face Mask With a Pocket for Filter Insert." The main fabric must be cotton, but the lining can be cotton or flannel. There are two ways to donate. One, via front door drop-off to Renton Kidney Center, 603 Oakesdale Ave SW, Renton, WA 98056 (call 425-251-0647. You can also call for a porch pick-up: Deanne Young, RN 425-203-5208
Wisconsin
The Electric Needle. This shop in Madison is a drop-off point for a specific pattern, which can be used over an N95 mask (to prolong the life) or worn alone. For more information and a link to the specific pattern they want: https://www.electric-needle.com/sew-for-a-cause.htm They are located at 4281 West Beltline Hwy, Madison, WI 53711
UW Madison Hospitals. They are currently working on a pattern. You can add yourself to the volunteer list by sending an email to [email protected] I will update as more information become available.
Nationwide/Other Resources
Operation We Can Sew It. Distributes updated information by email. You can sign up at their website https://operationwecansewit.com/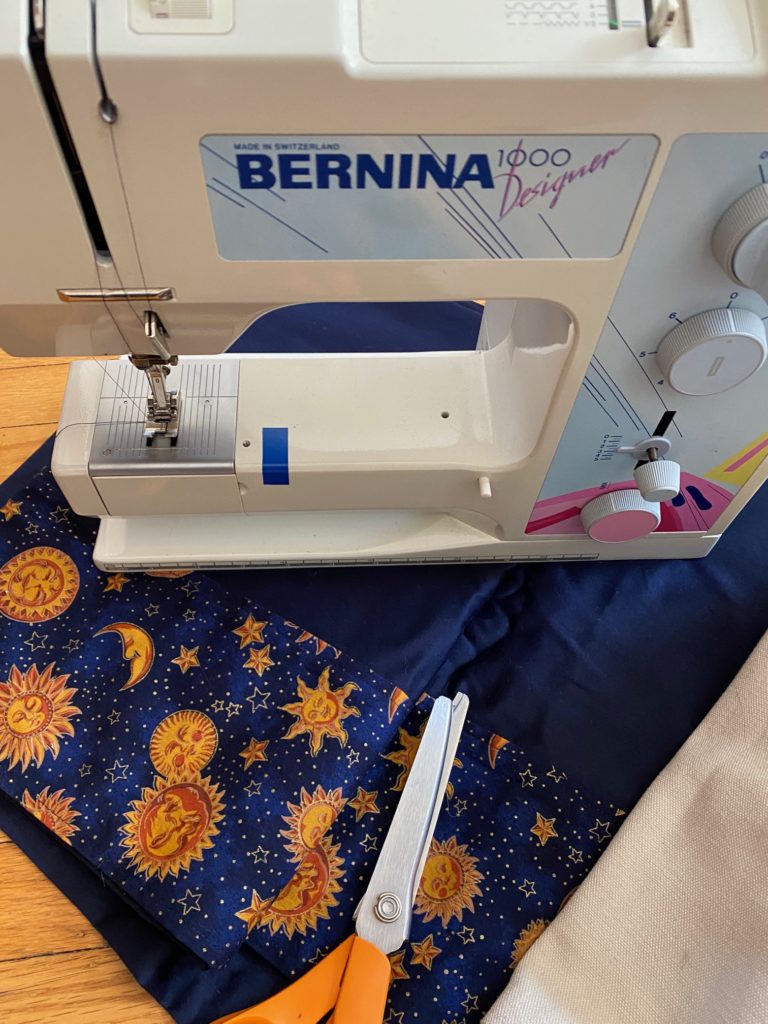 Which other facilities are asking for masks?
What is their specific ask?