My running goal was never "to win this race." I am fond of telling people that I look at racing this way: I've seen the Olympics, and at the end they give the people who win a big medal; every time I cross a finish line someone hands me a medal, so I must win A LOT of races!
A classic first-child/Type A/perfectionist/otherwise-driven personality, sticking with something that I'm not particularly "good" at (and frankly that I don't know I like) is challenging for me. One of the ways that I have kept myself from getting crazy insane and overly serious about running is the Sparkle Skirt. It is pretty much just like it sounds–a skirt with sparkles on it. Totally ridiculous, as you can see: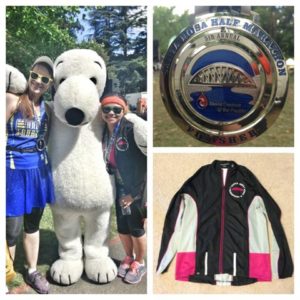 On the left you can see me in the Sparkle Skirt (a commando model, since I like to wear compression shorts/tights) posing with my running buddy Kat and everyone's favorite beagle after the Santa Rosa half marathon this past Sunday. (Santa Rosa, for those who don't know, is the home of Charles Schultz. There is even a small Snoopy-shaped labyrinth.)
The Santa Rosa half marathon (and marathon and 5k) is in its fifth year, and it has hit a sweet spot that many older races can only dream of achieving. As you can see from the photos (credit to Kat, by the way, as they are hers), the race comes with a sweet spinner medal on a fat custom ribbon, and instead of yet another race shirt all runners receive a track jacket.  (The jacket came in a men's and women's version–blue and pink respectively–and features reflective stripes and venting mesh.  They run true to size, even in the women's sizes.)  Santa Rosa is also the only race I have personally attended where packet pickup takes place at a winery–with wine tasting. What's not to love??
But wait, it gets better.
(You might want to sign up for 2014 now: http://www.thesantarosamarathon.com/ It will sell out again next year.)
There were so many porta-potties at the start/finish that I never had to wait in any line. (I never had to wait at all–I just walked along the line until I found a green/unoccupied indicator.) If you've ever been to a race and had to wait in line, only to find the one open potty has no paper or is already full enough to reek (or like me, you've waited in line so long you miss the starting gun) you know how important the porta-potty factor is. Nearby were two stands dispensing hand sanitizing foam. Best porta-potties ever.  I wish I'd taken a picture, as it was unbelievable.  This fact alone makes me bow in gratitude towards the organizers.
The start/finish was a combined area. As a starting area, there was plenty of room to mill about and warm up (note the total absence of lines for the porta-potties). Bag check had no line and was well-organized. Only a minimal amount of the street was closed off by barricade fences, making it easy to get around.
The course for the half marathon shared much of the course for the full marathon, and had some areas where traffic went in both directions (as part was out-and-back). Initially I was worried about (1) crowding, since I'm not the most coordinated of people and if there was a way to accidentally knock down the next Mary Decker my body would find a way to do it, and (2) figuring out which way to go, as Mom was directionally challenged (she literally got lost with a map and compass, after which the Girl Scouts wouldn't let her lead hikes any more) and just leave it to me to run the course backwards or something. Neither of those was a problem, even with the marathon field looking about twice as big as the half field. The transition points were well-marked and staffed by volunteers, often with accompanying water/gatorade/snack stations.
The course was also pretty. Most of it was in a local/regional park with murals along the walls and/or greenery. The one thing I love about running, without qualification, is spending time outside. Blessed with gorgeous weather, the Santa Rosa half course was at its finest. I loved running alongside several vineyards, and seeing birds eating their breakfasts along the way.
Back to the start/finish, the finish chute was wide and the photographers were placed in such a way that even I couldn't trip over them. Stepping off the course with my shiny new medal, I was greeted by volunteers staffing a fruit table stocked with cut watermelon (BRILLIANT!), oranges, apples, and bananas. Bottled water was plentiful. Stepping out of the immediate finish chute area, the park provided plenty of room for runners and their friends and families to enjoy the day. In addition to booths from the race sponsors, the finish line also had an inflatable "bounce house" for the kids, food trucks (including my favorite organic ice cream, Three Twins), a beer garden with pulled pork sliders for sale, live music, and a free pancake breakfast for the runners. My huge pancake, complete with butter and syrup, was just what I needed. After relaxing a bit and having some snacks, I walked the 2 blocks back to my car. Did I mention the organizers are smart enough to put the start/finish right next to several humongous mall parking structures? Booyah!
I will admit that initially my finish time–3:14–kinda bummed me out. Between January and July, I'd managed to whittle my time down below 3:00, but Sunday I was just beat. Was it the oncoming heat? A small touch of humidity? Oh wait! It was probably that on Thursday I donated double red cells at the Red Cross blood drive! (Somewhat ironically, the charity beneficiary of the Santa Rosa race was the Blood Centers of the Pacific.)
See you next year, Santa Rosa!