According to WordPress, I started this post in August 2017…four months after the race. Sometimes, you have to go back and finish what you started. Buckle up and grab a glass of wine, as this is going to be a looooong post. Actually, I think I'll make it two posts. Let's call this "Part I."
My 2017 DNF Was Amazing!
Disclosure: after registering for the Foot Levelers Blue Ridge Marathon, I was accepted to the Official Blogger contingent! Blog team members receive a free race entry as a thank you for helping to spread the word about the race. As I had already registered, the race team graciously allowed me to give my entry to another runner–the one who originally suggested I apply to the blog team. Per usual, all opinions in this post are mine (and you KNOW I have plenty of them to go around).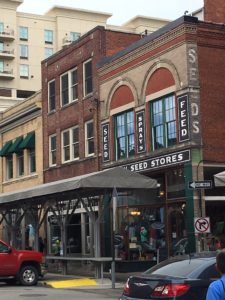 A few years ago when some friends of mine registered for Goofy's Race-and-a-Half Challenge (the Disney World combo where you run a half marathon on Saturday and a full marathon on Sunday) I thought that was the dumbest idea ever. A year later, I registered to run The Dopey Challenge (the Disney World combo where you run a 5k, 10k, half marathon, and marathon on consecutive days). That actually turned out to be fun–"fun," says the woman who once said, "run? only if I'm being chased by something with big teeth."
It was probably 2015 when I was poking around the Marathon Maniacs facebook group–as a newly-minted Double Agent who had just sworn "no more marathons, except maybe Disney"–that I first heard about the Foot Levelers Blue Ridge Marathon. This is a race that bills itself as "America's toughest road race" due to the changes in elevation and has added MORE elevation to the original course! This did not sound like The Race for Bain.
Since I inevitably do everything I swear I won't–be careful! this is what happens when you say, "I'll NEVER run a marathon"–I signed up to run the marathon. (Actually, my friend Jackie saw that the race was looking for bloggers and encouraged me to apply. Which I did…and I'm honestly not sure if that was before or after I registered to run.) I'm going to blame the fact that I was at a race expo at the time, and not only was the price at a great discount but they also gave me last year's race shirt and a pair of Farm to Feet socks. (Yes, it appears I will run for socks.)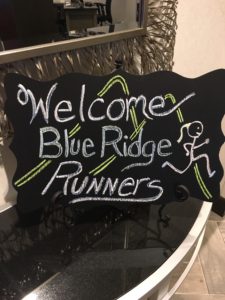 As a flat-lander living at something like 8′ above sea level, and as a runner whose lungs are still royally pissed that I decided to run the Sedona Marathon, naturally I was terrified! Fortunately there is a solid remote training program, complete with a flat-lander modification option. (There was also an in-person training program, but it was a little inconvenient to travel from Oakland to Roanoke several times a week.) The training plan included the big-picture overview (like a chart of every week's workouts), weekly emails with each week's training plus race news and helpful tips, and a private Facebook group. Between when I signed up to run and the actual race date, life took some complicated turns (that's why I've been so prolific on the blog, right?) and I didn't get it nearly the amount of training I had planned. I didn't stick to the training plan.
I DID try to get in some hill training–but trust me, I wish I'd had more! In my dream-plan I would have driven to Tiburon to train on the hills. In my reality-calendar I conquered Rock 'n' Roll San Francisco, took all of my "all out" treadmill intervals at OrangeTheory at a 15% incline, and worked with my sports medicine people to build my glutes, keep my IT band happy, and add strength to my hamstrings. If you're considering this race, which I hope you are, the flat-lander training plan includes some faux-hill options such as using the treadmill and taking your downhill practices down the hills in parking garages (with obvious safety precautions!).
Aside from training, Blue Ridge takes a little more planning in the travel department than most races I have run. Generally, I hop on the Southwest website and my race travel is plug-and-play. Not for this race. For one, Southwest doesn't fly to Roanoke (which they definitely should fix before the race next year). So I met up with my friend Jackie in the Phoenix airport, and we flew to DC together and then took a road trip through parts of Virginia. Jackie took care of the hotel arrangements, we signed up for the pre-race pasta party to make that easier, and an epic road adventure began!
When we arrived in Roanoke, the hotel had a cute little welcome sign for the runners as well as goody bags! Our hotel was within walking distance of the starting line, and also had a special early-hours breakfast available, all of which were bonuses.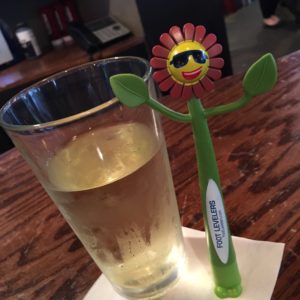 After checking into the hotel, the first order of business was packet pickup. Roanoke isn't a gigantic town, so we were able to walk over (dodging a few raindrops here and there). It seemed like the locals took advantage of early pickup as there was quite literally no line when we arrived. (There was, however, a big rent-a-tent to provide shade from the sun/shelter from the raindrops.) After we collected our bibs we moved inside to pick up our shirts and check out the expo. Personally I LOVED all the colors for the shirts, and am also a fan of the soft technical fabric. (I've already worn mine several times since the race.)
2017 was the first year I went to Roanoke, Virginia for the Foot Levelers Blue Ridge Marathon, I had high hopes. Sure, the race has 7,430 feet of elevation change and goes up and down three mountains, but I was in relatively good shape even though I hadn't finished the training program. At that point I was running about a half marathon a week, and I'd tackled really hilly races like the Tiburon Half Marathon (which has one hill that literally made me stop and laugh before I went up).
2019, Looking Back at 2017
One of the funniest things–at least to other people–is that this was a total DNF, but I raved to everyone about how great the race was. Everything was pretty much perfect, I had zero complaints. The pasta dinner had both vegetarian and gluten-free options–the first time I'd been to a pre-race feed with a gluten-free choice–and was followed by a course overview by the race director and some long-time runners. The starting line had corrals markers, and runners properly self-sorted themselves without any inadvertent walker roadblocks. The volunteers on the course were THE BEST. Aid stations had tons of people, all cheering, offering genuine warmth and support. Unlike an ordinary race, aid stations were more like trail races or ultras, with a variety of snacks salty and sweet, plus water and electrolytes. There are also plenty of "unofficial aid stations" offering everything from "moo-mosas" to beer to bottled water pods and orange slices.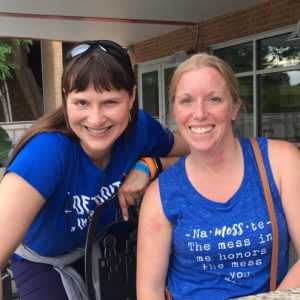 Looking back, I remember the first climb up Roanoke Mountain was tough, but I felt great as I turned to go up Mill Mountain; I had just barely made the cut-off. I adored the view from beneath the big star, and the "moo-mosa" on the way down the other side of Mill Mountain. By mile 17 or so I wasn't feeling so great. It was warm and humid, the two things my body dislikes most, and I was having trouble breathing. (I later learned that I have exercise-induced asthma. Go figure.) By mile 18, I was "wogging" with my own personal bicycle escort under some seriously black clouds. About halfway to the mile 19 aid station, my escort got word that the course had been black-flagged (that means the course is closed/race is officially off) due to lightning in the area. While a race cannot actually force you to stop running, they do have to make sure every runner is safe. Since I didn't know the course, and wasn't carrying enough to get through the next 7 miles, I boarded the bus back to the start. After all, I'm sure there are better ways to die than being hit by lightning on the other side of the country. Along the way we passed Jackie, my race weekend roommate, who was much closer to the finish. I think she only had three miles to go, and she refused to get on the bus.
A DNF Still Means I Had The Sads
Back at the hotel, I was seriously sad I had not finished the course, and even sadder after Jackie came back with her medal (even though I was also very proud of her for finishing). I took a hot bath and a nap, and after the storm passed we went out to dinner.  I can't remember where we went or what we ate, but it was delicious–as was breakfast the next morning before we left town.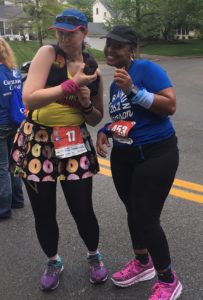 Even though I hadn't finished the course, I had one of THE BEST race experiences of my life. (The Blue Ridge Marathon isn't just a race, it's a weekend EVENT. More on that in another post.) The shirt was cute, the swag was great, the volunteers on the course were the best…the only thing "wrong" is that I hadn't finished the race. So I signed up for the 2018 race. In between I changed jobs and moved to a different city, so I wasn't able to make the race. It didn't bother me though, as I know the money stays in the Roanoke area his event is owned and operated by the Roanoke Outside Foundation whose mission to make outdoor activity and environmental stewardship a core component of our community's lifestyle by promoting a "conservation through recreation" philosophy. I'm good with that.
Funny story, I distinctly remember getting to mile 19, but all of my notes from 2017 say I stopped at mile 17…
Stay tuned for Part 2!