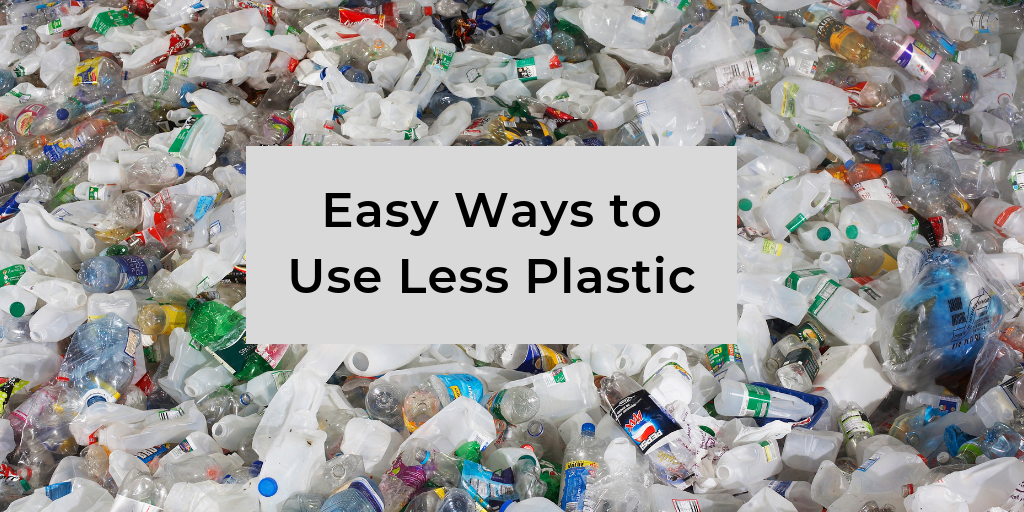 Disclosure: Portions of this post were provided by New Hope Network and are from Melaina Juntti's article, "10 Ways to Say No to Plastic."  I am a member of the New Hope Influencer Co-op, a network of health and wellness bloggers committed to spreading more health to more people. New Hope is NOT related to #PlasticFreeJuly, which is based in Australia. Also yes, I am well aware that July ended more than a month ago–thanks for notice!
While working on the first part of this article, I learned that the most-used "throwaway" plastics are single-use plastic bags, straws, bottles, and coffee cups. Not only do these items last literally forever, they are also items you rarely actually need.
Leave Plastic At The Store
Fewer stores these days let you keep plastic clothes hangers, but plenty will still ask if you'd like them at checkout. Unless you're in dire need of new hangers at home, say no and encourage the store to reuse them.  Personally, I re-did my entire closet in the Bed Bath & Beyond version of Joy's Huggable Hangers; my closet looks sharp and more clothes fit inside. I took my wire hangers to the drycleaners for re-use, and donated my plastic-tube-type hangers to charities that deal with clothing donations (always phone first–not all charities want your plastic hangers). Are you buying from brands/stores that insist you take the hangers, or tell you that they "can't" re-use them? WRITE A LETTER–preferably on paper (since no one does that anymore)–and tell them they need to do better. Then vote with your dollars.
Say "Nope" to Single-Use Plastic Bags
Dry cleaning bags. Speaking of clothing, if you have a lot of clothes that need dry cleaning, the plastic waste adds up fast. See if your dry cleaner will let you leave your own garment bag with your items. (Don't have a garment bag? The thicker plastic hanger bags that stores like Macy's and Nordstrom use to cover long dresses and suits can be reused almost indefinitely–I have several that are two decades old.) If they say no, consider shopping around for a new dry cleaner that'll let you skip the single-use plastic bag.
Grocery Bags. Ideally choose cloth reusable grocery bags. I'm partial to Chico Bags, as they take up almost no space and are easy to stash in your car, backpack, or bike pannier. Bonus, they will take back bags that are dead and ready for their next adventure. If you choose paper bags, you must reuse them. Why? Producing paper bags create more pollution during their manufacture, consume four times more energy than plastic bags during manufacturing, are somewhat inefficient to recycle, and more. While plastic lasts longer and has more environmental consequences, you have got to re-use those paper bags to make them "better for the environment" than plastic. Consider the entire lifecycle of the bag!
Produce bags. Do you need them? Probably not. You're going to wash those apples before you eat them, right? If you really think you must have a produce bag, try using a zippered net lingerie bag (bonus: lets the stuff inside breath and is easily washable). There are mounds of choices at Amazon and other online retailers, and Good Housekeeping wrote an article on their top picks.
Ridwell–for when you're stuck. I don't know whether you can get Ridwell, but if you can, by all means SIGN UP! (If they are available in your neighborhood, I might have a single pick-up I can gift you.) Ridwell is an amazing service that takes items your local waste service cannot recycle and keeps them out of landfills. While it includes more categories–and may be enough to help you downsize your garbage service!–the one I use most often is "plastic film." That includes those annoying air pillows that come with the things you ordered online, the all-plastic mailers Amazon started using, bubble wrap, bread bags, the bag my Sunday newspaper comes in, and more. (Ridwell also takes items that are reused by charities or properly recycled, including batteries and light bulbs. The rotating categories include all sorts of things from sporting goods to bottle caps to wine corks.)
Sweeten Your Sip
Straws. Before I get accused of being able-ist, hear me out: some people genuinely need plastic straws. Did you know that the popular bendy straws were developed for use in hospitals? True story. If you truly need a plastic straw, use one without guilt. Those of use who do NOT actually need them can avoid them. For the rest of us, here's what to consider:
(1) Do you really NEED any straw at all? Again, save for a small portion of the population, you can drink from a cup without a straw. (Starbucks recognized this and switched to sippy-lids for cold cups, just like they have for hot ones). Could you just say "no thanks" to all straws?
(2) The Straw is NOT your friend. Did you know that people who drink from a straw drink MORE than those who do not? (That's why so many "how to drink more water" articles list "use a straw" as a tip!) Or that the plastic straw may leach chemicals into your beverage? (I'm not a big scaremonger, but when the Washington Post writes about it I'm at least willing to hear it out.) Straws may also increase tooth decay, and more.  Think about that the next time you're offered a straw for your sugary and/or acidic soda.
(3) Some restaurants and bars offer wax-coated paper straws. These are compostable in some locations, but not all locations–what can be recycled or composted varies from municipality to municipality. If you don't need a straw, you can still say no.
(4) Instead of a disposable straw, how about a reusable one? If you're going someplace where you think you'll need a straw, or driving, take The Final Straw with you. It's reusable many times, washable, compact for travel, and a straw. Done!
Bottled Water is for Emergencies
Unless you live in an area where the tap water is unsafe, there is no reason to drink bottled water. Train yourself to think of bottled water as a product that is made for emergencies–like Flint, Michigan (water system scandalously ruined by the government and no, in 2021 there is still no safe tap water in Flint) or a post-hurricane location (pumping stations require electricity which may not be available; water tables may be damaged or polluted)–and not for you.
You might be surprised to learn that bottled water is less regulated than your tap water! Tap water is required by law to be tested for a variety of substances, and many local water utilities publish the results online, like the East Bay MUD (California) does. If you are worried about lead (maybe you have an older home) many water utilities will help you get your water tested, just like Multnomah County Oregon does. Further, did you know that some bottled water is literally just bottled tap water? True story.
Think your tap water "tastes funny"? You still don't need to waste your money (and our collective resources) on bottled water. Invest in a quality filtering pitcher like the Camelbak, a fridge with a filter (do NOT forget to change the filter!), a re-usable filtration bottle, or a tap filtration system. Yes, the filter may be plastic–but you'll still use LESS plastic than all those bottles.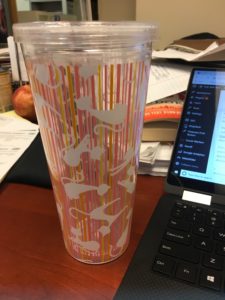 Use a reusable cup of any kind at home. Carry and use a reusable water bottle when you're at work or on the go. My office has reusable cups, mugs, and glasses, but I have also taken in my Cat Lady Box tumbler. (It has a screw-on lid and reusable straw, which prevents me from inadvertently dousing my files.) Pro tip: choose an insulated brand like Takeya or HydroFlask so it doesn't "sweat" on you; you have lots of options.
#ButFirstCoffee
About those Coffee cups. This one seems like a no-brainer, because it's a two-fer WIN: (1) no plastic lid goes into the garbage, and (2) the paper that goes into the cup and sleeve can be used for anything else but instant garbage/compost. It can be a little trickier in practice because you have to remember to your own coffee cup with you, and to clean it on a daily basis, but you'll also save some cash: most cafes offer a small discount if you use your own cup. (Five cents many times a year turns into real money quickly!) While I like my Whirly mugs with their sturdy handle and snap-on lid, a spill-proof coffee vessel is essential when commuting and to avoid adding a mocha scent to everything in your work bag. HydroFlask is my go-to for coffee on the go.
What have you tried doing to cut down on single-use plastic in your life?