Disclosure: (1) I borrowed the featured image above from the SPI belt website. (2) I received a complimentary SPI belt Venture series because I am a BibRave Pro. (Per usual, all opinions are my own–you should know by now I don't need any help with that, I've got plenty of 'em!) Learn more about becoming a BibRave Pro here. Read and write race reviews at BibRave.com! It's a great way to choose between conflicting races, to help runners find the best races, and the help race directors improve each year.
I bought my first SPI belt several years ago, long before I had invested in much running "gear," the Original SPI belt. I picked a bright turquoise color because most of my running gear was drab (this was before the dayglo/neon revival, and before the advent of patterned leggings) and I thought a pop of color would be a little wild for me. When I upgraded to iPhone 6, I also upgraded to a slightly larger, waterproof, Endurance series SPI belt with a wider elastic (to protect the phone, and because it fits better).
Prior to trying out the SPI belt Venture, I was NOT a fan of hydration belts. I dislike them for the same reason I dislike most waist-packs: bouncing.  Even when I'm running a race and I see other people running with hydration belts, it makes me nuts to see the bottles/bottle cages flapping up and down. How can anyone run like that?!? The other thing I really hate about hydration belts–actually, most bottles–is that the liquid sloshes around and they leak and make a mess. It's fine if you're running in the heat and just carrying water, but is miserable when it's cold and sticky and disgusting when you carry a hydration-fuel product.
While I was skeptical about the SPI belt Venture series, my experience with SPI belts was that they don't have that bouncing/flapping problem most other belts do when I run, so maybe they figured out this hydration belt thing.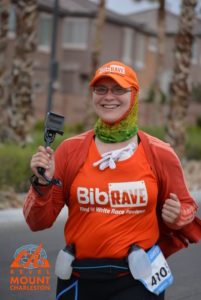 Now that I've successfully completed three races with the Venture, I've reached the conclusion that used properly, this is a viable option for anti-bounce, anti-flap, anti-slosh hydration. Even when I had consumed part of the liquid, I didn't feel the sloshing I've felt with other hydration belts. It's not just me, BibRave Pro Gina also found merit to the no-bounce claims. There are three factors that make Venture work for me:
Bottles clip on. As you can see from the photo above, the bottles clip onto the belt; there is no cage or strapping device on the outside. This makes them easy to grab and replace, as you can clip them anywhere on the belt (in other words, you're not aiming for a special slot). This also means you can choose to wear the pouch in the front or the back (or on the side, I guess). The clips slide the bottles far enough down that they don't bounce, as they are pretty securely attached. The clips are removable (see photo below) which makes them easy to clean.
Bottles are vaguely "body shaped." Like some other brands of hydration bottles, the Venture bottles have a curve to them. I found that curve–in combination with the clips on the outside–prevented the bottles from poking or stabbing me as I ran. At the same time, the bottles stand up on their own on a flat surface, making them easy to fill. (I broke a Nuun tablet in half and put half into each bottle.)
Bottles have a leak-resistant system, Jet Nozzle. This is THE big one. I can't exactly say they are 100% leak-proof (because that's like saying they are idiot-proof, and since I found a way to make them leak, that makes me a better idiot). When you initially fill the bottles and close them, you can invert them without any liquid escaping. While you run, getting liquid out requires creating pressure (e.g. squeezing the bottle or sucking the nozzle with your mouth). If you look inside the valve, you can see there is a little X-shaped cut in the rubber that seals the valve shut. (It did not photograph well.) That's what prevents the leakage. Note it IS possible to leave a few drops of liquid between that cut and the tip of the nozzle, and if you do that, those drops can slip out and get your waist a little wet. (I may have learned this through personal experience.)
A few additional details: The bottles hold 8 ounces and are top-rack dishwasher safe and BPA-free. The pouch comfortably held my iPhone 6s, though it was a bit of a pain to try to get it out and then re-stow it while running (which I suppose you only do rarely unless you happen to be a blogger!). The belt has an adjustible buckle, so you can make the fit snug to your body. The Venture also comes with bib clips–elastic you thread through the hole on the bib and then through a toggle. You can run the toggles over any part of the belt, adjusting to all bib sizes/shapes. Christine's review reminded me that there are also elastic loops on either side of the pouch. Both she and Abbie figured those were to hold gels; but the loops are tiny, as Abbie pointed out, and I thought they were to thread the bib holder toggles through (since other SPI models have a different type of loop for holding nutrition). Heather's review has better pictures than mine, and shows how she did use the loops for gels.
Important safety tip #1: It is possible to clip the bottles anywhere on the belt (meaning you can wear the pouch part in the front or the back), you should wear the bottles in the front when you run.  If you don't, and you're wearing the belt on your waist, the movement of your butt might jostle the clip up and kick the bottle off of the belt in a way that doesn't happen when you walk. (I may have learned this through personal experience.)
Important safety tip #1, corollary: If you drop the bottle on pavement, nozzle down, the nozzle/lid WILL dent/scratch, and this may result in a sharp/pokey/pointy surface. A few light passes of an emery board or fine sandpaper will take the edge off. (I may have learned this through personal experience.)
Important safety tip #2: The pouch on the Venture is NOT waterproof. It says so right on the website, and I felt no compulsion to test it out for myself. If it is going to rain, or you tend to use water stops to take a shower, you should put your phone or other electronics into something waterproof. SPI recommends using a LOKSAK® re-sealable bag; I've used a Ziploc freezer bag.
Interested in checking out the SPI belt Venture series? Score a 10% discount with code elizabeth10. Don't forget to join us for #BibChat on Tuesday, May 24th, at 6 p.m. Pacific Time. Maybe you can win some goodies?
Have you tried the SPI belt Venture? How do you carry hydration on your long runs?