Disclosure: I attended the free online Gluten Free Festival as a blogger; bloggers were given access to special sessions to chat with company founders as well as previews, press releases, and samples from some companies. Because the festival was online, I did not have the opportunity to taste or try products during the festival, but I have since been able to try a few (at my own expense).
Food festivals are really fun! This year I went to my first online food festival. It's not nearly as fun as wandering down the expo hall trying yummy new things, but I'd definitely do it again.
A Few General Observations…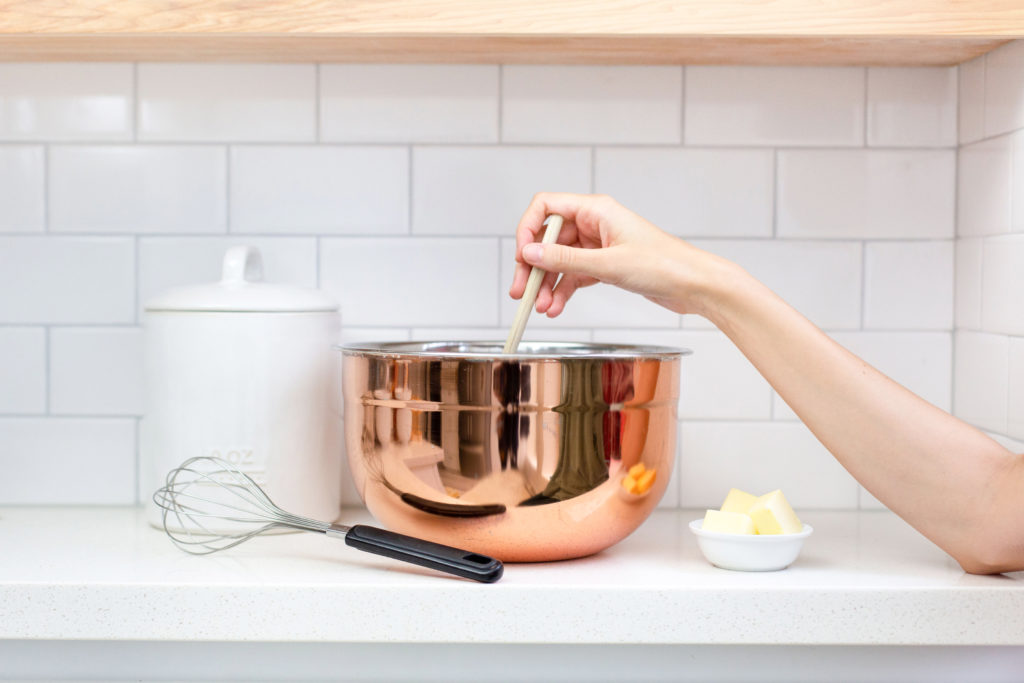 Cooking Demos Online Are Awesome! Ever feel like you can't see what the cook is doing when you're at a live demo? Not a problem with an online demo. Disappointed that you don't get to see the final product at a live demo? Not a problem when it's pre-recorded–you get to see the actual thing you just saw made, not one made yesterday for show. Extra fun, the person doing the cooking can use the online chat during the demo (it's pre-recorded, so they can comment/answer questions in the moment). My favorite was gluten-free pizza with Jenny Ching from Laulima Kitchen (she teaches gluten-free cooking and has great resources). The expo is live, and I think you can re-watch the classes? Click here through December 3, 2021.
Non-GMO Obsession, WTH?? Companies continue to be obsessed with sporting the Non-GMO label, even if they make a product that does not contain one of the few crops that are available in the United States in a GMO format (sugar beet, potato, canola, corn, soybean, summer squash, cotton, papaya, apple, alfalfa). If you pick up a product that is NOT one of those items–an orange, asparagus, rice, flour, spices, salt, vitamins–it is already guaranteed to not have a GMO ingredient inside. When I wrote to one vendor expressing my disappointment in their use of the Non-GMO butterfly of deception label, specifically citing the widespread slavery involved in cultivating the biggest brands of cane sugar available in the U.S., that vendor wrote back that they use cane sugar because it is "less likely" to be GMO. This shows the total ignorance of this individual (there is no GMO sugar cane at all, anywhere–the only form of sugar that could maybe be GMO is sugar made from sugar beets), and she did not even bother to address the slavery issue. I'm not naming names, but I'm also not buying that company's cookies. A full explanation of what's wrong with the Non-GMO Project is too big for this blog, but suffice to say it's disingenuous and scammy to sell your non-GMO "certification" for use on products like salt and water. I was very disappointed to see at least 19 companies making non-GMO statements–even a CBD company when HELLO there is NO GMO-format hemp!–and another six with the Non-GMO Project's trademark, which many in the food communities refer to as "the butterfly of deception."
Gluten-Free Products Aren't Just For Celiac Disease. It hadn't occurred to me, but certified gluten-free products are often attractive to people without a gluten allergy. Gluten-free baked goods (or baked good substitutes) are often suitable for people following a paleo or keto diet. Many products that are gluten-free are also free of the top allergens (soy, peanuts, tree nuts, milk, eggs, fish, shellfish, wheat) and therefore friendly to people with other food allergies. I don't have food allergies, but I was there to learn more about what products are available and what techniques and knowledge I need to host my friends with allergies and keep them safe.
Bain's Best of Gluten-Free Festival Awards
Not that anyone asked, but here are my picks for best-of-the-fest. All would make great gifts, all would be appreciated by gluten-free guests, and all are safe for people with Celiac disease. Bonus: all of these are small companies you can feel good about supporting this year.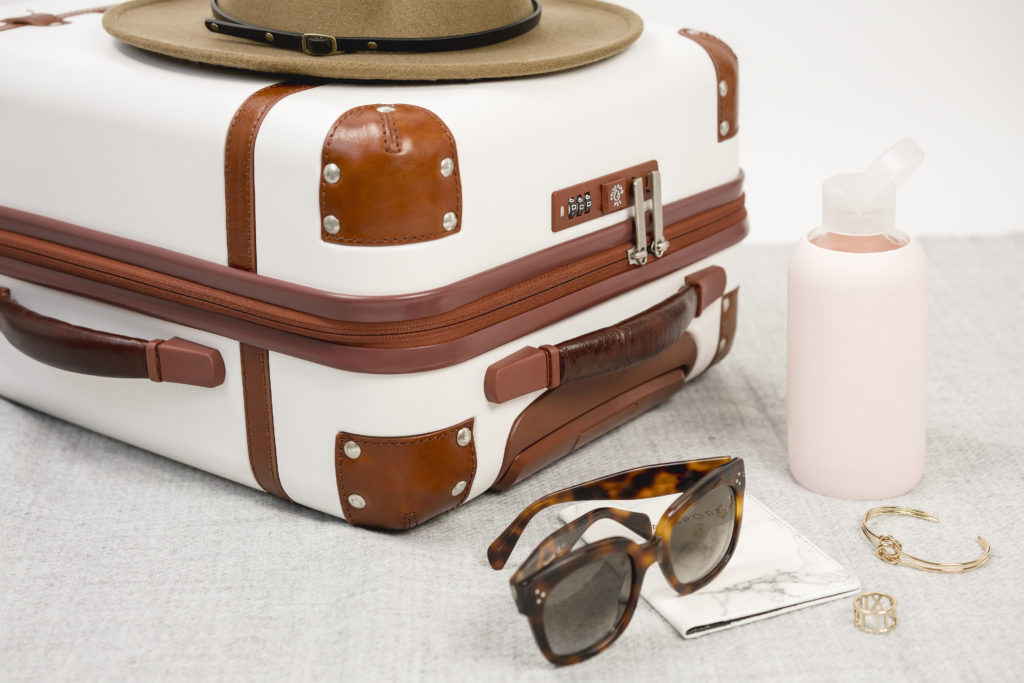 Best Product for Allergy-Friendly Travel
Going to Germany but don't speak German? Can't find "I'm allergic to Shellfish" in your Berlitz book? Never fear! The Allergic Traveler has customizable wallet cards and luggage tags available in 20 languages, so you can easily communicate to your server, bar tender, or other restaurant personnel exactly what you need. They also contain a cross-contamination statement. $12.95 for a set of two. www.allergictraveler.net These would also make a great gift to help keep your friends and family safe.
Best Breakfast Bagel, er, Pagel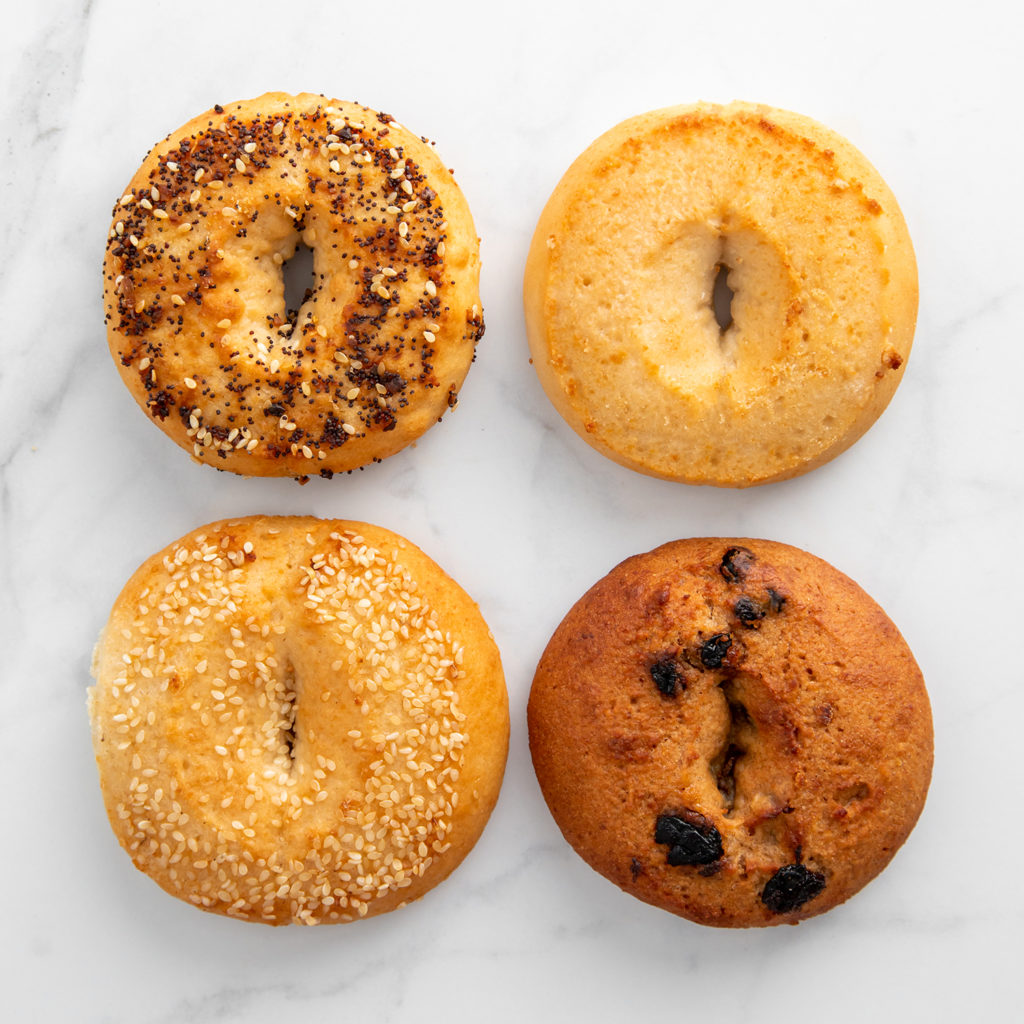 Bedrock Bakers is a Certified Gluten-Free, Paleo, Vegan, Kosher baking company whose signature item is Pagels. I got to "meet" the founder during the festival, and he basically started experimenting with paleo baking and really wanted a bagel. He describes the pagel as "a clean, premium bread product." A plain pagel contains cassava flour, almond flour, potato starch, organic tapioca syrup, yeast, and sea salt. They also come in "everything," sesame, and cinnamon raisin. The products are shipped frozen and come with instructions (basically you can re-freeze or they last in the fridge for 5 days). Oh, and did I mention you can get a subscription?? And that English muffins just launched? And that there's a recipe for French toast using the cinnamon pagel?
You bet I ordered some pagels to try out for myself (and maybe share with my friends who choose a low-carb lifestyle), though if you know me you also know I'm going to keep eating bagels. So far I've only tried the cinnamon pagels–tasty! A pagel is smaller and denser than a typical kettle-boiled bagel. It arrives by FedEx, semi-frozen, with instructions to slice and re-freeze promptly. My first pagel taught me that if, like me, you prefer your bagels basically blond with a tiny amount of toasting to make only the top layer crispy, that's NOT how to cook a pagel–toast that baby much toastier. The second pagel was perfection (toasted all the way through), and I doused it in butter. I'm not sure if it is the resistant starch, but I felt full for a MUCH longer time than I do with a plain bagel.
Use code GOPAGEL 20 for 20% off through December 31, 2021. https://www.bedrockbakers.com/
Best Product To Spice Up Your Life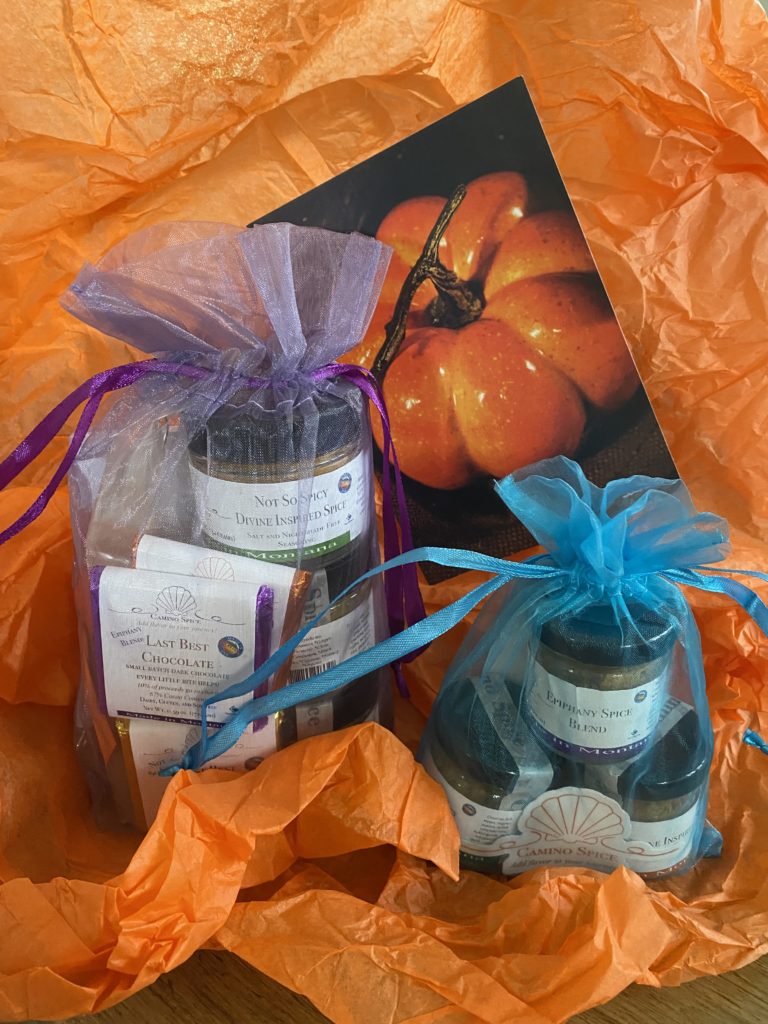 It honestly had not occurred to me that my friends with Celiac disease have to avoid gluten in places I don't even think to look for gluten, including spices (which do not naturally contain gluten, but might be processed on "shared equipment," meaning equipment that is also used for wheat products). (Did you know there is gluten in some cosmetics and lipsticks??) If you don't know whether your favorite spices are gluten-free, contact the company and ask. Or try the spice blends from Camino Spice. Divine Inspired Spice contains cayenne, cinnamon, cumin, a curry blend, ginger, turmeric, clove, and nutmeg–sounds yummy, right? The Not So Spicy variation has no nightshades, which are harder to avoid than you'd think. Add a few ingredients to Not So Spicy–cardamom, black paper, cayenne, and nutmeg–and you get Epiphany Spice Blend. Camino Spice isn't just a company for spice mixes, though the story about the original spice mix is a good one!
During the festival I ordered a gift pack with all three of the Camino Spice blends, but I haven't been able to test them out yet. I like to open spice blends, give them a sniff, and then experiment with them. The website also has a few suggestions if you need a place to start.
In addition to their spice blends, also check out the Last Best Chocolate Bar, spiced pumpkin seeds, and Epiphany Mexican Hot Chocolate. There are a ton of great gift options, with several gift packs such as the Divine Trio of spice mixes, but I suspect any of these products would make a great gift. https://www.caminospice.com/ and if you happen to live in Montana, available at select stores.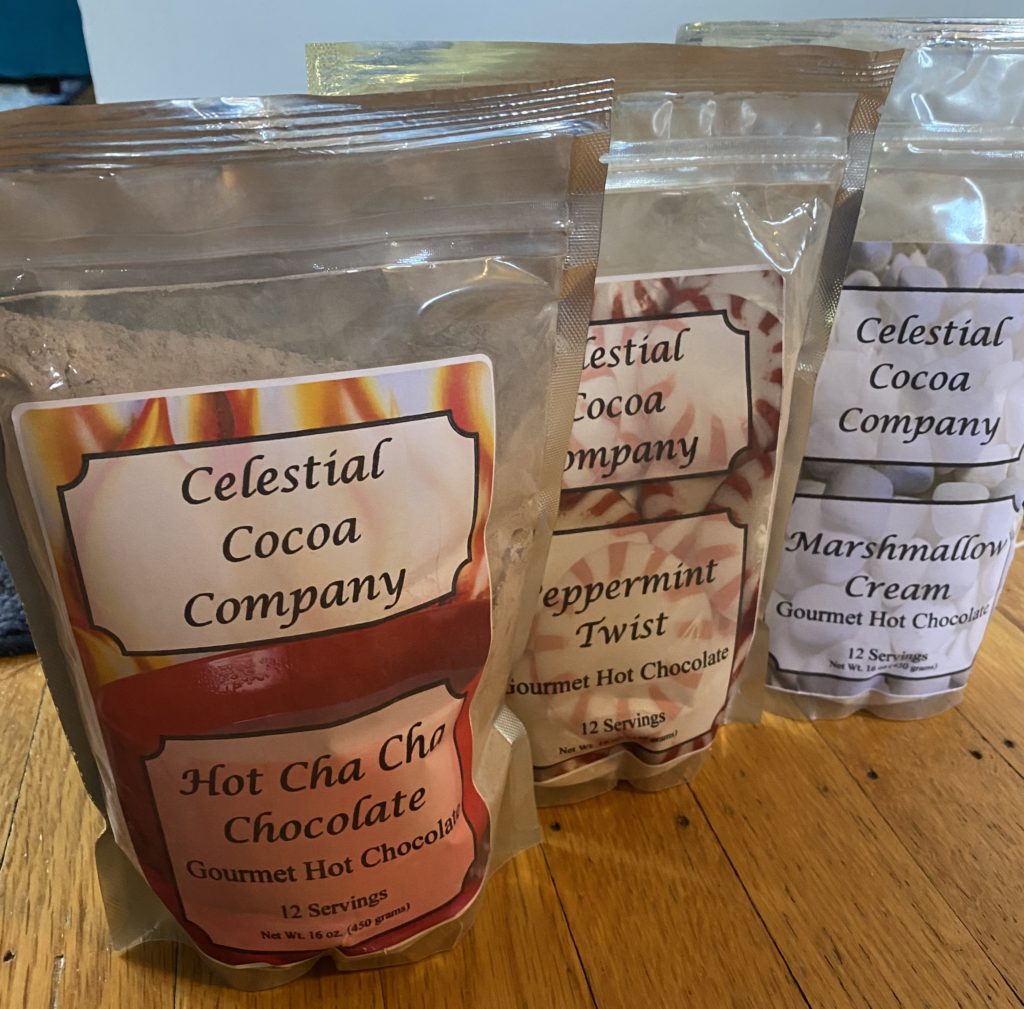 Best Cozy Pandemic Calm-er
One of the very best things about winter is a good cup of hot cocoa, especially if you live in a place where it gets cold. You may also know I am a HUGE fan of putting good cocoa into my coffee. Celestial Cocoa is only sold online, which is why you haven't heard of it yet (or at least I'm assuming you haven't–I hadn't!). Again, if you're not required to live gluten-free to stay healthy, cocoa is a place you might not think to look for hidden gluten.
Celestial Cocoa's 18 different cocoa mixes are made in a dedicated gluten-free facility. Options include Hot Cha Cha Chocolate (Powdered Milk, Non-Dairy Creamer, Sugar, Cocoa Powder, and Cayenne Pepper) and Peppermint Twist. I couldn't wait to try, so I ordered these flavors. They have adorable 4-serving gift bags that would make great stocking stuffers, and 12-serving and 20-serving bags (for bigger stockings?). https://www.celestialcocoa.com/
Have You Attended A Gluten-Free Festival?
If you haven't, keep an eye out for both future online (or hybrid-model) festivals and (hopefully) the eventual return to "in person" festivals celebrating allergy-friendly foods.
Regardless of whether you've been to a festival, what are your hot tips for gluten-free gifts this year? Got a lead on a cool small business that makes products safe for those with Celiac or other allergies? Share!