Disclosure: I am a BibRave Pro and received these shoes for testing and review purposes. Learn more about becoming a BibRave Pro HERE and check out BibRave.com to review find and write race reviews!
This is my first test drive of a road shoe, and the first time I've tried a Mizuno. (Frankly, prior to this shoe, I 0nly associated Mizuno with cycling and soccer. Turns out they make running shoes, too. Who knew?) To road test this shoe, I wore them to work for three days–mainly because I couldn't wait to wear them, but also because I hate to run in a brand-new-to-me shoe right away–and then took the shoes for two runs. On Thursday, July 2 I ran somewhere between 3 and 4 miles at the RoadRunner Sports (San Carlos) Adventure Run; on Independence Day I ran the Alameda Mayor's R.A.C.E. 5k. That's not much mileage, but the timing of the shoes' arrival, the holiday weekend, and end-of-month work obligations mean that's all the time I had.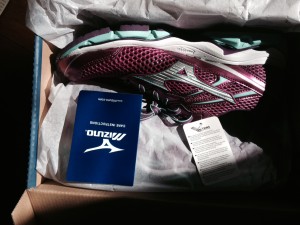 Aesthetic Appeal. Let me start with the obvious: these shoes are pretty! Yes, I know that's far from the most important factor when choosing a shoe. It was, however, the first thing I noticed when I opened the box. With an increasing number of shoes that look like the entire My Little Pony gang vomited rainbows on them, I was really pleased with the aesthetics of this shoe. The pair I received are primarily a plum-purple  with aqua and silver, plus a little white on the sole. (Mizuno calls this "Wild Aster-Silver-Waterfall")   The flat shoelaces are in matching colors, which is a cool design element. Again, I know that looks are about the least important factor when choosing a running shoe, but I do love a good-looking shoe; bonus points if it doesn't make my size 10.5 feet look more enormous than they actually are.
Compared to My Usual Shoe. To understand where I'm coming from in reviewing this shoe, I've spent the past two years primarily running in Brooks Pure Cadence 2. (Yes, I know the 4 has been released. I stockpiled.) Brooks classifies my old shoe as good for mild pronation, the Mizuno classifies the Wave Enigma 5 as a neutral shoe. Road Runner calls the Pure Cadence a Level 3 Performance Stability shoe, and the Wave Enigma as a Level 4 Neutral shoe. When I used the Mizuno website's "Find Your Perfect Shoe" it recommended the Wave Enigma.
I find all of this very interesting, as in my experience the Mizuno Wave Enigma 5 is a lot more shoe than I'm used to running in. Specifically, the sole is quite a bit stiffer, more cushioned, and more supportive. If I had to guess which was a more stabilizing shoe, I would have picked the Wave Enigma! I definitely appreciated the extra cushioning beneath my feet while running on the road. Mizuno's website states
The Wave Enigma 5 is perfect for higher mileage runners. This neutral running shoe is built for runners who are training for longer races, as well as runners who could use a little extra cushion on recovery days.
My feet did feel a bit warmer on the soles after running, probably because I was lazy and didn't apply Body Glide like I usually do, but they were much fresher at the end of my run. I definitely appreciated that extra cushion (hey, I'm not 20 anymore!) and can see why these might be a better choice for higher mileage runs.
First Impressions. The Mizuno Wave Enigma 5 is a little bit heavier–according to Runner's World, my old shoes weigh in at 7.5 ounces, while the Mizuno site states the Wave Engima 5 are 8.8 ounces. When I first unboxed the shoes I was concerned they felt stiff and chunky, but that was just in my hands–I didn't notice any weight or chunkiness while running. (By the way, the video on the Mizuno website says the Wave Enigma 5 is 10.5 ounces, but the guy is clearly talking about the men's shoe.)
Compared to the Prior Model. While I didn't wear the Mizuno Wave Enigma 4, information from Runner's World (which will feature the Wave Engima 5 in the Fall 2015 Shoe Guide), Mizuno, and Road Runner commented on the following as features new to the Wave Enigma 5:
Design of the sole. Per Mizuno, "New u-shape full-length parallel wave provides the Mizuno trademark responsive feel." According to Road Runner, "New forefoot outsole pattern with deep flex grooves works with articulated forefoot Wave plate: Offers optimal blend of pliability and propulsion at toe-off."
Cushioning materials. The video on the Mizuno site explains the sole has a combination of new "u4icX" (that's "euphoric X") and "u4ic" ("euphoric") midsole foam, and they work in cooperation with the internal cushioning under the heel. Road Runner calls this "lightweight, resilient cushioning."
New materials on the upper (the shoe part that goes around your foot, as opposed to the sole). The main part of the shoe is a mesh, which allows for some breathability. Upgraded upper materials, including extra breathable mesh, provide a glove-like fit.
Mizuno Wave Enigma 5 continues to feature the Wave and Smooth Ride technology used in earlier models of the shoe.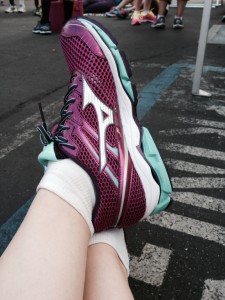 Fit. I used the Runner's World shoe finder to compare my old shoes and the shiny new Mizunos, and according to the fit profile, they should fit about the same. The main difference between the shoes is the drop: Brooks Pure Cadence 3 has a drop of 5.0 mm while the Mizuno Wave Enigma 5 has a drop of 12 mm. (Note that I was unable to find the data for the now-discontinued Pure Cadence 2.)
I had the opportunity to read a few reviews before I got to take these shoes for a run. A few of them commented that "my toes went numb" or something similar. I've got the solution to that problem: loosen the laces! The appearance of the shoe is a little deceptive, because the wider lace eyelets make it seem like the laces are the right tension when you take them out of the box. Trust me, you need to loosen them up MORE than just a wee bit before you slip them on. I didn't, and I had a similar sleepy-toes on just my right foot during my first run. Afterwards I loosened the laces up, and did not experience this problem again.
The heel fits securely. I have average heels (not narrow ones) and haven't experienced any slipping. The throat (where you put your foot in) and tongue of the shoe are pretty much perfect; unlike most other shoes I've tried with a similar design, the tongue stays put. (The tongue sliding over to one side is a total pet peeve of mine–I just hate how it feels!)
The arch has a reasonable amount of support and feels good. Lots of women's shoes are a bad fit for my arches, I guess because the shoe designers think all women have narrow, petite feet. Sorry boys, I've got big clodhoppers. Thanks to Mizuno, the shoe meets my arch instead of stabbing me in the bottom of the foot. Honestly, you have no idea how exciting this is.
The forefoot is a bit more a snug fit than I'm used to, I'll admit. As noted above, I had to loosen up the laces quite a bit. The design really does fit like a glove around the forefoot. My toes can still wiggle, but I definitely feel the shoe. On the one hand, this took a little adjustment as the piggies are used to have more room to go whee-whee-whee. On the other hand, the snug fit combined with a sole that is both stronger and more cushioned than I am used to prevented me from "gripping" with my toes as I run; the smooth transition of the sole over the toes actually prevented gripping action. (If you get blisters on the tips or front-bottom of the tips of your toes, or have sore toe joints after you run, you're probably a gripper too.)  Since my biggest running problem (knock on wood!) is that I have to tape up my left second toe to prevent it from hyperextending when I run, this is a pretty big deal–no more toe tape!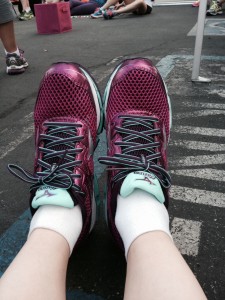 Feel. Running in these shoes was a smooth experience. I did notice that my gait changed a bit–remember, I gained like 6 mm in drop. Specifically, I noticed my landing changed from straight-up midfoot to more rear-midfoot. I wouldn't say "heel strike," though I think that would be easy to do in these kicks. I suspect this contributed to my lack of toe-gripping action, so I'm going to call it good. In terms of feel of the road–can I just say I love that runners talk about this the same way ballet dancers do, a la "those shoes are so unresponsive"–I got just enough, but not too much. It's not like running on a pillow, it's like running without beating on your feet.
Reviews by Dudes. "That's all well and fine," you think, "but I'm a guy, and men's shoes fit differently." Never fear, I've got you covered. Or rather some of my BibRave Pro friends do.  Check out reviews of the Mizuno Wave Enigma 5 for men written by Runner and the Bride (actually, written by Runner), and DP on the Go.
Sooo…..tell me: are you loyal to one brand and model of running shoe? (Do you feel like you're cheating on your brand when you test out something else?) Or do you run around with everyone?